Wrapping Up NBA All-Star Weekend 2023
Notes and observations from a weekend in Salt Lake City.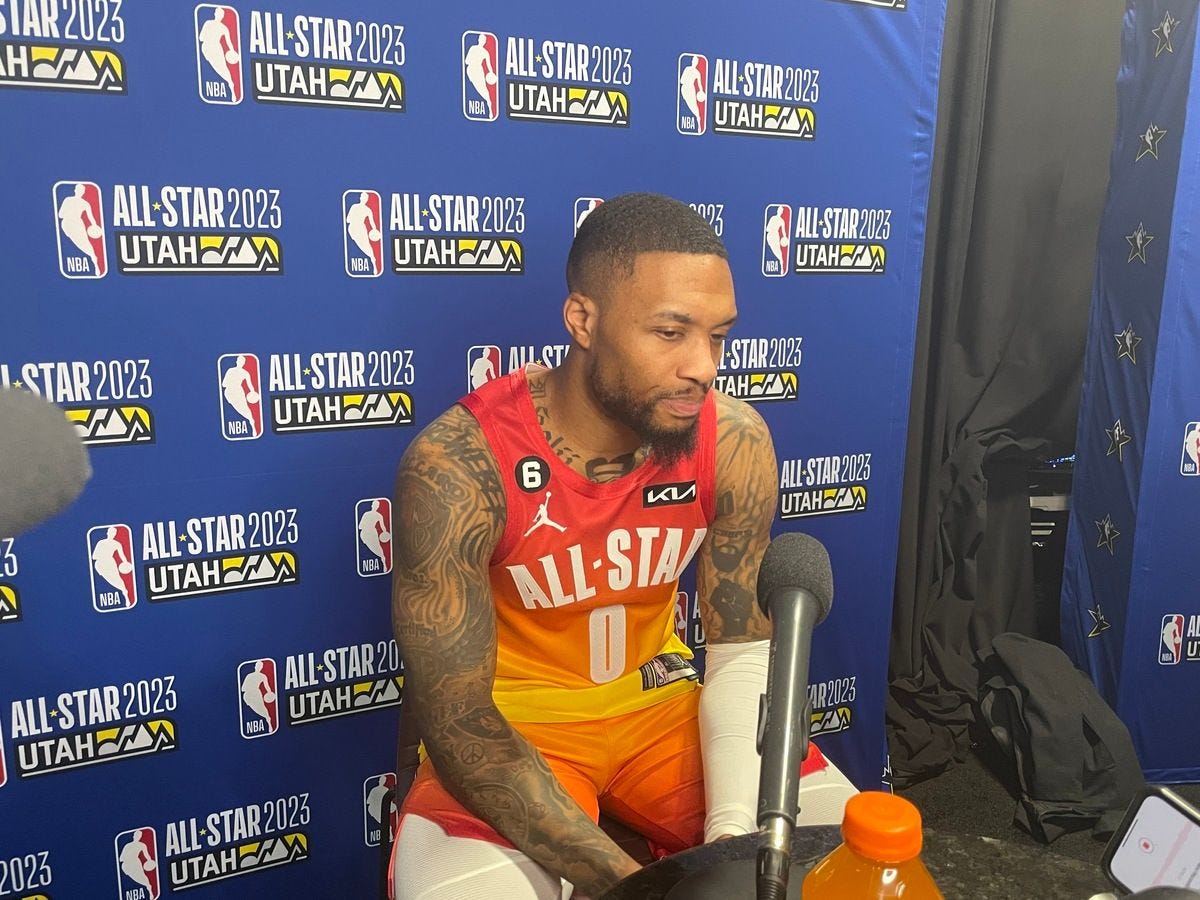 SALT LAKE CITY — Once again, the NBA almost got it right.
Three years ago, when the NBA televised the All-Star draft for the first time as a pregame segment on Inside the NBA, I wrote a column arguing that the change didn't go far enough and what they should really do is have the two captains pick the teams on the court before the game, playground-style.
They finally implemented it this year, and it was a good deal of fun. But for some reason, they decided to change the order and draft the reserves before the starters, presumably to take the sting out of whichever player gets picked last.
That defeats the purpose of the entire exercise. Jaren Jackson Jr. was picked last among reserves. They should have leaned into calling him "Mr. Irrelevant." Maybe it would have led to him having a big moment in the game. The Grizzlies like to talk—they could have done something with it. Instead, they drafted the reserves, then the starters. As usual, the NBA overthought it by half.
On the other hand, doing it this way allowed Damian Lillard to add "No. 1 overall pick in the All-Star draft" to a weekend that's already seen him win the 3-Point Contest. I don't know whether Giannis Antetokounmpo was instructed to take him first to play up his Utah connections or there could be something going on this summer if Khris Middleton leaves the Bucks in free agency. Overall, doing the draft pregame was a positive change. It made the event drag out longer, but it was entertaining.
"I was up there and just said, 'We'll see how this goes," Lillard said afterwards. "They talked about not wanting to be picked last, but I honestly didn't trip. And then he picked me first and I was like, 'Cool.' I guess I get to be the No. 1 pick for once in my life."
And it ended, as it has before, with Lillard hitting the game-ending three-pointer to get Team Giannis to the target score for the Elam Ending.
"It's a real thing," Lillard said. "I come up big at the end. Obviously, tonight wasn't a real game where it was traps and real defense being played, but just those moments, I always find myself in those moments being the one."
Outside of LeBron James and DeMar DeRozan, Lillard was the oldest player on the floor between the two teams (Stephen Curry and Kevin Durant were unable to play due to injury). It's not too dissimilar a situation to the one he's in right now at his day job, as the only over-30 Trail Blazers player.
"It's actually kind of weird," Lillard said Saturday morning after All-Star practice. "I was just in the locker room and I was looking around, and I see Ja, Jaren Jackson, Zion Williamson, and I'm just looking around like, 'These dudes are really young.' It took me back to my first All-Star game, where it was like Kobe and Dirk, these older guys that seem like they've been retired forever. It was just a reminder that I'm getting old."
I'm not going to sugarcoat it: the actual All-Star Game was pretty unwatchable. That's not a minority opinion. Michael Malone, the head coach of Team LeBron, called it "the worst basketball game ever played." I'm not sure what they can do to "fix" it—I totally get why players don't want to play hard in an exhibition game and risk injury, but the whole thing feels pretty pointless. Maybe they do what the NFL did with the Pro Bowl and get rid of the actual game and focus the whole weekend on the events. People who make a lot more money than I do are in charge of deciding these things.
Here's much more of what I saw and heard in Utah over the weekend:
This post is for paid subscribers