Discover more from The Rose Garden Report
Comprehensive, independent coverage of the Portland Trail Blazers and the NBA from veteran beat reporter Sean Highkin.
Over 4,000 subscribers
Wrapping Up the G League Winter Showcase
Unlike last December, the Trail Blazers were not a source of much intrigue at the annual event.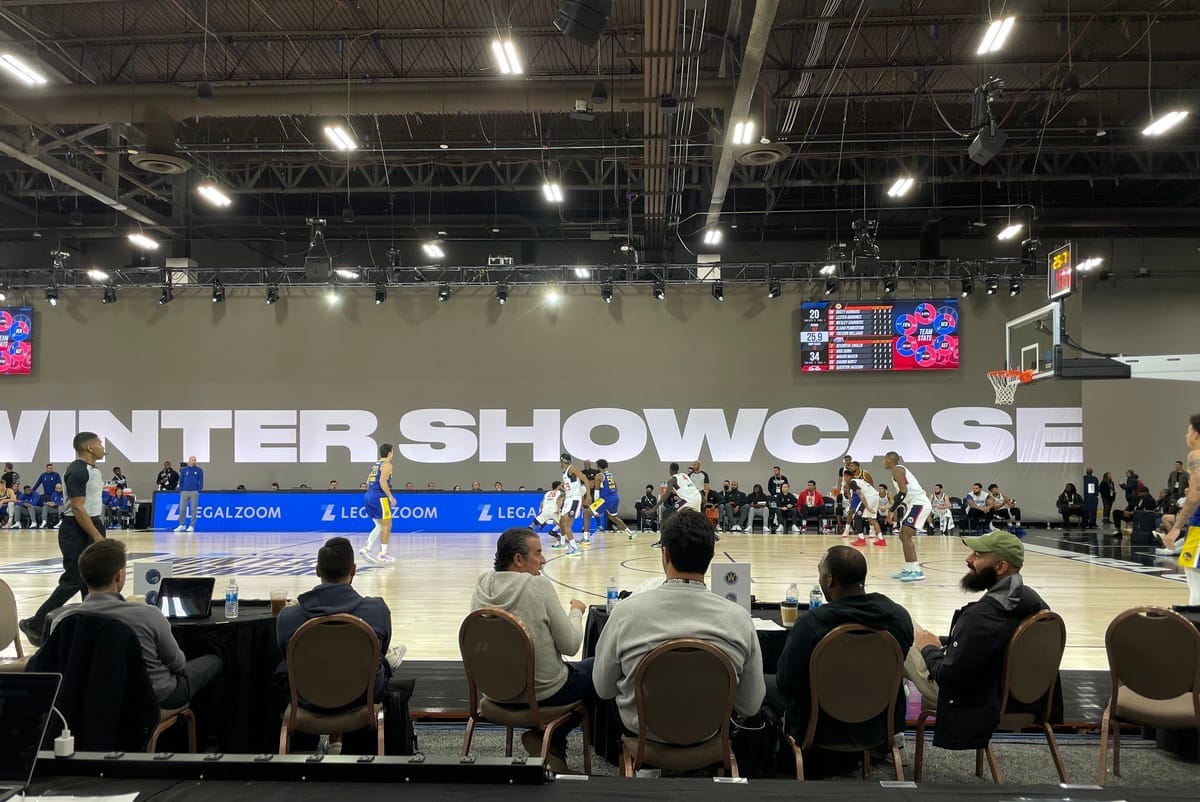 LAS VEGAS — A lot can change in a year. The Trail Blazers' future was one of the focal points of the 2021 G League Winter Showcase. Now, not so much. Which is probably a good thing.
The G League is always a prime avenue for Remembering Some Guys. This year's Showcase featured a handful of names that played significant minutes in the second half of last season for the Blazers. Did you watch those post-deadline tanking games and now find yourself wondering what C.J. Elleby, Elijah Hughes and Kris Dunn are up to these days? Well, they're here.
Last year was my first time covering this event and it was one of the most chaotic three days in recent league history. The Showcase took place the week before Christmas just as it is this year, but it was right in the middle of the surge of cases of the Omicron variant of Covid. I'm not exaggerating when I say that I witnessed multiple instances of players getting pulled off the floor at halftime of a Showcase game to be called up on a hardship contract so an NBA team could have enough live bodies to avoid canceling a game.
The Rose Garden Report is a fully independent, reader-supported publication. Purchasing a premium subscription unlocks exclusive content and helps make the coverage of the Portland Trail Blazers the best it can be.
That was a chaotic time for the Blazers, too, coming two weeks after president of basketball operations Neil Olshey was fired for violating the code of conduct. The organization didn't have much of a presence at the Showcase last year, if at all—most front-office personnel who would normally be regulars at these things were understandably reluctant to travel because of the pandemic. But the Blazers were one of the primary topics of discussion among the league people who were there.
And there was plenty to discuss. Would Joe Cronin, who was promoted to interim general manager, keep the job permanently or would they make an outside hire to replace Olshey? And with his long-term status uncertain, would Cronin be empowered by ownership to make a franchise-altering move like trading C.J. McCollum? Everyone assumed the Blazers would be sellers at the deadline, but how far would it go? Was Damian Lillard really on board with all of this?
Every year, there are one or two teams everyone at an industry event like this is talking about. Last year around this time, that was Portland. This year? Honestly, there's nothing to discuss with them. The general consensus from scouts, executives and others I caught up with in Vegas was, "Hey, they're a lot better than I expected. Good for them." There's no big-picture intrigue. Nobody disagreed with my belief that Cronin will be active at the deadline, but the truly pressing long-term questions—about who will be the GM, about Lillard's future, about whether they'd break up the Lillard-McCollum duo—are long settled.
For those of us in the information-gathering business, it can be annoying that there wasn't much buzz to pick up on about what the Blazers are or aren't looking to do. But they'd all prefer that to what was going on this time last year.
For what it's worth, those teams this year were Toronto, Indiana and Chicago, two of which have players who have been linked to the Blazers in the past. People in Vegas seemed to think the idea of the Raptors being sellers and O.G. Anunoby and/or Pascal Siakam coming available was overblown. The Pacers might keep Myles Turner—owner Herb Simon never truly wanted to tank to begin with, and their better-than-expected start might keep them from pulling the plug. The Bulls, just about everyone agreed, should blow it up; almost as unanimous was the agreement that they probably won't.
It's too early for trade talks to really come together right now, though. Especially with the standings as jumbled as they are right now, there isn't a clear sense of which teams are going for the playoffs and which teams are going for Victor Wembenyama. The teams everyone assumed would be in the latter category, like the Jazz and Pacers, haven't bottomed out. Everyone still thinks they have a shot at competing, so right now, everyone's top six or seven players are untouchable and/or will take multiple unprotected first-rounders to get. Things will stabilize and take shape as they should by February.
I did not see either of the Blazers' two losses in Oklahoma City. Truth be told, it was good to get away from the day-to-day of the team I cover for a few days, connect with some NBA people I don't see every day and get a sense of where the rest of the league views the team. But I'll meet the team in Denver to cover the final game of the road trip tomorrow. I'm aware of the weather forecast.
In case you missed it...