Discover more from The Rose Garden Report
Comprehensive, independent coverage of the Portland Trail Blazers and the NBA from veteran beat reporter Sean Highkin.
Over 4,000 subscribers
A Work in Progress
Thoughts on the state of the Trail Blazers, and this endeavor, heading into the new year.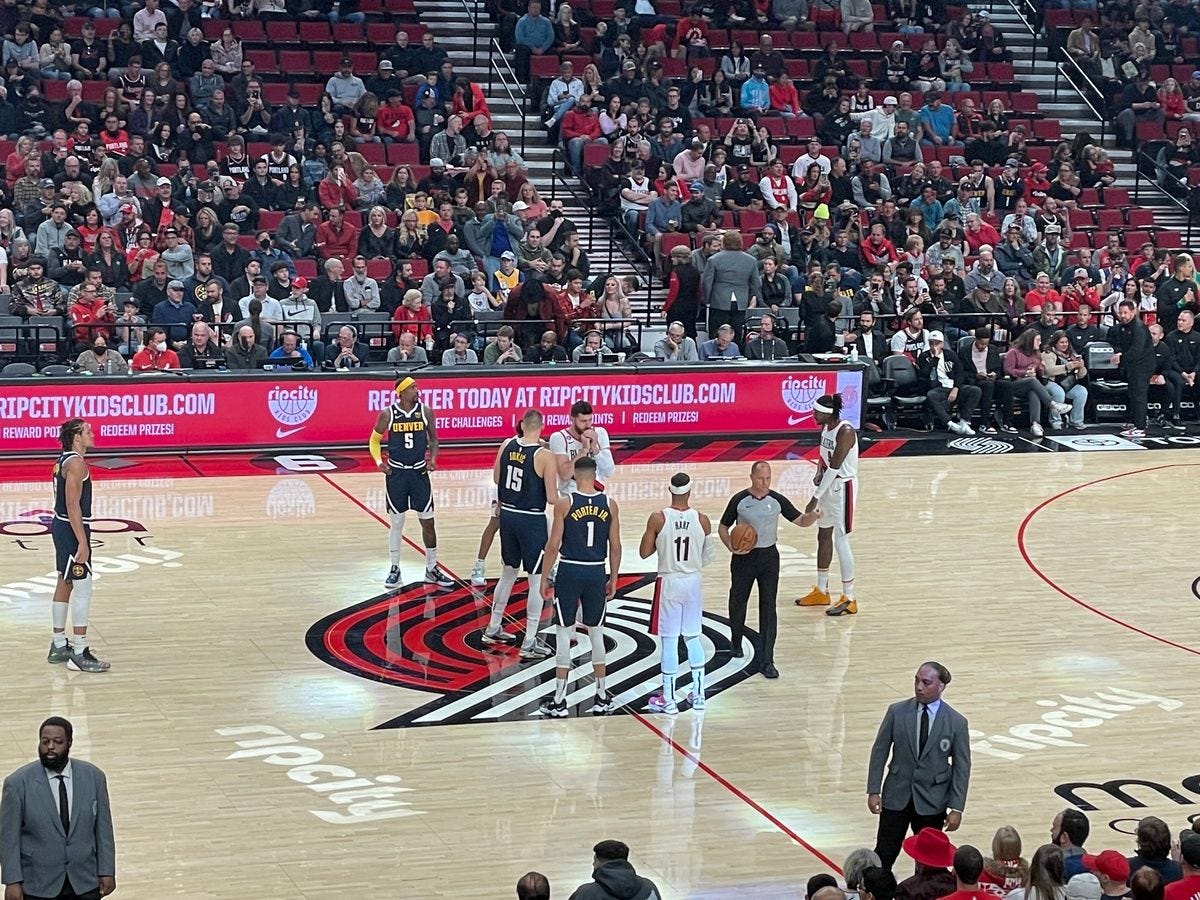 I'm not huge on end-of-year lookbacks—it's just a date in a calendar, no different from the one before or after—but 2022 was one of the more memorable and pivotal years I've had. Namely: it was the year I took the biggest risk of my career and decided to go independent to cover the Trail Blazers and the NBA exactly the way I wanted to.
The timing made sense for a few reasons. My contract with the last place I wrote was coming up and it was clear from both sides that the editorial direction they were going in was not what I wanted to be doing. Many of the outlets that for ages were go-to sources for coverage of the team have more or less punted in recent years. And with how much turnover there's been in the organization over the past year, not just on the court but in the front office, on the business side and with the media relations staff, it felt like the void was there to step into.
The first six months have been proof of concept. I had a target number in mind for paid subscribers I wanted to hit in the first year and I'm on pace to get there. I've grown the podcast to the point that it's partnered with a major company that owns hundreds of radio stations including 1080 The Fan. I traveled to cover training camp in Santa Barbara and was one of the few reporters down there. I'm proud of the work I've done so far.
I like being able to choose what I write about—and what I don't. When someone on one of the debate shows says Damian Lillard is a "star" as opposed to a "superstar" and it becomes a multi-day news cycle during the dead part of the offseason, I can just ignore it because that's a dumb thing to care about. I don't have to box myself in. I can write features about players, cover the ownership and business sides of the team and report on on-court happenings.
The Rose Garden Report is a fully independent, reader-supported publication. Purchasing a premium subscription unlocks exclusive content and helps make the coverage of the Portland Trail Blazers the best it can be.
There are drawbacks. Because I don't work for a major media outlet that pays thousands of dollars a year for Getty and AP licenses, I'm limited to photos I took or screenshots of YouTube. That's the kind of stuff you don't even think about when you're writing for one of the places I've written previously. And unlike a lot of people who go this route, I still believe in the value of a good editor and often find myself wishing I had someone whose job it is to take a look at what I write before it goes up.
I'm fortunate that I'm far from the first person in the NBA world to do something like this, and I've been able to bounce strategies and best practices off of industry legends like Marc Stein and Kelly Dwyer, as well as friends of mine who are taking the same approach to covering other teams: James Ham in Sacramento, Scott Agness in Indiana, Derek Bodner in Philadelphia and Matthew Tynan in San Antonio. I also have to mention John Canzano, a Portland institution who has become a friend and sounding board in the past year since we both made the same jump.
It's a lot of work to do this as a one-man operation, but I'm having a great time and it wouldn't be possible without all of you who have come along for the ride.
It's still a lot of trial and error, and I've adjusted some things on the fly. You may have noticed that I've started combining the columns I write after every home game and the "What We Saw" notes into one post, just to cut down on the number of emails you get in your inbox. I've mostly stopped writing after road games I'm not covering in person, unless something truly noteworthy happens, because not very many people read those and I don't always have something to say. I'm still fine-tuning which posts I make free and which ones I paywall. There's no formula for it, but I'm figuring out what works and what doesn't.
The team I'm covering is still figuring out what works and what doesn't, too. Going into the new year, they're right about where I thought they'd be, record-wise, with a pretty favorable schedule coming up. They ended the calendar year on as down a note as can be, with a complete fourth-quarter collapse against the Warriors that laid bare their recurring issues with turnovers and defensive communication.
Almost halfway through the season, there's a lot we know and a lot we don't know about the Blazers. Here are five of each to get 2023 started.
What We Know:
The core muscle surgery that shut Lillard down for most of last season isn't nearly as serious as other long-term injuries star players have had, but there was still a question of how he'd bounce back at age 32 after missing extended time.
Turns out he's the same guy he's always been, maybe even better. The explosiveness is back in a way it hasn't been since well before the surgery. He's still a shooting threat the minute he crosses halfcourt. He's gotten better and smarter as a playmaker. The calf strain that's caused him to miss a little time hasn't been anything of lasting concern. Dame is still Dame, and as long as that's true, the Blazers are going to be OK.
Jerami Grant is exactly as good a fit as everyone hoped he'd be.
Lillard began recruiting Grant when they were Olympic teammates in 2021, and what he's brought in his first season in Portland is exactly what they envisioned. It's hard to ask for more than what Grant has given them at either end. He spaces the floor (shooting 43.9 percent from three-point range, easily career high, on close to career-high volume), defends multiple positions and can be the featured scorer on some nights when needed. I'd be shocked if he isn't here for the long haul.
Anfernee Simons is making the leap.
Speaking of "exactly what they envisioned," Simons is proving well worth the four-year, $100 million contract he signed this summer. His counting stats are career highs in every category, and he's had numerous takeover games just like Lillard's last backcourt running mate had. Simons slowed a lot of this last year once the Blazers began their teardown and tanking effort. Now that the games matter again, it's proven to be fully real and not a fluke.
Jusuf Nurkic has been himself, for better and worse.
Nurkic is the most criticized player on the roster among the fanbase, sometimes fairly and sometimes not. Last Monday's win over Charlotte was a perfect microcosm: Nurkic was awful in the first half and dominant in the second half. Most nights, it's been one or the other. You can do a lot worse as a starting center, but out of the regulars, he's the one most likely to cap a team's ceiling, which is why I think there's a good chance he's moved before the deadline.
For all of this roster's flaws, the chemistry and competitiveness issues are gone.
I don't engage too much on social media these days, but I do keep tabs on what fans are talking about on Twitter and in the r/RipCity subreddit. Most of my readers are fans of the team, and it's my job to know what the conversation is among the fanbase. And it can swing wildly from game to game. I get it. Friday's loss to the Warriors was awful. Feelings aren't good right now.
But I've been covering the league full-time for 11 years now. And both here in Portland and in my four years in Chicago, I've been around teams that quit or were checked-out, where guys were playing for their own contracts and stats and the mix of players and personalities was fundamentally untenable.
This is not one of those teams.
The talent mix isn't perfect, the defense hasn't held up to where it was at the beginning of the year and they turn the ball over too much. But I haven't seen anything, even in the down weeks, that I think is anything more serious than the normal rough patches a team goes through during an 82-game season. There hasn't been a blow-up between the two star players like there was with Zach LaVine and DeMar DeRozan in Chicago. There hasn't been anything close to what's going on in Atlanta. Chauncey Billups has buy-in from the players for the way he wants to play. Everyone in the locker room gets along, at least from what I've been able to observe being in there before and after every game. Even the bad losses have never been because of a lack of effort.
That has not been true on a consistent basis with this team for at least the last two or three years. Billups and general manager Joe Cronin have self-selected for a certain kind of player and personality, the Josh Harts and Justise Winslows and Jerami Grants, that are about the same things on and off the court, and it's paid off.
This version of the Blazers aren't winning a title, at least not this year. But the past year's culture reset has been a success.
What We Don't Know:
What will Gary Payton II's impact be, whenever he plays? 
Payton is going to play at some point soon. I firmly believe that. This is not a Festus Ezeli situation, as has become a popular Twitter refrain whenever Payton is ruled out another game. It could be tomorrow against Detroit, it could be next week, it could be longer. But he isn't going to miss the entire season.
Once that initial hurdle is cleared, the question becomes how quickly he makes an impact, and what it will be. He should help their defense greatly, assuming he's healthy enough to play at the level he did in Golden State last year. They need the reinforcements on the wing with Justise Winslow and Nassir Little out for at least the next few weeks, but how does the rotation shake out when everyone is healthy? Getting Payton back will be a welcome development, but it's not going to be a seamless integration.
Is there a way to solve the turnover issue?
The good news: Portland isn't the worst team in the NBA anymore in terms of turning the ball over. But they're not far off. They currently have a turnover rate of 15.6 percent, tied with the Clippers for fifth-worst mark in the league. It's been all kinds of turnovers—travels, bad passes, 24-second violations, ill-timed offensive fouls—and it's been everybody. Lillard and Simons are averaging career highs in turnovers per game, and Grant and Nurkic aren't far off from theirs.
Every time I've asked Billups or any of the players how to clean that up, they've repeated the same lines about communication and learning to play together. With how many injuries they've had and how many new pieces they're integrating, that's true to an extent. We'll see where it is by the end of the year. This might just be one of their weaknesses.
Will Joe Cronin make a big move at the deadline or wait until the offseason? 
The Blazers' general manager knows as well as anyone this roster needs work. He's said from the beginning that this year is being viewed as an evaluation period for which pieces fit together and who's worth building around long-term. That's something rebuilding teams typically say, but any team with a healthy Lillard is too good to be rebuilding. The playoffs are still the goal, and it's safe to say they're good enough to get there. But the plan the entire time has been for next year to be when they truly look to join the ranks of Western Conference contenders.
The trade deadline about six weeks from now will be an interesting time for the Blazers. They'll do something. The question is how big of a "something" they do. It's possible they just shuffle a few rotation players to balance the roster. But if they can get a Myles Turner-type of upgrade (or, aiming higher, O.G. Anunoby if the reeling Raptors blow it up), I don't think Cronin will let the opportunity pass him by without going after it.
(Those of you who are paid subscribers can read a lot more about what the Blazers have to work with at the deadline in the trade-season primer I published on Dec. 15.)
How soon will Shaedon Sharpe put it together?
The Blazers haven't had a rookie as exciting to watch on a night-to-night basis as Sharpe since Rudy Fernandez. Billups has compared him to a cross between Brandon Roy and Vince Carter. If you tell me he'll be an All-Star in two years, I'll believe you.
But he's not there yet, and we've started to see Billups tighten the leash a little bit as Sharpe goes through the normal ups and downs of a rookie, especially one who didn't play at all his freshman season of college. Billups has been much more willing to play young players than Terry Stotts ever was, but there are limits to that when you're trying to win. You can see the makings of a good defender with Sharpe, but he still makes enough mistakes on that end that you can understand why Billups has opted more often than not to close with his veterans.
"I think he's still very up-and-down," Billups said at practice last week. "As y'all have seen, there's some times where I don't go with Shaedon in the second half because I didn't like what I saw in the first half. He eats what he kills, every time. If he's out there and shows some aggressiveness and his level of engagement is high, then boom, he earns himself some more minutes. If you don't, that's fine too. Come watch the game [from the bench]. That just is what it is. And it'll be that way for a little bit. But honestly, he's been incredible the last two days in practice on both sides of the ball. It'll be like that with him. We're going to be very patient the whole time, because he can be a very special player for us."
Sharpe is going to keep getting opportunities, because he's too talented not to. But will Billups be confident enough in him on a consistent basis in four months for him to be in the playoff rotation? We'll find out.
Can they capitalize on a favorable part of the schedule?
Friday's loss at Golden State was the Blazers' 21st road game. That means they've already played more than half of their road schedule for the entire season before the end of the calendar year, with well over half the season to go. And of the 35 games they've played, 25 have been against teams that can reasonably be expected to be in playoff contention, including 17 against Western Conference playoff hopefuls. They're already done playing Phoenix for the year, and have faced Denver three of four times on the schedule, Dallas, Minnesota and Utah twice each and New Orleans, Memphis and the Clippers once.
That brutal schedule is going to come back around to them. 16 of their 23 games between now and the All-Star break are at home, and after that, many teams will have started (or continued) jockeying for Victor Wembenyama. Things are going to get a lot easier, on paper.
But the Blazers have to take advantage of that schedule and execute. So far, one of the saving graces of an up-and-down season has been that they've generally taken care of the teams they "should" beat. They're 7-3 in 10 games against likely lottery teams, with the three losses coming against the Lakers while Lillard was out and the two games in Oklahoma City on the last road trip, both of which were coin tosses. They've handled business against Charlotte, Houston and San Antonio the two times they've played each of them. And there are a lot more games against those types of teams coming up, starting tomorrow with the 10-29 Pistons.
If they keep winning most of those games against bad teams, they have a little more breathing room to work through issues and make mistakes against the better teams and still end up with a top-six seed in the playoffs and avoid the play-in. The west standings are so bunched-up right now that the fourth-place Mavericks are only three games up on the 10th-place Jazz. Portland is in great shape if they just keep stacking those wins against lottery teams.