Discover more from The Rose Garden Report
Comprehensive, independent coverage of the Portland Trail Blazers and the NBA from veteran beat reporter Sean Highkin.
Over 4,000 subscribers
Trail Blazers Training Camp Preview: 5 Storylines to Watch
With camp set to begin this week, what's worth keeping an eye on in Santa Barbara?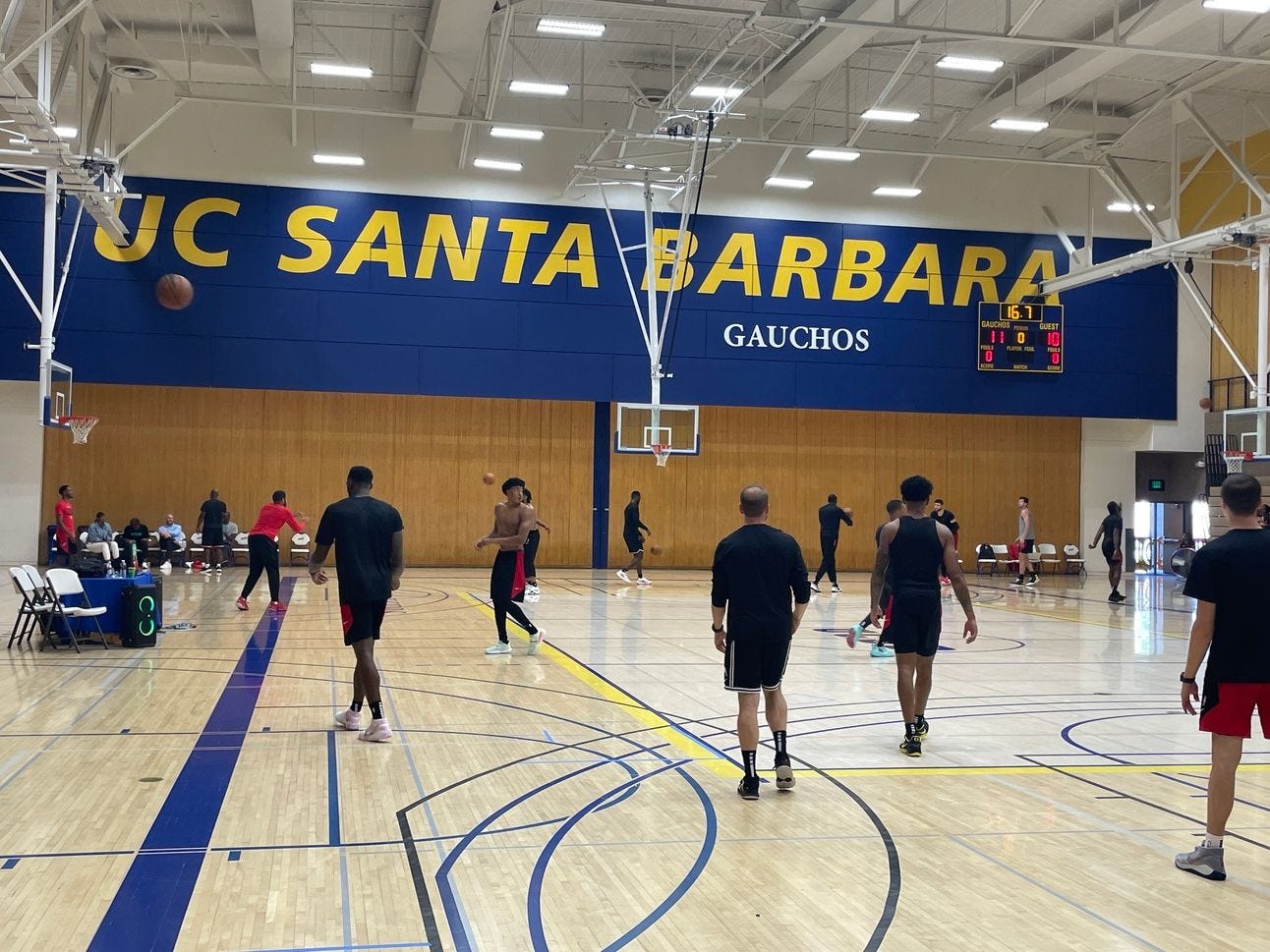 So, now that all of that is out of the way…
Monday marks the opening of training camps across the NBA, and the opening of an entirely new era for the Trail Blazers. Not only is Damian Lillard gone after 11 seasons, so are Jusuf Nurkic after seven seasons and Nassir Little after four. The Blazers' 2019 Western Conference Finals run doesn't seem like that long ago, but the only player still here from that team is Anfernee Simons, who barely played that year as a rookie. He's now the elder statesman at 24 years old.
Simons is one of just four players on Portland's roster who was in training camp with the team a year ago. The others are Jerami Grant, now the oldest player on the team at 29, and last year's rookies, Shaedon Sharpe and Jabari Walker.
That means a lot of unknowns and a lot of questions for Chauncey Billups and his staff to at least start finding the answers to over the next week in Santa Barbara.
The Blazers will hold media day on Monday morning at 9 a.m. General manager Joe Cronin, president of business operations Dewayne Hankins and Billups will all speak to reporters, as will most of the players. This will be Cronin's first press conference since the Lillard trade, and undoubtedly most of the focus will be on that, especially with how publicly contentious their relationship got at the end.
But after we hear from Cronin that day, I for one won't have much interest in dwelling on that. This team likely isn't going to be very good—teams this young never are—but with so many new faces, there are going to be new storylines that I'm excited to delve into over the next two weeks, and the six months after that.
As a reminder, I will be heading to Santa Barbara on Monday afternoon and staying down there through Friday. The Blazers will be practicing on the UCSB campus, and there likely won't be much media there. Since these kinds of trips aren't cheap, everything I write from down there will be behind the paywall for premium subscribers only, so now is a great time to sign up.
With that in mind, here are the five things I'll be keeping a close eye on during camp and the preseason.
The Rose Garden Report is a fully independent, reader-supported publication. Purchasing a premium subscription unlocks exclusive content and helps sustain the website and make the coverage of the Portland Trail Blazers the best it can be.
Is Scoot Henderson ready to be 'the guy' on day one?
Without question, the guy everyone will be most intrigued by is Henderson. The No. 3 overall pick, Lillard's heir apparent, all of that. The one half of Summer League he played did not disappoint. But that was all he played after suffering a shoulder injury in the opening game. (As far as I've heard, that wasn't serious and he'll be good to go for camp.)
Henderson's first NBA training camp won't be as much of an adjustment as it is for most rookies, since he's been playing against NBA-caliber players for two years with the G League Ignite. The on-court stuff will be fine. What I'm more interested in is how quickly he steps into the leadership void created by Lillard's absence. Simons and Grant are the veterans, but neither of them are loud personalities.
I haven't gotten to know Henderson personally that well yet (something I hope to do this week while I'm in Santa Barbara), but everyone I've talked to about him has said people around him gravitate to him and he was able to quickly win the respect of much older and more experienced players in the G League.
For the first time in over a decade, the Blazers' identity is something other than "Damian Lillard's team." The organization is banking on it eventually being "Scoot Henderson's team." Big shoes to fill.
The other rookies
All eyes will be on Henderson as the new face of the franchise, but the Blazers have three other rookies on the roster. Two are their own draft picks, Kris Murray and Rayan Rupert. The other is former Dayton forward Toumani Camara, the Suns' second-round pick who came over as part of the Lillard trade.
On a rebuilding team, all three will have a chance to earn minutes, but that doesn't mean they will, unless they blow the coaching staff away in camp. Murray is probably the most NBA-ready of the three, but Camara also had a good Summer League in Phoenix. The Blazers brought him in for a predraft workout, so I know he's been at least on their radar for a while.
Based on his rough Summer League performance, Rupert isn't close to ready and will likely spend a lot of time with the Rip City Remix in their inaugural season. But the Blazers' first preseason game next Tuesday is against the New Zealand Breakers, Rupert's NBL team last season, so he could get some extended run there.
A fresh start for Deandre Ayton
Ayton was the centerpiece of the Lillard trade. The Blazers have been seeking an upgrade at center for a while, and they've kicked the tires on Ayton dating back to last spring after his relationship with the Suns really started to go south. A year later, they got him and moved on from Nurkic.
As "distressed assets" go, you can do a lot worse than a 25-year-old former No. 1 overall pick who's started—and played well—in the Finals already in his career. Everyone knows the baggage: he's disappeared in the playoffs two years in a row and had well-documented issues with his coach in Phoenix, Monty Williams. Even with Williams and Chris Paul gone, it felt like he and the organization were both ready to move on from each other. If it wasn't obvious he needed a change of scenery, just look at his face as he entered the Blazers' practice facility for the first time after the trade:
Part of the bet the Blazers made with the Lillard trade is that Ayton is that he just needed to get out of Phoenix. On a smaller scale, a similar one of these bets paid off at the deadline when they traded for Matisse Thybulle, who was clearly never going to win the trust of Doc Rivers in Philadelphia. Once he got to Portland, Thybulle's offensive game opened up and he started hitting open threes. He spoke often of feeling wanted and being empowered by Billups. They're hoping for a similar rebirth for Ayton. The talent is there.
Who earns the backup frontcourt minutes?
Jerami Grant is locked in as the starter at power forward, and Ayton will be the starting center. Who gets the minutes behind them is a lot less clear. Last year's primary backup center, Drew Eubanks, left for Phoenix in free agency and they didn't really replace him. Coming off a strong Summer League, Jabari Walker seems primed for a bigger role in his second year. He can play center in smaller lineups, but he's more of a power forward. Murray and Camara could get in the mix behind Grant as well if they're far enough along. Rupert is probably a ways away.
All of their current backup center options are incredibly unproven. They signed Moses Brown, who was briefly a Blazer in 2019 and has bounced around the league since then, to a partially guaranteed camp invite, but he may make the roster just on positional need. Summer League standout Duop Reath could make the roster but he's more likely to be a G League guy. Last year's two-way players, John Butler Jr. and Ibou Badji, are both back, but they're still very raw long-term projects.
Growth from Shaedon Sharpe
This time last year, Sharpe was a complete unknown as the No. 7 overall pick, having not played in college and gotten hurt five minutes into his Summer League debut. But all week in Santa Barbara, Billups and players raved about how quickly he picked things up, and he was in the rotation from day one of the regular season.
Sharpe's rookie season was up-and-down, but things started to click for him in a big way the second half of the year. His second Summer League was similarly uneven. The organization has a lot tied up in him as the other half of the "young core" they're selling alongside Henderson. The playoff expectations aren't there anymore, but the expectations of consistency from Sharpe will be, beyond the highlights.