Discover more from The Rose Garden Report
Comprehensive, independent coverage of the Portland Trail Blazers and the NBA from veteran beat reporter Sean Highkin.
Over 4,000 subscribers
Where Trail Blazers Players Will Shake Out in All-Star Selection
Damian Lillard cracked the top 10 in voting for Western Conference guards in the first round of fan voting.
The NBA released the first returns of fan voting for the All-Star teams on Thursday morning. There aren't really any surprises at the top in either conference, and the final starting lineups will likely be pretty close to this. Damian Lillard came in at No. 7 among Western Conference guards; no other Trail Blazers players cracked the top 10.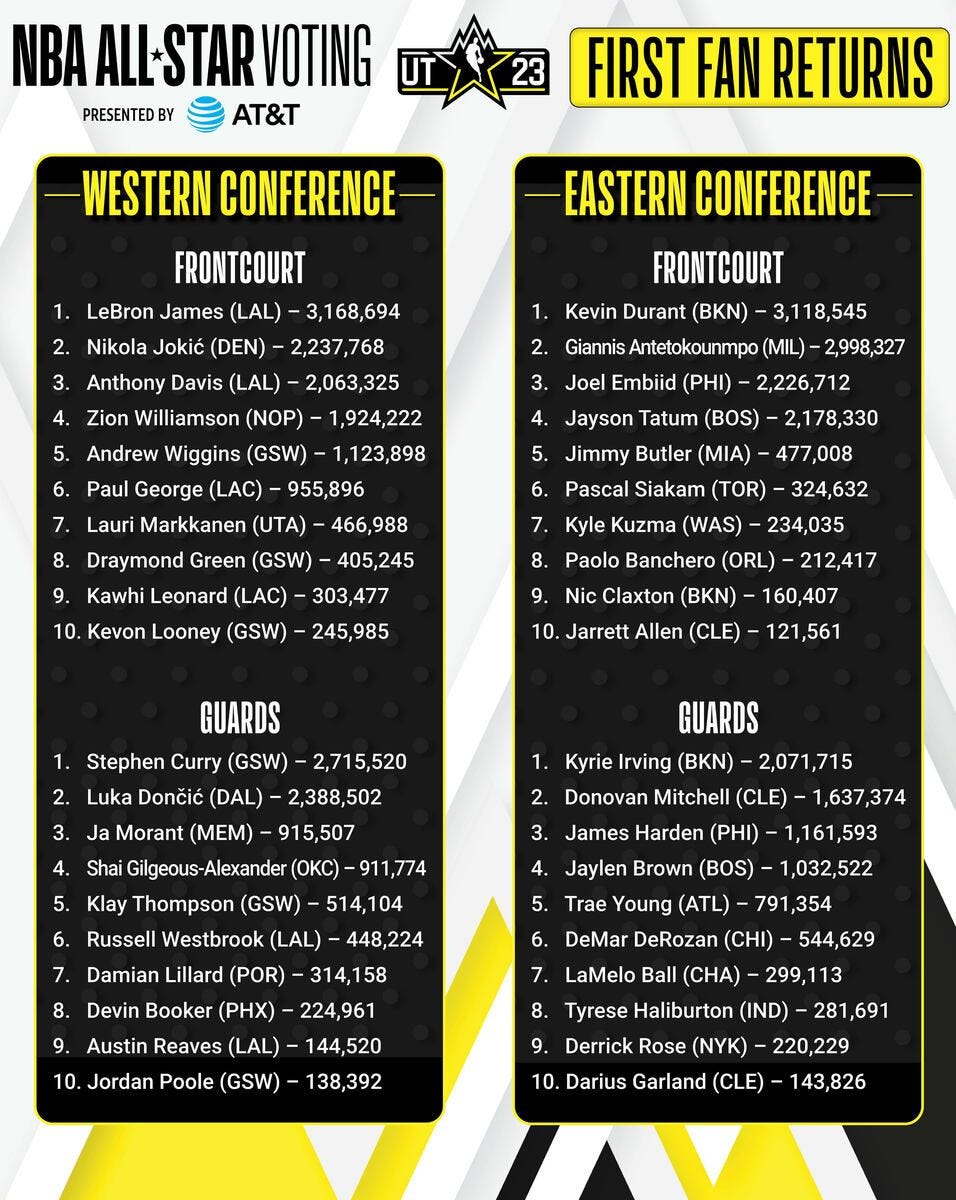 Remember, All-Star starters are no longer decided purely via fan voting. After journeyman center Zaza Pachulia nearly made the starting lineup in 2016, the NBA moved to a hybrid voting system, where fan votes are weighted at 50 percent, while player and media votes account for another 25 percent each. (Full disclosure: I have never had a vote for All-Star teams or any of the end-of-season awards, and nor do I particularly want one, for reasons I may get into some other time.)
The starting lineups will probably be pretty close to the way the fan vote is shaking out, with the exception of Anthony Davis, who is currently third in the fan vote but doesn't have a great shot in the media vote because of the amount of time he's missed. So where does that leave various Blazers players?
Lillard will make it as a reserve. That I'm sure of. He's missed a couple of stints with the calf injury, but he's been good enough when he's played, and has the reputation and seniority, that I have no doubt the coaches will give him a nod.
The Rose Garden Report is a fully independent, reader-supported publication. Purchasing a premium subscription unlocks exclusive content and helps make the coverage of the Portland Trail Blazers the best it can be.
The other two players the team is pushing hard in the fan vote on their various social-media platforms are, not surprisingly, Anfernee Simons and Jerami Grant.
Simons is having a career year, but it's hard to see a path to selection for the same reason CJ McCollum never made an All-Star team in nine years in Portland despite being arguably deserving some years: there are just too many good guards in the west. Even with the time he's missed with a shoulder injury, Stephen Curry is a lock. So are Luka Doncic and Ja Morant, along with Lillard. Shai Gilgeous-Alexander is almost sure to be included. That's five right there, before we even get to deserving candidates like Devin Booker (if he's healthy) and De'Aaron Fox. As good as Simons has been, there are too many guys ahead of him in the pecking order for him to have a realistic shot.
Grant's case is a little more interesting. His production and consistency make him worthy of consideration, and coaches like to reward deserving first-timers from time to time. Questions about the health of some of the more likely candidates for selection (Anthony Davis, Paul George, Kawhi Leonard, Zion Williamson) might open up some Western Conference frontcourt spots. It's not out of the realm of possibility he's named an injury replacement, at the very least.
More than anything else, though, the All-Star chances of Grant or any other non-Lillard Blazer will come down to where they are in the standings. Right now, they're seventh in the west. Not too many seventh seeds have two All-Stars. Aaron Gordon is currently getting some All-Star buzz for the career year he's having in Denver. His role with the Nuggets is similar to the role Grant plays in Portland, and their production is roughly equivalent (Grant scores more, Gordon rebounds more). But Denver is currently tied for first place in the conference, while Portland is fighting to get out of play-in range. Teams at the top are much more likely to have their second- and third-best players considered than teams in the middle or at the bottom. That's just how it works.
Portland is only two and a half games out of fourth. If they break out of their recent slump and take advantage of a home-heavy January schedule and make up some ground, it's more likely Grant could receive consideration from the coaches for a reserve spot. If they stay around where they are in the standings, it's probably not going to happen.
Beyond that, don't be surprised if Shaedon Sharpe puts in an appearance in Salt Lake City. At the very least, he'll be invited to the Rising Stars game as a member of the "World" team representing Canada. But there are a lot of people around the league who would like to see him participate in the dunk contest as well.
Ja Morant

@JaMorant
dunk contest him 🤣😮‍💨
NBA @NBA
💥 Shaedon Sharpe with his head at the rim, WOW!  twitter.com/NBA/status/159…
Dec 1, 2022
3.96K Likes   226 Retweets   86 Replies
Sharpe seems like a natural fit on every level. In recent years, the bigger names have stopped participating, so the participants have skewed more towards rookies and younger players (Simons won it in his third year, when he was still a lesser-known bench player). And, well, you've watched him. It's tough to take anyone in the league over him in a dunk contest just based on what he's done in games.
When us reporters have brought the idea up to Sharpe over the course of the season, he's expressed ambivalence. But if the league extends the invite, Lillard and Simons—and others in the organization—won't let him turn it down. I would guess it ultimately happens.