The Trail Blazers Have the No. 3 Overall Pick. Now What?
Weighing the options after Portland got some good lottery luck.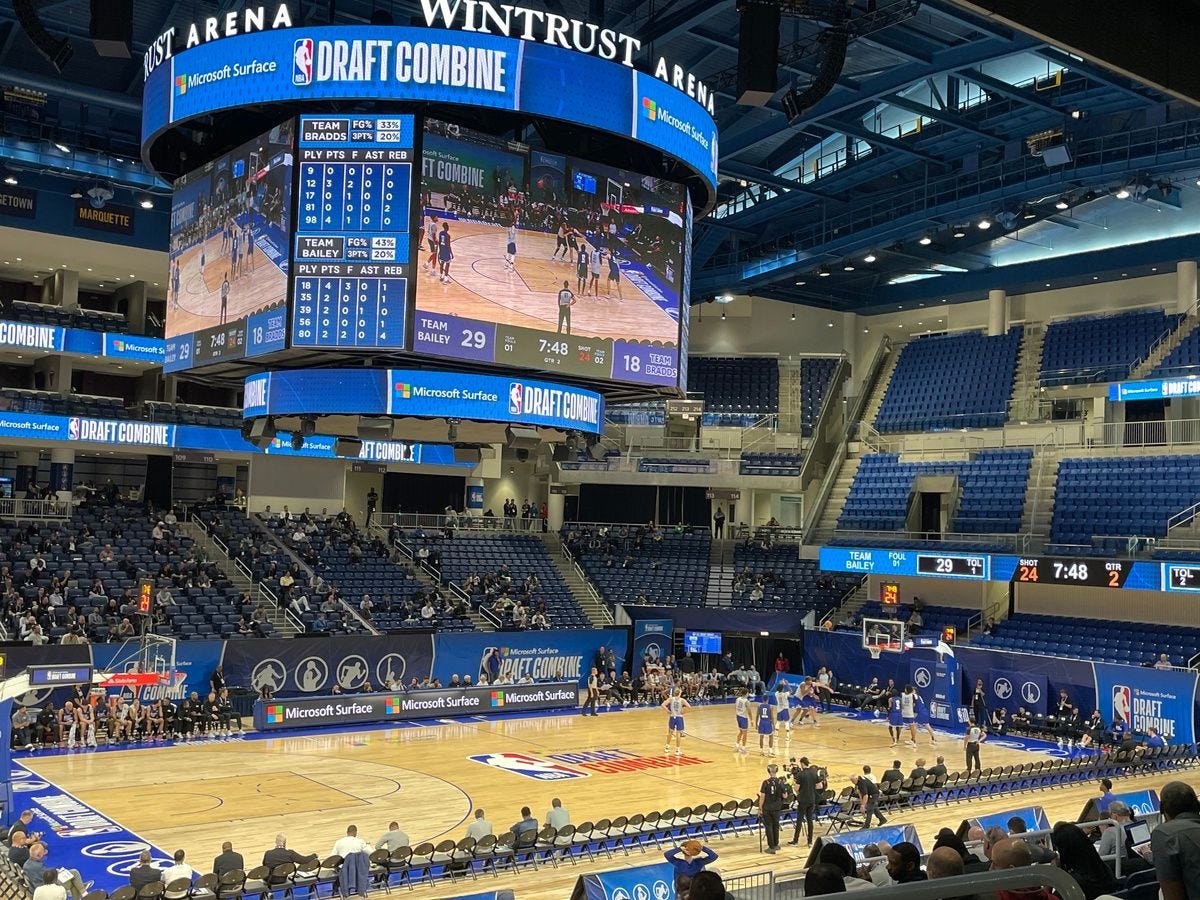 CHICAGO — The morning after the Trail Blazers moved up two spots in Tuesday night's draft lottery to the No. 3 overall pick, the team sent an email out to season-ticket holders that read, in part:
We've secured the #3 pick in the 2023 NBA Draft. Our Basketball Ops team is working behind the scenes to improve our roster and build a team ready to compete alongside Damian Lillard, who had his best season to date last year. Stay tuned, this offseason is sure to be exciting!
A season-ticket sales email is not a legally binding document. But if Lillard's comments at last month's exit interviews about not wanting to play with more 19-year-olds didn't already telegraph their intentions for the night of June 22, what they're messaging to their paying customers sure does.
The Blazers are going to do their due diligence on the draft. Joe Cronin's entire front-office staff—assistant GMs Mike Schmitz, Sergi Oliva and Andrae Patterson; director of basketball planning and strategy Asjha Jones; director of player personnel B.J. Domingo; and scouting manager Sheri Sam—are here in Chicago for the NBA's annual predraft combine, along with head coach Chauncey Billups and president of business operations Dewayne Hankins. Over the next six weeks, they're going to host prospects for individual and group workouts at their practice facility in Tualatin, and having possession of picks 3, 23 and 43 means everyone with any expectation of being drafted (besides Victor Wembanyama, obviously) is someone they should and will take a look at.
But it doesn't take a genius to figure out that the most likely course of action is trading the third pick, and nothing I've heard this week makes me think otherwise. Nothing is certain, of course. This time last year, I would have been shocked if the Blazers didn't move the No. 7 overall pick for more win-now help for Lillard, and they had serious discussions with Toronto for O.G. Anunoby right up until they decided to keep the pick and take Shaedon Sharpe. So it's theoretically possible they like Scoot Henderson, Brandon Miller, Amen or Ausar Thompson, Cam Whitmore, Jarace Walker or any of the other projected high lottery picks enough not trade out.
But if they're truly still committed to building around Lillard, and there is nothing right now to indicate they are not, then it's not really a discussion. There's one player in this draft that will (allegedly) be ready to contend from day one, and that guy is going to San Antonio. Anyone else they'd take that high is a project, and Lillard has made it abundantly clear he doesn't have any more time for projects.
Here's the good news: the way the lottery shook out has put Cronin and the Blazers in a very advantageous position. Maybe more so than any other team looking to get in the big-game trade market.
This post is for paid subscribers