Discover more from The Rose Garden Report
Comprehensive, independent coverage of the Portland Trail Blazers and the NBA from veteran beat reporter Sean Highkin.
Over 4,000 subscribers
Trail Blazers Media Day: Chauncey Billups is the Face of the Franchise
Plus closure on the Damian Lillard era, excitement about Scoot Henderson and other notes from media day.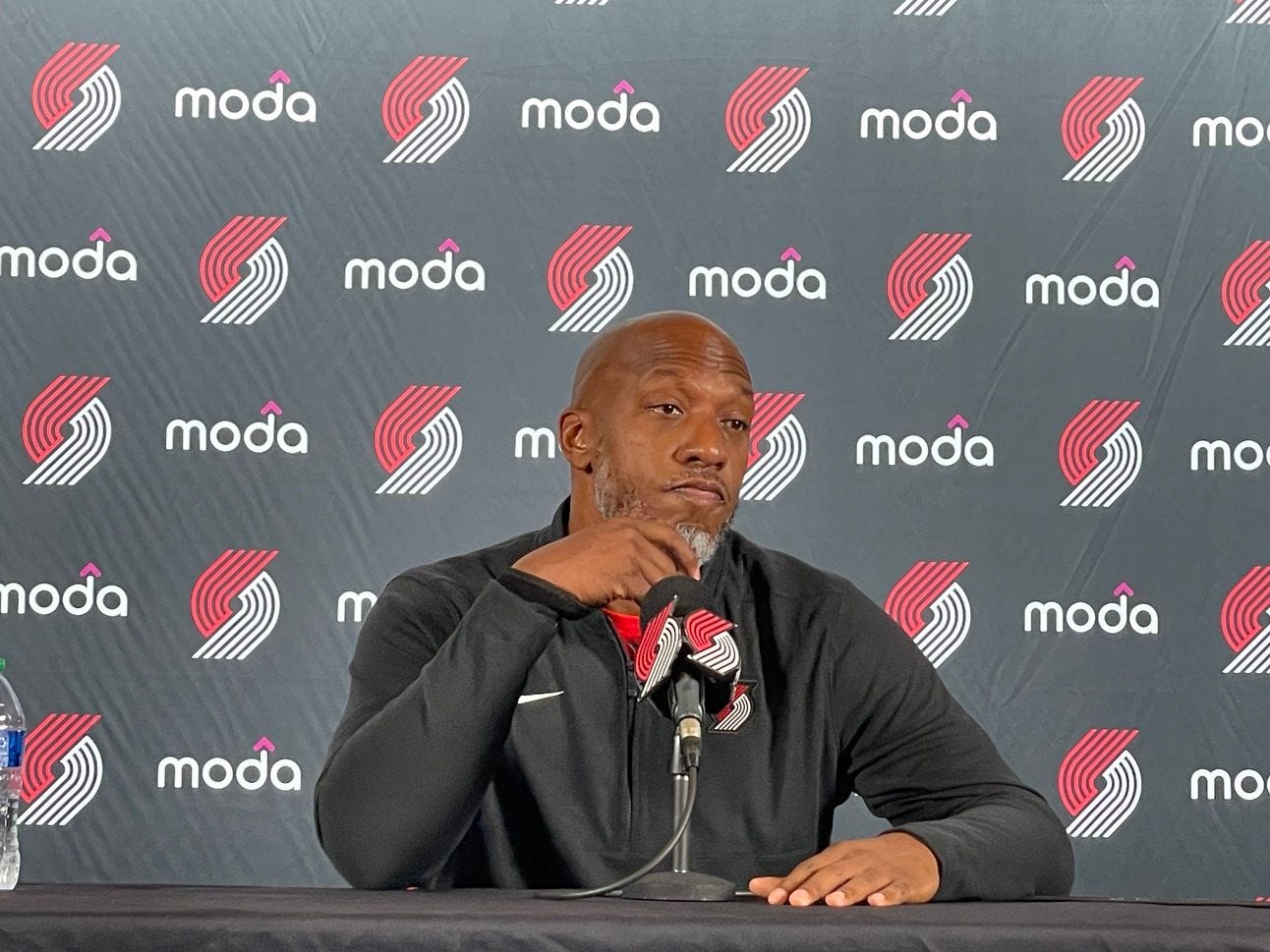 PORTLAND, Ore.—For the 11 years Damian Lillard was in Portland, the Trail Blazers had an identity.
Now that the franchise's all-time leading scorer is in Milwaukee, they opened training camp for the first time in over a decade searching for that identity, and for a face. Before Lillard, that player was LaMarcus Aldridge. Before him, Brandon Roy. Before that, Rasheed Wallace. If all goes according to plan, the next one will eventually be Scoot Henderson.
But in reshaping the roster this summer, general manager Joe Cronin didn't make moves with any player in mind. Everything he did was in service of reshaping the roster around the real face of the new-look Blazers: Chauncey Billups.
"It's been like a total reset," Billups said at media day going into his third season as head coach. "What we tried didn't work. It's that simple. But I'm so happy about where we are right now. Joe and I have spent so much time together on, what kind of team do we want? What kind of guys do I need? Quite frankly, everything up until the trade request was, 'How can we do the best thing for Dame?' And obviously, we weren't able to do it. So after that, it's like, where do we go?"
For two years, Billups has lamented the roster's lack of size. Now, he he has two dynamic, athletic centers to work with in Deandre Ayton and Robert Williams III. He wants to play fast, and in Henderson he has a very different, more explosive kind of point guard than Lillard was. He wanted defense, and now he'll have Matisse Thybulle for a full season, as well as No. 23 overall pick Kris Murray, who profiles as solid on that end. With Henderson, Shaedon Sharpe, Jerami Grant and the two new bigs, this is the most athletic roster the Blazers have had in decades.
"Finally, Chauncey has a group capable of playing the style that he wants to play," Cronin said. "Now, he'll be able to implement all of this. We've got some talented guards who will need his leadership, will need his mentoring, need his voice, need to be challenged by him. Chauncey's got such a good demeanor and the players think so highly of him. He'll give them a hug and then challenge them."
The Rose Garden Report is a fully independent, reader-supported publication. Purchasing a premium subscription unlocks exclusive content and helps sustain the website and make the coverage of the Portland Trail Blazers the best it can be.
Billups has had as tumultuous a first two years as a head coach as anyone. The general manager who (controversially) hired him in 2021, Neil Olshey, was fired two months into his first season after a workplace investigation. Lillard missed most of that year with abdominal surgery, and a full roster teardown followed. Last year was also injury-riddled and ended with a second consecutive end-of-season tank job. Because of all this uncertainty, Billups has largely gotten a pass locally and nationally for two straight trips to the lottery.
Maybe that's warranted, maybe it's not. But now, going into year three of a five-year deal with a completely overhauled roster, any successes or failures will fall at Billups' feet. Not necessarily in wins and losses—nobody realistically expects this team to make the playoffs at this early stage of a rebuild with so many young players—but individual player development and the collective establishment of an identity will be on display, or not. He will live or die by his philosophy and style.
The only player left in Portland that Olshey drafted, and the only one who ever played for Terry Stotts, is Anfernee Simons. Everyone else was handpicked by this front office specifically to play for this coach. This is Cronin's and Billups' show now. There will be no one else to blame if it doesn't work, and they'll be the ones to get the credit if it does.
Over his first two seasons in Portland, I've found Billups as open, introspective and vulnerable as any coach I've ever covered. He's never tried to sugarcoat some of the losses he's taken, and there were some bad ones. A lot of bad ones. The most fun I've ever seen him have was the end of his first season, when they pulled the plug on competing for the playoffs with he was free to try different lineups and sets without worrying about being judged on wins and losses.
Now, he has much better talent to work with. And with no clear first option of Lillard's caliber and no hierarchy established, the leash is off again.
"It's a gift and a curse," he said. "Having a guy like Dame, he's so great that at the end of games, not only do 20,000 people in the arena know where the ball is going, the whole world knows where it's going, and he still can get a shot and make it. Now, we become less predictable. I can run a play for whoever I want to now. If I ran a play last year and used Dame as a decoy and Shaedon got the shot and he missed the shot, y'all would be crushing me. The world would be crushing me. But maybe I'm just trying to develop Shae a little bit. But if Dame's here, it's like 'Why wouldn't you [give him the ball]? And that's fair. But now, growing these dudes, I can try different things like that."
Billups' biggest successes thus far in his coaching career have been in helping players succeed when they weren't in other situations. Thybulle thrived last season after coming over from Philadelphia, in part because Billups encouraged him to take shots his previous coach, Doc Rivers, never wanted him to take. Simons has blossomed when he's been given a bigger role. He'll have a chance to similarly rejuvenate Ayton, a former No. 1 overall pick whose time in Phoenix couldn't have ended much worse.
"I'm happy that I went through the two years I went through," Billups said. "It's prepared me for this moment. Coming in my first year, you don't know what you don't know. I now know what I didn't know, and I know how I want to do things. The messaging. I understand it now even better than I did last year. So having these new guys who will ingratiate themselves with our fans, being able to get them off on the right track, learning how the game should be played and play the right way. People take for granted that you even know what that means."
It's not a mystery why Billups' players and others in the organization gravitate so strongly to him. He's a straight shooter with the playing credentials to back it up. The on-court success has yet to come. Now, there's no one else to point to if it doesn't.
"I've been trying to build a culture of competitiveness my entire time here," he said. "One of the reasons I'm so excited now is that we've had a reset, and hopefully we can start getting some continuity. That's one thing we haven't had. I felt like at the start of last season, we were very connected. We got off to a really good start, and then injuries started happening and we didn't have enough depth and it just hurt us. But I'm always going to be on that. I'm so competitive and I want our guys to compete every single play, every single practice to help each other out. So nothing's changed with that."
Bittersweet goodbye to Dame Time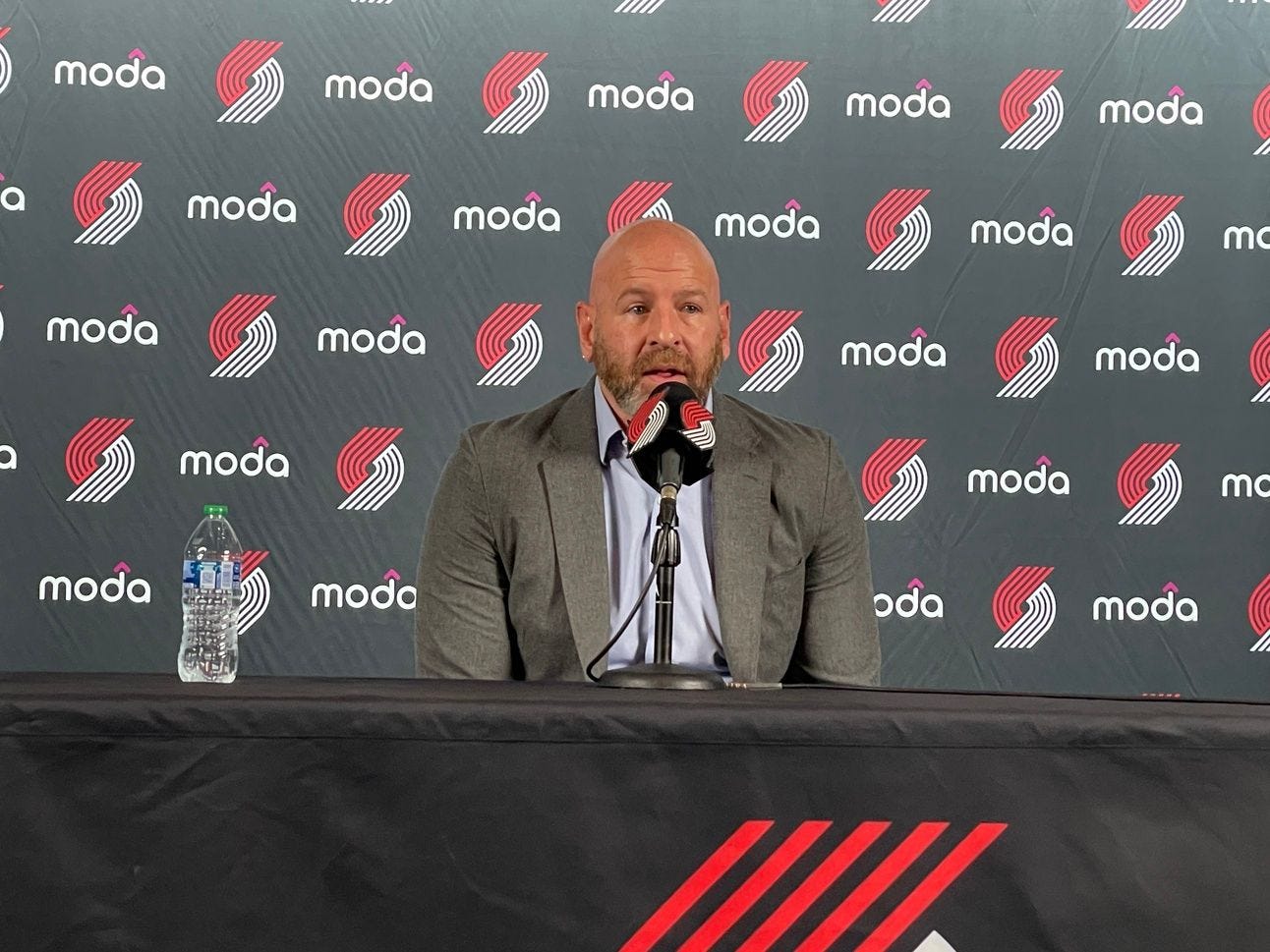 The Blazers had media day on Monday, and so did Damian Lillard. His was halfway across the country and not in Portland for the first time in his NBA career.
"It didn't look right at all," Simons said of the first time he saw a picture of Lillard in a Bucks jersey.
For such a seismic change in the organization, not much time was spent on Monday rehashing the circumstances behind Lillard's exit (which I wrote about in much more depth here). Cronin opened his press conference by thanking Lillard, while Billups (probably correctly) declared that most Blazers fans will adopt the Bucks as their second-favorite team this season.
Everyone will be in a much more reflective mood on Jan. 31, when Lillard's new team comes to Portland. Right now, there's so much new to process for everybody involved, and a new team to sell, that nobody who spoke on Monday wanted to spend much time reflecting on what was.
Cronin did speak—very candidly, I thought—about the process that played out in the 88 days between Lillard's trade request and the deal being finalized.
"Looking back, there's always things you'd like to do better, and I've reflected a lot on that," he said when I asked him if he regrets handling communication with Lillard and his agent the way he did. "But at the same time, I have to do what I have to do to do what was best for us. The process could have gone more smoothly and been less clunky. But at the end of the day, the result was what was important, and that's to put the Trail Blazers on the right path."
A report last week indicated that Lillard asked Cronin if he could return to the Blazers if they couldn't find a deal with his preferred destination of Miami, and that Cronin had said no. Cronin on Monday clarified what most people assumed: that Lillard wasn't offering to fully reverse his trade request and be happy playing for a rebuilding team, and rather just wanted to give his team more time to find a deal with the Heat.
"I told him I personally thought it was a bad idea," Cronin said. "The trade request had not been rescinded, and for me, I did not want that to go into the season. Let's find something now instead. That was my approach. It was best for us to find the best deal where hopefully we could all be happy. We feel like we accomplished that. The Trail Blazers are really excited with where we're at, and Dame will have an incredible opportunity to compete at the highest level in Milwaukee."
I said after the trade that I believe Lillard and Cronin will eventually get past their current rift. Cronin seems to think so, too.
"I hope over time, the relationship gets stronger and stronger," he said. "When it happens in the moment, I don't know that it's ever super great. I hope there's not enough baggage that, over time … I know he loves this organization and he loves this city. I hope he'll be able to be one with the organization whenever that next page is turned."
The Scoot era begins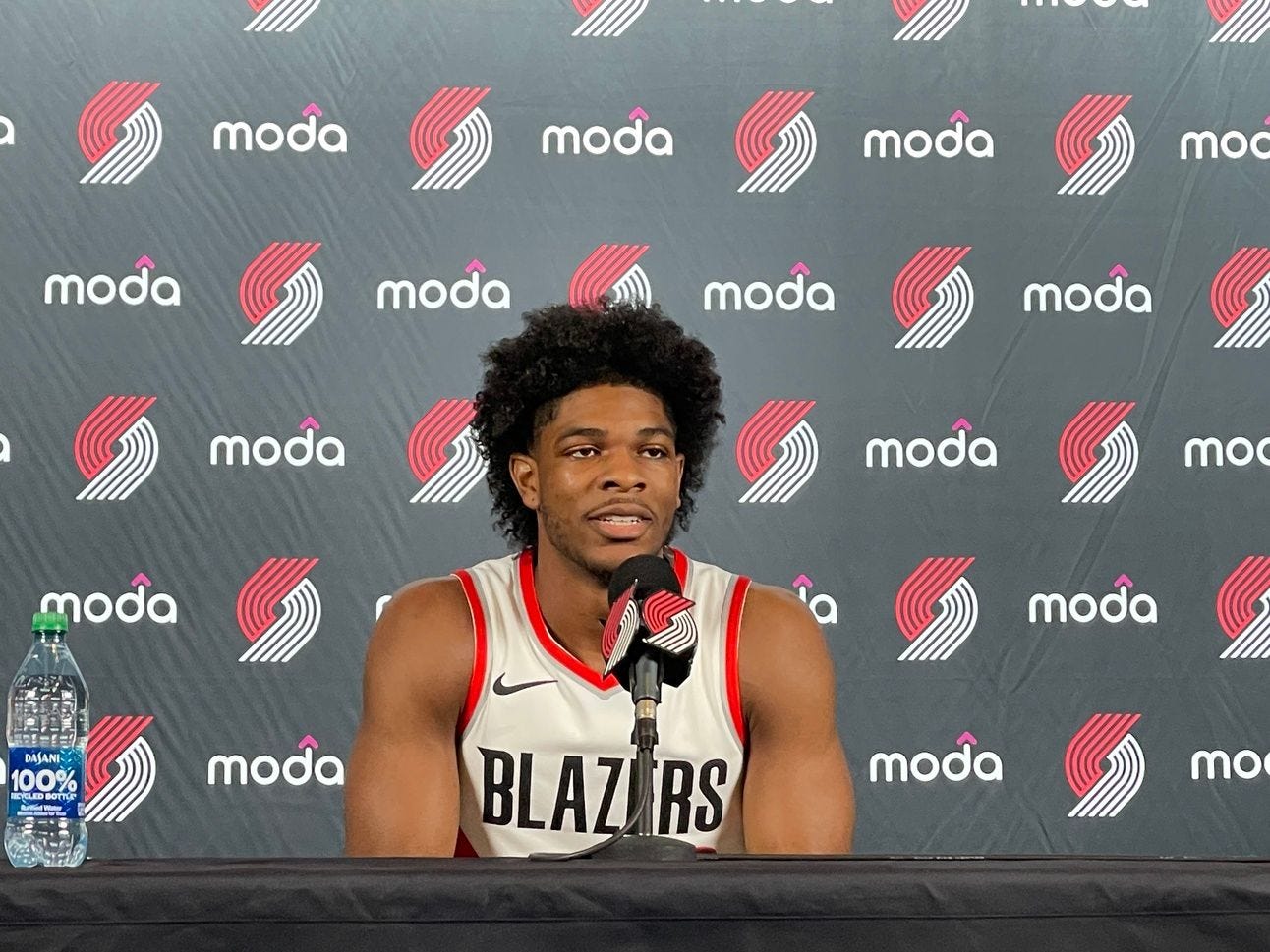 In response to a softball question about how it felt to put on an NBA jersey for the first time, Scoot Henderson revealed that he likes to wear his jerseys tight.
"I like my muscles to pop a little bit," he said.
And on that note, a new era was ushered in.
Cronin and Billups both raved about Henderson's vision and IQ, which they said are more advanced than even they expected in the predraft process, based solely on summer pickup runs at the team's practice facility. Just like he did in the G League, he seems to have quickly won over his more veteran teammates.
"He has a natural leadership to him," Jerami Grant said. "He's a natural leader. I think he has the potential to be that pretty early. But we want to make it easy for him. We don't want to put too much on him right away. I'm definitely looking forward to that."
That and the unselfishness (which Henderson said he got from playing football until 10th grade) were the things everyone who was asked about him pointed to.
"I think the most beautiful thing about basketball is the togetherness," Henderson said. "It's a team sport. If you're a one-man army, you can't win at all. And my biggest thing is, I'm a winner. When you're with people that you love to be with, it's good vibes. And the competitiveness that comes with it. I love to compete."
Other notes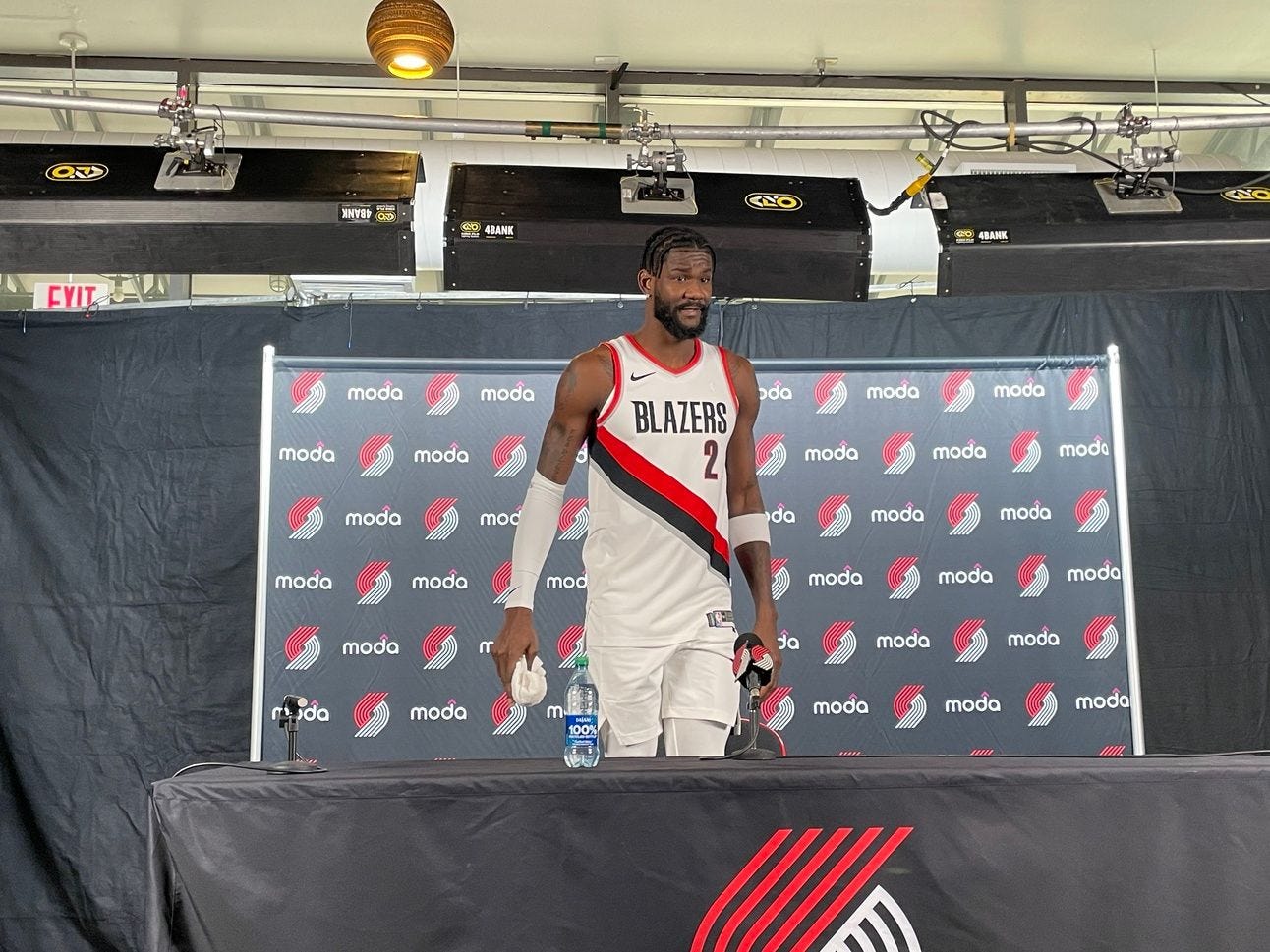 The viral quote of the day came from Deandre Ayton, asked what he hopes to bring. "I bring dominance. My name is DominAyton."

In the aftermath of the Jrue Holiday trade, it seemed like the Blazers' plan was to flip Malcolm Brogdon to a contender for more draft assets. That may well still happen before the trade deadline, but it doesn't sound like it's a priority. Both Cronin and Billups said they want Brogdon to be a part of the team given the lack of veterans on such a young roster. (On that note, both Brogdon and Robert Williams III will meet the team in Santa Barbara and take their physicals there before joining training camp.)

Shaedon Sharpe says he expects to play for the Canadian national team at the Olympics next summer in Paris.

Jersey numbers for the new guys: 2 for Ayton, 33 for Camara, 35 for Williams and 92 for Brogdon. The latter marks just the third 92 in NBA history, with the others being Lucas "Bebe" Nogueira and DeShawn Stevenson. (I assume it's for his birth year.)

For those of you who are free subscribers, this is the last story you'll have access to for the rest of the week. I just landed in Santa Barbara and will be down here all week covering training camp. Because these trips aren't cheap and I don't have a company paying for my travel, I'm making everything I write from camp paywalled. Consider signing up below.