Discover more from The Rose Garden Report
Comprehensive, independent coverage of the Portland Trail Blazers and the NBA from veteran beat reporter Sean Highkin.
Over 4,000 subscribers
Trail Blazers Extending Jerami Grant is a No-Brainer for Both Sides
Grant becomes extension-eligible today. It should be an easy decision for him and the Blazers.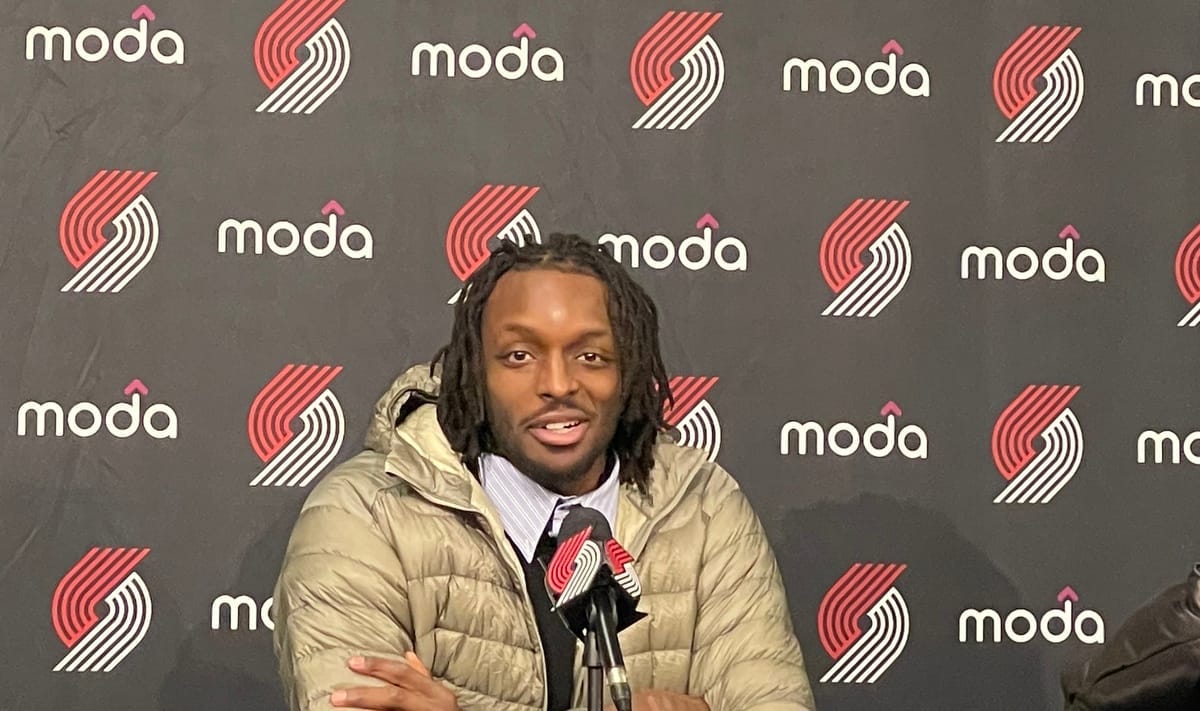 The Trail Blazers' trade for Jerami Grant was rumored as far back as last season's deadline, but the pairing was in the works long before that.
Damian Lillard was sold after playing with Grant in Tokyo in the summer of 2021 as Olympic teammates.
"​​I just went, 'He'd be the perfect four man for us. He could take us up a level,"' Lillard recalled after a practice in November. "Especially because he's been in a role in Detroit where he's the No. 1 option, and he's been in a role in Denver and OKC where he's been in a lesser role and had an impact in other ways. I just felt like he'd be great for our team."
The trade got done in the offseason, and the marriage has worked out exactly as well as both Lillard and general manager Joe Cronin—as well as Grant himself—hoped it would.
Friday marks six months since the day the trade for Grant became official. He's now eligible to sign a four-year, $112 million extension with the Blazers that would prevent him from hitting free agency this summer. It feels like the obvious outcome, whenever it happens.
It's hard to imagine a non-superstar offseason addition fitting in on a team better than Grant has fit in Portland. He's found the ideal situation for the caliber and type of player he is. The Blazers' season started off better than anybody's wildest expectations and has come back to earth in recent weeks, but through it all, Grant has been one of the consistent positives.
The Rose Garden Report is a fully independent, reader-supported publication. Purchasing a premium subscription unlocks exclusive content and helps make the coverage of the Portland Trail Blazers the best it can be.
Grant has found the perfect role for himself with the Blazers, the culmination of the best parts of his other stops to this point. In Philadelphia, he had promise but never had much of a chance to truly flourish playing on some truly atrocious Process-era tanking teams. In Oklahoma City, he evolved into a rock-solid wing defender and improved his scoring touch but had to compete for shots with, at varying points, Russell Westbrook, Paul George and Carmelo Anthony. In Denver, he played a similar, invaluable role on a team that made the Western Conference Finals in the bubble, but still found himself taking too much of a back seat for his liking. When he left for Detroit in the summer of 2020, he did so in part because he wanted to prove he was capable of being a featured scorer every night. He did that, but it didn't lead to a lot of wins.
In Portland, he's settled into the exact right spot between the good-stats-bad-team guy he was in two seasons with the Pistons and the supporting role he played with the Nuggets and Thunder, and it's resulted in the best season of his career.
Grant has given the Blazers exactly what they've needed for years—an athletic forward who can defend multiple positions—and in turn, they've opened up new aspects of his game. He's shooting a career-high 45.2 percent from three-point range on six attempts per game, just barely behind the 6.1 attempts of his first season in Detroit for the highest volume of his career. The reason that's not a fluke is because the shots he's getting are wide-open playing largely alongside Lillard and Anfernee Simons, who command more attention than anyone he's played with at his other stops. He wasn't getting these kinds of looks in Detroit, where he was the focus of every scouting report, and he's knocking them down.
At least two wins this season—the road wins in Phoenix and New York—wouldn't have happened if not for Grant. Those nights, between injuries and off nights to other players, he was their go-to scorer. He's shown he can do that when needed, but playing on a team with Damian Lillard, he doesn't have to be every night. And on nights like Wednesday's loss in Minnesota, he was the only player who could score consistently. Even more so than Lillard, who has been in and out of the lineup with a calf injury, Grant's production has been the thing this team has been able to count on most nights.
Grant has been a great personality fit, too. Chauncey Billups loves him, and his teammates gravitate to him.
At 28, Grant is right in his prime and an extension would cover his remaining peak years. It would line up with when Lillard's just-inked supermax extension expires. And at an average annual value of $28 million, it wouldn't take up so much of their cap that it would preclude them from making other moves to improve the roster and maximize what's left of Lillard's prime.
It may not happen today, but I expect a deal to get done. It just makes too much sense not to. He could look around for a little bit more money in free agency, but he won't find a better situation than what he's found here. Most of the teams projected to have cap space this summer are rebuilding situations much like the one he just left in Detroit. If he doesn't sign an extension before free agency starts on June 30, expect a new deal to be one of the first ones reported at 12:01.
It should be a quick negotiation if it gets to that, but the most logical outcome for all sides here is for this to get resolved well before then.