Discover more from The Rose Garden Report
Comprehensive, independent coverage of the Portland Trail Blazers and the NBA from veteran beat reporter Sean Highkin.
Over 4,000 subscribers
Trail Blazers' Draft Brings 'Transcendent' Talent Scoot Henderson, Plenty of Questions About Damian Lillard's Future
Joe Cronin is still trying to thread a needle that's only getting tighter.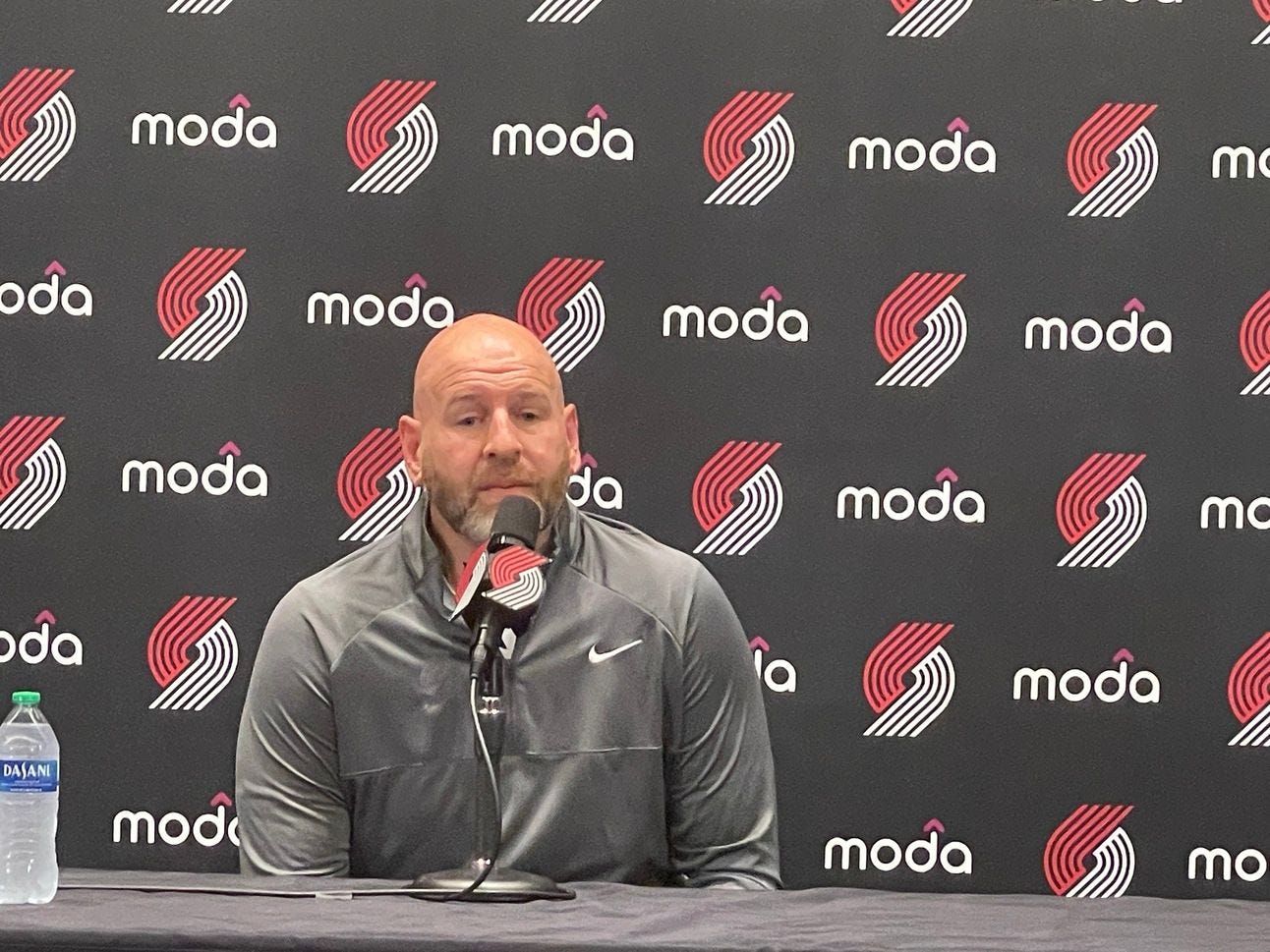 TUALATIN, Ore. — The entire night at the Trail Blazers' practice facility on Thursday was surreal.
By just about every measure, the Blazers had a great draft, and nobody in the building was quite sure how to feel about it. It certainly didn't put anybody's minds at ease about what the coming weeks will hold for Damian Lillard's future.
General manager Joe Cronin had the easiest job of the night for any non-Spurs executive—just take whichever one of Scoot Henderson or Brandon Miller is left with the No. 3 overall pick—and will have among the hardest jobs of the next three weeks in using free agency and various trade assets to put together a roster he can sell to Lillard as good enough to pre-empt the trade request that's seeming more inevitable by the day.
This was the night Cronin was supposed to "push all his chips in," as he talked about both after the trade deadline and at his end-of-season press conference. Since last month's lottery, when the Blazers moved up to No. 3 in what most people considered a three-player draft, fans, observers and—most importantly—the franchise point guard were dreaming of using that pick to cash in for the kind of co-star Lillard hasn't had since LaMarcus Aldridge's departure eight years ago.
That trade never materialized. The Blazers entered the night with three picks and used all three of them, taking Henderson at No. 3, Iowa forward Kris Murray at No. 23 and French forward Rayan Rupert at No. 43. If it's possible for a draft in which Portland came away with a player getting Ja Morant, Russell Westbrook and pre-injury Derrick Rose comparisons to be anticlimactic, this was that.
"The goal post-lottery was to see what the value of this pick was, as far as evaluating the draft as well as evaluating the trade market," Cronin said at his post-draft press conference. "And as you're evaluating this draft, with Scoot Henderson and Brandon Miller, the list gets pretty small pretty quickly as far as which [trade targets] are available, plus a terrific fit, on a great contract and can really take us to another level. We kept working those and trying to see if any of those players made sense, but as we got through this and into today, we just opted to go with the pick instead with Scoot."
Much like what most people viewed as an underwhelming trade deadline in February, the way Cronin handled draft night makes plenty of sense in a vacuum. A pick that high in this draft, and the chance to get a player with Henderson's ceiling on a cost-controlled contract, doesn't come around very often. Nothing that presented itself on the trade market matched that value, so he made the pick.
But these decisions aren't made in a vacuum. There's context around them, and in this case, the context is that Cronin has repeatedly said over the past 18 months that his only goal is to put a contending team around Lillard.
After the deadline, Cronin said he was "borderline anxious" to make the big all-in move that would give Lillard the chance to win at the highest level in Portland. At his exit interview, he said they would be "more in win-now mode" next season.
I asked Cronin on Thursday night if his plan is still to build a contender around Lillard and he answered: "It is."
"There's nothing we want more than, number one, for Dame to retire a Trail Blazer and two, to put together a high-end winner," he said. "I think that's what gets misconstrued about Dame sometimes. For us, it's an incredible problem to have. We have the best player in Trail Blazers history, who wants to be here and have a winner put around him, and that's our challenge."
It remains to be seen how Cronin will pull that off. Easily his best trade asset, and arguably the best possibly-available asset in the entire NBA, was the third pick, and he committed that to a 19-year-old, which is exactly what Lillard said he didn't want. One would think Anfernee Simons will be moved regardless of Lillard's status, to clear the runway for Henderson and Shaedon Sharpe in the backcourt. Simons is on a good contract and still has some upside, so maybe you can swap him out for a starting-caliber wing. Jerami Grant, as far as I've heard, is still expected to re-sign. They probably need to upgrade the starting center spot, but Jusuf Nurkic isn't going to have much trade value around the league. If they have to, they can figure out an agreement with Chicago to free up their future draft capital to use in a trade. They have the mid-level exception to play with in free agency.
Maybe all of that is enough to give Lillard a halfway-decent supporting cast to where he feels it's worth sticking it out. Their only choice is to try. The Blazers can't proactively rip the band-aid off and trade Lillard to set up a rebuild because there's no trade package or landing spot out there right now that makes sense. I don't envy what Cronin has to pull off over the next two weeks to salvage this thing.
On Thursday evening, Cronin was asked flat-out whether he thinks the Blazers are in danger of Lillard requesting a trade.
"No, I don't," he said. "I think Dame badly, badly wants to win. He's probably being more vocal about that than ever, but I don't really look at that as a negative. I look at that as, he's passionate about this. It matters deeply to him and it matters deeply to us. I think the reason you haven't seen major issues from us, or the reason you still see Dame in our gym every day or still meeting with Chauncey [Billups] and I constantly is because he wants it to work. He's bought-in, he wants it to work here. He's challenging us to get it done, which I think is more than fair. He's earned that."
About two minutes before Cronin walked into the film room at the Blazers' practice facility for his press conference, Turner Sports reporter Chris Haynes, who has a closer relationship with Lillard than any other media member locally or nationally, tweeted this:
Chris Haynes

@ChrisBHaynes
Damian Lillard has not had any recent communication with the Portland Trail Blazers involving the draft, free agency or his future, league sources tell @NBAonTNT, @BleacherReport.
Jun 23, 2023
4.88K Likes   759 Retweets   329 Replies
For his part, Cronin said he had a "long talk" with Lillard on Tuesday about trade targets and the possibility they'd use the pick rather than move it. Putting aside semantic arguments about what counts as "recent" communication, the timing of Haynes' tweet was deliberate, and wouldn't have happened without sign-off from someone in Lillard's camp.
Call it a warning shot or a soft-launch for an eventual trade request. Maybe that request doesn't end up coming. This stuff has gotten loud around Lillard before, particularly in the summer of 2021, when then-general manager Neil Olshey called the Blazers' first-round playoff exit "not a product of the roster" and tried to pin his controversial coaching hire on Lillard when the public backlash hit. Lillard has admitted he seriously considered leaving then. He ultimately held off, and in the ensuing year Olshey was fired and Lillard signed a huge contract extension.
If the Blazers-Lillard partnership survived that debacle, no wonder Cronin thinks it won't reach the breaking point now. People close to Lillard continue to feel using the third pick rather than trading it is a non-starter from his end. If this draft is indeed the final straw, Lillard won't face the kind of backlash star players usually do for wanting to leave small markets. Large swaths of the NBA media ecosystem have been practically begging him to leave Portland for years, more out of a desire to feed the content machine than out of any genuine concern for his own interests or what's best for his career. An offhand Instagram comment during the COVID bubble of 2020 accusing Paul George of "running from the grind" has become a punchline every time he gives an interview in which he's asked about his desire to win in Portland.
The city of Portland would be heartbroken if it happened, but Lillard would be downright celebrated nationally for it, because that's what stars are expected to do now. The Blazers aren't winning that PR battle like they would have a decade ago. He'd be treated like a hostage being freed from captivity, even though he's an adult capable of making his own decisions and signed three contract extensions over the last 11 years of his own free will.
"I would love to see Dame retire in a Trail Blazer uniform," Cronin said Thursday. "I have zero desire to trade him. We really hope this works out here."
I know Cronin quite well and I genuinely don't think he's lying to anyone. I think he truly believes Lillard will come around to playing with Scoot Henderson if the next two weeks see the right roster additions.
I just hope he knows what he's up against.