Discover more from The Rose Garden Report
Comprehensive, independent coverage of the Portland Trail Blazers and the NBA from veteran beat reporter Sean Highkin.
Over 4,000 subscribers
What Trail Blazers Coverage Here Will Look Like This Season
Some notes on what to expect in this space.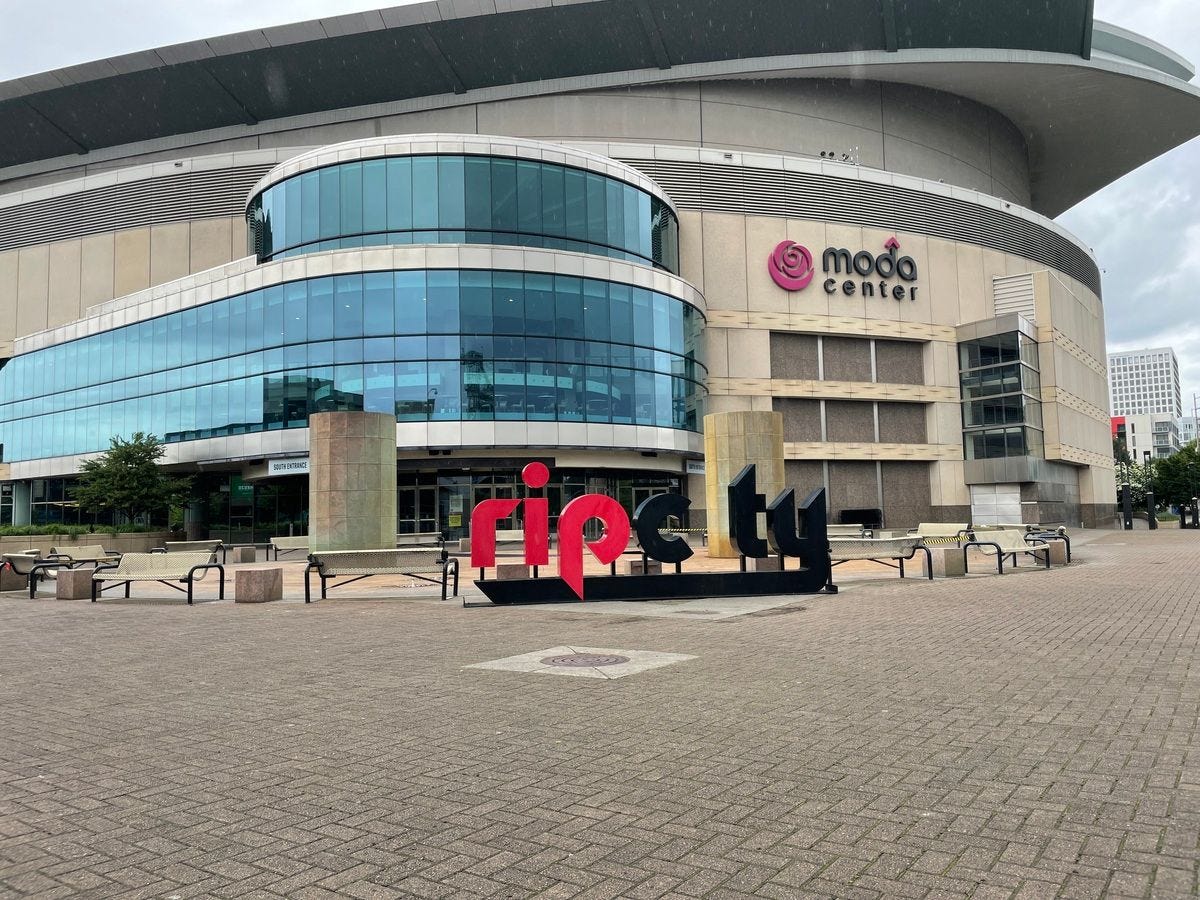 As of today, for the first time the Rose Garden Report is operational during regular-season games that count.
I've had a lot of fun building this thing from the ground up over the past four months, and somehow haven't run out of things to write about despite it being entirely an offseason endeavor so far. It still hasn't grown to where I want it to be yet, but I've seen enough early on to think that it's on the right path and will be fully sustainable by the end of this season.
Now, it's on me to keep producing content at the level I have been, to give new people a reason to subscribe and give those of you who have already signed up your money's worth. I've never been great at self-promotion, and it's especially difficult when the thing you're promoting and pushing to people is something that costs money. But I've been having a great time covering the team exactly the way I want to cover it and not having to worry about being a part of the Take Economy or entertaining every rumor or debate-show talking point. Judging by the response I've gotten so far, there are a lot of you who feel the same way, and I hope there will be even more of you on board as the season gets going.
With the Blazers' season opener in Sacramento hours away, here's a broad idea of what you'll be getting as a subscriber now that we're getting to the real stuff:
Home games
As I am every year, I will be at every Blazers home game and practice. And this year, for the first time since late February of 2020, us reporters are once again allowed in locker rooms. This means there will be a lot more opportunities to develop real relationships with the players than there have been in the last two pandemic-impacted seasons, which will lead to much better stories from me and across the board from people who cover the league.
I'm going to write something from every game I cover. It likely won't be a traditional gamer, because that isn't very interesting to me or you. If you just want to know who won and who had how many points and rebounds, you can get that from plenty of other places. What I write might focus on one player's performance, one moment I found interesting, a bigger theme from the game, or whatever the night calls for. But you'll get something.
I'm also going to do something resembling the "Media Row Report" columns Ben Golliver used to write for Blazersedge back in the day (like this). This is where I'll put together random notes, quotes, observations and pictures from each game to give people an inside look at what it was like in the building that night. Those will be paywalled for premium subscribers.
Road games
I will not be on the road with the Blazers this season. I would love to be, I wish I could be, but the reality is that not working for an outlet with a travel budget and doing everything myself means it's not feasible financially to be at road games. The trip to Santa Barbara for training camp was very successful for me and I saw a lot of growth in subscribers from it, but the calculus is different for something like that—a full week in one place without a ton of media and our first real access to the players in several months makes more sense to put out the money for than a few regular-season games.
If the Blazers make the playoffs, I will definitely travel for those games for as long as they're in it. But for the regular season, I'll be watching the games from home just like you.
My plan is to go into every road game with the intention of writing something, but I'm not going to force it. I don't really have any interest in writing straight game recaps, and you probably don't have much interest in reading those. If you do, there are other places to go for it. If someone has a big performance or there's a trend I notice that I think is worth writing about, I'll do that. But if there are a few road games here and there that I don't feel like I have anything to say about, I'm not going to write something just to write something. Hopefully, those games will be few and far between. And whatever I write from road games where I'm not reporting in person will be free and unlocked.
Features
Having real access again post-COVID means a lot of feature story ideas I have are much more doable this year. My sit-down interview with Nassir Little over the summer got great response, and that's the kind of thing I hope to do more throughout the season. I have some ideas.
In addition, to let you all behind the curtain a little bit: since the Blazers don't typically open their morning shootarounds to media at home, I'm going to continue doing what I've done for years as a national writer and go to the visiting team's shootarounds on game days as they come through town to talk to people and get a feel for what's going on with those teams. I've already got a "hit list" of players and coaches on teams that will be in town in the coming weeks that could have insight on various Blazers players and topics, and that's something I plan to take full advantage of.
I'm also going to continue writing and reporting about team business-related topics like the ownership situation, the possibility of Portland getting a WNBA team, various things involving the broadcast, and more. I've gotten great response when I've written about those things in the past, and they're interesting to me.
This kind of stuff will all be paywalled.
Non-Blazers stuff
My focus with this endeavor is on covering the Blazers beat every day as comprehensively as I can. But in my career, I've worked as a national NBA writer for major outlets like USA Today, NBC Sports, the now-defunct Sports On Earth, and most recently Bleacher Report. Occasionally, I'll still want to flex that muscle and weigh in on something league-wide that isn't Blazers-centric, like I did in the aftermath of Adam Silver's underwhelming punishment for Robert Sarver last month.
I'm not going to do it a ton, only when I feel like I really have something to say on a topic or a news story, but that will be in the mix from time to time. And as the only writer in the Portland market who has covered the league on a national level, I'll be able to bring a national/league-wide perspective to things that do affect the Blazers.
Mailbags
I've gotten great response to the three mailbags I've done so far, and I'm going to continue doing them roughly once a month. I'm going to keep it the same way: you'll have to be a paid subscriber to submit a question, but they'll be free for everybody to read. I'll probably time them to the Blazers' long road trips to make sure there's fresh content even when I'm not around the team every day.
The podcast
In addition to all the writing on the site, I have plans to grow the podcast as well. Last week, I signed on with Minute Media (the parent company of the Players Tribune, FanSided and The Big lead) to join their network of podcasts, which will help me get ads and sponsors and hopefully grow my audience. I still own the podcast and have full creative control over it, so it's going to continue as it is in terms of content.
My plan is to do two episodes a week during the season. There will be some weeks where I only have time to do one, and there will be other weeks where there's so much news to cover that I do it more than that. But twice a week is the goal. It'll be the same podcast it is now, but there will be a few ads on it, which will allow me to make money from it, which will ultimately lead to better content across the board with everything I do. One thing I promise you is that the podcast will always be free and separate from the paywalled content. Here are the Apple and Spotify links to subscribe.