Discover more from The Rose Garden Report
Comprehensive, independent coverage of the Portland Trail Blazers and the NBA from veteran beat reporter Sean Highkin.
Over 4,000 subscribers
Trading Damian Lillard is Not Viable
Even if the Trail Blazers' franchise point guard does ask out, there isn't a deal that makes sense.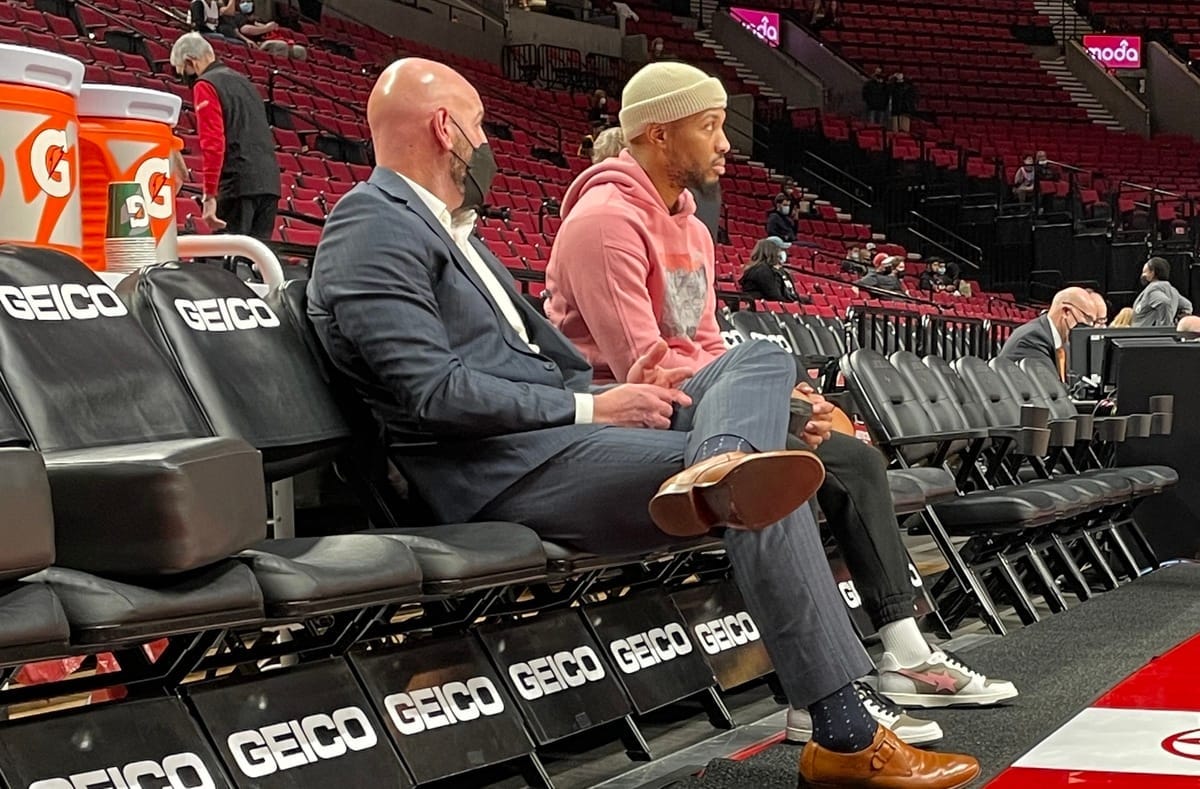 But there's one thing he said that didn't get made into a ClutchPoints graphic or a Bleacher Report tweet with the eyes emoji, and it's the central truth of the situation that makes me not inclined to take the past week's discourse all that seriously.
"I think that's a loaded question," Lillard said in response to host Brian Custer's question about potentially getting traded to a contender. "They can trade me to somewhere that we all say, 'This is a contender.' But what is it gonna cost for me to get there? What's it going to cost the team that we're saying is a contender for me to get there? And how is it a guarantee that we're gonna be playing in June once I get there? How do we know if everybody's gonna be healthy? How do we know if it's gonna work out?"
Lillard poses the same questions no one, locally or nationally, who is advocating for the Trail Blazers to trade him has yet been able to answer: What's the actual trade, and why should Portland do it beyond the vague, abstract idea of "blow it up and start over" as a cure-all for NBA team-building problems?
The two teams Lillard spoke favorably about in the interview, Miami and Brooklyn, don't really have anything compelling to offer. Is Portland itching to trade him for Tyler Herro, Duncan Robinson and a few far-out picks that will probably be in the 20s? What about the worst contract in the NBA (Ben Simmons) and some Phoenix picks that won't be any better? Do either of those packages sound like a fair return for Damian Lillard coming off an All-NBA season? If those teams included any of the players Portland would actually want or consider fair value for their franchise point guard (Bam Adebayo and Mikal Bridges, respectively), it would defeat the purpose of those teams trading for Lillard, or of him joining a "contender."
There is not a team in the league that checks the boxes of a) being a place Lillard would want to go, b) having enough to trade that Joe Cronin could feel OK about making a deal without getting fleeced, and c) having enough talent left over to still be a contender.
Lillard knows this as well as anybody. He watches as much League Pass and knows teams and players around the league as deeply as any player I've ever covered. He and Cronin talk frequently and he's well-versed in cap mechanics and what's out there in the trade market.
Of the many pieces of content created around the never-ending Dame Trade Industrial Complex recently, the most instructive one is an episode of Bill Simmons' podcast from last weekend. In the discussion of Portland's situation, which begins around the 45-minute mark, both Simmons and Ryen Russillo start from the position of "the Blazers obviously need to trade Lillard, get off his money, get some picks and young players and start over," which isn't an uncommon view and in a vacuum is a reasonable one.
But when Simmons and Russillo actually start talking through the hypothetical destinations and trade packages, they slowly come to the same conclusion as everyone else who's spent more than two minutes thinking about it: there isn't one that works. If Bill Simmons, who has been the self-proclaimed "Picasso of the Trade Machine" for going on 20 years now, can't come up with anything halfway palatable, nobody can.
Because a Lillard trade has to work for the Blazers, too. It has to bring back something that will help set them up, beyond a quantity of first-round picks far out in the future. The idea of "letting him pick the contender of his choice" that longtime Lillard confidant Chris Haynes floated this week sounds nice, but Cronin's reputation will take a huge hit if he's the GM that gives away the greatest player in franchise history for pennies on the dollar, especially with the ownership situation up in the air. He knows that as well as Lillard knows the landscape.
That's why Kevin Durant—who has much more clout and ability to force his way where he wants than Lillard does—didn't get traded last summer despite telling Nets ownership to either deal him or fire both general manager Sean Marks and head coach Steve Nash. He asked out, Marks didn't find a deal he liked, they kept him and worked it out.
They only revisited it at the deadline because Kyrie Irving, as he does, blew up any semblance of stability they had by forcing his way to Dallas. Even then, Brooklyn got a real return of impactful players from Phoenix for Durant in Bridges and Cam Johnson along with the picks, a package that doesn't exist right now for Lillard. And, to Lillard's own point in the Showtime interview, the Durant-Chris Paul-Devin Booker "superteam" that was formed at the deadline had no depth, couldn't stay healthy and got handled by Denver in the second round.
Even if Lillard does ask to be traded—which, it must be stressed again, he has not done—he's under contract for four more years, and he's not wired to pull a James Harden and hold out of training camp any more than Durant is. He'd show up and do his job in that event, and probably eventually come back around to staying long-term. The situation would be closer to Kobe Bryant's trade demand in 2007, which didn't come to fruition because he realized the Bulls and Mavericks would have to give up too much to get him. Any team Lillard went to would be in the same boat the Knicks were in after they traded everything for Carmelo Anthony in 2011.
Lillard is not blameless in the media firestorm he's created here. He cleared the air in an Instagram Live on Thursday evening, distancing himself from comments Haynes and CJ McCollum made on TV this week implying that he's probably gone if the Blazers don't trade the No. 3 overall pick in the June 22 draft. He addressed the Brooklyn and Miami comments by pointing out that he was just answering questions asked to him about those specific teams. I know him well enough to believe that he didn't mean any more by it than he'd like to play with Bridges or Adebayo (and by the way, Lillard has been trying to get Bridges to Portland for over a year).
But he's been at this, and in this position, long enough to know how thirsty the greater NBA media ecosystem is for any crumb of a suggestion that any big star could be on the move, so he should have known how those comments were going to be taken. He should also know that it will look like Haynes and McCollum are speaking for him, even if he claims they're not.
(Needless to say, the thing the aggregation machine took from Lillard's Instagram Live wasn't his strong reiteration that he wants and expects to still be in Portland next season—it was Jayson Tatum showing up in the comments to take offense at Haynes' suggestion that Lillard wouldn't accept a trade to Boston.)
Outside of mentioning the Heat and Nets by name, Lillard didn't say anything in the Showtime interview that he hasn't said in every interview he's given since the season ended. He wants to finish his career in Portland, and he hopes Cronin makes the roster upgrades needed to give him a chance to be competitive while doing that. Everything I've heard from both his camp and the team, both publicly and privately, is that he and the organization are on the same page about wanting to do that. Minus a trip to Hong Kong this week, Lillard has been at the practice facility in Tualatin all month as Cronin and his staff have brought in prospects for predraft workouts, including a few they could take at No. 3.
Maybe they'll move the third pick if a good enough offer comes up. But Cronin isn't going to make a bad deal involving that pick for the sake of some marginal short-term upgrades, just as he didn't overpay for O.G. Anunoby last draft night with the seventh pick. There's a world in which the Blazers keep the third pick and use Anfernee Simons, the No. 23 overall pick and other pieces to make smaller win-now upgrades that make Lillard feel like they've done enough to compete. If I were a betting man—which, like CJ McCollum, I am not—that's the way I would guess the next month goes.
This conversation about Lillard and the Blazers happens every year around this time, because that's the way the NBA news cycle goes. But not all teams' and stars' situations can be fit into the same box, and the parting of ways that has become a talking point once again this week just isn't worth it for either side right now. Once the dust settles on the offseason, they'll both arrive there.