Discover more from The Rose Garden Report
Comprehensive, independent coverage of the Portland Trail Blazers and the NBA from veteran beat reporter Sean Highkin.
Over 4,000 subscribers
On the Tanking Discourse
The absurdity of the end of the regular season.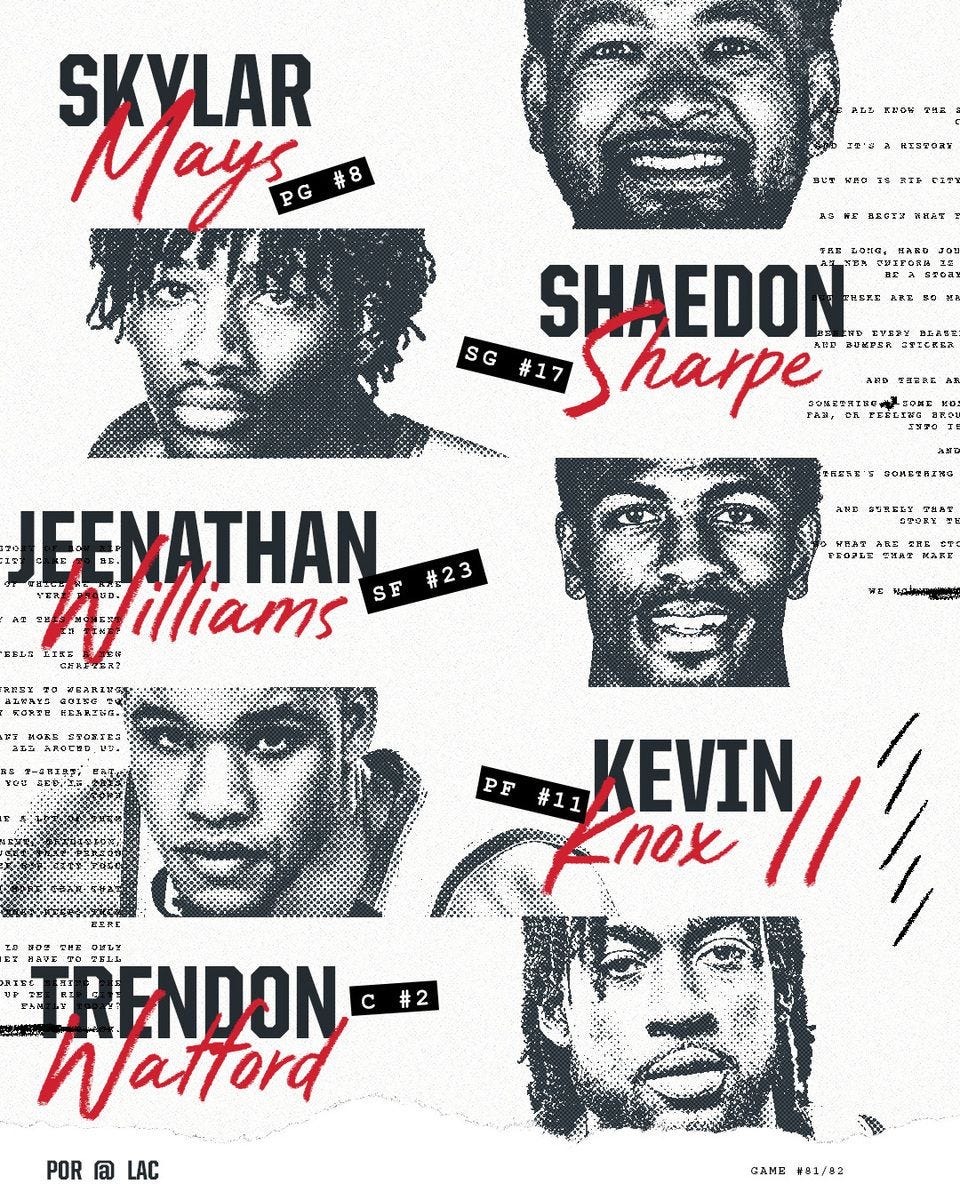 @trailblazers, Twitter
There are two redeeming things about what the last three weeks of the Trail Blazers' season has turned into.
One is that they only did this for three weeks, as opposed to three months last season after Damian Lillard underwent season-ending core muscle surgery.
The other is that at least some of the players getting big minutes right now—namely Shaedon Sharpe, Jabari Walker and Trendon Watford—are in the franchise's long-term plans and actually needed these developmental minutes.
Other than that, the whole thing has been a farce. The injury reports are now so long that they take up two tweets. Portland is playing four players they've signed out of the G League in the past week, and starting two of them. Kevin Knox II, who was a throw-in in the four-team Gary Payton II trade and didn't start getting real minutes until everyone else was shut down, is now playing too well to keep on the floor late in games. The heretofore unseen "left knee tendinopathy" that kept Sharpe out Thursday against San Antonio calmed down enough in 48 hours that he was able to play Saturday against the Clippers, probably because Kawhi Leonard was also active and thus Chauncey Billups had assurances that his close friend Tyronn Lue wasn't also going to use this game for standings manipulation.
I'm still watching these games because it's my job to watch them. It's tough to blame anyone who's checked out by now. The next Blazers-related television broadcast that matters will be on ESPN on May 16. That day, Portland will (probably) have a 10.5 percent chance at drafting Victor Wembanyama and a 42.1 percent chance of moving up into the top four. It's also very possible they move down a spot or two, like they did last year, when they finished the season 2-19 and dropped from the sixth-best lottery odds to the No. 7 overall pick.
The one thing saving the Blazers from the karmic retribution of the basketball gods this year is that so many other teams are also doing this that they can't be singled out. The Mavericks, with a shot to stay in the play-in mix, sat all of their starters (except for first-half minutes for Luka Doncic on Slovenia Night), desperate to fall to the 10th-worst record so they can keep the draft pick they owe to the Knicks from the Kristaps Porzingis trade.
The NBA is now investigating what the Mavs did against the Bulls on Friday. It's fair to ask why they aren't investigating more teams. Maybe it's just because of Mark Cuban's habitual-line-stepper status when it comes to league matters, or maybe it's because they now won't be able to market the 9-10 play-in game around Doncic. The Blazers have to be happy the Dallas debacle took the heat off their last month.
For years, the league has been looking for ways to prevent teams from losing games on purpose. Flattening the lottery odds helped—now Portland, after doing this for three weeks, will only have 3.5 percent worse odds at the top pick than teams like Houston and San Antonio that were throwing away their seasons from opening night. The play-in tournament has also helped keep more teams in it late, although the Mavericks decided even that wasn't enough of an incentive to try to win.
Anyone who's even halfway paying attention can see what's going on in both situations, but the Blazers have at least gotten the surface-level optics right. Every time Lillard has been listed as out, the reason has been his right calf, an issue he legitimately dealt with in November. How much you believe that his calf flared up again in March right when their playoff hopes started to fade is up to you, but they at least made it halfway believable on the surface.
Mavs coach Jason Kidd outright said this week that they were giving up on the season. It's a distinction without a difference—both teams are doing the same thing—but it's enough to keep Portland from being investigated for violating the competitive integrity of Silver's prized creation, the play-in tournament.
The last three weeks of this season and the last three months of last season are also why the segment of fans that wants the Blazers to trade Lillard, blow it up and start over should be careful what they wish for. Are you enjoying what's happening right now? Do you want more of this for an entire 82-game season? This year, it ended up in that place, but it's better that it didn't start there.
There's a lot riding on this summer, maybe more than any other in the franchise's history. We'll get into why in the coming weeks. They just need to get through tomorrow's season finale against Golden State first.