Discover more from The Rose Garden Report
Comprehensive, independent coverage of the Portland Trail Blazers and the NBA from veteran beat reporter Sean Highkin.
Over 4,000 subscribers
How to Parse Damian Lillard's Frustration With Trail Blazers' Losing Skid
A recent quote from a postgame press conference has gone widely viral, out of context.
As happens quite often, a quote from a press conference has gone viral on social media, complete with the requisite quote graphics.
In this case, it's something Damian Lillard said after Sunday's loss to the Clippers, the Trail Blazers' sixth in a row, which put them far enough out of the play-in race that we can all but call it at this point. Coming off that loss, Lillard was expressing some perfectly understandable frustration that his team hasn't been able to make up the ground they need to in order to keep their postseason hopes alive.
And as often happens with these things, the version of the quote that got picked up was only part of what was said, and was missing important context.
NBACentral

@TheNBACentral
Damian Lillard says he's not interested in rebuilding
"That's not what I'm interested in. That's what the frustrating part of it is. Talking about what's gonna happen next season. And us 'building'. That's not what I'm here to do especially at this stage … twitter.com/i/web/status/1…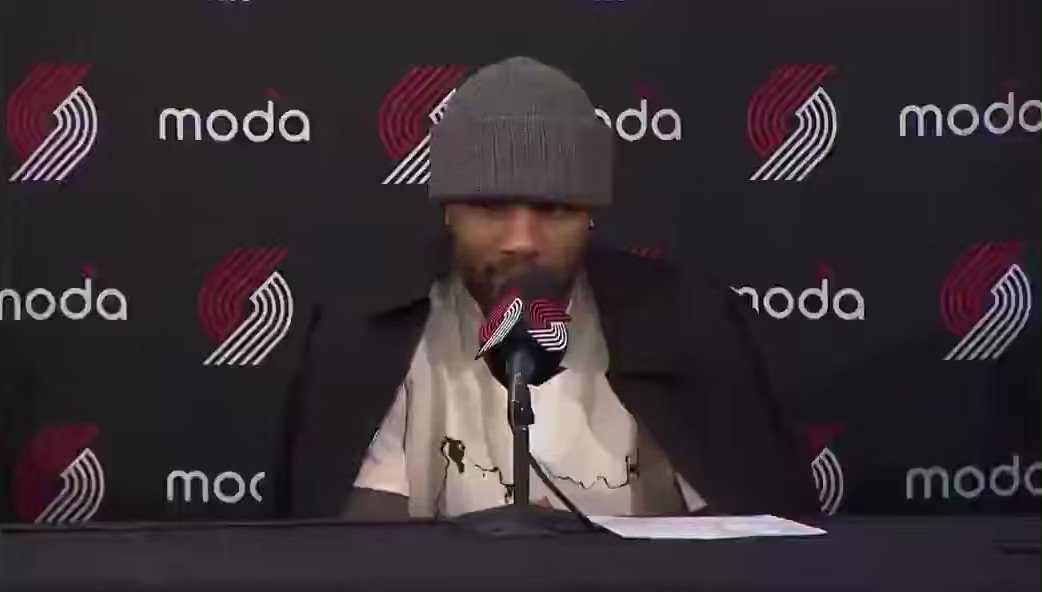 Mar 21, 2023
8.34K Likes   577 Retweets   1.15K Replies
If you're one of the million-plus people who follows @TheNBACentral (or similar quote aggregation accounts like @LegionHoops and such) but don't follow the day-to-day happenings of the Blazers, and you see that quote cross your timeline, it makes sense that you'd interpret it the way most people did: Lillard needs to get out of Portland if he wants to win. First Take and the other debate shows certainly went that way with it, and for better or worse, those sorts of platforms are what shapes the discourse.
The question Lillard was answering was about positive developments from some of the Blazers' supporting players. It was asked by my good friend and frequent podcast guest Danny Marang, of 1080 The Fan and the Jacked Ramsays podcast. This is the exchange, in its entirety, from Lillard's postgame media availability after the loss to the Clippers:
Danny Marang: "Dame, stylistically … Obviously, you don't want to pick up a loss, but do you feel like building guys up — Ant [Simons], Matisse [Thybulle] — not the young young guys, but the guys who are kind of gonna be here for the long haul — Ant's kind of hitting those pocket passes, Tisse is hitting those back cuts, you're kind of playing that brand of basketball. Do you at least take a little something from that, even in a loss like this?"
Damian Lillard: "Anytime you see growth and you see stuff that can contribute to winning attitudes and winning behaviors, you accept it. You love to see that from guys. And I think that's something you've got to continue to encourage and continue to build upon as we continue to work towards next season and things like that. But for me, that's not what I'm interested in. That's the frustrating part of it. Talking about what's going to happen next season and us building, it's not what I'm here to do, especially at this stage in my career. As much as it's encouraging to promote that brand of basketball that you'll probably win with going forward, and that's what we've got to learn to make a habit of, right now I'm not out there like, 'This is what we've got to start doing for next year.' It's hard for me to remove myself from the present and get excited about what we can do going forward."
That sounds a little less like Lillard requesting a trade in a postgame press conference than these accounts are making it out to be, doesn't it?
The truth is, Lillard is frustrated and disappointed with the way the Blazers' season has gone. Outside of his rookie season, Lillard's teams had not missed the playoffs in his career until last season, which you can throw out because he missed most of the year with a core muscle surgery and the organization had a trade-deadline fire sale. This season, Lillard came back from that surgery playing as well as he ever has, and Portland is all but certain to be done playing after April 9's regular-season finale against the Warriors. He isn't happy about that, and after another bad loss, he wasn't really in a mood to answer an optimistic-leaning question about Anfernee Simons and Matisse Thybulle making individual strides in losses.
That's totally understandable. But coming on the heels of recent podcast interviews with Evan Turner and J.J. Redick in which he reiterated his longstanding reluctance to force his way to a title team, a quote like that is perfect fodder for the When Will Dame Ask Out Industrial Complex to fire itself up again, and that's exactly what happened.
At some point in the days following the Blazers' last game of the season, the team will conduct exit interviews, and Lillard will do his end-of-season media availability. At that point, with this season's disappointments in the rear view, he'll be a lot more willing to reflect on the positives he took from the year, and to look ahead to the future and what the front office is hoping to do with the roster. He's not going to do that minutes after a bad loss in a string of bad losses near the end of an increasingly hopeless season.
We'll cover this in more depth after the season, but this is going to be a crucial offseason for Portland. The all-in move for contention that Joe Cronin has been promising has to happen in the coming months. Both he and Lillard are well aware of that. If it doesn't, it may be time for some hard conversations about their future together. But they're not there yet, and until they are, it's best to ignore the noise and chalk it up to frustration in a lost season everyone wants to end.