Discover more from The Rose Garden Report
Comprehensive, independent coverage of the Portland Trail Blazers and the NBA from veteran beat reporter Sean Highkin.
Over 4,000 subscribers
A Kevin Durant Wild-Goose Chase in Northeast Portland
Plus the start of free agency where Anfernee Simons got paid, as expected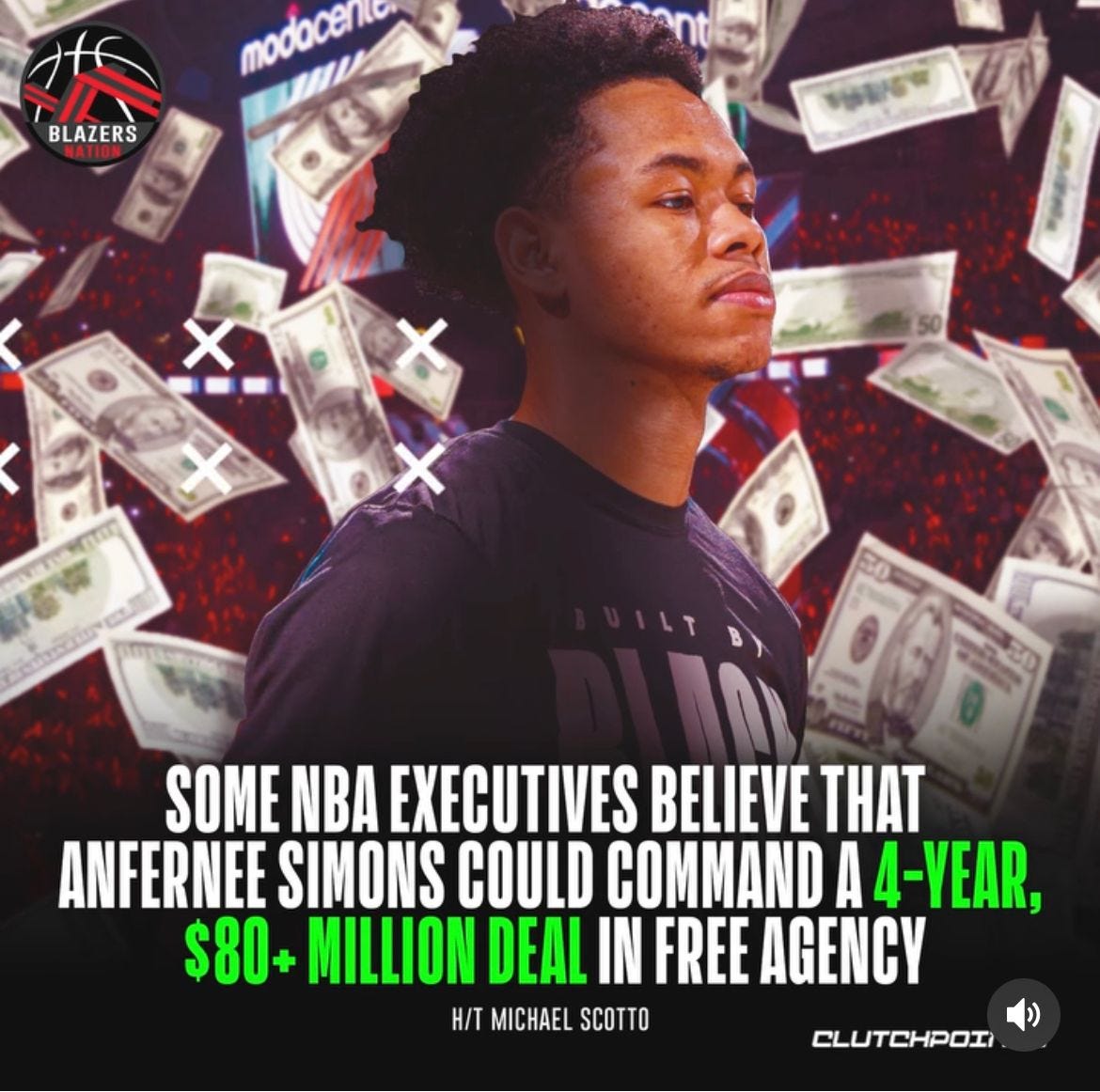 About 30 minutes before free agency started this afternoon, I got a text from a friend alerting me that on ESPN's big preview show (which I was not watching), Stephen A. Smith let slip that Kevin Durant was in Portland to attend Mike James' summer camp, which was being held at my high school (and James'—we were in the same graduating class in 2008). I live within walking distance of the school, so I decided to go outside and stretch my legs and get some fresh air before the free-agency madness started…and see who I ran into in the neighborhood. We in the business call that "shoe-leather journalism."
An hour earlier, Durant had upended the NBA with his reported trade request out of Brooklyn. That immediately became the only story that matters in the league, and will continue to be so until he finds a new home. I don't know whether I was hoping to get an exclusive interview with him or what, but the high-school gym down the street from me just seemed like the place to be at that time.

I wish this ended up being a more interesting story, but that's basically it. I hung around outside the gym for an hour alongside a photographer that one of the local TV stations sent out after hearing the same clip on ESPN. He was lugging a TV camera and microphone with his station's logo, which gave away that we were reporters. Somebody who worked at the camp came up to us and asked if we were waiting to interview anybody. We asked if Kevin Durant happened to be in the building, and were told that he isn't even in Portland right now.
Apparently, Durant was scheduled to appear at the camp but had something come up (something pretty big involving his day job) and didn't make it out. So Stephen A at least had reason to think he'd be here, but plans changed.
Mike James

@TheNatural_05
Must b another Mike James
Ryan Clarke @RyanTClarke
Stephen A. Smith just said on ESPN that Kevin Durant is currently in Portland for Mike James' basketball camp.
👀👀👀 #RipCity
Jul 1, 2022
3.13K Likes   367 Retweets   41 Replies
Anyway, that's where I was this afternoon when 3pm hit, so at least I had a bunch of NBA slop (copyright @TrillBroDude) to pass the time on the stakeout.
Things were pretty quiet on the Blazers' end. One of the two expected deals got done right away, with Anfernee Simons agreeing to a four-year, $100 million deal as first reported by ESPN.
That's a bit more than previously thought—in my free agency preview earlier in the week, I pegged it closer to $80 million over four years, although don't be surprised if the base salary is closer to that number and performance-based incentives push it up to $100 million. When the player's agent tells the reporter on the record what the number is, they usually advertise the number that includes that stuff as a flex of how much they were able to get their guy.
Either way, it's a bet by the Blazers that what Simons did this year in his first season as a featured player wasn't a fluke. It's a reasonable assumption that he'll keep getting better in his age-23 through age-26 seasons, and this contract could look like a good value in a few years, especially once the league's new media-rights deal kicks in in a few years and the cap goes up again. A lot of people still haven't mentally readjusted to the last cap spike in 2016, so a player like Simons getting $25 million a year jumps off the page, but that's just what good players in the NBA cost now.
They probably could have saved a little money by making him go out and get an offer to match, but as the organization tries to turn the page on the way things were run for the past decade under the previous president of basketball operations, there's value in sending the message both to your players and the rest of the league that you do right by your guys.
With that being said, it's a little surprising that things are still totally quiet on the Jusuf Nurkic front. Everything I'd heard going into today was that his deal would get done in short order. I still think he'll be back, but I'm not sure what the holdup is.
That was it for actual moves the Blazers made. My B/R colleague Jake Fischer reported Thursday evening that their top two targets with the midlevel exception are Golden State's Gary Payton II and Brooklyn's Bruce Brown, both of whom exactly fit the archetype of the kind of tough, defensive-minded wing Joe Cronin and Chauncey Billups value. Payton seems to be the top target, and The Athletic's Sam Amick and Anthony Slater, who are as plugged in on the Warriors beat as anyone, indicated it's becoming increasingly likely the Warriors let Payton walk rather than meet his asking price. Even Joe Lacob apparently has a limit to how much luxury tax he's willing to pay.
Either Payton or Brown would be a great get if they happen, but would make it more likely Josh Hart gets moved. The Blazers are still hoping to land another true impact player to go along with last week's Jerami Grant trade, and outside of Eric Bledsoe's contract, Hart is the most logical player to move in such a deal, especially if they bring in another similarly-skilled wing in free agency at a lower price.
Everything is going to be in a holding pattern until the Durant situation is resolved, but my sense is the Blazers would be more than happy to help facilitate a Durant trade to Phoenix, Miami or wherever else if it means they come away with something equivalent to the Cavs getting Jarrett Allen for free in the trade that sent James Harden from Houston to Brooklyn in 2021.
Stay tuned.
Stray thoughts…
Joe Ingles agreed to a one-year deal with the Bucks, as announced by his wife on Twitter. I had heard and thought there was a chance Portland would bring him back despite his age and recent knee injury, but they have too many other moving parts right now for that to make sense. He'll have to settle for being on the Mount Rushmore of Blazers legends alongside Festus Ezeli, Anderson Varejao and Mehmet Okur.

Most importantly of all, please send thoughts and good vibes to friend of the program Danny Marang, who just shared some concerning health-related news tonight.