Discover more from The Rose Garden Report
Comprehensive, independent coverage of the Portland Trail Blazers and the NBA from veteran beat reporter Sean Highkin.
Over 4,000 subscribers
Gary Payton II Undergoes Core Muscle Surgery
Payton underwent the same procedure that sidelined Damian Lillard and Nassir Little last season.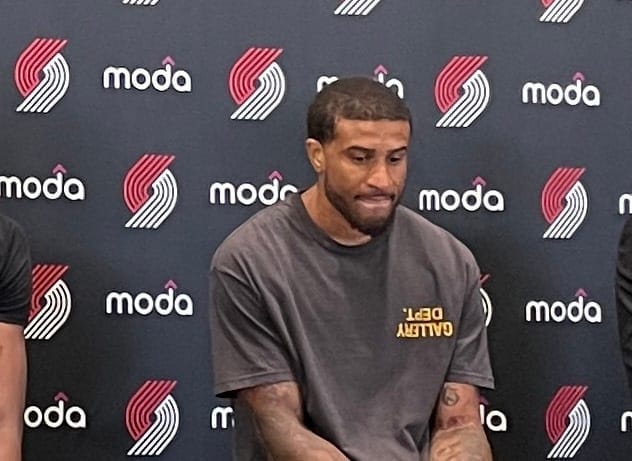 Just over a week to go before training camp is scheduled to kick off, the Trail Blazers have announced that Gary Payton II underwent a surgery in July to repair a core muscle injury. The release indicates Payton will be cleared to play by the start of the regular season.
If this sounds familiar, it's the same surgery that shut down Damian Lillard for most of last season, and that Nassir Little had in May, after he'd already undergone season-ending shoulder surgery. In fact, Little might have accidentally let Payton's surgery slip in our interview in early August (for paid subscribers only). That section is worth reading, because Little goes into a lot of detail about the surgery and recovery from an injury that has now affected three of the Blazers' most important players.
The good news in all three cases is that this abdominal injury comes with a quick recovery process and doesn't linger afterwards. Lillard has talked before about Jrue Holiday urging him to get the surgery last summer when they were teammates in the Olympics. Holiday had it during the 2018-19 season, when he was 28, and has gone on to have several more terrific seasons, winning a championship with the Bucks. Lillard had the surgery in January and likely could have returned before the end of the 2021-22 season if the Blazers had anything to play for. Payton having the surgery in July means that, while he may not be able to participate fully in training camp, there's no reason to doubt that he'll be ready to go when the regular season tips off on Oct. 19 in Sacramento.
Payton signed a three-year, $26.1 million contract with the Blazers this summer after playing a key role in the Warriors' championship run. He'll likely come off the bench in Portland, but is expected to be an important contributor on the defensive end.

Stray thoughts...
Lillard appeared on a podcast earlier this week with Dave Pasch, the longtime ESPN NBA commentator and Arizona Cardinals radio play-by-play announcer. It's mostly football talk (Lillard is a diehard Raiders fan and they play the Cardinals on Sunday), but there was one interesting comment near the end. Pasch asked Lillard which players he would most like to play with, besides the obvious superstars, and Lillard gave him three names. One was Mikal Bridges, a fellow client of Lillard's longtime trainer Phil Beckner and a guest counselor at this summer's Formula Zero camp. One was OG Anunoby, who Joe Cronin unsuccessfully tried to trade for leading into the draft. And the third name was Jarred Vanderbilt, who was traded from Minnesota to Utah as part of the blockbuster Rudy Gobert trade. In my last mailbag a few weeks ago, I got a question about Vanderbilt as a potential trade target, so go read that if you want my full thoughts. But if Lillard is saying on a podcast that he wants a player, he's definitely also communicated it privately to Cronin. I have no idea if they've had talks or if anything is imminent there, but I thought it was interesting nonetheless.

Another reminder: I will be in Santa Barbara the last week of September to cover the Blazers' training camp. Everything I write from down there will be behind the paywall, because I depend on paid subscribers to make those kinds of trips possible. So if you want to read my in-depth coverage that week, hit the button below.
In case you missed it...
My column reacting to the NBA's slap on the wrist for Suns owner Robert Sarver and the ways his situation is not like that of Donald Sterling in 2014. I wrote in there that I don't expect Sarver to still own the Suns by the time his one-year suspension is up; since it published, the team's second-biggest stakeholder (Jahm Najafi) and jersey sponsor (PayPal) have issued statements outright calling for him to step down and sell his share of the team. It's hard to come back from that.

Mike Vorkunov, who covers the business of basketball for The Athletic, joined the podcast yesterday to break down the Sarver fallout, the Blazers' own ownership drama and potential WNBA expansion to Portland, among other topics. It's a great discussion with a lot of insight from Mike, who covers that side of the league as well as anybody.