Discover more from The Rose Garden Report
Comprehensive, independent coverage of the Portland Trail Blazers and the NBA from veteran beat reporter Sean Highkin.
Over 4,000 subscribers
Damian Lillard is Setting Scoring Records in a Season That Matters
The career milestones are impressive, but Lillard and the Blazers have bigger goals.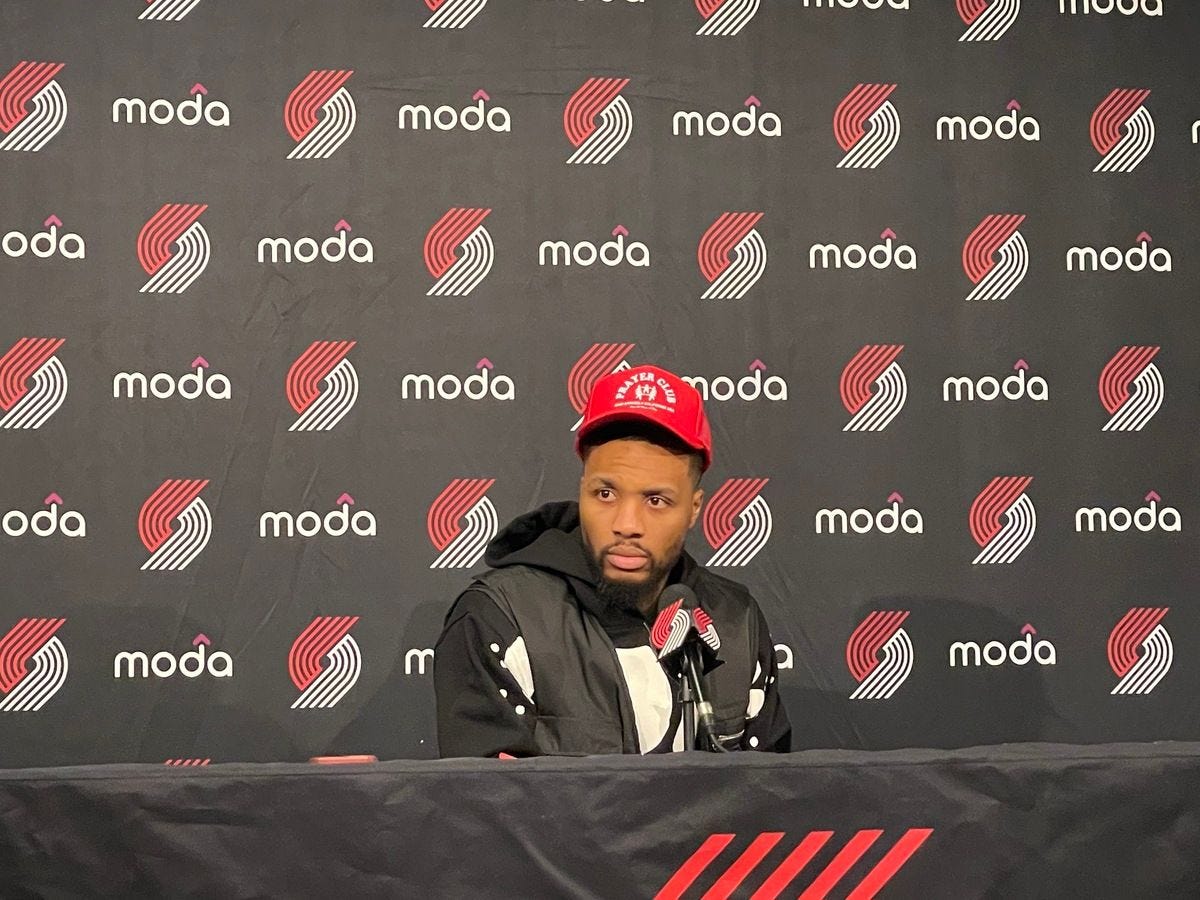 In 12 hours, Damian Lillard will probably be the Portland Trail Blazers' all-time leading scorer. If not tonight, certainly by Wednesday. He needs 21 points to pass Clyde Drexler, and the Blazers have two games in a row against a bad Oklahoma City team.
When it happens isn't really relevant. It would have happened two weeks ago if Lillard hadn't missed time with a calf injury. It was always going to happen in the early part of this year.
I've been thinking about what to write when Lillard does it, and I'll save the legacy talk and "best Blazer ever" debate for whenever he retires. I don't like doing that stuff in the moment.
What matters now, and what makes all of this compelling, is that there are stakes to the games where it's happening. Portland is 17-13, right in the thick of a crowded Western Conference playoff race, currently in sixth place but only two-and-a-half games back from first-place Memphis.
The Rose Garden Report is a fully independent, reader-supported publication. Purchasing a premium subscription unlocks exclusive content and helps make the coverage of the Portland Trail Blazers the best it can be.
Lillard reflected on the upcoming milestone after the Blazers' win last Monday over the Timberwolves, their last home game before heading out on the six-game road trip they're currently halfway through. But I liked his answer to another question, about why he didn't ask Chauncey Billups to come back into that blowout to potentially break his own franchise single-game record for three-pointers, or to chase Klay Thompson's league record.
"Me personally, if I'm gonna do it, I want it to be in the real flow," he said that night a week ago. "I don't want him to put me in a game to go hunt threes and try to break a record. The way it happened tonight was how it was supposed to happen."
I don't think Lillard would have been that excited if he was in line to become the franchise's leading scorer last season, when he was fighting through an ab injury for a team that had no shot of making the playoffs and ultimately decided to shut it down. He'd rather do it when there's meaning behind the points beyond just adding to his career total.
As of this writing, LeBron James is 733 points away from breaking the NBA's all-time career scoring record held by Kareem Abdul-Jabbar. He'll probably do it in the next month (maybe even here in Portland on Jan. 22), and nobody will care. It'll get a ton of coverage, yes, because everything LeBron and everything Lakers gets a ton of coverage. But he'll set the record in a game that probably means nothing to the team he's playing for.
As it is, the Lakers are a game and a half back of the play-in, and that position isn't going to improve with yesterday's news that Anthony Davis is out at least a month with a foot injury. With no draft pick and no real hopes of salvaging a playoff run, I wouldn't be surprised if the Lakers just shut James down as soon as he breaks the record and try again next year. Is anybody really excited about James becoming the NBA's leading scorer under those circumstances?
The Blazers will undoubtedly do something to commemorate Lillard's achievement at their next home game, the day after Christmas against Charlotte. Lillard, and everybody else, wishes he could have broken Drexler's record in Portland. Drexler has spoken positively about Lillard eventually passing him, but I doubt the Blazers fly him in. He wasn't in the building on Saturday in Houston, where he lives and used to work for the Rockets. Whatever they do, it'll make a memorable night out of what should, on paper, be another snoozer of a blowout against a terrible Hornets team.
But the fact that we're talking about these games being blowouts in the Blazers' favor, as opposed to what the organization and fans had to endure last year, is what's worth celebrating here. Lillard's individual milestones and records will come. He and the Blazers have bigger goals right now.