Discover more from The Rose Garden Report
Comprehensive, independent coverage of the Portland Trail Blazers and the NBA from veteran beat reporter Sean Highkin.
Over 4,000 subscribers
Damian Lillard Out 1-2 Weeks After Suffering Calf Strain
The Blazers will be without their superstar point guard for the near future.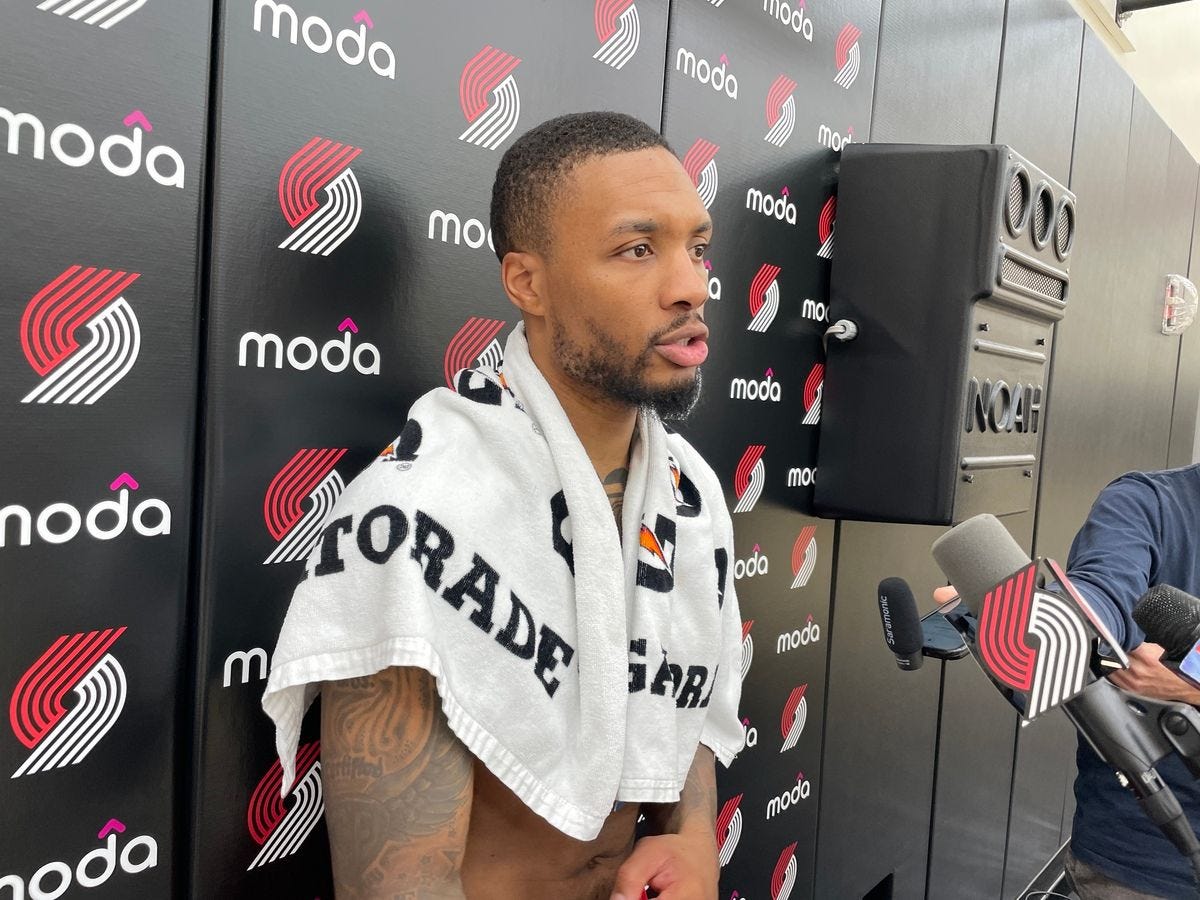 Standing at his locker after Wednesday's loss to the Miami Heat, Damian Lillard seemed entirely unbothered by the right calf strain that took him out in the third quarter. He laughed at a question about whether he would need an MRI on his leg, and said that if it was a playoff game, he would have kept playing.
Now, as first reported by The Athletic, Lillard will be out at least a week, and maybe longer.
Shams Charania

@ShamsCharania
Trail Blazers star Damian Lillard will be re-evaluated in 1-to-2 weeks with a calf strain, sources tell @TheAthletic@Stadium.
Oct 27, 2022
1.04K Likes   183 Retweets   180 Replies
This timeline matches up roughly with what Lillard said on Wednesday night. He all but ruled himself out for Friday's game against the Rockets, which he called a "winnable game." Beyond Friday, Portland has four days off at home before playing their next game at home against Memphis on Wednesday. After that, they go on the first of three six-game road trips this season, which will take them to Phoenix for two games and then Charlotte, New Orleans, Miami and Dallas.
In the worst case scenario, Lillard will miss the first half of that road trip. But judging from his comments on Wednesday, he doesn't think it will be long before he's back.
"My calf just tightened up," Lillard said. "Before the game, it was a little bit tight, a little bit irritated. Nothing that I haven't felt before. And as the game went on, it wasn't getting worse, but I was aware of it. At halftime, I put my calf sleeve on underneath my tights, just to put some compression on it. It felt the same to start the third. On the last shot that I made, I rose up and I felt it get real tight. I went back on defense just to see how it would feel, and the next time running up the court I did another move and I just felt how tight it was. It wasn't like something happened, it was just like, 'Let's just get it off the court and see what's going on.' But it wasn't nothing that I was overly concerned about. I just knew that it wouldn't make sense to push it in the fifth fucking game of the season."