Discover more from The Rose Garden Report
Comprehensive, independent coverage of the Portland Trail Blazers and the NBA from veteran beat reporter Sean Highkin.
Over 4,000 subscribers
You Can't Fire the Owner
On Adam Silver's unimpressive Robert Sarver press conference and the difficulty of forcing a sale.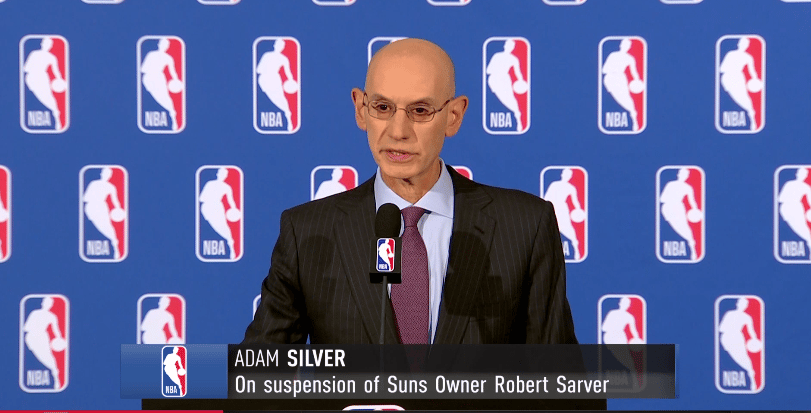 Adam Silver said the quiet part out loud at his Board of Governors press conference on Wednesday afternoon, in the wake of the previous day's release of the findings in the investigation into Robert Sarver's alleged racist and misogynistic behavior over the 18 years he's owned the Phoenix Suns.
The commissioner was asked by my friend and former Bleacher Report colleague Howard Beck (now with Sports Illustrated) why Sarver didn't get a Donald Sterling-esque lifetime ban when most people who engage in such behavior in any other job would be fired immediately.
"There are particular rights here of someone who owns an NBA team as opposed to somebody who is an employee," Silver said.
The investigation, which followed an ESPN report last fall and took most of the past year to conduct, concluded that most of the things current and former Suns employees accused Sarver of doing and saying are true. You can read the details elsewhere if you want. It's all pretty bad stuff, and not behavior that should result in being allowed to continue to own an NBA or WNBA team. The league suspended Sarver for a year and fined him $10 million. The money was the maximum amount allowed by the NBA's constitution, but by Silver's own admission, he could have imposed a longer suspension if he wanted to. He didn't really have a good answer for why he chose not to.
He didn't have good answers for much of anything, for that matter. As I alluded to on Twitter, the last time I saw someone this ill-prepared for a press conference defending an unpopular decision against very easy-to-see-coming questions was here in Portland about 14 months ago. Silver even threw in a "That's proprietary" for good measure, at once congratulating himself and the league for their transparency in publishing their findings and pointing out that he had access to additional information that wasn't made public but that led to the punishment. All that was missing was a water bottle.
Silver isn't lying about this, though: he can't unilaterally remove an owner without the support of the other owners he works for, and that was never going to happen. The Sterling ban in 2014 was a unique set of circumstances that doesn't really apply to the Sarver situation, and has been misremembered in the eight years since it happened.
After audio of Sterling making racist comments about Magic Johnson and telling his then-girlfriend V. Stiviano not to bring Black people to games was published on TMZ, Silver banned him for life from being an active participant or attending any Clippers or NBA-related events.
But Silver couldn't, and didn't, force Sterling to give up ownership of the team. Here's what actually happened: Sterling's wife, Shelly, saw an opportunity to cash out and wash her hands of all this, with former Microsoft CEO Steve Ballmer willing to pay a then-record price of $2 billion for the franchise. She was able to have her husband legally declared "mentally incapacitiated," giving her full control over his assets and free to sell the team without his permission.
(As an aside: for her cooperation, Shelly Sterling came away with the official titles of "Owner Emeritus" and "Clippers #1 Fan," lifetime courtside seats and parking passes and will get three championship rings if the Clippers ever win the title. Despite allegedly being an active participant in her husband's decades of discriminatory housing practices, she has generally gotten a friendly portrayal in the media coverage of the story and has been painted as an innocent bystander.)
The league and the other owners were also much more motivated to get rid of Donald Sterling than they are to get rid of Sarver for reasons far beyond the audio recording that eventually took him down. In the 33 years he owned the Clippers, they were the laughingstock of the NBA, rarely ever fielding a competitive roster and developing a reputation as one of the cheapest and most poorly-run organizations in the league despite playing in the second-biggest media market in the country. Even in the age before all of this information being available in a second on social media, the name "Donald Sterling" was synonymous even for casual NBA fans with racism and incompetence.
It didn't take a genius to figure out that replacing him with someone like Ballmer, who had more money than God and a desire to spend it, would be good for everybody's bottom lines. The Clippers will never be as popular in Los Angeles as the Lakers, but in the eight years he's owned the team, Ballmer has built an organization that can legitimately attract superstars in free agency and is generally thought of as one of the best-run franchises in the NBA, just by investing in basic things like player amenities and training and front-office staff. As a result, prices of franchises across the league have gone through the roof.
Banning Sterling was also an easy PR win for Silver, who at the time was just three months out from replacing David Stern as commissioner. An audio recording that everyone could hear, leaked to a celebrity gossip website, that included disparaging remarks about one of the most universally beloved NBA legends of all time, by a guy the whole league had hated for decades anyway, isn't a hard sell to the other owners for a lifetime ban, especially when Silver faced the possibility of a boycott by Clippers and Warriors players during a playoff series.
Sarver's reputation as an owner has never been great, even before this investigation. But unlike the Clippers under Sterling, the Suns have had sustained on-court success under his watch, including their current run as one of the top teams in the Western Conference. Sarver's bad behavior isn't costing the rest of the owners or the league money the way Sterling's was, so there's no motivation for them to push them out, lest the next one of these reports and investigations hits their team.
Mark Cuban was one of the only owners at the time to come out against the lifetime ban of Sterling, calling it a "slippery slope" and infamously arguing that he, and by extension everyone else, crosses the street when they see a Black person in a hoodie coming towards them. It was a ridiculous argument on its face, but it did illustrate the attitude every other owner in professional sports has when something like this occurs: "There but for the grace of God go I." It's not possible to make the kind of money required to be an NBA owner without having some kind of blood on your hands, and deep down they all know it.
(Another aside: a Sports Illustrated investigation in 2018 about the toxic culture of sexual harassment in the Mavericks organization led to Cuban being fined $10 million without a suspension and going on a tearful apology tour, followed three years later by the hiring of a convicted domestic abuser as head coach.)
I believe that before the one-year suspension is up, Sarver will no longer own the Suns. Even though he owns the largest stake in the team, his stake is only about 35 percent, which will be worth hundreds of millions of dollars in the current market. The backlash to Silver's light punishment has been universal, with heavy hitters like LeBron James and Al Sharpton weighing in.
If enough sponsors pull out and the story doesn't go away, these things have a way of working themselves out. There's no shortage of billionaires who would line up to own a contending team in a major market like Phoenix, and the league probably has their own shortlist of preferred buyers. Keep an eye on former Disney CEO Bob Iger, who has publicly expressed interest in buying the Suns in the past and has a business investment relationship with Chris Paul.
We've written extensively here about the Blazers' own ownership situation and future. If the findings of the Sarver investigation weren't enough to push him out, there's nothing that could come out about Jody Allen that could push it to that point. The NBA still very much wants a sale to get done with Phil Knight while he's still around, and I continue to believe that is what will eventually happen. But the Sarver story is a reminder that there's only so much that can be done to force an owner out.