Discover more from The Rose Garden Report
Comprehensive, independent coverage of the Portland Trail Blazers and the NBA from veteran beat reporter Sean Highkin.
Over 4,000 subscribers
Blazers Take Home-Run Swing With Shaedon Sharpe
Portland unexpectedly kept the No. 7 pick and took the highest-upside prospect on the board.
TUALATIN, Ore.—All the talk about Thursday night being one of the most chaotic draft nights in NBA history didn't really amount to much. There were some shenanigans with Vegas odds moving at the top in the last 24 hours, but the trade-fest many predicted never came together. OG Anunoby isn't a Trail Blazer. Neither is John Collins. After weeks of breathless rumors about trade targets, Joe Cronin did the "boring" thing and kept the No. 7 overall pick, taking Kentucky guard Shaedon Sharpe.
At the very least, ESPN will have the marquee attraction they envisioned when they scheduled Portland for one of the primetime slots on opening night of Summer League in Las Vegas. And with Sharpe having not played a minute of college basketball in his freshman season, he'll have plenty of eyes on him in his pro-ish debut in early July.
Every draft has at least one guy the pundits all decide to call a "mystery man." On the high end, that can be Giannis Antetokounmpo, whose legendary grainy film that looked like a high-schooler playing against eighth-graders in a mid-level Greek league led teams to second-guess how he'd fare against NBA competition. The first draft combine I covered in 2014, that guy was Dante Exum, who nobody knew what to make of because … he played in Australia, I guess. Utah took him fifth overall that year and it never worked out. Sometimes the mystery box contains a future back-to-back MVP, sometimes it doesn't.
Air Buds

@airbudspod
I would be absolutely LIVID if they did this to me right after I got drafted.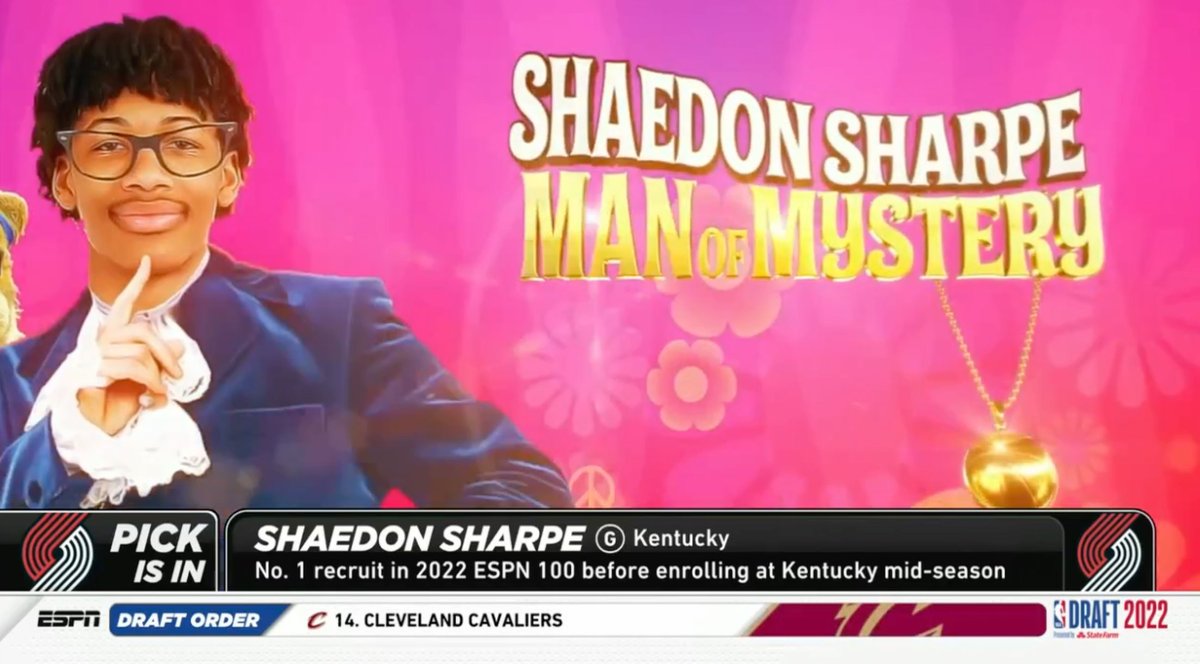 Jun 24, 2022
1.27K Likes   84 Retweets   8 Replies
Here's another one: Anfernee Simons. Simons, if you'll remember, committed to Louisville as a four-star recruit and then reversed course and instead spent what would have been his freshman season at IMG Academy in Florida. He probably would have gone higher than 24th if he'd played against college competition, but teams didn't know how he'd translate to the pros.
Simons barely played his rookie year (save for the legendary 37-point game against the Kings on the final night of the season that messed up their attempted seeding gamesmanship and accidentally set up Damian Lillard's walk-off shot against the Thunder). Four years later, he's about a week away from getting extremely paid by the Blazers. The bet Cronin is making here is that in four years, as Lillard ages out of the All-NBA superstar phase of his career, Sharpe will be ready to take on a similar role to the one Simons has stepped into now.
All of which sounds great in a vacuum, but what good does taking another high-upside swing on a long-term project do Lillard, or the goal of winning with him in the next few years?
Probably not much. If Cronin hadn't swung the trade for Jerami Grant the day before, keeping his lottery pick and taking a prospect as unpolished as Sharpe may have reopened some of the speculation about Lillard's future. The Grant deal at least checks a box of getting one high-level starter Lillard was known to have wanted, without giving up very much. Getting the Grant deal out of the way undoubtedly made Cronin more comfortable making the upside play in the lottery.
The truly all-in path would have been to meet Toronto's asking price for Anunoby, which I've heard was a lot higher than just the No. 7 pick. Doing that would have been totally justifiable. Not doing it is also completely defensible. But this choice also ratchets up the pressure Cronin and the front office were already under to build a winner for the tail end of Lillard's prime. The Grant trade was a nice start, but there's work left to do, and opting not to use the biggest trade chip he could have turned into a win-now player limits the ceiling of who he'll be able to get.
"We're trying to be really aggressive," Cronin said Thursday night. "We know we're not good enough."
The win-now-while-developing-for-the-future strategy is one many organizations have talked themselves into trying, but it's a tightrope very few have ever walked successfully. The Warriors team that won the title a week ago managed it with the Steph Curry-Klay Thompson-Draymond Green nucleus augmented by youngsters Jordan Poole and Jonathan Kuminga. The 2014 version of the Duncan-Parker-Ginobili Spurs with an ascendant Kawhi Leonard did, too.
But that's the level of talent you need to have, both as your veterans and your kids, in order to make it happen. Lillard is that good; they're placing a bet that someday Sharpe will be, too. What they do with the rest of the roster between now and the start of the season will have to be good enough as well.
Stray thoughts:
Cronin started off his media availability by thanking every one of his front-office staffers by name for their contributions throughout the draft process—not just assistant GMs Mike Schmitz, Sergi Oliva and Andrae Patterson, but lower-level staffers like Asjha Jones and Sean Kiley. If the Blazers' previous GM ever acknowledged or credited anyone else in the organization for anything that happened under his watch, I must have missed it.

A housekeeping note: the Grant trade has not been finalized with the league yet, meaning Cronin wasn't allowed to talk about it on Thursday. An educated guess is that it won't be made official until the league's moratorium period is lifted on July 6.

As I suspected, Sharpe was a total Schmitz pick. Cronin admitted as much without naming names, saying that despite his lack of college tape, they had "a pretty good foundation built … based on past viewings by some of our new people here."

The team's social-media department shared a video of Cronin calling the Sharpe pick in from the war room. Next to him were Billups and … Jody Allen. She wasn't at any of this month's predraft workouts, although Vulcan vice chair Bert Kolde put in a couple of appearances. Allen still has yet to speak to the media in the almost four years since her brother passed away and she took over the team. Will the Vulcans still own the Blazers by the time Sharpe makes his debut this fall? Who can say?

It will never not be weird to me (in the best possible way) to see Malika Andrews hosting the Finals and the draft on ESPN. I first met Malika when she was 19 and still in college, stringing Blazers games for the Associated Press as a backup for my friend Annie Peterson. Tonight in the team's film room, Annie and I watched her crush it and end the night with a so-casual-you-might-miss-it flex about her recent Emmy win. Good things happen to good people sometimes.