Discover more from The Rose Garden Report
Comprehensive, independent coverage of the Portland Trail Blazers and the NBA from veteran beat reporter Sean Highkin.
Over 4,000 subscribers
Blazers Offseason Business: A Camp Invite and a Coaching Change
The Blazers parted ways with assistant coach Edniesha Curry and signed center Olivier Sarr to an Exhibit 10 deal.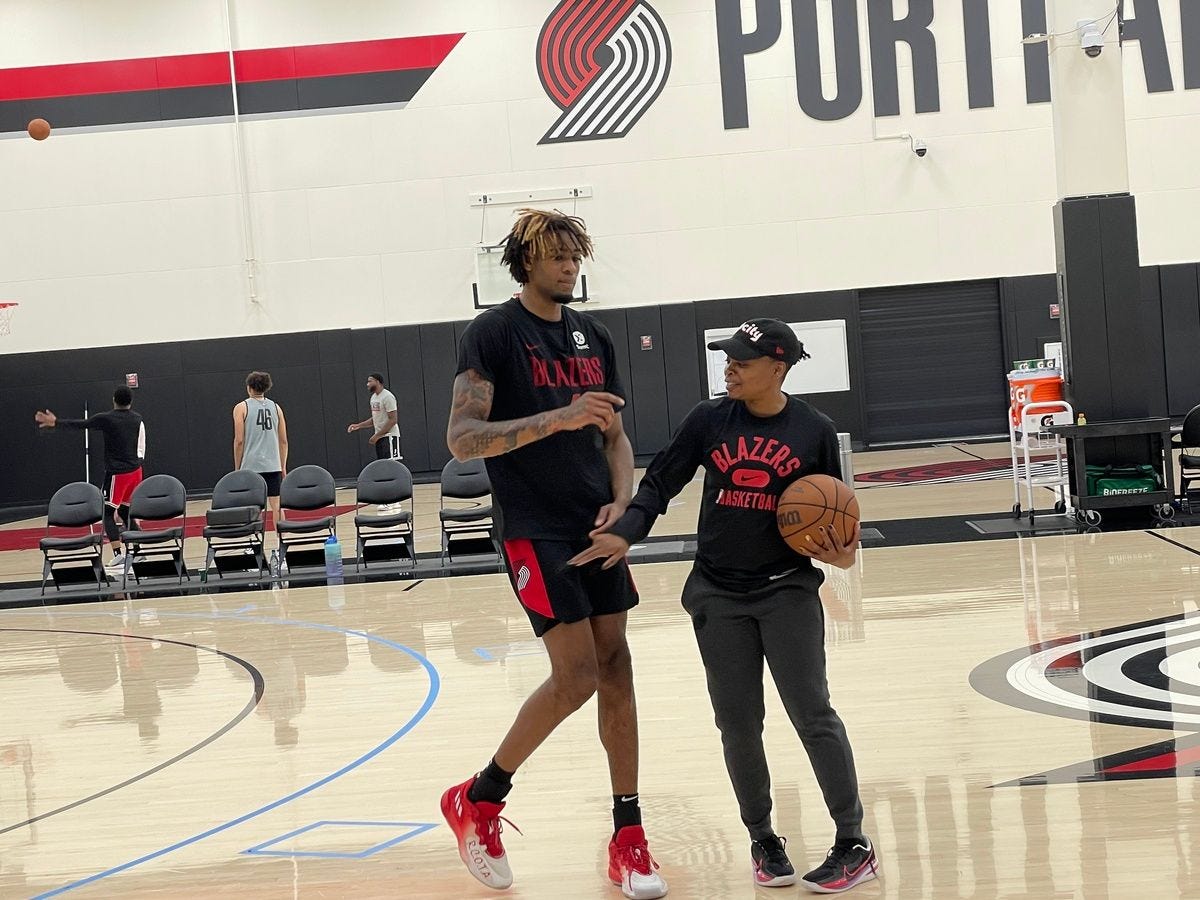 I hope everybody had a good week and you're all enjoying your holiday weekend. I'm done with my move and as promised, a new mailbag will be hitting your inboxes tomorrow, with the podcast coming back next week as well. But there has been a little bit of Blazers business over the last week that's worth addressing.
Last week, the team waived Didi Louzada ahead of the deadline to use the stretch provision on players' salaries for the upcoming season. Doing this got them inches below the luxury-tax line going into the year while also opening up a roster spot in case they decide to sign someone down the road or acquire multiple players for one in a trade. Louzada was undoubtedly dead last on the Blazers' depth chart and, if we're being honest, probably isn't a rotation player in the NBA.
Portland Trail Blazers

@trailblazers
We have waived Didi Louzada.
Thanks and best of luck, Didi! ❤️
rip.city/3Q3SCka
Trail Blazers Waive Didi Louzada
PORTLAND, Ore. (August 29, 2022) – The Portland Trail Blazers have waived Didi Louzada, it was announced today by General Manager Joe Cronin. Louzada has appeared in 12 career games over two seasons with the Trail Blazers and New Orleans Pelicans.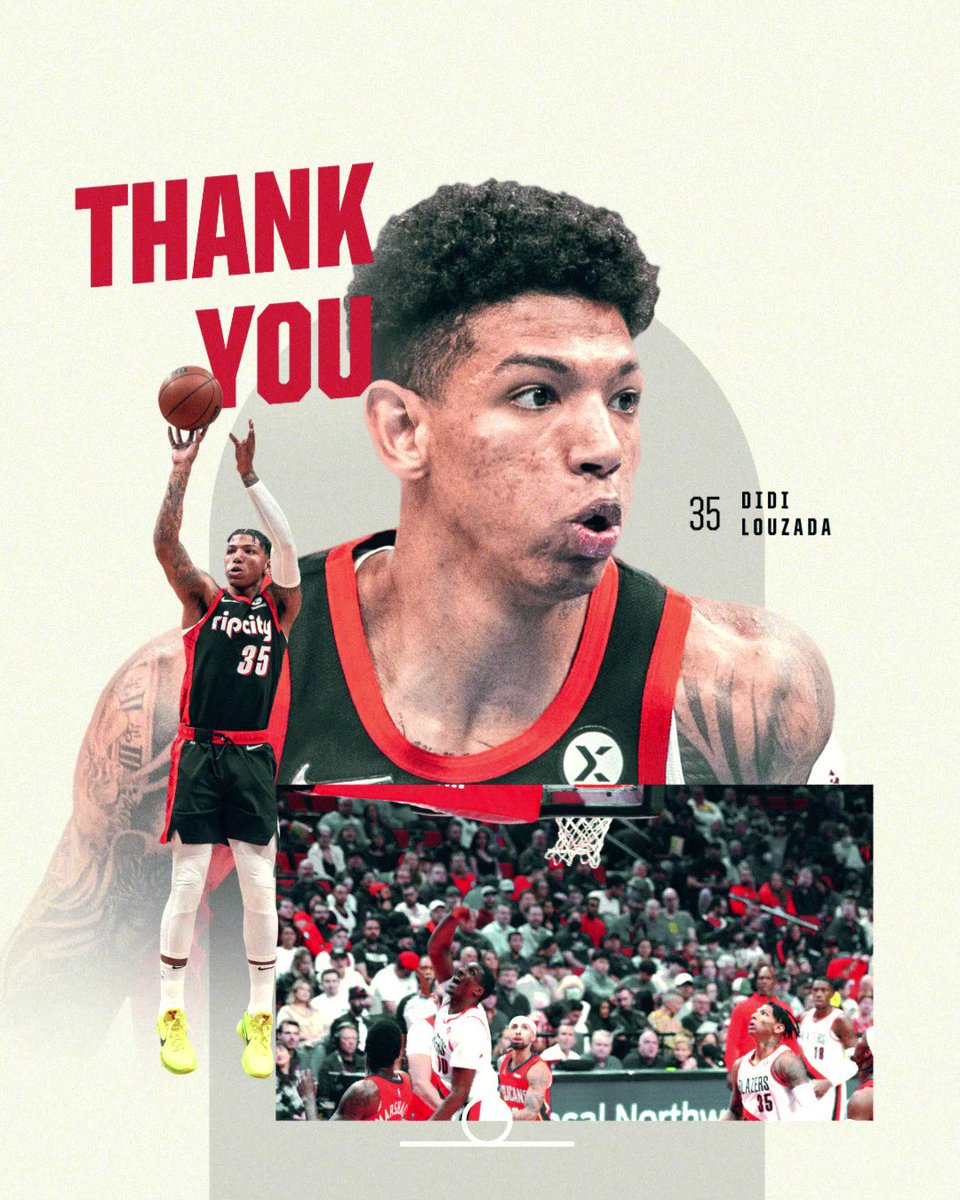 Aug 29, 2022
931 Likes   69 Retweets   106 Replies
On Sunday morning, ESPN reported that the team is signing French center Olivier Sarr to a camp invite.
Adrian Wojnarowski

@wojespn
The Portland Trail Blazers are signing free agent center Olivier Sarr to an Exhibit 10 deal, sources tell ESPN. Sarr, 23, played 22 games for OKC a season ago after going undrafted out of Kentucky.
Sep 4, 2022
3.06K Likes   247 Retweets   150 Replies
The 7-foot Sarr joins fellow camp invitee Norvel Pelle as a camp body taller than 6-foot-10, which is something the team needed. They do have an open two-way spot alongside guard Brandon Williams, so it's possible one of those two bigs sticks around there.
Maybe most notable was the news that the Blazers have parted ways with assistant coach Edniesha Curry. Marc Spears broke the news on Friday, but from what I've been able to gather, it actually happened a couple weeks ago and is only just getting out now.
It's not exactly clear what happened, but the team's statement to Spears makes it sound like she was let go rather than leaving for a different job.
Marc J. Spears

@MarcJSpears
Replying to
@MarcJSpears
Statement from Blazers: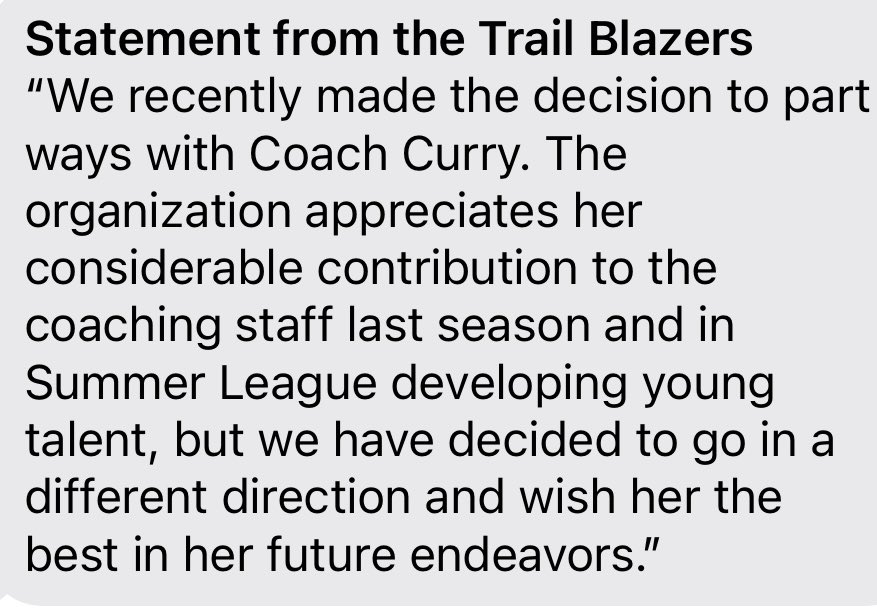 Sep 2, 2022
61 Likes   16 Retweets   4 Replies
This news certainly came as a surprise. From what I heard and was able to observe over the last year, Curry was very well-liked and respected. In particular, she had strong relationships with some of the young, end-of-bench guys like Greg Brown III and Trendon Watford and worked heavily with them, contributing to their development and to Watford eventually having his contract converted from a two-way deal to a regular NBA contract.
Curry had a busy offseason, most recently coaching the Virgin Islands men's national team at the AmeriCup tournament in Brazil, the first woman to serve as head coach of a senior men's national team. Before the Blazers hired her, she was an assistant coach for the University of Maine men's team, the only woman in the country on a men's Division I staff. When the Blazers hired her, she became one of only a small handful of Black women on an NBA coaching staff.
During last training camp, I started working on a story about her that never came to fruition because the previous general manager had a long-standing policy prohibiting reporters from talking to assistant coaches. However, I was able to talk to a few of the players and Chauncey Billups about her early on, and the praise was universal.
Billups told me that when he first started thinking about what he wanted his staff to look like, he knew he wanted at least one woman on it for the sake of having a diverse variety of voices. When he asked around for candidates, Swin Cash and Tina Thompson both recommended Curry to him, and after one phone call, he was convinced she would be the right fit. He praised her contributions throughout the year, particularly in the area of player development.
It's a shame the story didn't have a better ending. But I have to think she'll get another job soon.