Discover more from The Rose Garden Report
Comprehensive, independent coverage of the Portland Trail Blazers and the NBA from veteran beat reporter Sean Highkin.
Over 4,000 subscribers
Blazers Media Day Report: Optimism and 'Connectivity'
Plus, excitement about Shaedon Sharpe and a Josh Hart AirPods update.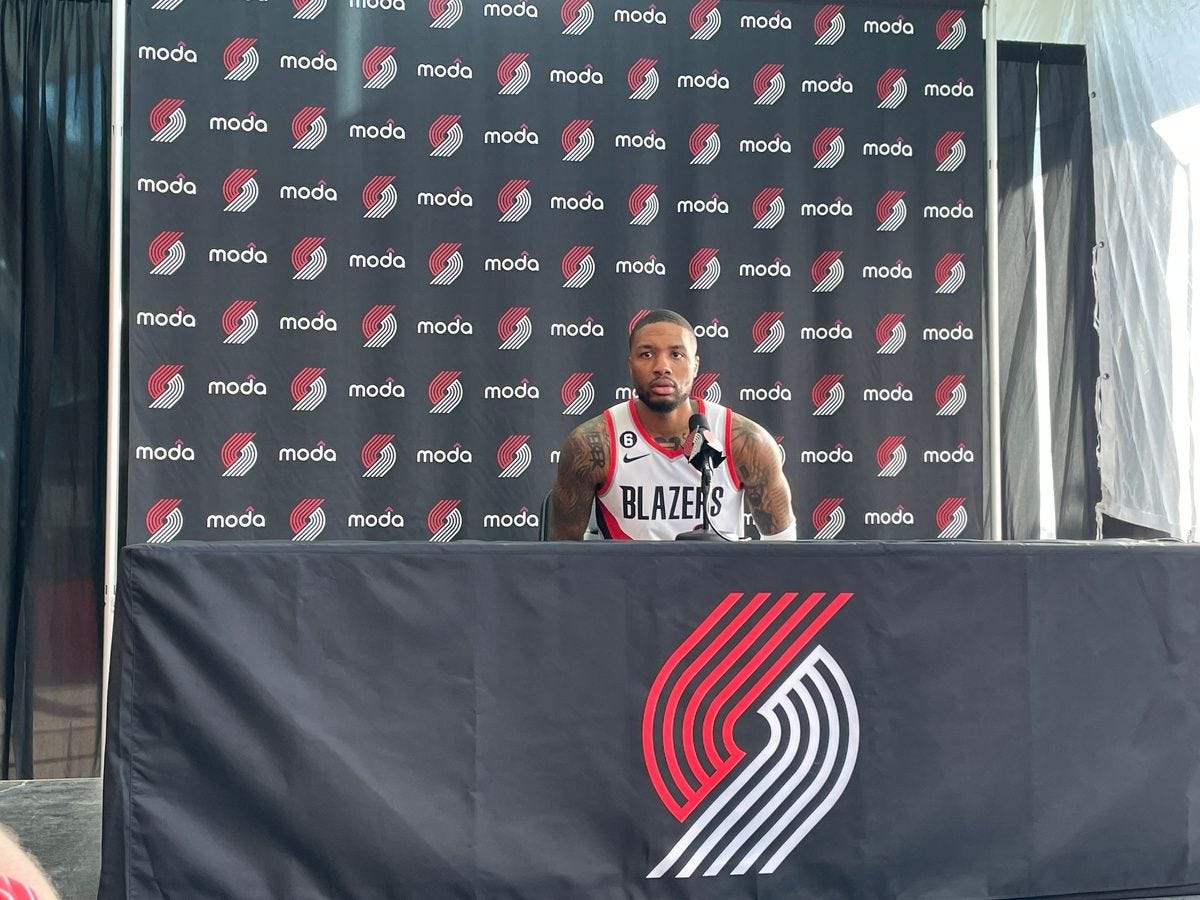 As Jusuf Nurkic took his seat at the podium towards the tail end of Monday's media day, he jokingly asked the assembled reporters: "Anyone know if Dame's staying?"
Last year, that was a real talking point. This year, it was a lighthearted quip that summed up a relatively uneventful and drama-free first day of the 2022-23 season cycle.
There was optimism and good vibes, just like there were at every other camp around the league (except for maybe Boston and Phoenix). But there's also a sense that everybody is still feeling this out. Only six players on the Blazers' roster were on the team at the beginning of last season. Of those, only two—Lillard and Nurkic—are entrenched starters with years of experience playing together. Two are youngsters expected to step into much bigger roles in Anfernee Simons and Nassir Little. The other two are second-year forwards whose roles are still undetermined in Trendon Watford and Greg Brown III.
This is, for all intents and purposes, a brand-new team.
"A couple years back, it wasn't as fresh because we had guys that had been around for longer stretches," Lillard said. "I don't want to say there was nothing to be excited about, but I knew who I was coming in to see. I think the biggest difference this year is that it's fresh. … That's been fun for me, getting to know the younger guys, some of the newer guys, and build those relationships. It's not the same old thing. It feels fresh. It feels new."
The buzzword of the day, from general manager Joe Cronin and head coach Chauncey Billups on down the line at Monday's procession of press conferences was "connectivity." You're going to hear that word a lot over the next few weeks, and maybe even into the early months of the season, as things develop.
That also means Cronin and Billups are doing their best to put realistic expectations on this team's ceiling. Gone are the days when the general manager gets up at media day and calls a barely-changed roster the deepest team of the Lillard era. The franchise point guard signed a two-year extension over the summer that keeps him under contract through 2027. Some might say, given that Lillard is 32 and coming off missing most of last season with abdominal surgery, that the window is now and only now to compete on his timeline. Cronin sees it a little bit differently.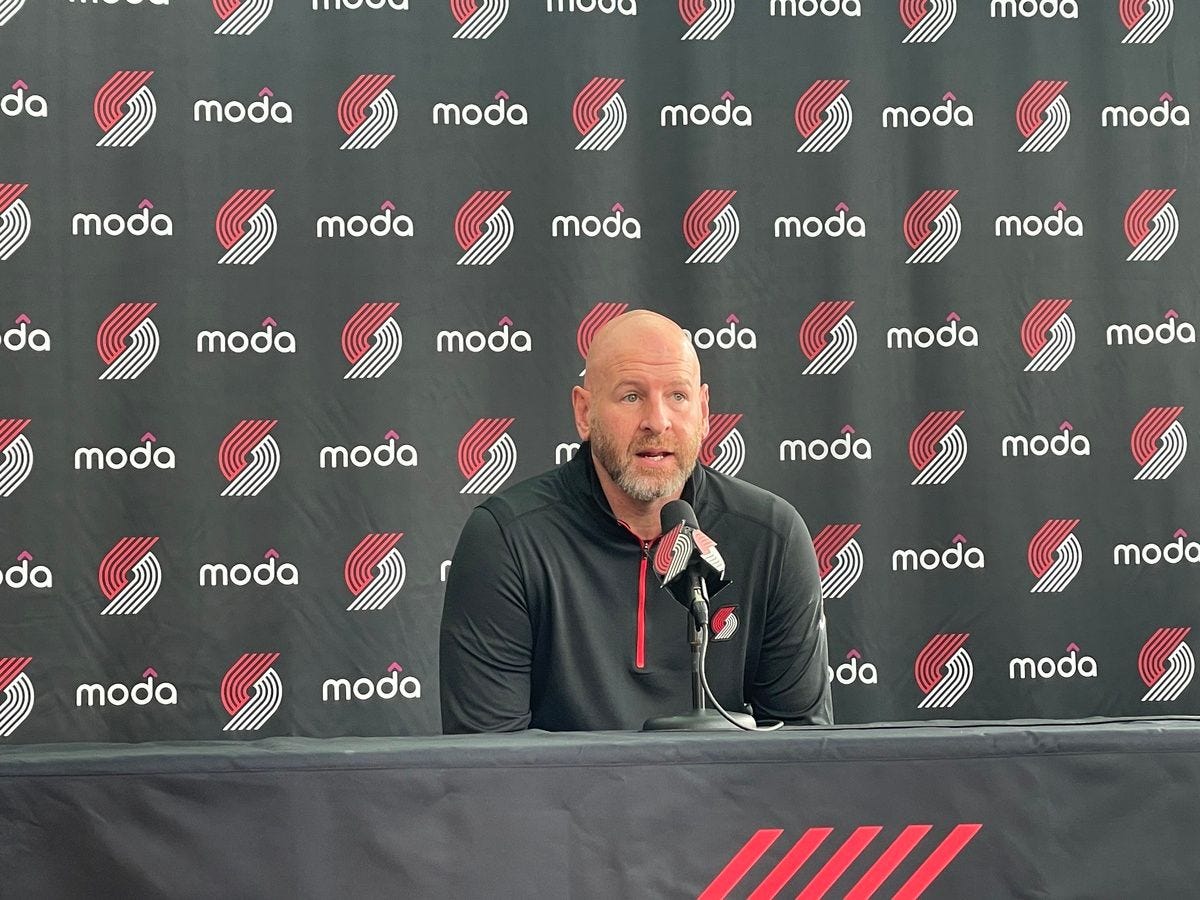 "I think it gives us a little bit of a buffer to take a team like this into the season and see what we have," Cronin said. "If Dame only has one year or two years left [on his contract], the sense of urgency is spiked a little bit. This gives us a little more time to seek out the perfect fits rather than push all our chips in on one big swing. I like that it allows us to be a little more calculated. On both ends, I think it shows the commitment we have to each other. Damian of course wants to win, we of course want to win, but we don't have to be super-duper urgent about it, even though naturally we will be. This gives us a confidence in each other that we're going to figure this out the right way."
This group—the starting lineup of Lillard, Simons, Nurkic, Jerami Grant and a small forward TBD, plus some of the team's young players off the bench—will get the first crack at proving they can compete in a deep Western Conference without bringing in reinforcements. Cronin has been open throughout the summer about his view that this roster isn't perfect yet, and on Monday he admitted that they're still "a little small."
With that in mind, I asked Cronin how close he thinks the roster is to where it would need to be for him to put title expectations on them, and I thought his answer was telling of where the front office's heads are at right now.
"I really don't know," Cronin said. "I like our talent, I like our mentality and I like the potential that our young guys have. We have a lot of young guys that I'm really high on and they can help us sooner rather than later. But with that, we have a group that essentially hasn't played with Damian. For us, it's going to be a lot of getting to know this group and seeing what they're capable of. And early on, it's going to be a lot more focusing on their connectivity, more so than whether we're winning games on a nightly basis. We're going to give these guys time to acclimate to Chauncey's system and acclimate to each other.
"We know that in order to compete at the highest level in this league, you have to be ridiculously talented and super-connected. At this point, I don't think we're either, but I think we have the potential to be. It will probably involve making additions soon, and definitely in the future. But I don't feel a huge sense of urgency to not give these guys the chance first. I want to see these guys play it out."
The size issue is one that Billups lamented throughout the beginning of last season, when he was often left with no choice but to play four-guard lineups with Lillard, Simons, CJ McCollum and Norman Powell. Like Cronin, he acknowledged that the roster balance isn't perfect, but he likes this fit better than what he had last year.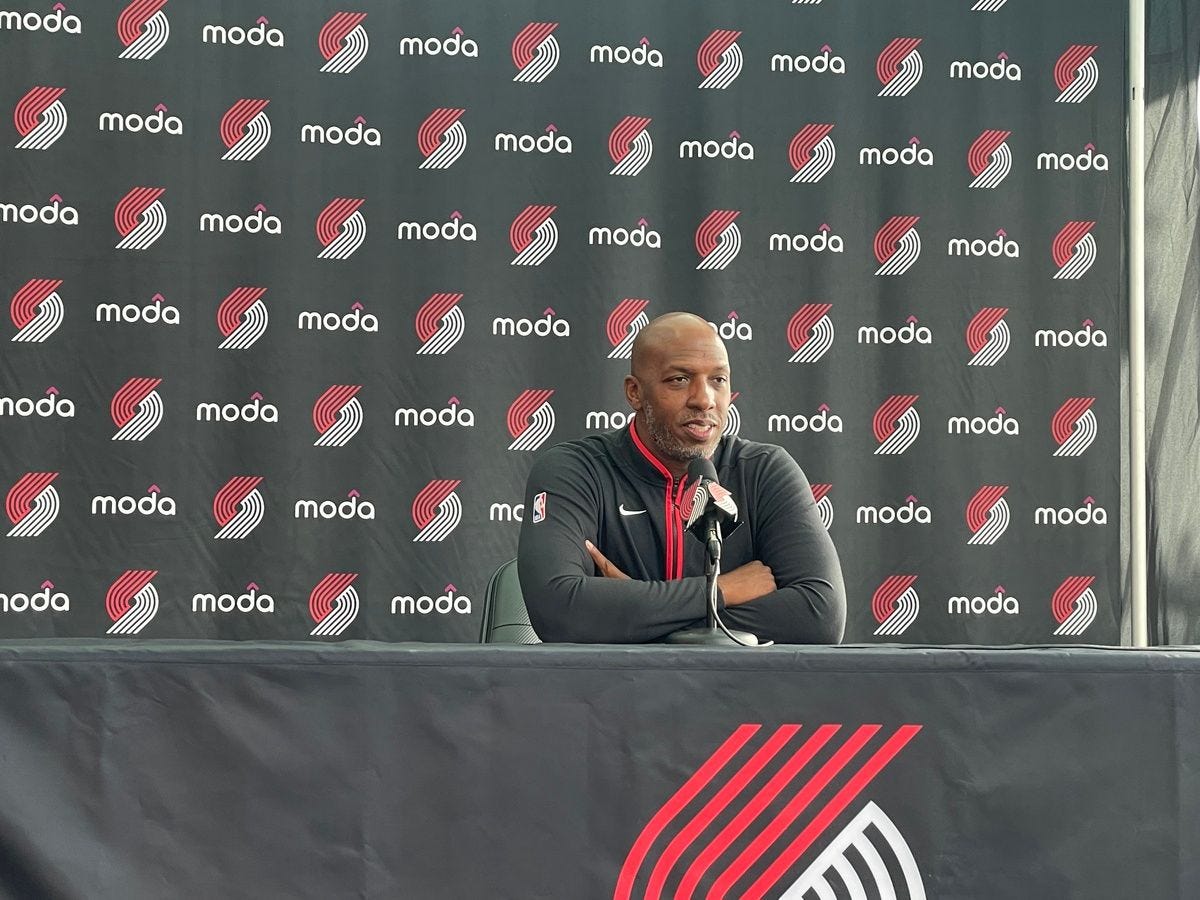 "You can't do it all in a short amount of time," Billups said. "We've come a long way. The thing that I've spoken the most about is us being tough. I think we've done a good job of addressing that. It's one thing at a time. This league is hard. It's hard to get better. It's hard to get the players that you want at all times, but I like every single player that we have. They're all hand-picked, I love what they can do, they all do different things. I'm pretty confident knowing that when you beat us this year, you're gonna earn it."
Nobody said the "championship" word on Monday. My sense is that Cronin and Billups, as self-aware as they are, see this roster about where most other people see it, well below the Warriors/Suns/Clippers tier of true contenders but somewhere in the mix with Denver, New Orleans, Minnesota, Dallas and Memphis.
Lillard, the competitor that he is, was a little more optimistic that, even if they're not all the way there yet, the Blazers are on the right path.
"I believe in Joe, and I believe in Chauncey," Lillard said. "I think what we did with our roster gave us a much better chance than what we had prior to that. Over the last month and a half, looking at the way it looks and the way it feels, I feel like we're much closer to that. We've given ourselves an opportunity to move closer to that.
"Looking at our size, our versatility, the mix of experience and young guys that are turning the corner. I think a lot of the more successful teams that you see in the league now have that type of makeup. They've got the length, they've got the toughness, they've got some youth, they've got some experience, and they're connected. They believe. I think that's definitely the path that we're on. I think we've put ourselves in a better position to make that happen than we were previously."
Stray thoughts…
On the battle for the starting small-forward spot, which is the only real question mark in the rotation entering camp, Billups said it will "play out in training camp" and indicated it's going to be a three-man race between Nassir Little, Josh Hart and Justise Winslow. Hart, asked if he wants to start, said that "anyone who says no is either lying or foolish." Winslow said he also wants to start, but "you understand that you're part of a bigger team, so sometimes you have to fit in and play your role." Little dodged the question Monday, but made it clear to me during our conversation in August that winning that spot is important to him. My money would still be on Little ultimately winning out, but it sounds like all three will have plenty of reps with the starters throughout camp and the preseason.

Keon Johnson has been something of an afterthought in the Blazers discourse this summer. He played a lot during the final tanking stretch of last season after coming over from the Clippers in February and was a part of the Summer League championship run in July. But Cronin didn't name him among the players who are part of the long-term core at his April end-of-season press conference, and name just hasn't come up much in general. So it caught my attention when Lillard, unprompted, called the second-year wing the "most impressive" of the group of young players who have been working out at the team's facility this summer.

Grant, the Blazers' biggest offseason acquisition, was asked how his two seasons as a first scoring option in Detroit will help him in a new supporting role in Portland. "I think it's going to help me a lot. Throughout my career, I've been through different stages where I've had to show different things. Me being in Detroit helped me grow as a player and as a leader. I do intend to bring that over here. Obviously changing my role on this team, but bringing the same mentality, the same energy, the same attention to detail."

Two guys went on record with pretty lofty individual goals. Anfernee Simons, fresh off signing a $100 million contract this summer, told us he wants to be an All-Star. Shaedon Sharpe said he wants to win Rookie of the Year and be invited to the Rising Stars game.

On Sharpe: Lillard, Little and others were effusive in their praise of the little-seen No. 7 overall pick, who said he's fully cleared to participate in training camp after missing Summer League and most of the offseason with a shoulder injury. Lillard told a story about Sharpe meeting Little at the rim to block a dunk attempt and called his talent "off the charts." There's no indication yet of how much Sharpe will play right away—I would guess not much—but Cronin and Billups both made it clear that he'll have every opportunity to earn minutes.

Nurkic was asked about his relationship with Billups and said: "One thing I really noticed with Chauncey from day one is not really any 'capping.' He doesn't say stuff he doesn't mean." This is a classic example of what Bomani Jones likes to call the "cultural exchange" that occurs when European players learn English by hanging around NBA players.

An update on Josh Hart's AirPods situation: he ordered a replacement pair that was accidentally shipped to his house in New Orleans, forcing him to order another pair, so now he has two. He said he's considering investing in some sort of lanyard to make it easier to keep track of them. (I can't relate—I'm a unicorn, the only AirPods user in human history who's never lost a pair.)

The Blazers' decision to travel out of state to Santa Barbara for camp was Billups' idea. He believes, stemming from his playing days, that teams bond more easily on the road, free of distractions, than they do at home, and with so many new players, he felt that was important. Hart joked that he was most excited to be able to play a round of golf without his wife interrupting him.

It was great to see Jason Quick back in the mix at media day and to see his byline at The Athletic once again.

I asked president of business operations Dewayne Hankins about the possibility of Portland hosting its first-ever All-Star Weekend, which he's said in the past he wants to do. He said that the hotel-space issue the league has cited as a roadblock in the past is in a much better place now, but that there are some updates and renovations that are needed to get the Rose Quarter campus "All-Star ready." He hopes to have it there closer to the end of the decade.

If you're a free subscriber to this newsletter, this is the last post you'll get this week outside of the podcast, which will be moving from once a week to twice a week going forward. Practices start tomorrow in Santa Barbara—I'm writing this from the air, and I'll be on site every day through Friday. The paid tier is where you want to be.