Discover more from The Rose Garden Report
Comprehensive, independent coverage of the Portland Trail Blazers and the NBA from veteran beat reporter Sean Highkin.
Over 4,000 subscribers
Anfernee Simons' Injury Forces Scoot Henderson and Shaedon Sharpe Into the Fire
Whether they're ready or not, the Trail Blazers' two young guards are about to get the reins.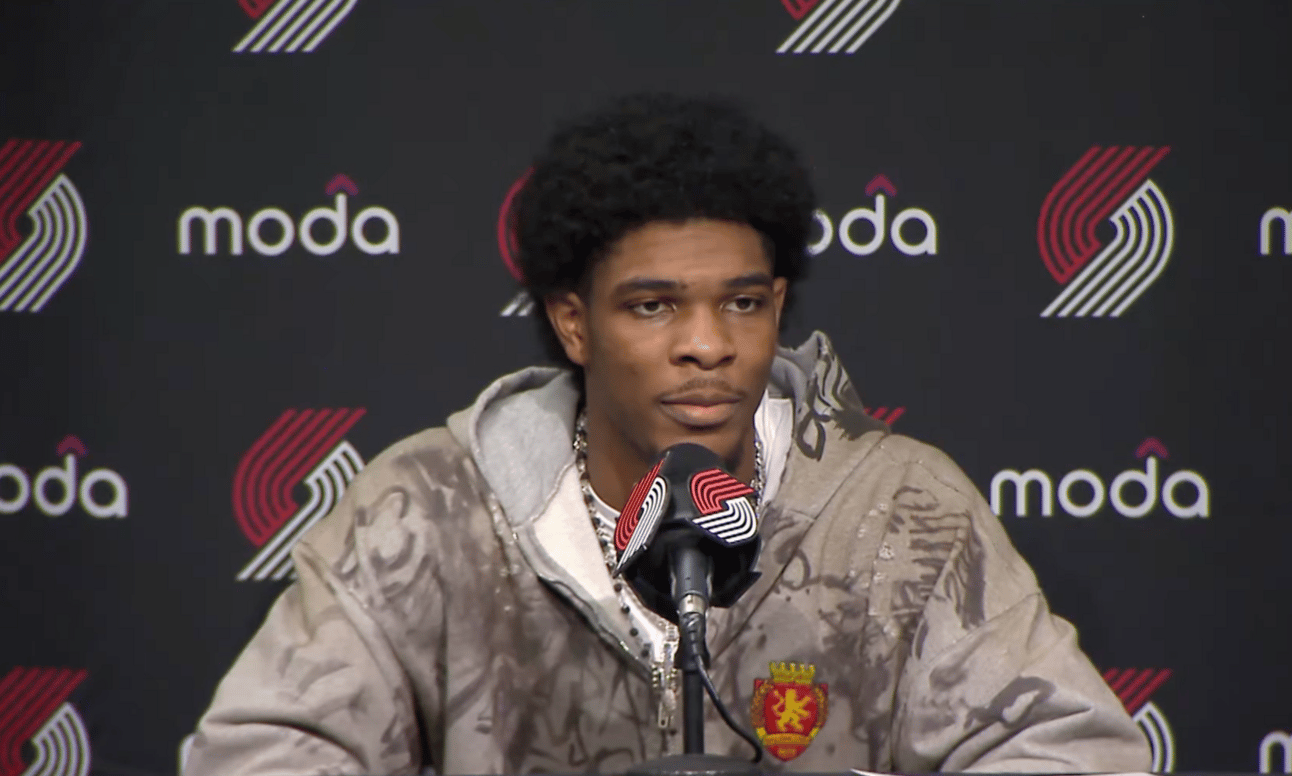 PORTLAND, Ore. — Any notion of the Trail Blazers keeping training wheels on Scoot Henderson and Shaedon Sharpe went out the window a few hours before Friday's 102-97 home-opener loss to Orlando.
The team announced in the afternoon that Anfernee Simons would be sidelined four to six weeks after suffering a torn ligament in his right thumb in the season opener in Los Angeles on Wednesday.
Simons' injury significantly alters the outlook for Portland's season. Not because it materially affects their playoff chances (virtually nonexistent in any case), but because whether they're ready for it or not, Henderson and Sharpe are about to play together, and start together, for the foreseeable future.
There was a structure with Simons there: he'd start with Henderson, and Sharpe would play with Malcolm Brogdon off the bench. Each of the kids would be on the floor with a veteran in most lineups. Training wheels, particularly for Henderson, who has looked every bit his age of 19 through two games. Losing Simons shakes up that structure and will force the two young guards to figure it out, for better or worse.
"I think it's an unbelievable opportunity for these guys to start growing up and to learn," head coach Chauncey Billups said after the game. "If it's going crazy, obviously you've got that calming device in Malcolm that I can throw in at any time. But I like where these guys are at, and it's some great teachable moments where every single night, they can learn so much."
The Rose Garden Report is a fully independent, reader-supported publication. Purchasing a premium subscription unlocks exclusive content and helps sustain the website and make the coverage of the Portland Trail Blazers the best it can be.
The Blazers had hoped to slow-play their long-term backcourt pairing a little bit. There's a reason they've been so adamant that they're going to keep Brogdon around for a while, when many assumed after he came over from Boston that Joe Cronin would immediately look to flip him to a contender for more draft picks. The organization realizes that having veterans around is just as crucial for Henderson's development arc as giving him unlimited rope to make mistakes in a rebuilding year. The Rockets, after two disastrous seasons with nothing but young players, went shopping for high-priced veterans this summer to reset the culture; the Blazers are hoping to keep that element of the rebuild in-house.
And Simons, even though he's only 24, is expected to be a big part of that, as the longest-tenured Blazer and their most dangerous scorer. Now, for at least the next month or two, he won't be there as a security blanket to take pressure off Henderson as he feels his way into the NBA.
"I don't think my job changes at all," Henderson said. "I'm gonna do my thing, try to get downhill and create for others, and hit open shots."
On Friday, Henderson looked more comfortable than he did in his disastrous NBA debut against the Clippers on Wednesday, but still unsure at times of whether to pass or shoot. Foul trouble limited him to 25 minutes, and he shot 3-for-12 from the field and had five turnovers and just two assists. The speed of the NBA game is still something he's going to have to adjust to. Without Simons, he's going to have to grow up on the court a lot faster.
"I can kind of connect it to what I was doing last year [in the G League]," Henderson said. "Playing with a veteran, whether it was Pooh [Jeter] or John Jenkins, it gives you the help of someone knowing the whole game because they've been in it. The ups and downs. They've been in the same situations that we're about to see the next time we go down. So we're losing a little bit of age [with Simons out], but Chauncey says it all the time: that don't matter when you're hooping. He wants us to make mistakes while we're playing hard."
Simons' absence is going to put even more of the onus on Brogdon to be the adult on the court. He's so far been supportive of Billups' decision to start Sharpe with Henderson, rather than mess with the rotation too much. Role-wise, it's the biggest adjustment of his career, going from a Sixth Man of the Year campaign with a contending Celtics team last year to chaperoning a young backcourt made up of two players more than a decade younger than he is. But he seems up for it, and Billups—and Henderson and Sharpe—will need it more than ever in the next four to six weeks.
"That's my role regardless," Brogdon said. "It's definitely helpful when there's another vet guard out there in Ant, an All-Star-level guard, so him not being out there hurt us. But that's an opportunity for Shae."
If there's a positive here, it's that Sharpe has looked ready for the moment. Last year, it was a bit of a shock when Billups inserted him into the rotation on opening night, and even more of a shock that he kept him there every game of the season despite the Blazers gunning for the playoffs and Sharpe looking every bit like a 19-year-old who skipped his freshman season of college.
The first two games of this season have been a different story. Sharpe isn't being force-fed these minutes for the sake of development; he's playing like he's earned them. In 41 minutes against the Magic, he led all scorers with 24 points, knocked down four three-pointers and had two steals. He looked comfortable at both ends of the floor, much more so than he did most of last season.
"I think it's cool," Sharpe said. "Starting in an NBA game is something I've always dreamed of. But I've put the work in, so I'm not really phased by anything. I trust my teammates, I like the group of guys we've got here."
Despite shooting 39.8 percent from the floor as a team, the Blazers group that was on display in the home opener was a lot closer to Billups' long-term vision than the team that got run off the floor by the Clippers on Wednesday. They defended, competed on the glass and kept it close against a good Orlando team. This was a loss a rebuilding team could feel good about.
Henderson is going to take time. But with Simons out, any semblance of a short leash for the rookie is out of the question. Now more than ever, he's going to have to learn by failing until it clicks.