Discover more from The Rose Garden Report
Comprehensive, independent coverage of the Portland Trail Blazers and the NBA from veteran beat reporter Sean Highkin.
Over 4,000 subscribers
On Two Massive Trail Blazers Losses: Bill Schonely and John Curry
The franchise's legendary radio announcer and longtime camera operator both passed away in the last 48 hours, with the entire organization mourning their losses.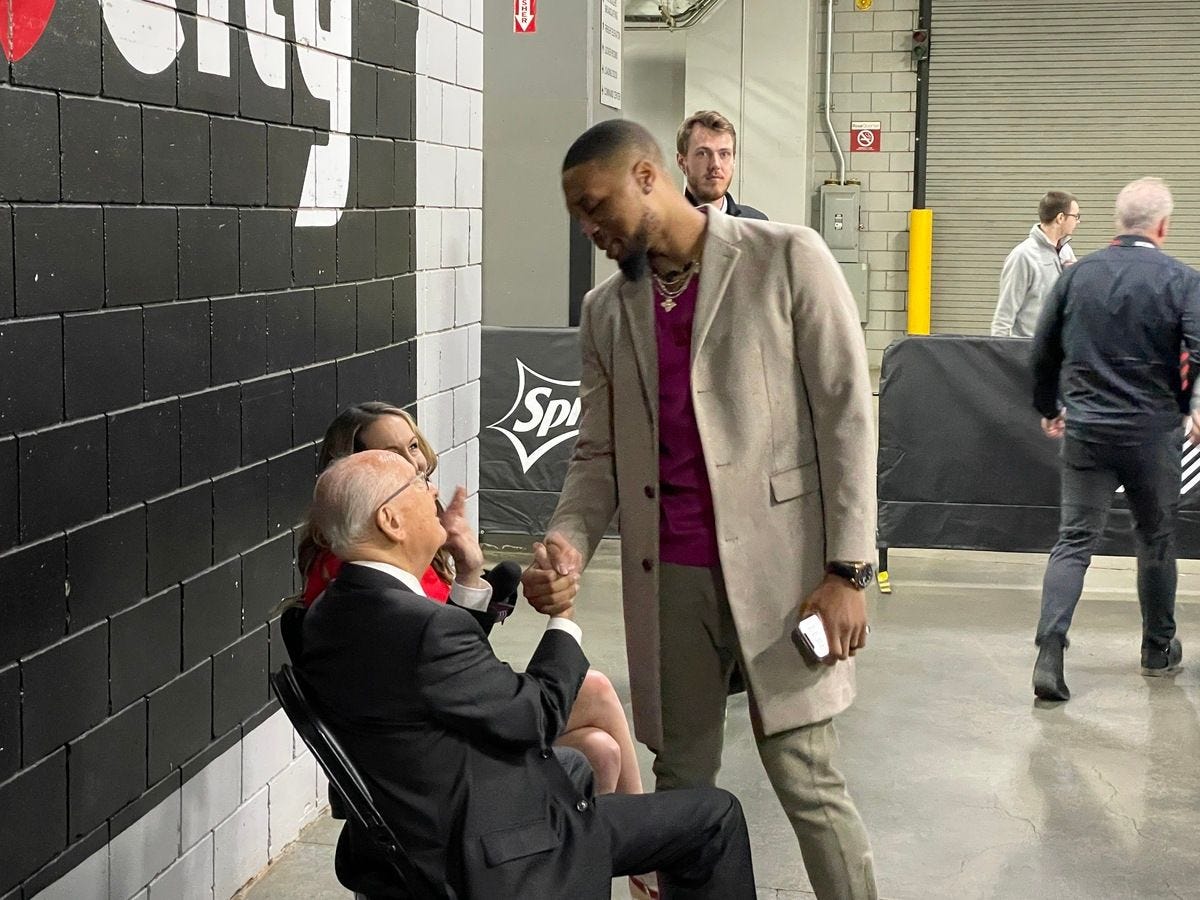 TUALATIN, Ore. — One of the first things Damian Lillard learned when he got to Portland in the summer of 2012 was where the term "Rip City" came from. Bill Schonely made sure the Trail Blazers' new franchise player had no confusion as to who came up with it.
"I wasn't really sure how accurate it was, and he was like, 'No, I can get you the clip. I can get you the soundbite,'" Lillard said after practice on Saturday, hours after the world learned that Schonely, the iconic original play-by-play announcer for the franchise, passed away at age 93. "He was really trying to get me to see that he came up with this. That's why I said how proud of it he was. That was literally the first conversation we had and how he introduced himself."
That's the phrase everyone associates with Schonely. It's far from his only one. "Bingo! Bango! Bongo!" and "You've got … to make … your free throws" are others. But that's the one that will define his career, and in many ways defines the franchise and even the city. Not many broadcasters can lay claim to something that widespread.
The Rose Garden Report is a fully independent, reader-supported publication. Purchasing a premium subscription unlocks exclusive content and helps make the coverage of the Portland Trail Blazers the best it can be.
Schonely was one of two massive losses the Blazers organization has suffered in the past 48 hours. He's the one everyone with a passing familiarity with the franchise knows and loves. Unless you're behind the scenes or in the industry, you may not know John Curry's name. But he was nearly as ubiquitous. If you've watched any Blazers game or press conference from the Moda Center, chances are he was the one behind the camera. In 39 years with the organization, he rarely if ever missed a game, until his unexpected death hours before Thursday's loss to the Sixers. A cause of death has not been given.
Jamie Hudson

@JamieHudson_
We're going to miss you so much, Curry ❤️ A legend in Blazers Broadcasting but more than that — Curry always greeted everyone with the biggest smile— the kindest, most caring person.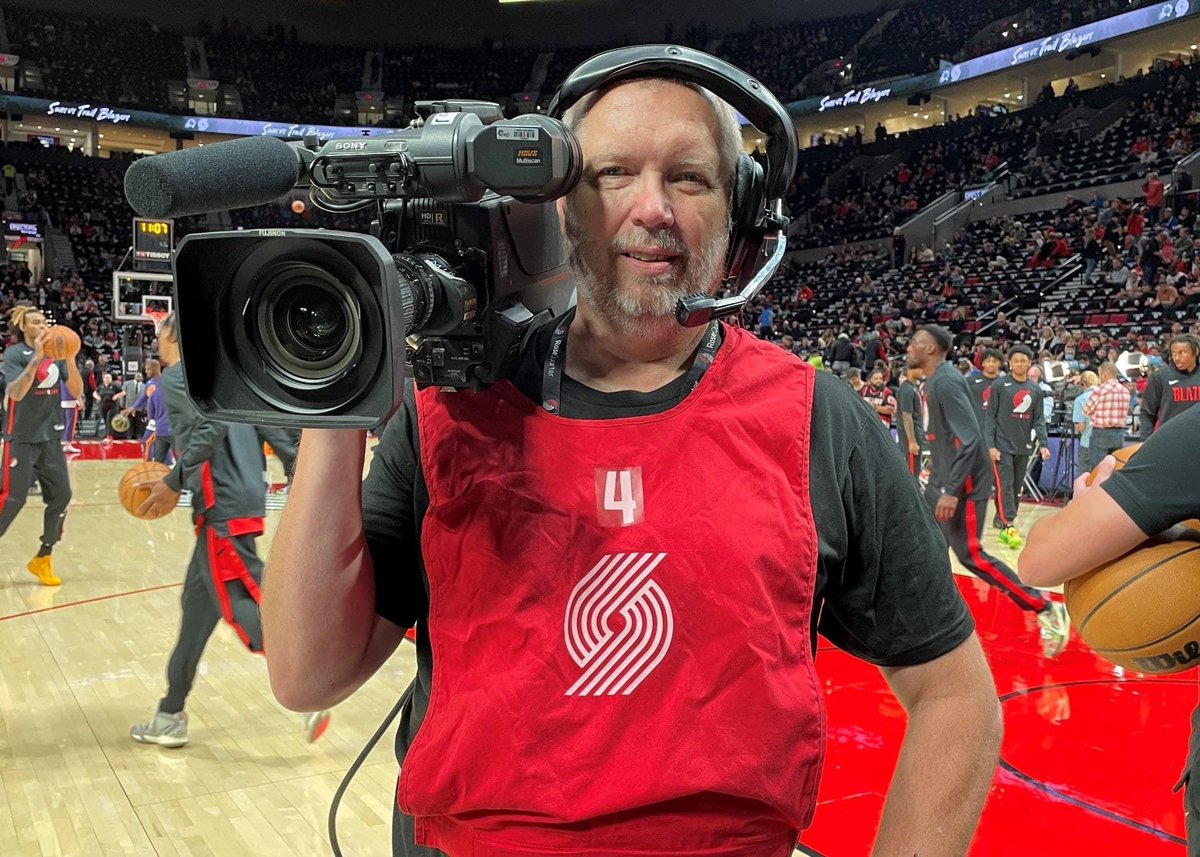 Jan 21, 2023
260 Likes   11 Retweets   2 Replies
I can't personally speak to Schonely any better than most people, outside of growing up with him as the voice and fabric of my hometown professional basketball team. He was never anything but kind to me the handful of times we met, which is what you'll hear from everybody, but his age and health meant he wasn't around nearly as often by the time I started covering the team every day.
I will say that at the final game of last regular season, where the Blazers honored him as he stepped away from his decades-long role as franchise ambassador, he gave a press conference and was still as sharp as could be, if as frail as you'd expect someone in his 90s to be. The ceremony at halftime of that game, with Lamar Hurd emceeing, was one of the few positive moments of one of the most miserable seasons in franchise history, which mercifully came to an end after that night.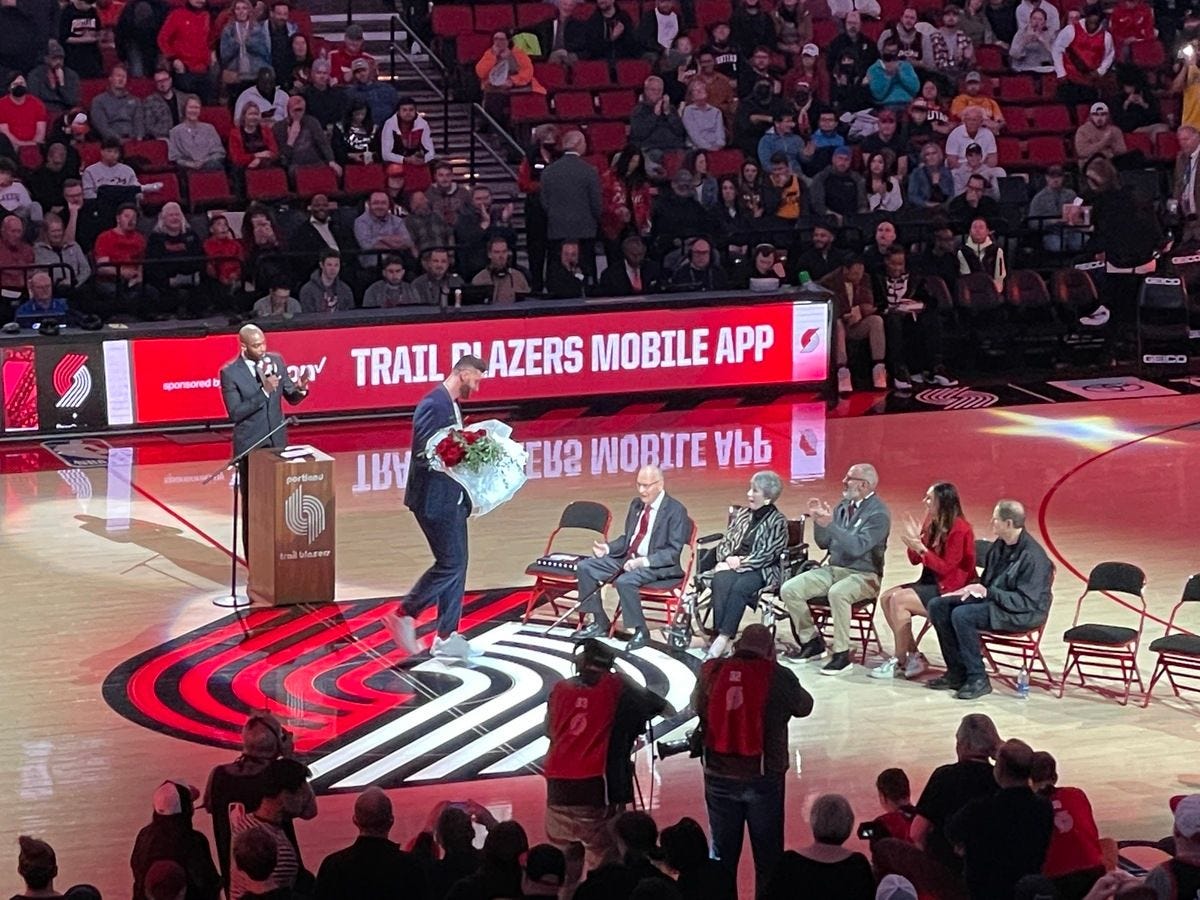 I did know Curry quite well. He was a constant presence in the media room and in the locker room, and always ready with a joke or a story from his nearly four decades around the franchise. That's something you'll hear from everybody, too, including Lillard. You don't often hear a team's superstar becoming friends with the camera operator, but everybody gravitated towards him.
"He knew I was a huge fan of boxing," Lillard said. "Every day when I came into the locker room, he would always point the camera at me because he wanted me to face off with the camera. Being with the organization for 39 years, the way he supported me, he always wore my shoes, we would always have little side conversations."
Lillard values these relationships in the only organization he's ever played for, even at a lower level than a franchise icon like Schonely. He's bonded with one of the janitors at the practice facility over their shared love for boxing, and they text and argue regularly during fights.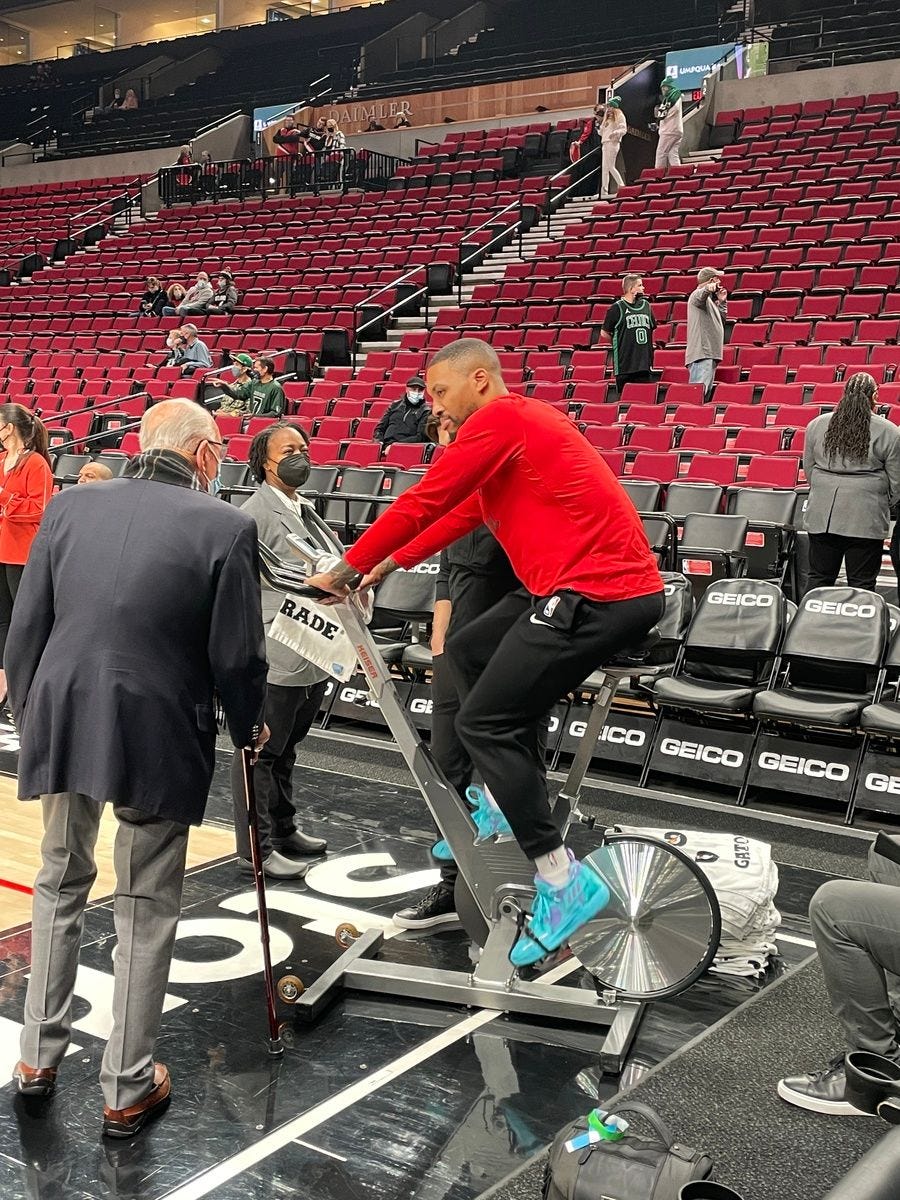 "I think to be around here for as long as I have, there are a lot of people that I get to know and it makes the job better for me," Lillard said. "I'm seeing all the guys around the facility, and you get to know people and get to form friendships that aren't just based around, 'We work for the Trail Blazers.' You get to know people for who they are. And I think that's the power in being a part of an organization for longer than two, three, four years. It's been over a decade since I've been here, so these are basically my adult friends. That's who they are, to me. I'm friends with a lot of these people. Outside of just showing up at the arena or the practice facility. We get to know each other."
There have been no details yet as to what the Blazers will do to honor Schonely, other than a press release saying there will be a public celebration-of-life event in the near future. Sunday's game against the Lakers will be an emotional night. In the meantime, I highly recommend columns from this morning from John Canzano and Bill Oram on Schonely, as well as this sit-down interview with The Athletic's Jason Quick from last spring, when he announced his retirement. The team also shared a terrific video tribute:
The Blazers' broadcast is in great hands right now, with Kevin Calabro and Lamar Hurd on television and Travis Demers and Michael Holton on the radio side. Any of those four will be the first to tell you they'll never be Schonely. Nobody ever will be. He's the single most important figure in the history of the franchise. Lillard breaking Clyde Drexler's franchise scoring record has spurred a new round of "Greatest Blazer Ever" debate, but there's one real answer everyone can agree on.