Discover more from The Rose Garden Report
Comprehensive, independent coverage of the Portland Trail Blazers and the NBA from veteran beat reporter Sean Highkin.
Over 4,000 subscribers
Turnovers Still Trail Blazers' Biggest Issue in Loss to Grizzlies
The Blazers erased a 17-point deficit but couldn't get out of their own way.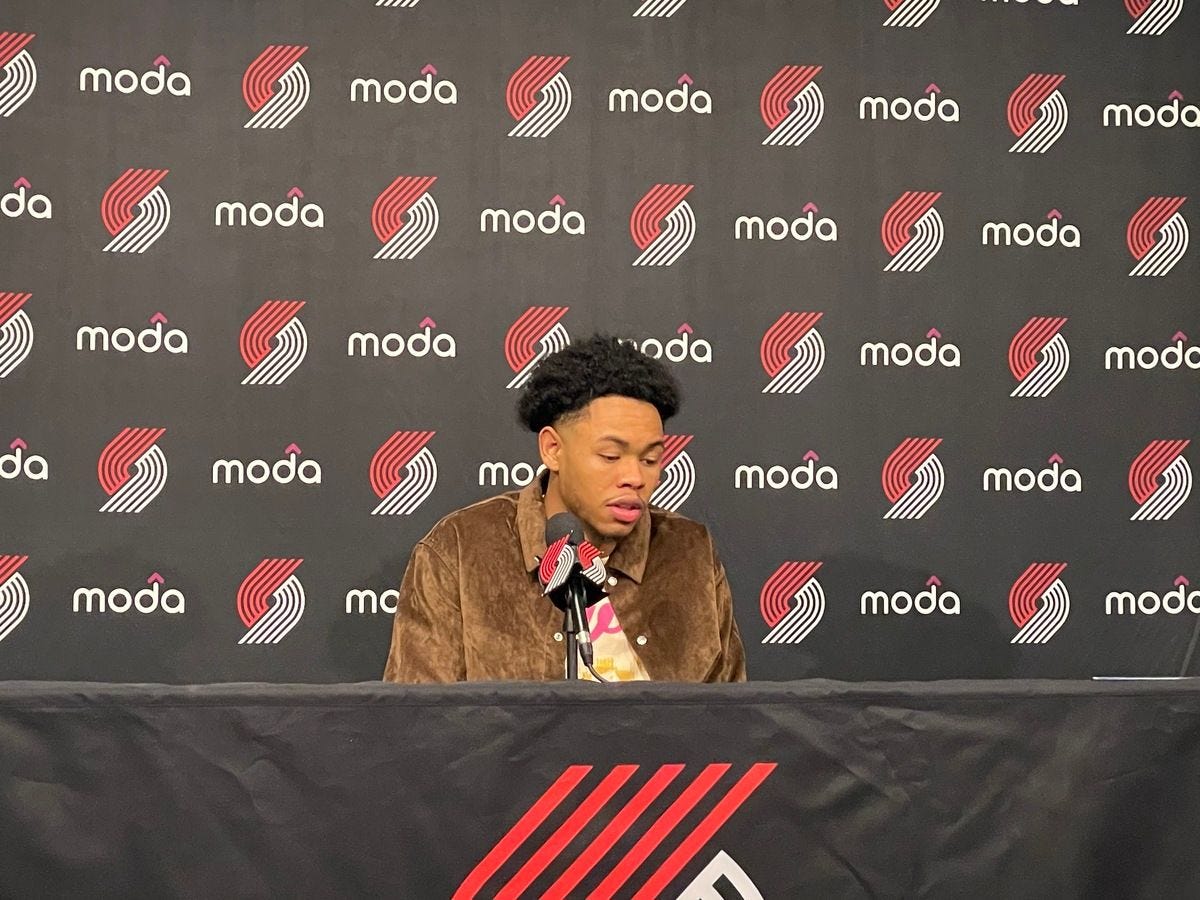 With just over a minute left in regulation on Wednesday night, and the Trail Blazers somehow still in range with an opportunity to tie, Jusuf Nurkic got a defensive rebound and threw an outlet pass to Jerami Grant. Grant was then called for traveling, all but ending Portland's chances at an improbable comeback against a Memphis Grizzlies team that had an answer to every run the Blazers tried to make.
That was the 19th of what ended up being 20 turnovers for Portland, their biggest issue of the season thus far continuing to plague them in what improbably became a winnable game after they looked dead in the water.
Grant's travel halting what could have been a chance to tie was emblematic of the kind of night it was for Portland. The Blazers played a good defensive game and came up with stops when they needed them, just like they did in their only other loss of the season, to Miami a week ago. But just like in that game, they couldn't capitalize and shot themselves in the foot with bad passes and avoidable travels.
"We had so many opportunities to convert," head coach Chauncey Billups said after the game. "We kept getting stop after stop and even turnovers, and we just didn't convert. That's just something we'll continue to work on, continue to get better at."
The Rose Garden Report is a fully independent, reader-supported publication. Purchasing a premium subscription unlocks exclusive content and helps make the coverage of the Portland Trail Blazers the best it can be.
The Blazers overcame a listless start to play Memphis even in the second quarter, then cut into their lead in the third. Even in the fourth, after the Grizzlies expanded their lead to 17, Portland battled back to tie and had an opportunity to take the lead on a wide-open Keon Johnson corner three late. It rimmed out, and Memphis took the lead for good.
Even during the improbable comeback, it never felt like the Blazers were in it. That's how disjointed the night was. Even when Portland's defense came up with key stops, they couldn't get out of their own way. The second-half offensive surge they've grown accustomed to, either from the injured Damian Lillard or, lately, from Anfernee Simons never came. Simons came alive in the fourth quarter to tie the game with back-to-back threes, but it didn't feel like his explosion against the Nuggets last Monday. The comeback effort was undermined repeatedly by more turnovers, more missed opportunities to capitalize.
"It's hard," Simons said. "You're used to playing a certain way, and this year they're emphasizing a lot of travels. It kind of makes you play slower, but play more fundamental. They're all travels. They don't usually call it, but it's a good call. So we've got to adjust our games."
It was at once a game they shouldn't have even been in, and a game they shouldn't have lost.
"Obviously with Dame out, it's more on certain guys to pass," Jusuf Nurkic said. "When you have a guy in and out of the lineup, it's a little different feeling for the game, and we've got to adjust. Some guys hesitating with the ball and you turn it over or travel. I think those hurt. But we'll make it right."
Through seven games, Portland has both the NBA's 11th-best offense (113 points per 100 possessions) and 11th best defense (109.5 points allowed per 100 possessions), for a net rating of +3.5 that ranks No. 8 in the NBA. This is a deep, talented team that has thus far produced at both ends. But their turnover rate of 16.4 percent is third-worst in the league. If there's one persistent issue with a team in the midst of an otherwise storybook beginning to the season, that's it, and it manifested itself in Wednesday's loss.
"That's been a little bit of an issue for us," Billups said. "A lot of it is, they forced us into so many of those turnovers tonight with their physicality. But I think sometimes we get caught up with trying to make a home-run play as opposed to, you see a guy open, pass to the open guy. Just simplify it. The more passes you make, most teams will break down defensively. So we'll just keep coaching it up."