Discover more from The Rose Garden Report
Comprehensive, independent coverage of the Portland Trail Blazers and the NBA from veteran beat reporter Sean Highkin.
Over 4,000 subscribers
Trail Blazers Unveil PDX Carpet-Themed 'City Edition' Jersey
The much-requested design is now a reality.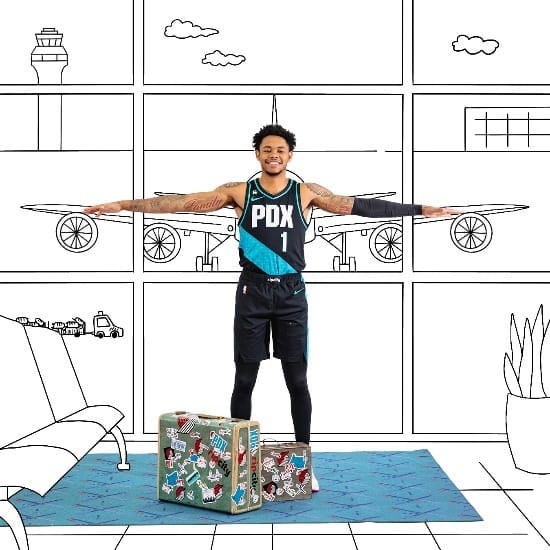 Bruce Ely (courtesy of Portland Trail Blazers)
Since Nike took over the NBA's jersey contract in 2017 and introduced the concept of a "City Edition" jersey, the most-requested design among Trail Blazers fans that I've seen is something incorporated the now-retired carpet pattern at Portland International Airport.
Even going back before that, Damian Lillard has incorporated the design into certain colorways of his signature sneaker with Adidas, all of which sold out instantly. One of them is currently going for $870 on StockX. There's clearly a demand for this.
From the Blazers' Thursday morning press release announcing this year's City Edition jersey:
The City Edition uniform showcases the confidence and quirkiness that defines Portland, as no other team or city would embrace an airport carpet pattern to the degree that Portlanders have. The pattern, with its bright teal base and unique geometric shapes, represents the view of the North and South runways as seen overhead from the sky.
The carpet's cult-following grew after reaching local icon status, as it became tradition for travelers arriving or departing out of PDX Airport to take photos of their feet safely planted on the colorful carpet to post on social media.
My thoughts: not bad, but they actually don't go far enough. If this is what they're going to do, I'd rather they lean all the way in and make the carpet pattern the entire jersey, rather than just the diagonal stripe. At the very least, make the "PDX" on the front also in that color. Unlike last year's polarizing brown "Oregon" jerseys, which no one asked for, this is a design fans have wanted for a long time, but they only went in halfway on it.
I'm sure these will sell out, though. Expect to see a lot of Shaedon Sharpe jerseys in this design in the coming weeks.