Discover more from The Rose Garden Report
Comprehensive, independent coverage of the Portland Trail Blazers and the NBA from veteran beat reporter Sean Highkin.
Over 4,000 subscribers
Trail Blazers Taking Cautious Approach With Injuries as Damian Lillard Re-Aggravates Calf
The Blazers organization is taking a conservative approach with their players' health with a tough stretch coming up.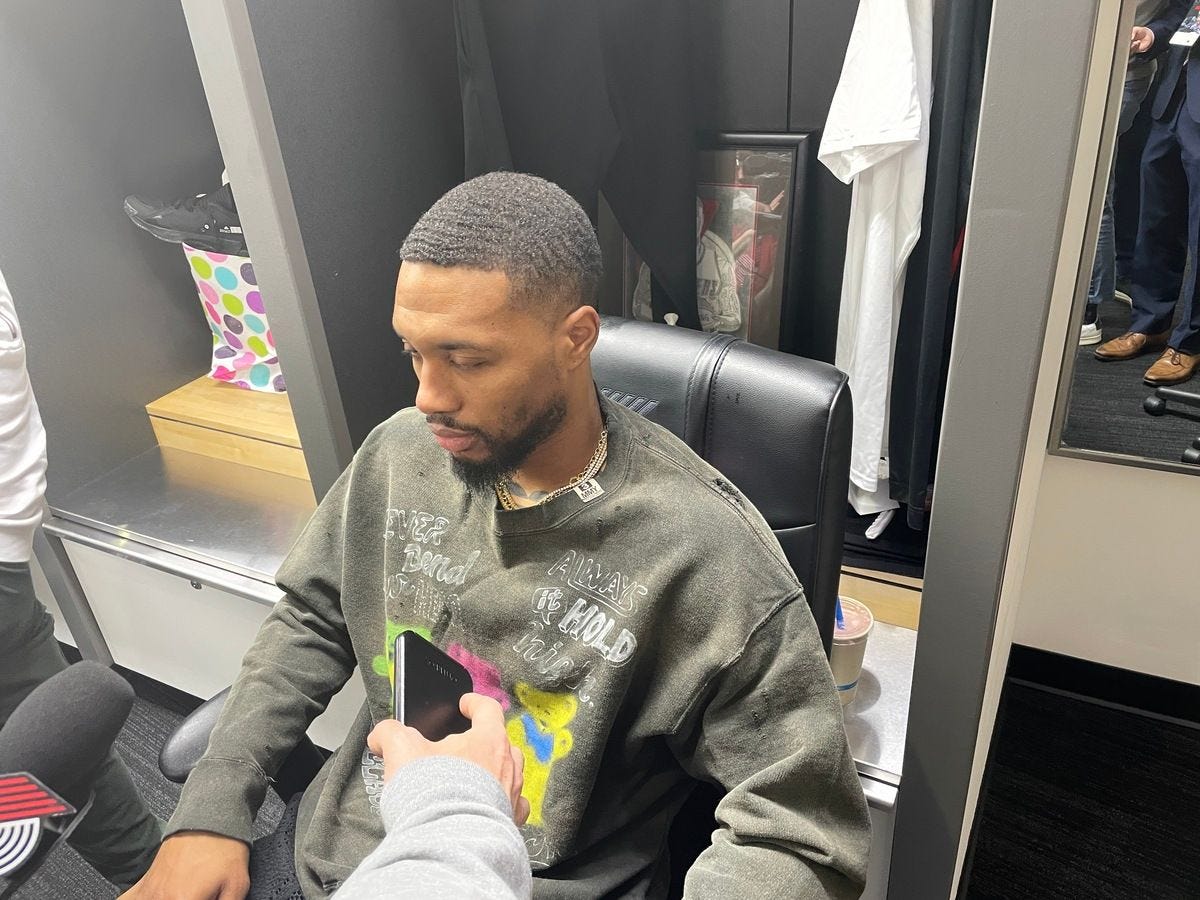 One month into the season, the Trail Blazers have lost consecutive games for the first time. Now, they embark on another week-long road trip, likely without Damian Lillard for at least some of it.
Lillard checked himself out of Saturday's loss to the Jazz late in the third quarter, which up to that point was his worst shooting night of the season at 2-for-14 from the field and 1-for-12 from deep. He felt his right calf act up—the same one he injured last month in a loss to Miami that caused him to miss four of the next five games. Just like last time, he hoped he'd be able to get a few minutes of treatment from the Blazers' training staff and be allowed to check back in.
That wasn't the case, and by all indications that isn't going to be the case going forward, for Lillard or anyone else.
"I haven't felt it since the first time I strained it," Lillard said after the game. "The first time I hurt it, I felt it. This time, I took off running back on defense and felt like it tightened up. I kind of just started pushing on my toes. I could tell it was irritated. I kind of had a conversation with myself. I wanted to see how I felt. I was sitting for two weeks. I didn't want to go out there and do the same thing over again. I came out and let them look at it and that was it."
The Rose Garden Report is a fully independent, reader-supported publication. Purchasing a premium subscription unlocks exclusive content and helps make the coverage of the Portland Trail Blazers the best it can be.
Lillard underwent an MRI after the game and didn't know the results yet, but he said it wasn't nearly as bad as the first time he hurt the calf. He also said this was the first time he's felt the calf act up since he hurt it initially, and doesn't think this was a buildup. He expects to miss at least some of Portland's upcoming four-game road trip, which kicks off Monday in Milwaukee before going to Cleveland and New York for games against both the Nets and Knicks. A formal update from the team is likely for Sunday, but it would be a shock if he wasn't ruled out for at least the game against the Bucks.
Before last season, when Lillard underwent a core muscle surgery that shut him down in January, he would have tried to play through an injury like this. Even tonight, he wanted to.
"Tonight, that was what I was thinking," Lillard said. "I'd come out of the game with a couple minutes left in the third and let them look at it and try to stretch it out, and then maybe come back in. But they were just rubbing around doing some type of treatment, and they were like, 'Yeah, back up off of it.' I've got to respect what they say. I also can't be a fool and try to fight my way through everything and just hurt myself worse. It's a hard thing to do, because that's not what I want to do. I'm always going to try to play. Once it's done, there's nothing I can do about it. That's the frustrating part of it."
Lillard's re-aggravating of his calf injury comes one day after the Blazers announced that guard Gary Payton II, who has yet to play this season after undergoing a core muscle surgery in July, was experiencing "intermittent soreness" in his recovery and would be out at least another two weeks.
Before Saturday's game, Payton was on the court getting shots up and even dunking. Word about his progress has been positive in recent weeks and even now, coaches and members of the organization don't believe he's had a setback in his recovery despite the team initially saying he'd be ready for the start of the season. But as an organization, they're taking an ultra-conservative approach to any injuries to key players. It's why the equipment managers had to keep Lillard's jersey out of his locker in Phoenix to keep him from trying to play through the calf injury. They aren't taking any chances.
That's one thing this better-than-expected start gives them the luxury to do.
Even after back-to-back losses to Brooklyn and Utah, the Blazers sit at 10-6 tied for the second-best record in the Western Conference. And they have plenty of experience already winning on the road without key players. Their recent six-game road trip, which featured five games against likely playoff teams, ended with a 4-2 finish despite four of their five starters missing at least one game.
"We just need to play how we've been playing," Anfernee Simons said. "We've already played games without Dame, without Jerami [Grant], without [Jusuf Nurkic]. Honestly, we play the same way every game."
If some of these coin-toss games went the other way and the Blazers were 8-8 or 7-9 through 16 games instead of 10-6, the organization may feel more pressure to put Lillard or Payton on the court to hold their spot in a tough Western Conference.
It's entirely possible they come home from this road trip at .500, no longer the surprise feel-good story of the season. If that happens, they'll be about where most people expected them to be going into opening night. But they could hold water with a 2-2 road trip or even go 3-1 and come home in an even stronger position. Nobody expected 4-2 on the last road trip, either. Everything is on the table.
If their first two-game losing streak coming at the 16-game mark is the biggest adversity they've faced so far having reached the 20-percent mark of the schedule, they're in good shape.
"I'm not concerned," Lillard said. "I think this is part of it. We've had game-winners, we've won tough games, we've won road games, we've had a good start. We're 10-6 with a tough schedule. We've played some good teams. We've had a good start. But what you have to look at is, we're not the only team dealing with this. What you've got to look at is, we're not the only team dealing with this. There are a lot of teams around the league who are banged up. Injuries happen, and you have games where you don't perform well.
"Tonight, I thought we competed, we just didn't make shots. We got a lot of shots that we always get, we just didn't make them. The teams that are able to build on these moments and keep pushing forward and not say, 'Are you concerned?' or 'What do you say [to the fans]?' It's not that deep. We've just got to keep doing what we've been doing. Stay true to it. You've got to understand that this is part of it. If you don't understand that and think it's the end of the world … I don't think we played great this entire home stretch. We won the San Antonio game, we had a chance to win the Brooklyn game, and tonight we gave ourselves a chance again. I think that's the bright side of it. We didn't play great, but gave ourselves a chance. The past few years, we probably would have lost by 18 or 20 tonight. We've just got to keep going."