Discover more from The Rose Garden Report
Comprehensive, independent coverage of the Portland Trail Blazers and the NBA from veteran beat reporter Sean Highkin.
Over 4,000 subscribers
How the Trail Blazers 'Remixed' Their Identity for New G League Team
A behind-the-scenes look at the design process for the Rip City Remix, which will begin playing this fall at University of Portland.
Courtesy of Portland Trail Blazers
A lot goes into launching a new professional sports team. There are tons of moving parts and hurdles, from a name to a logo to uniforms to staffing. Under normal circumstances, it can take two years.
The Trail Blazers' marketing team had two months to decide on a brand identity for the G League affiliate the franchise first announced in May and officially launched on Monday.
Along with the Phoenix Suns, the Blazers were one of just two teams in the NBA without their own team in the NBA's minor league, which has only become more important in developing players in recent years. Over the past year, Blazers general manager Joe Cronin and president of business operations Dewayne Hankins have been working with G League president (and former Blazers player) Shareef Abdur-Rahim on finalizing a plan to get the franchise into the modern age. That part didn't get done until spring.
So Cronin and Hankins came to the marketing team in early April, near the end of the 2022-23 regular season, with a task: start thinking about a name and logo now for a team that will start playing at the University of Portland's Chiles Center in November.
"This is like a dream job come true for a creative team — to start a team brand," says Ryan Flaherty, the Blazers' senior vice president of brand marketing.
They hit the ground running, focus-grouping various options for names with season-ticket holders, kids, families and even Blazers players. Early on, they decided "Rip City" would be the city name, to differentiate it from the parent club even though they both play within Portland city limits. At one point, they had over 100 possible nickname options. As you'd imagine, there were plenty of hurdles with vetting out which potential names were already trademarked and which ones they could fully own.
Through it all, there was one they found themselves coming back to again and again.
"'Remix' just kept floating up to the top of the list with all these different groups," Flaherty says. "Kind of across the board, it was surfacing as an option."
Courtesy of Portland Trail Blazers
Quickly, they realized the many different creative options that name opened up.
"We talked a lot about what 'Remix' meant in the context of not only music, obviously, but also in what it meant to be a Portlander, and what it meant in the context of basketball," says Koji Matsumoto, the Blazers' director of design and brand marketing, whose team was charged with creating a logo once they decided on a name. "When you're a player, you have a play that you're running, but you also have to adjust on the fly. You create a new play on the fly to adjust, and you end up 'remixing' that to adjust. Similarly, Portlanders are DIY-ers, crafters, they're upcycling things. It felt like a really good representation of the nature of the community."
What they settled on was a variation on the Blazers' iconic "pinwheel" logo with the five lines on either side to represent a five-on-five basketball game, but flattened out to more closely resemble a vinyl record. It's right at the center of the Venn diagram of what they were looking for—something identifiable with the Blazers' logo, something that pays homage to the 1970s, the decade in which the Blazers were founded and won their only NBA championship, and something that appeals to other parts of the culture of the city.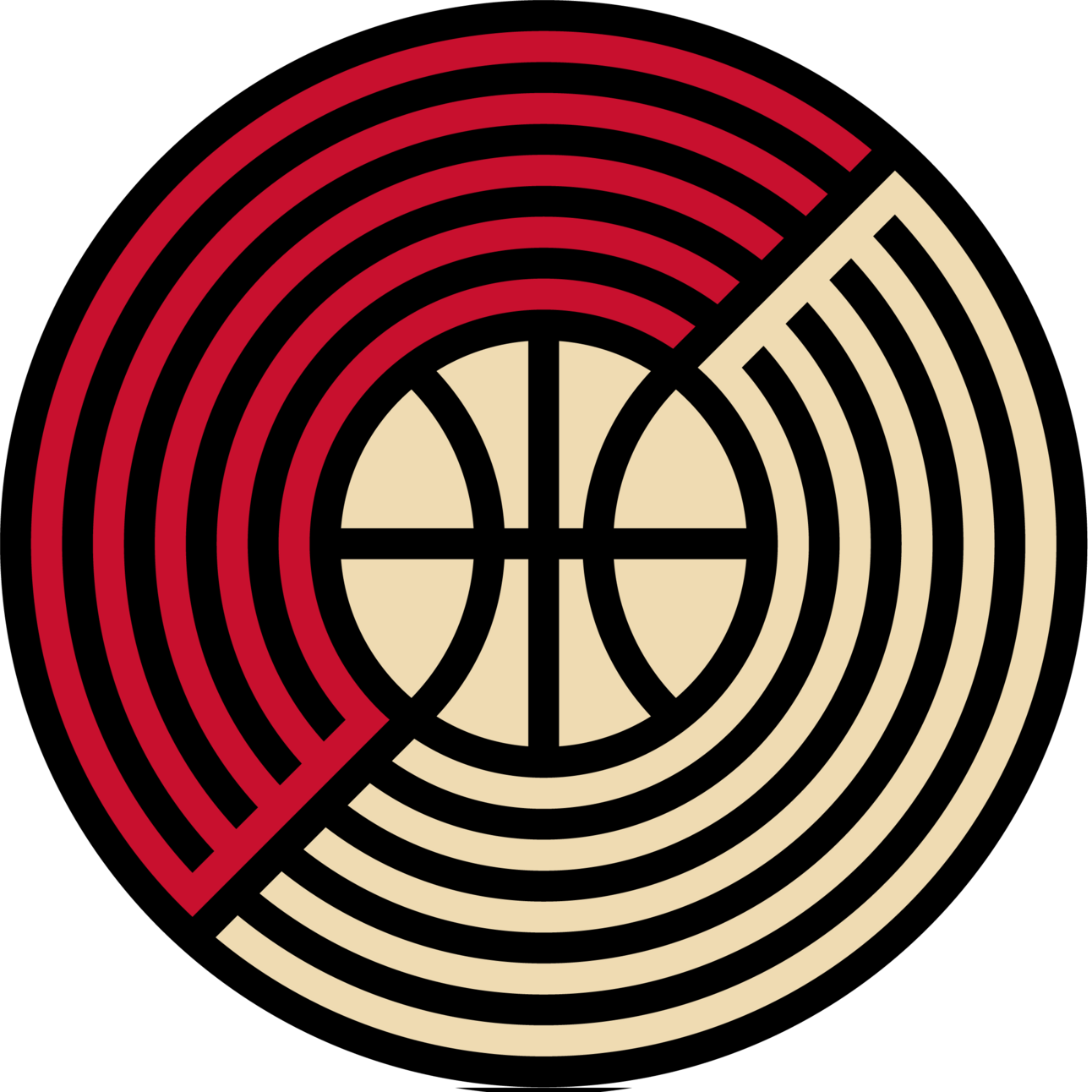 Courtesy of Portland Trail Blazers
"With the Trail Blazers brand, we've really had success tying into the nature and spirit of Portland and the region, of people being crafters and makers and not being satisfied with the way things are," says Flaherty. "They'll take a donut and remix it into something. They'll pickle anything just to see what it tastes like. Or craft beer. Everyone's constantly trying to evolve and remix and upgrade what they have. We just thought that was a cool representation of the spirit of the region."
The uniforms are still a work in progress, and won't be ready until the 2024-25 season. For the first year, the Remix will wear Nike-issued expansion team uniforms as a placeholder, much like the G League Ignite did in their first season. The plan is for their own uniforms to be ready in year two. In the meantime, they plan to release fully-realized merchandise and collaborate with local designers on collections following Monday's unveiling.
Due to the tighter-than-usual timeline, the Blazers have been in a mad dash to fill out every part of the G League organization. The past two months have seen an official announcement, followed by the hiring of a team president (former Blazers, Nike and Microsoft executive Hannah Grauert), general manager (longtime Blazers personnel analyst Danny Connors), assistant GM (former G League Ignite player and University of Portland alum Pooh Jeter, a close mentor of the Blazers' newly minted No. 3 overall pick, Scoot Henderson) and a head coach (former Blazers and Pistons assistant Jim Moran). The team name and logo unveiled Monday is the last step.
In "Rip City Remix," they feel they've landed on an identity that's true to the Blazers while being unique, creative and forward-thinking.
"When we first felt this had legs was when Koji and the design team started uncovering all these different things 'Remix' could mean," Flaherty says. "One of them was music, obviously, and we'll play into that with some entertainment aspects of the game. We're looking at having rotating local DJs that will help entertain the fans. Things like that. But beyond music, we just really liked the motion of 'Remix' and how we're taking these players from different abilities, backgrounds, talents, they come together and we mix them onto this new team, and then ultimately they get mixed into the Trail Blazers. With two-way contracts, players will be pulled up, they'll be developing.
"It just felt like a cool way of rethinking what 'Remix' means."