Discover more from The Rose Garden Report
Comprehensive, independent coverage of the Portland Trail Blazers and the NBA from veteran beat reporter Sean Highkin.
Over 4,000 subscribers
Trail Blazers Not Standings-Watching in the Thick of Western Conference Playoff Race
Despite losing four of their last six games, the Blazers are still right in the running.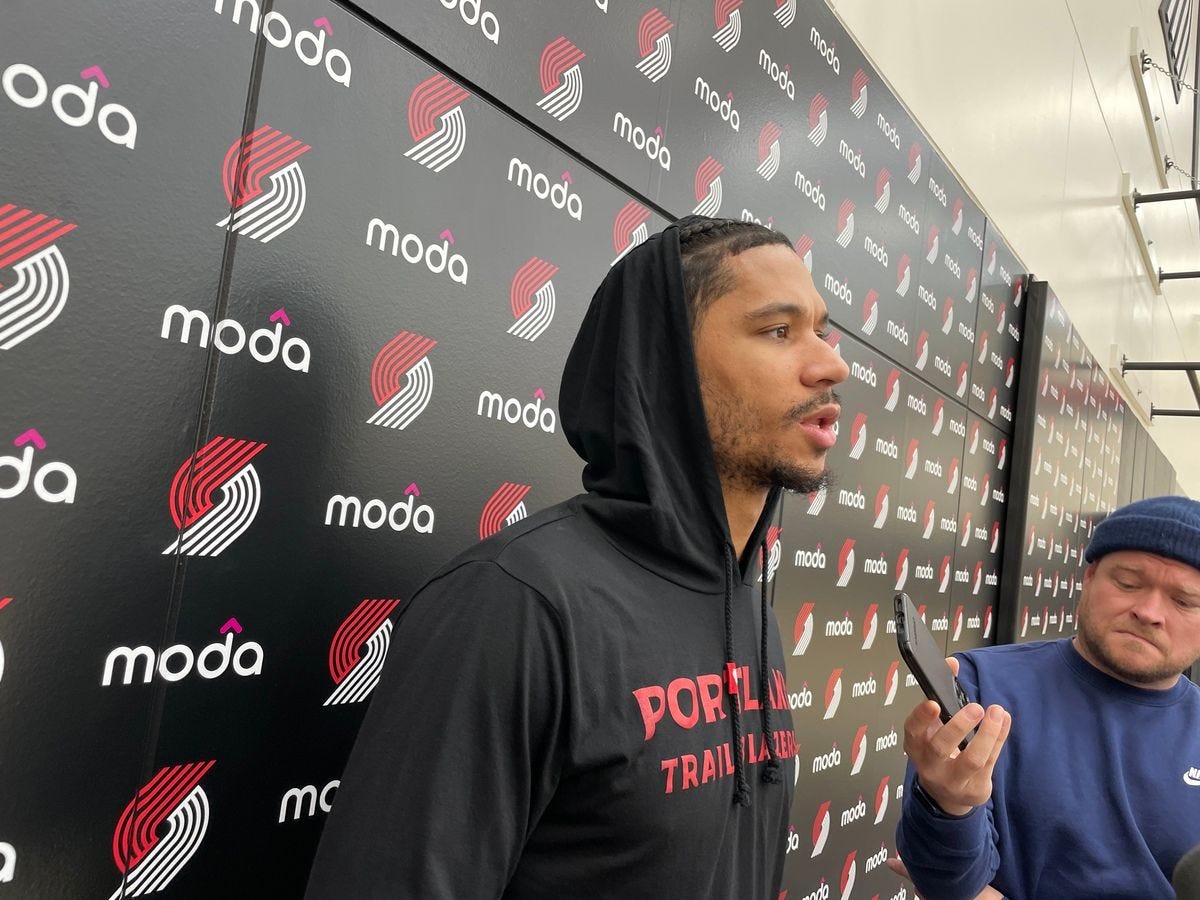 TUALATIN, Ore. — Chauncey Billups began Wednesday's film session by doing the same thing the entire NBA world did the previous night: watching Luka Doncic's historic 60-point, 21-rebound, 10-assist performance in the Mavericks' overtime win over the Knicks.
Partly because it was one of the most mesmerizing displays of recent years, but also because there were things the Trail Blazers could take from it.
"There's so many things to learn from the last minute," Billups said. "Down nine, giving up offensive rebounds here and there. Had a chance to foul and didn't foul. It's so many things you can learn from. My thing is always, these games are never over. The Knicks thought it was over two or three times, up nine. You're up nine with 33 seconds, you thought it was over. Just focusing in."
Billups occasionally likes to do this — showing his players another team in the film rather than their own allows him to break down situations with a fresh perspective rather than harping on their own mistakes.
"It's always good to learn watching somebody else," Billups said. "We've had our moments where we go in there and it's us, and everybody's feelings are hurt and it's emotional. So it's good to be able to do it with somebody else. We've had a lot of moments that other teams put in their film room. That game was incredible. That was crazy."
The Rose Garden Report is a fully independent, reader-supported publication. Purchasing a premium subscription unlocks exclusive content and helps make the coverage of the Portland Trail Blazers the best it can be.
That win over the Knicks moved Dallas up to sixth in the Western Conference, half a game up on the eighth-place Blazers. Portland, still in the top eight despite losing four of its last six, is only four and a half games back from first-place Denver. And one of the teams ahead of them in the standings, the fifth-place Suns, announced Wednesday morning that Devin Booker will miss at least the next four weeks with a hamstring injury.
That's the way the Western Conference is this year: every team is one hot streak away from taking over the top seed, and one injury or down week away from falling out of the play-in picture.
"We don't want anyone to be hurt, but anyone's misfortune is good for us," Josh Hart said after practice. "Obviously, we want DBook to get back as soon as he can, but that's a team that's ahead of us, and we've got to go out there and jump up in the standings. But we've also got to realize that guys are NBA players. You can think, 'Phoenix lost Book for a month.' Or in New Orleans, [Brandon Ingram] has been out three or four weeks and they're No. 1 or 2 in the west. So even though they're out, these are NBA players. It's not like they're just gonna lay down and be like, 'Oh, we don't have our guy. We're gonna just kick it for a month.' Sometimes they're even more dangerous. We saw it last year with Ja Morant and the Memphis Grizzlies. We know that, and know we've just got to bring it every day and be consistent."
That the Blazers are even in this position despite dropping several winnable games over the course of the season, still in the thick of the playoff race and not in any real danger of falling to the bottom of the standings, speaks to how inconsistent the rest of the Western Conference has been. Portland has had its struggles with injuries, defensive slippage and everything else — but so have the rest of the teams they're fighting with for positioning.
"We're eighth," Hart said. "I think we're unhappy with being in eighth. We could easily be in second. The Denver game we gave up here, the Brooklyn game we gave up here, the Clippers game we gave up here. Those three off the top of my head — you win those three and we're second or third place in the west. The OKC games, we should have won both, honestly, in my opinion. So we dug ourselves a hole, but we know we're a better team than what the standings are. To our our benefit, no one's really separated themselves. We're all two, three, four games out of first place. We've just got to go in and get on a run, which we have the capability to do, and put together wins."
Everyone looks at the standings. But especially this year, they can change at a moment's notice.
"You do, because it's just a natural thing to do," Billups said. "But in all honesty, I've probably looked at it once in the last month. I watch all these games every night and I see who's winning and who's losing, so I know what's going on, but I just feel like it's all about how you're playing. There's so much parity over here in the Western Conference. If you keep following [the standings], if you have a bad week, you lose three out of four, you go from 2 to 9, and then your confidence goes there too, but you might not be playing that poorly. So I don't harp on that. But I also know where we are. I think that's how it's going to be most of the time."
"We're going to be beating up on each other the whole time, because of the parity. We can beat anybody on any night, and as we've seen, we can lose to anybody on any night. It's all about your habits and how you're playing. That's all that matters."