Discover more from The Rose Garden Report
Comprehensive, independent coverage of the Portland Trail Blazers and the NBA from veteran beat reporter Sean Highkin.
Over 4,000 subscribers
Trail Blazers Match Mavericks' Matisse Thybulle Offer Sheet
Thybulle will be back in Portland after signing a three-year, $33 million deal.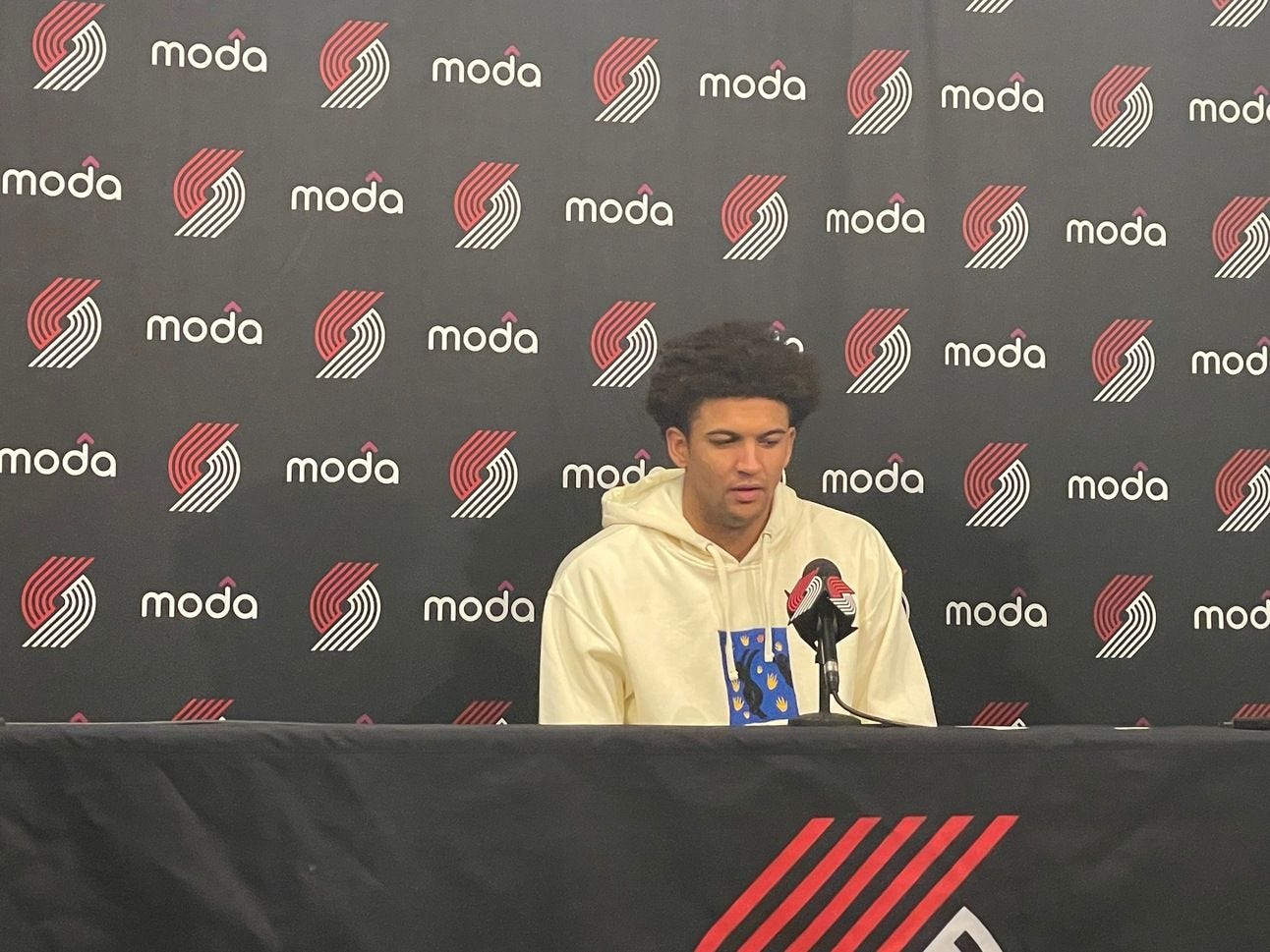 The Trail Blazers always expected to keep Matisse Thybulle around, regardless of whether they were contending or rebuilding. That part is according to plan—a league source confirms that Portland plans to match Dallas' three-year, $33 million offer sheet, as first reported by ESPN.
By itself, this is a pretty straightforward transaction. The Blazers liked what Thybulle brought at both ends of the floor after acquiring him in a deadline-day deal with Philadelphia, and weren't going to let him walk for nothing as a restricted free agent. But it's impossible to view this move in a vacuum, outside of the context of the still-unfolding standoff between GM Joe Cronin and Damian Lillard.
Lillard's agent, Aaron Goodwin, also represents Thybulle. Following Lillard's trade request over the weekend, Goodwin has been making it known that the only team Lillard wants to play for is the Heat, both through various anonymously sourced reports and, on Thursday, on the record for the first time to the Miami Herald. The Blazers don't appear to be playing ball, and thus far have been unmoved by the Heat's offers, which they feel don't come close to the precedent for a trade return for a star guard set last summer by the Dejounte Murray and Donovan Mitchell trades.
In the background of this, there was motivation from both the Mavericks and from Goodwin to make the Thybulle offer sheet as difficult for Portland to match as possible. The deal includes a player option on the third year, a 15 percent trade kicker and a requirement that 50 percent of his annual salary be paid by Oct. 1.
It's not at all uncommon for offer sheets for restricted free agents to have these kinds of caveats. Generally, if a player is good enough or valued enough for a team to make them a restricted free agent, their team will likely match any offer sheet that isn't a massive overpay. The Mavericks only had the $12.4 million mid-level exception to work with, so they wouldn't have been able to offer the kind of money that would have really made Portland think twice. Instead, they were forced to put in these sorts of provisions that will make it harder for the Blazers to trade down the line if they wanted to.
The Mavericks have done this before. In 2014, they squeezed the Rockets with a similarly onerous offer sheet for Chandler Parsons, which Houston opted not to match. The Blazers have done this in the past as well—in 2009, they signed Paul Millsap to a massively front-loaded offer sheet that Utah was forced to match. In 2015, they made the Thunder match a four-year, $70 million offer sheet on Enes Kanter. This is all part of the game, and this time Portland was on the receiving end.
The Blazers had likely hoped to wait to officially re-sign Thybulle until after the Lillard trade, which as of now could take weeks or even months to be resolved. The Mavericks have been interested in pursuing him since free agency opened—the offer sheet comes on the heels of an agreed-to sign-and-trade that will land them former Celtics forward Grant Williams on similar money. Dallas would have liked to add both players but, knowing Portland was unlikely to let Thybulle walk, settled for making it inconvenient for them to keep him. Goodwin was more than happy to help with that amidst the increasingly public negotiation over Lillard's exit. That's also part of the game.
As for how Thybulle figures into the Blazers' long-term plans now that they appear headed towards a post-Lillard rebuild, the organization has valued his cultural fit and perimeter defense since he arrived at the deadline. They also feel his much-improved outside shooting (38.8 percent from beyond the arc on 3.9 attempts per game over 22 games with the Blazers) is sustainable and is a function of Blazers head coach Chauncey Billups having more confidence in him than his coach in Philadelphia, Doc Rivers, did.
It's going to take some time before the Lillard situation is figured out and the Blazers know what their roster will look like going into next season. But after Thursday, they know that Thybulle will be a part of it.