Discover more from The Rose Garden Report
Comprehensive, independent coverage of the Portland Trail Blazers and the NBA from veteran beat reporter Sean Highkin.
Over 4,000 subscribers
Trail Blazers Lose to Thunder, but Get a First Glimpse at Cam Reddish's Upside
Reddish started his first game in Portland and stood out in limited minutes.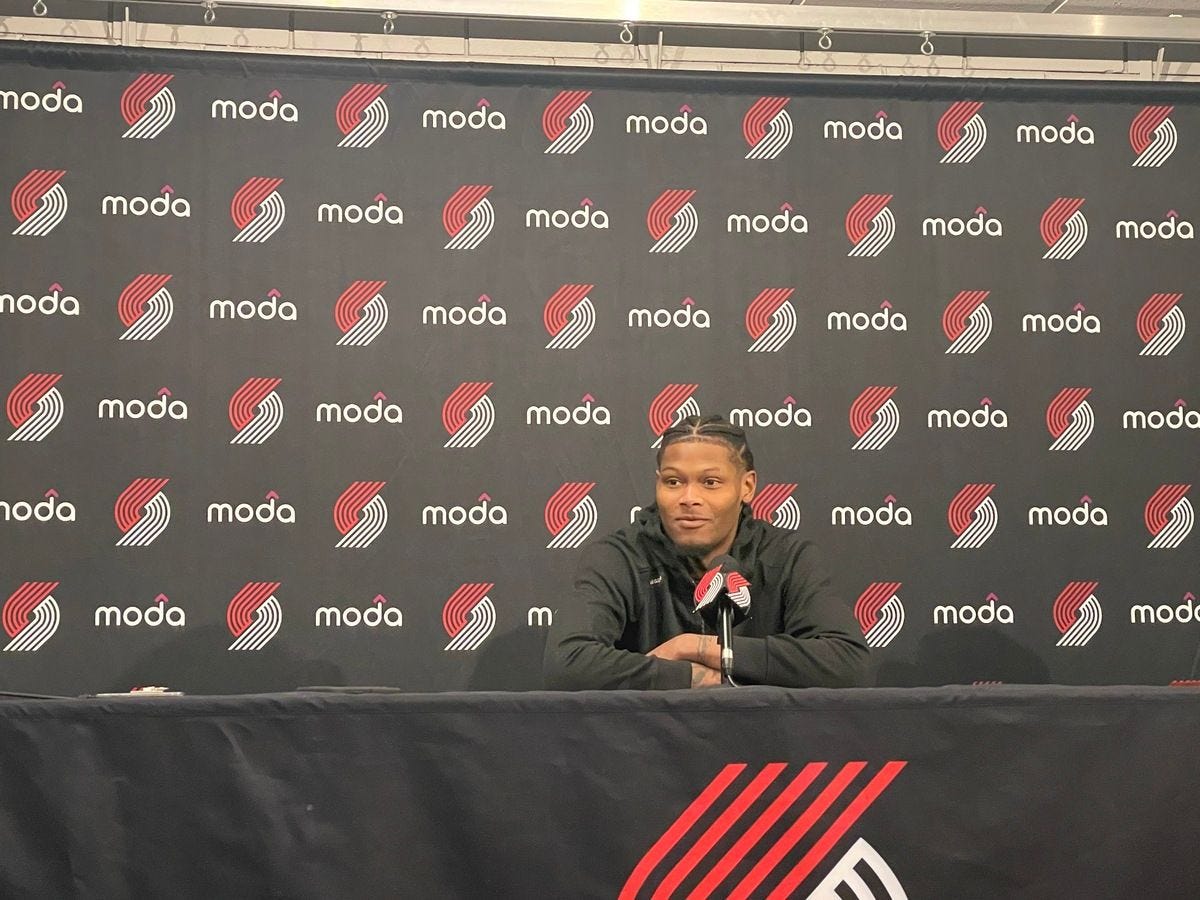 PORTLAND, Ore. — When Cam Reddish woke up on Friday morning, he didn't even know if he'd be on the Trail Blazers' active roster, let alone start his first game with his new team after being out of the Knicks' rotation for over two months. The trade that brought him to Portland had just been finalized, and after not playing in 32 straight games in New York, his conditioning self-admittedly wasn't where it needed to be to play, especially for a brand-new team.
So imagine his shock when his new head coach, Chauncey Billups, told him that not only would he be in uniform and available to play, he'd be starting at small forward. Not only that, but he'd get that opportunity with no expectations. Billups' message was clear: There's no pressure on you. Don't feel like you've got to go out there and play great. You're playing with some incredible offensive players. Play off of them. Take your time. Play relaxed. Play your game. Just play basketball.
"Especially early, I would rather have him out there with our veterans and guys that can help him learn some of the sets and some of the things that we like to do," Billups said before the game.
The Rose Garden Report is a fully independent, reader-supported publication. Purchasing a premium subscription unlocks exclusive content and helps make the coverage of the Portland Trail Blazers the best it can be.
The Blazers lost a back-and-forth game to the Thunder, one of the many teams they're jostling with for play-in position, after their offense once again went stagnant in the fourth quarter. But for his first game in that long, Reddish acquitted himself nicely, scoring 11 points on 4-of-7 shooting in 17 minutes and knocking down two three-pointers.
It remains to be seen whether Reddish will continue starting, but the offensive versatility and defensive length that made him a five-star high-school recruit and eventual lottery pick out of Duke were on display Friday.
Reddish can best be described as a reclamation project at this point in his career. Despite his impressive pedigree coming into the league, and his obvious physical talents, it hasn't happened at either of his previous two stops. He wasn't a consistent contributor his first two seasons in Atlanta and fell completely out of Tom Thibodeau's rotation in New York. In what was a quiet trade deadline for the Blazers, Reddish was one of a few fliers general manager Joe Cronin took along with picking up future draft capital.
The uncertainty of Reddish's untapped potential is one of the things that excites Billups about the opportunity to turn him into a quality rotation player.
"In stretches, we've seen a lot of great things from Cam," the coach said. "But I just feel like the way that I coach and the way that I'm honest and the way that I kind of pour into players and let them be themselves and play through mistakes, and be able to encourage them but also coach them, I just feel like it's helpful to our young guys. And I feel like, I know where he's at. I've been that in my career at a very young age. Given up on several times and really trying to find my way. I know what I needed at that time. I needed somebody like me to be honest, and that person was in the form of Flip Saunders at that time. That person just kind of poured into me and told me, 'You're going to be OK.' You don't have to rush, you can take your time, but you're going to be OK. And if you don't, it's probably over. So I know where he's at, but I also know where he's been and I think the kid's got a ton of potential."
Damian Lillard, who in the past has taken pride in getting the most out of players like Jusuf Nurkic and Moe Harkless who didn't pan out on their previous teams, had a good first impression of Reddish.
"I thought he played well," Lillard said. "Anytime you come into a new locker room, coming all the way from across the country, you've got to find your way and get comfortable and be careful not to do too much. I thought he played well. Took what was there. I think his ability is clear. We've seen him since he was in high school and college. The talent is there, and he's got good size. Capable shooter, good athlete, can handle the ball, good defender, we know he has all the tools to be a really good player, and you just want to see him put it together. But overall, in his first game, I thought he played well."
For his part, Reddish is just happy to be somewhere where he'll have the opportunity to play rather than being glued to the bench.
"It's just more free mentally for me already," Reddish said after his debut. "If I can continue to get that rhythm and get back in shape and stuff like that, it's gonna get better. But just being free mentally is a huge difference."
However the rest of the Blazers' season goes following the deadline, Reddish has an opportunity to re-establish his career. He's set to become a restricted free agent this summer. If the Blazers like what they see in the next two months, he could stick around next year and beyond.
"It's obvious the type of talent he is," Lillard said. "He hasn't found a home yet, but he's one of those guys where you look at him and say, we can change his life and get that potential out of him and create an opportunity for him to be able to blossom and it could be a great thing. But that's our job to try to get it out of him. The potential is there."