Discover more from The Rose Garden Report
Comprehensive, independent coverage of the Portland Trail Blazers and the NBA from veteran beat reporter Sean Highkin.
Over 4,000 subscribers
Trail Blazers Limp Into All-Star Break as Anfernee Simons Suffers Ankle Injury
Simons left Tuesday's loss to the Wizards and will have an MRI on Wednesday.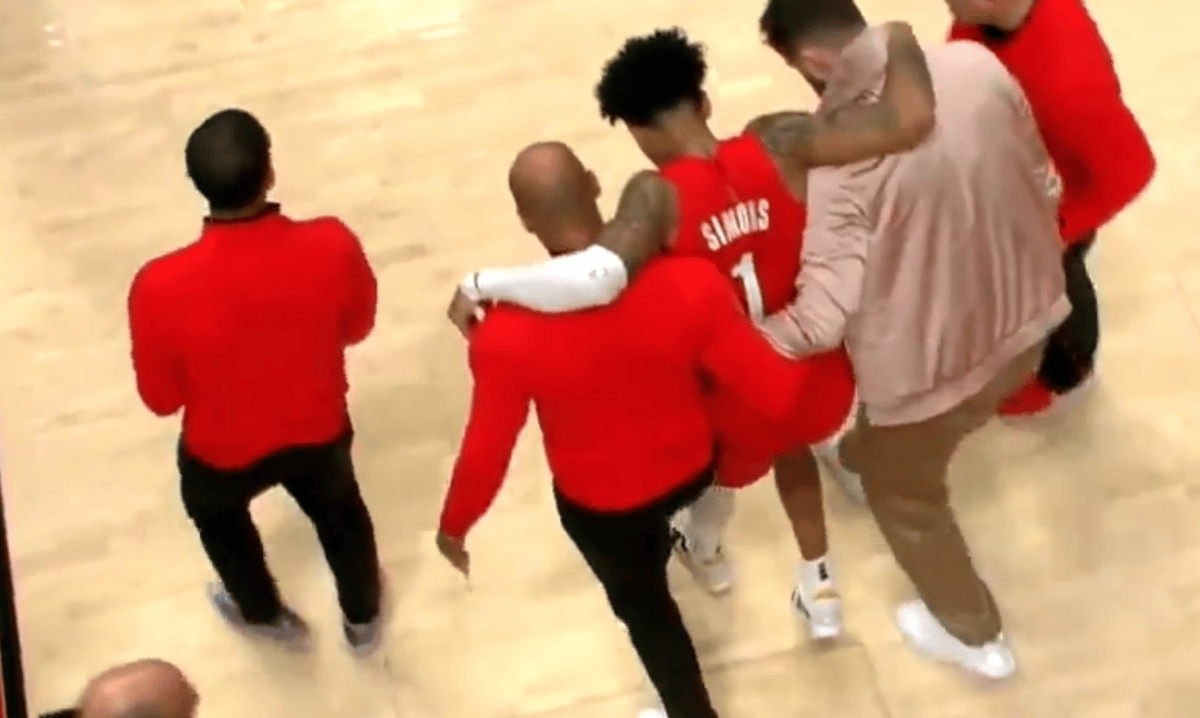 PORTLAND, Ore. — For the first three quarters, Tuesday night felt like a normal, sleepy game between two fringe play-in teams on the last day before the All-Star break.
Then, Anfernee Simons landed wrong on his right ankle and suffered a particularly nasty sprain that took him out of the game, all but certainly out of this weekend's three-point contest in Salt Lake City, and maybe out of the Trail Blazers' lineup significantly beyond that.
"It is concerning," Damian Lillard said after the Blazers' 126-101 loss to the Washington Wizards. "Ankles can be tricky. Everybody's body responds differently. His looked like it was a pretty significant one. Ant is a soldier. Even when something happens to him, you never really see him react. So when he stayed down, I was like, 'He rolled it good.' So that's definitely a concern."
Simons had x-rays on his ankle after the game, which came back negative. He's expected to undergo an MRI later this week, which will give a better indication of how severe it is and how long he'll be out. Head coach Chauncey Billups spoke for everyone when he said it "didn't look awesome."
The Rose Garden Report is a fully independent, reader-supported publication. Purchasing a premium subscription unlocks exclusive content and helps make the coverage of the Portland Trail Blazers the best it can be.
I haven't watched the injury since seeing it in real time (I don't make a habit out of watching injury replays when I can avoid it), but considering how long Simons stayed down, and the way he had to be helped off the court, it could be a while before he plays again. In real time, it looked similar to the sprain that has kept Justise Winslow sidelined for almost two months.
It was a bit of potentially serious bad news on a night the Blazers had plenty of it, down their entire starting frontcourt with no one to counter the 7-foot-3 Kristaps Porzingis. Starting center Jusuf Nurkic has been ruled out through the All-Star break with a calf injury; Billups said before the game that he's "coming around," and he was on the court shooting free throws. Billups seemed hopeful he'll be back soon. If the Blazers, who enter the break two games below .500 at 28-30, hope to stay in the playoff mix, that won't happen without him.
When I asked Billups after the game for his big-picture assessment of where the Blazers are heading into the break, he didn't even have a clear answer because of how many key players have been in and out of the lineup all year.
"I'm mostly just concerned with trying to get healthy," he said. "It's tough to even gauge what we can be and where we can go without being healthy. I thought up to this point, Nurk's absence really hurt us. We've been able to get a game here or there and outshoot people sometimes to get one or two, but it's really hurt us. And Drew [Eubanks] is doing an incredible job. [Trendon Watford] has filled in and been incredible. So it's no knock on those two guys. But his absence has really hurt us. It's tough to judge. And then we've got our young guys. We've got to try to play them to judge and see how they fit in, especially when the big guy gets back soon. We are where we are. It's kind of where we are. It's not like we've outplayed or underplayed our record. We are where we are."
Initially, the Blazers were supposed to have three representatives at All-Star Weekend in Salt Lake City. Shaedon Sharpe committed to the dunk contest before pulling out. On the day Simons was officially announced as a participant in the three-point contest, this ankle injury took him out of the running. That leaves Lillard, in the middle of maybe the best season of his entire career, scheduled to play in the game and the three-point contest.
And then for he and the Blazers to figure out which direction the rest of their season will go.
"I think we're trying to get over the hump," Lillard said. "We've been playing good in stretches and then we take some steps back. Win some big games and then lose some that we feel like we should win. That's been going on pretty much the whole season. And while that's been happening, we've been battling trying to get healthy. I think right now, that's probably our biggest issue. Not having Nurk out there, Jerami, Justise, Ant goes down tonight right before we tried to get on a run. That doesn't help. I think that's just where we are right now. Just trying to get over that hump. Get to .500 and then get over .500. The second half of the season, that's where our focus has to be, just to make sure that we see some postseason action."