Discover more from The Rose Garden Report
Comprehensive, independent coverage of the Portland Trail Blazers and the NBA from veteran beat reporter Sean Highkin.
Over 4,000 subscribers
Scoot Henderson 'Right Where He Should Be' as Trail Blazers Debut Approaches
An up-and-down preseason is in the rear view as the No. 3 overall pick prepares to play in his first real NBA game.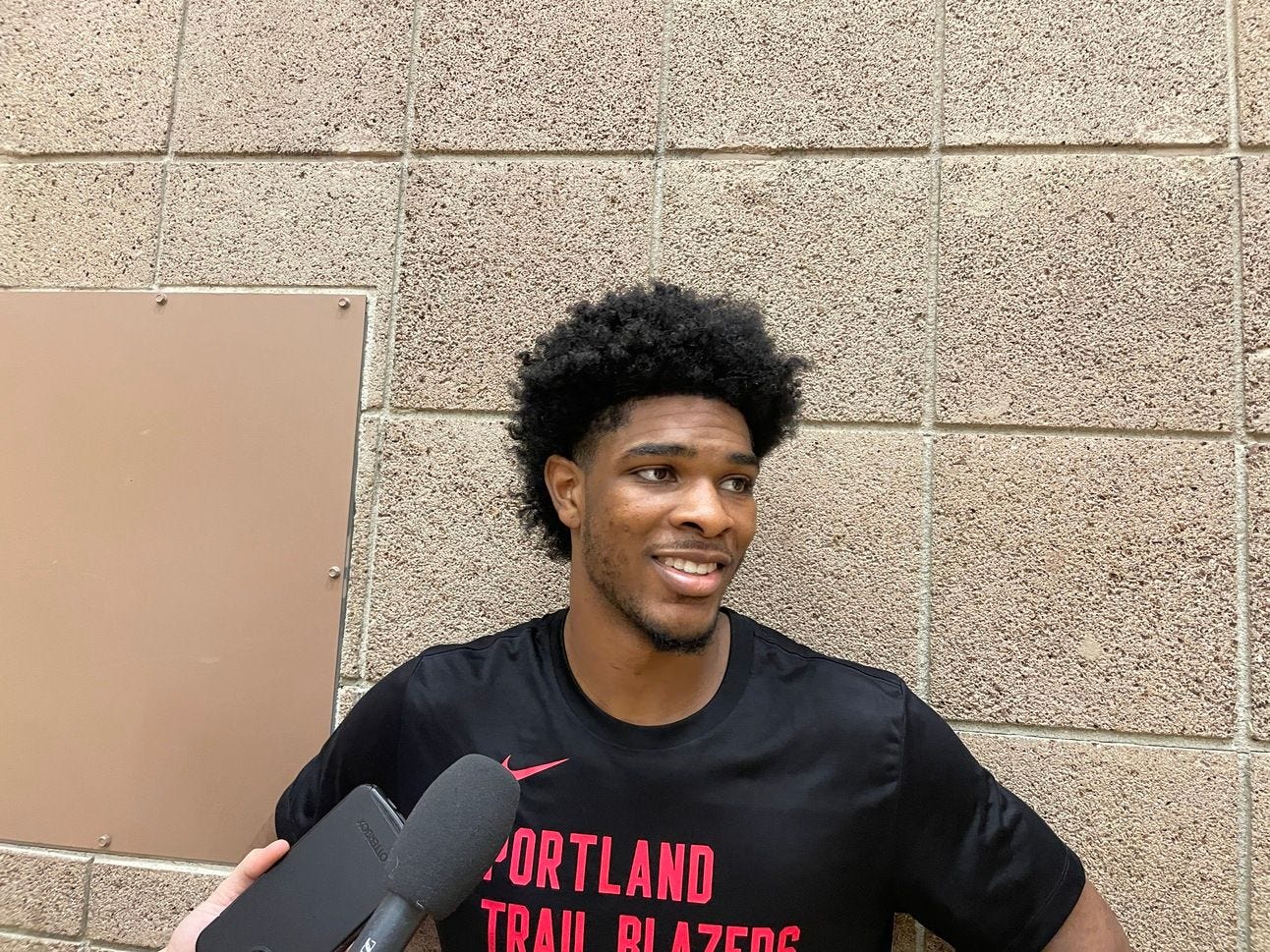 TUALATIN, Ore. — Scoot Henderson's first four preseason games with the Trail Blazers were a lot of what you'd expect.
A lot of the flashes of special playmaking and finishing that make the organization so confident he's their future. A lot of things, too, that remind you that he's only 19 and suddenly tasked with playing point guard in the NBA on a full-time basis.
"I knew that guys hit contested shots, and guys are good in the league," Henderson said after practice Wednesday. "But it's one of those things where, when you see it in person, you're like, 'OK, I might have to do a little something better.'"
Henderson started all four of the Blazers' exhibition games and played at least 30 minutes in all but the first one. His best game was the first of two against the Suns, when he scored 22 points on 8-of-14 shooting to go with four rebounds and four assists, while knocking down two three-pointers. He was much less effective in the preseason finale against Phoenix, where he had more turnovers (five) than made field goals (three) and finished with eight points on 3-of-11 shooting.
"The game is moving a little fast for him right now," Chauncey Billups said Wednesday. "He's been getting frustrated with some of the fouls that he's been picking up. He's such a perfectionist. He gets down on himself a little bit, so you've got to always be talking to him. But he's right where he should be. He's learning the players he's playing with as a point guard, and they're also learning him. So some of the mistakes that he was making a lot earlier, he's figuring those things out."
Playing against players better than him every night has been an adjustment for Henderson. It's hard to have a better introduction to the NBA than Monday's preseason finale, when the Blazers sat most of their veterans and the Suns played all three of their star trio of Kevin Durant, Devin Booker and Bradley Beal. Henderson struggled in that game, but he's going to have more games like that throughout his rookie season.
"I've gotten better at not dwelling on the last game," Henderson said. "I'm not dwelling on having a bad quarter or having a bad few possessions. I'm always on to the next possession. That's somewhere I've grown a lot."
Henderson has had 16 turnovers in his four preseason games. He's also had some spectacular finishes and shown an instinct for playmaking that's highly advanced for his age. He has the physical ability to become a good defender one day. For now, as Henderson begins his NBA career and the Blazers begin a rebuild, it's going to be a long learning process.
"He's coming along well," Anfernee Simons said Wednesday. "He's getting better every game. Transitioning into the NBA as a point guard is one of the hardest things to do. He's just taking everything in and being receptive to the things he needs to get better at. It's going to take time with him, though. Someone who's so young playing one of, if not the most important position on the court."
The star potential with Henderson is obvious, and nothing about his background or work ethic suggests he won't get there. But it may not come quickly, and everyone knows it.
"He's where I thought he would be as a really young point guard," Billups said. "He's got a big jump to make, and he will."
Added Henderson: "I've got a lot of work to do to be the player I want to be."