Discover more from The Rose Garden Report
Comprehensive, independent coverage of the Portland Trail Blazers and the NBA from veteran beat reporter Sean Highkin.
Over 4,000 subscribers
New-Look Blazers Debut With a Basketball Celebration in Seattle
Jerami Grant impressed and the Blazers worked out some kinks in Monday's preseason opener.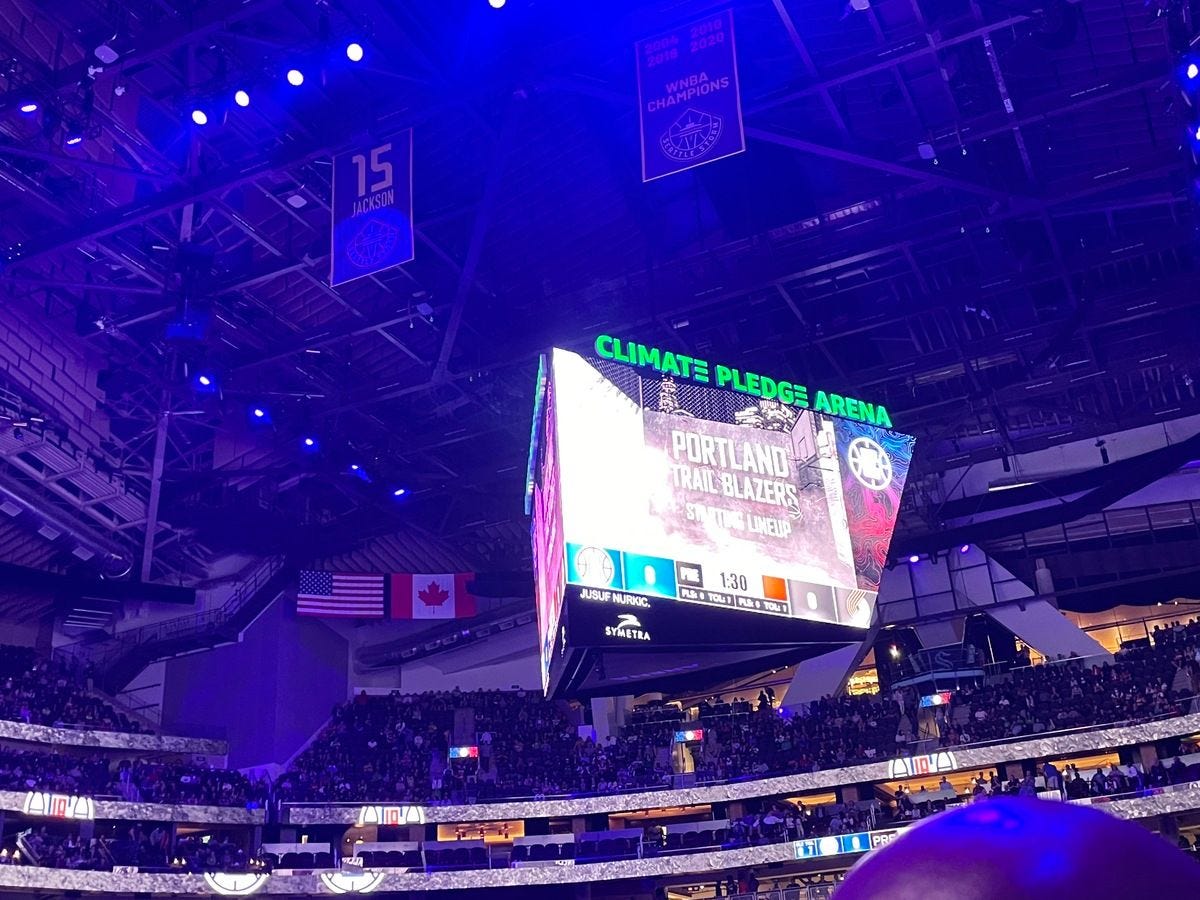 SEATTLE — The Trail Blazers' preseason opener was the closest you'll ever get to a must-watch exhibition game.
The Clippers were designated as the "home" team. It was their game ops and their mascot that were used. But with Portland just three hours south on I-5, it was much more of a Blazers crowd.
But really, it was a Sonics crowd.
Beginning with a speech from Clippers owner Steve Ballmer that had the sold-out Climate Pledge Arena ready to run through a wall, and continuing with a parade of Seattle luminaries from Macklemore to Lenny Wilkens to Jamal Crawford to most of the '90s Sonics, the night served as a reminder of what a great NBA city Seattle is.
You can't take much from preseason games when it comes to what happens on the court. What we can definitively say after Monday night is that whenever the Sonics return (it's coming, likely after the league's new TV deal kicks in in 2025), this will instantly become one of the NBA's best crowds.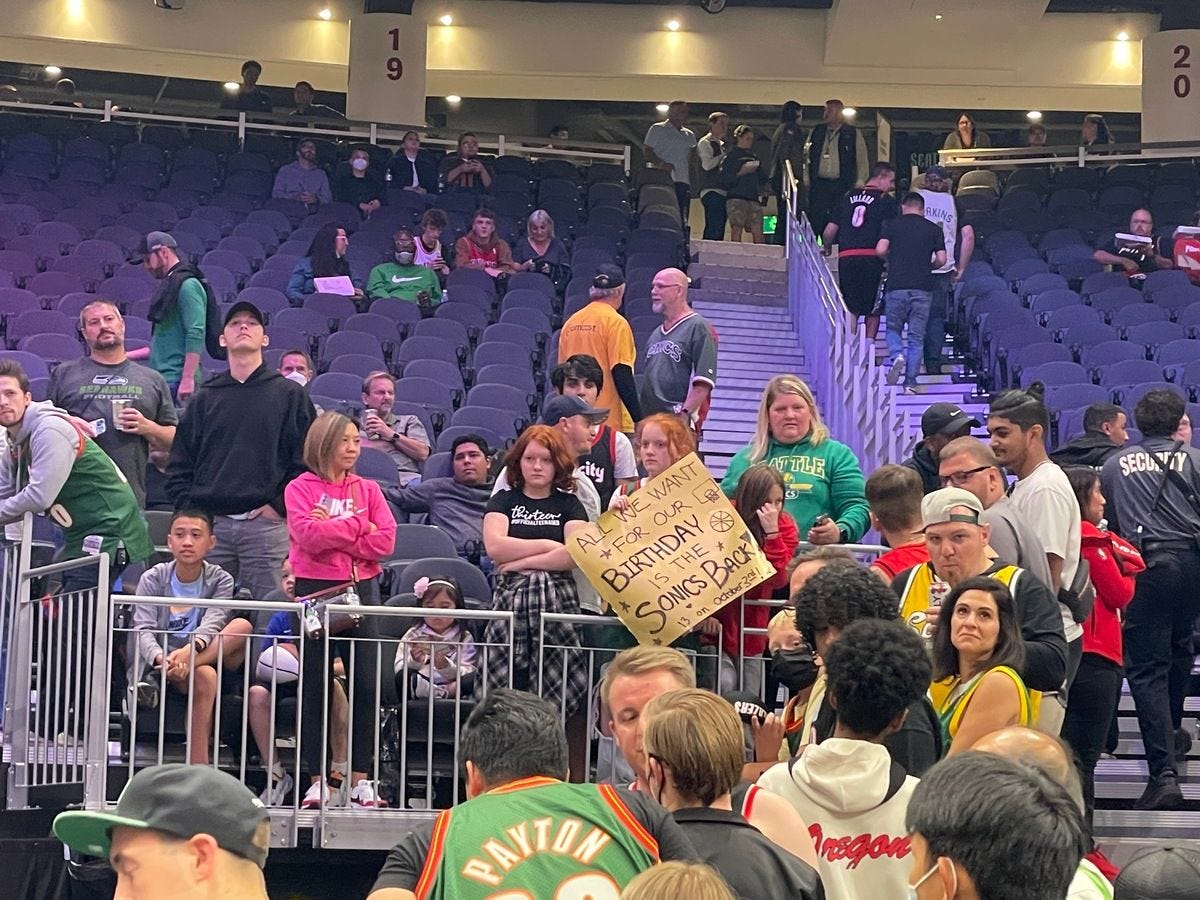 "It was crazy," Damian Lillard said after the game. "More than anything, it speaks to how Seattle is a major basketball city. It's a major spot. They love their hoops. They've got a crazy history with the Sonics and a lot of great players coming out of the Seattle area. With this arena and this area, when a crowd comes out like that, you can't help but think, they definitely need a team here."
If you're someone who keeps tracks of wins and losses in the preseason, the Clippers took this one, 103-97. Here's the stuff you care about:
Lillard and Kawhi Leonard both played for the first time in a long time, and both looked pretty damn good. Leonard only played 16 minutes, all in the first half, but he looked like himself physically. If he's really back, the Clippers have as good a shot as anyone to win the west this year.

Lillard looked rusty early and shot just 5-of-13 from the field in 23 minutes, but the burst was back. The core muscle surgery that shut him down for most of last season looks to be a thing of the past. "I felt good," Lillard said. "I just felt relaxed. When I got out there, I just felt good. I was moving around well. I was just happy that I felt good out there. I didn't have anything on my mind, just playing. I settled into the game pretty quickly. I didn't come into it with any concerns about how I'd feel. When my night was done, I felt good about what I did out there. It's what I wanted to get out of preseason. I got some good minutes in."

The highly-anticipated Shaedon Sharpe debut was about what you'd expect: some eye-popping highlight plays and a lot of rookie mistakes. "I thought he was OK," head coach Chauncey Billups said after the game. "His head is just spinning, man. He's 19, he's a rookie. You get out there and forget the plays. He was just so excited to play an NBA game. But you guys are gonna see, his athleticism will be on display every time he touches the floor. The game will start slowing down for him."
Shane Young

@YoungNBA
Shaedon Sharpe with a nasty rejection after the switch & recovery http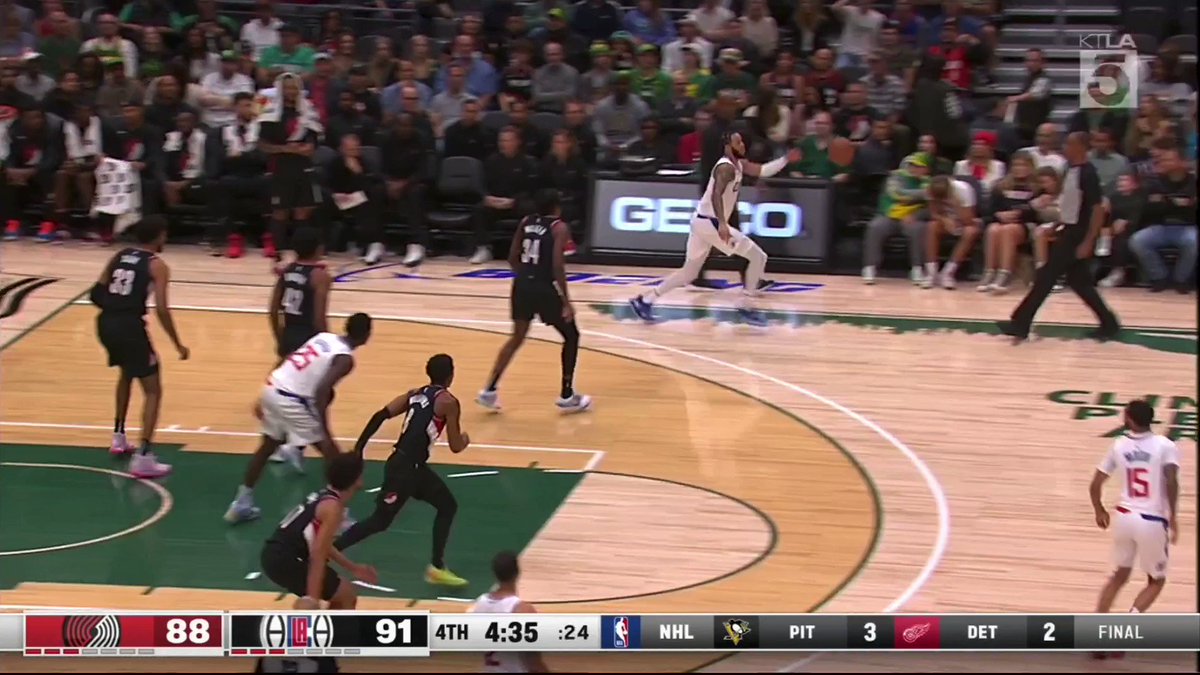 Oct 4, 2022
210 Likes   33 Retweets   0 Replies
Jerami Grant aced his Blazers debut with 14 points and three blocks.

Small forward battle update: Josh Hart got the start at small forward and played well, putting up 10 rebounds, four assists and two steals. Justise Winslow led all reserves with 16 minutes, some at small forward and some at power forward, and had a nice defensive game. Nassir Little struggled and looked like he was pressing in his first game back after undergoing season-ending shoulder surgery in February. At shootaround this morning, Billups indicated that Winslow and Little will both get their turn playing with the starters as preseason goes on.

Somewhat surprisingly, Keon Johnson was the Blazers' first sub and got some extended run and looked comfortable, backing up the high praise Lillard and Billups have given him since the start of training camp. I still don't know where exactly the minutes are going to come from for him with how deep Portland is in the backcourt, but he looked like he belonged.

Anfernee Simons more than held his own defensively against Leonard (remember, he's bulked up this summer), but struggled shooting, going just 2-for-12 from the floor and 1-for-6 from three-point range.

Trendon Watford was a late scratch with a right hip flexor injury. Billups didn't seem worried about it long-term and holding him out was likely just a precaution.

Lillard brought his four-year-old son, Damian Jr., to the podium with him after the game. The sunglasses put him in the P.J. Rose/Riley Curry Hall of Fame.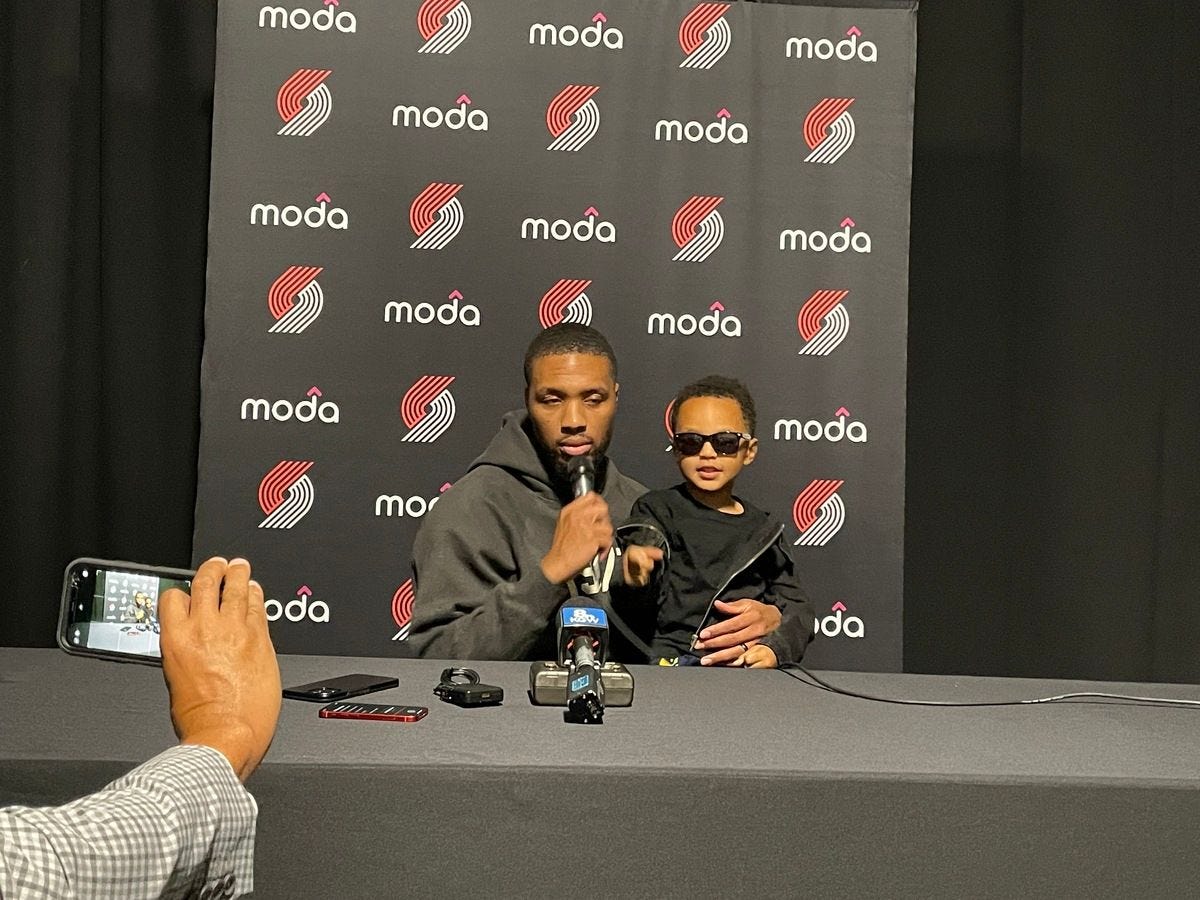 Given his at-times strained relationship with the Blazers organization, it was cool to see Brandon Roy and his family in the crowd.

I haven't been to Climate Pledge Arena (formerly Key Arena) since seeing Radiohead here 10 years ago, well before these renovations. It's more than NBA-ready with the updates and development in the area.

It was a little surreal to be allowed in the locker room again after nearly three years. It's going to take some getting used to, and some of the younger players on the team who weren't in the league pre-COVID have never known a world where reporters are allowed in there. But being able to talk to players more organically, outside of a podium setting, is going to lead to better relationships and in turn better content for you, my subscribers.

The Blazers go home to face Utah on Tuesday in a very necessary preseason back-to-back. "It's not ideal," Billups said at shootaround. "But it's OK. You do what you've got to do. The way I look at it, we're practicing anyway, we've got a lot of players, and it's a game. A guy plays 28-30 minutes as opposed to a two-and-a-half-hour practice, the practice is probably harder." Fair enough!