Discover more from The Rose Garden Report
Comprehensive, independent coverage of the Portland Trail Blazers and the NBA from veteran beat reporter Sean Highkin.
Over 4,000 subscribers
Newest Trail Blazer Ish Wainright is 'One of Those Culture-Builders'
Plus, Robert Williams III is set to return and the Blazers have finalized their opening-night roster.
TUALATIN, Ore. — The first thing you notice about the newest member of the Trail Blazers, third-year forward Ish Wainright, is how massive he is.
"My Broncos could use a new inside linebacker," head coach Chauncey Billups joked after Monday's practice, Wainright's first day with the team.
Wainright, who spent the last two seasons with Phoenix, got the call over the weekend that the Blazers were claiming him off waivers. It was a continuation of the Phoenix-Portland pipeline that has been in effect for about a month following their part of the Damian Lillard trade. Wainright reunites with Deandre Ayton, as well as rookie Toumani Camara, whom he had already grown close to after Camara was drafted this summer.
What does Wainright bring? To hear him tell it, defense and positive leadership.
"All-around, vocal guy, somebody who can [defend] one through five, bang with the big guys and guard wings and guards, and also a team player," Wainright said. "You'll see me talking, being loud, talking to my teammates, having fun and smiling. That's just myself. That's my personality."
In addition to his former teammates in Phoenix, Wainright has a familiarity with a few others in the organization. He played for the Ugandan national team in the 2021 AfroBasket tournament, where his head coach was brand-new Rip City Remix associate head coach George Galanopolous. The lead assistant on the national team was Blazers assistant GM Mike Schmitz. He also goes way back with Jerami Grant from the high-school basketball circuit in the DMV area.
Even though he only has two years of NBA experience, Wainright is now one of the oldest players on the Blazers' roster at 29. He played four seasons at Baylor from 2013 to 2017, then played professionally in Germany and France before signing with the Suns on a two-way contract in 2021.
"I'm considered a young guy, but I'm also considered an old guy," Wainright said. "My role is to come in here and talk and get guys to play hard."
The Blazers have said since the start of training camp that they want to have a few veterans in house as they begin a rebuild. It's why they are in no rush to trade Malcolm Brogdon. And they feel Wainright can add to that.
"He just does it right," Billups said. "He talks, he competes, he can really guard, he's got a good feel out there. Having guys like Ish, with these young guys, you need guys that can teach them how to talk. It's not just opening your mouth, you've got to know what to say. Ish is one of those 'culture-builders' that I think most teams need. You need guys like him."
The Rose Garden Report is a fully independent, reader-supported publication. Purchasing a premium subscription unlocks exclusive content and helps sustain the website and make the coverage of the Portland Trail Blazers the best it can be.
Robert Williams III set to make Blazers debut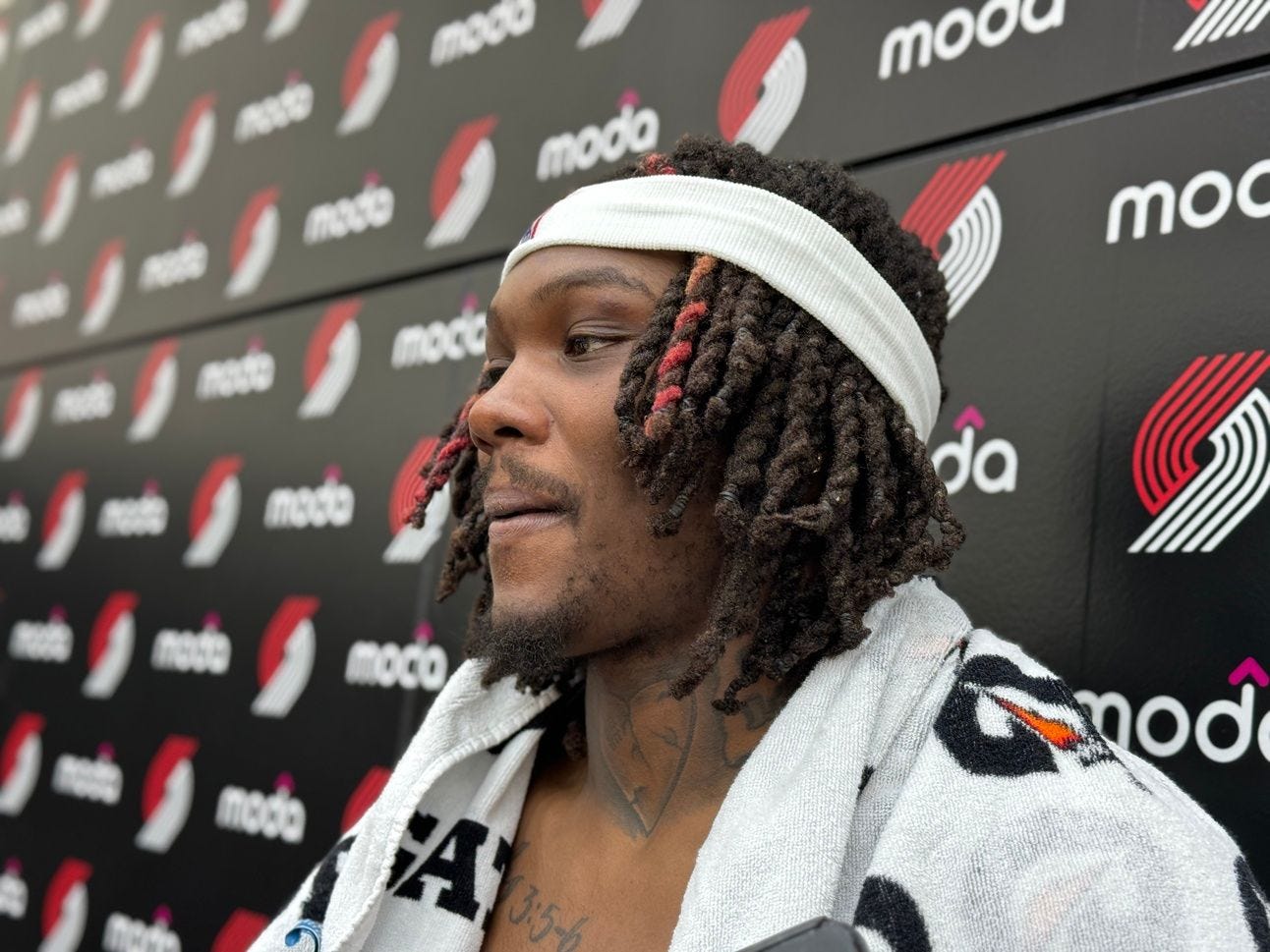 When the Blazers open their season on Wednesday against the Clippers, Robert Williams III will finally make his debut with his new team.
The sixth-year center, who came over from the Celtics in the Jrue Holiday trade, sat out all four of the Blazers' preseason games after banging knees with Grant in a practice. Given his extensive injury history, the organization did not want to push him.
"They wanted to be cautious," Williams said after practice Monday. "I disagreed with them. I always want to play."
Williams has been a full participant in practice over the past week and will be a full go without any restrictions when the season starts.
"I'm excited to have Rob back," Billups said. "He brings a lot to our team. He has a great presence out there. He has a big voice. He talks a ton. His IQ is really next-level. In my experience, playing with bigs with a high IQ makes the game easier on both sides. He's one of the best passers that we have on our team. And defensively, he's disruptive."
Blazers finalize regular-season roster
Ahead of Monday afternoon's deadline for teams around the NBA to finalize their opening-night rosters, the Blazers made one more move, bringing back Duop Reath on a two-way contract and waiving Ibou Badji.
Reath, who played with the Blazers at Summer League and was with the team for training camp and preseason, was waived over the weekend along with Kevin Knox II at the same time as the team picked Wainright up off waivers from Phoenix. He joins Skylar Mays and Justin Minaya as the Blazers' three players on two-way contracts who will split time between the parent club and their new G League affiliate, the Rip City Remix.
Badji, a native of Senegal, spent all of last season with the Blazers on a two-way contract as a developmental project who did not play a game. He played for the Blazers in Summer League and was with the team for camp but did not play in preseason. It is possible he stays in Portland as a member of the Remix if he doesn't get picked up by another team. John Butler Jr., who also spent last season on a two-way contract before being waived over the weekend to make room for Minaya, signed a two-way with the Washington Wizards on Monday morning.
The Blazers' final roster for the start of the season will carry 14 players in addition to the three two-ways, leaving one spot open in case they make a two-for-one trade during the season or decide to convert one of their three two-way players to a standard NBA contract.
Billups said at practice on Monday that he's "pretty set" on the opening-night starters being Scoot Henderson at point guard, Anfernee Simons at shooting guard, Matisse Thybulle at small forward, Jerami Grant at power forward and Deandre Ayton at center.
Here is the Blazers' full opening-night roster for the 2023-24 regular season:
#00 Scoot Henderson (G, G League Ignite)

#1 Anfernee Simons (G, IMG Academy)

#2 Deandre Ayton (C, Arizona)

#4 Matisse Thybulle (G/F, Washington)

#5 Skylar Mays (G, LSU) (two-way)

#8 Kris Murray (F, Iowa)

#9 Jerami Grant (F, Syracuse)

#10 Moses Brown (C, UCLA)

#17 Shaedon Sharpe (G, Kentucky)

#23 Ish Wainright (F, Baylor)

#24 Justin Minaya (F, Providence) (two-way)

#26 Duop Reath (C, Australia) (two-way)

#33 Toumani Camara (F, Dayton)

#34 Jabari Walker (F, Colorado)

#35 Robert Williams III (C, Texas A&M)

#72 Rayan Rupert (F, France/New Zealand Breakers)

#92 Malcolm Brogdon (G, Virginia)