Discover more from The Rose Garden Report
Comprehensive, independent coverage of the Portland Trail Blazers and the NBA from veteran beat reporter Sean Highkin.
Over 4,000 subscribers
What Nassir Little's Six-Week Hip Injury Means for Him and the Trail Blazers
Little suffered the injury in Tuesday's loss to the Clippers.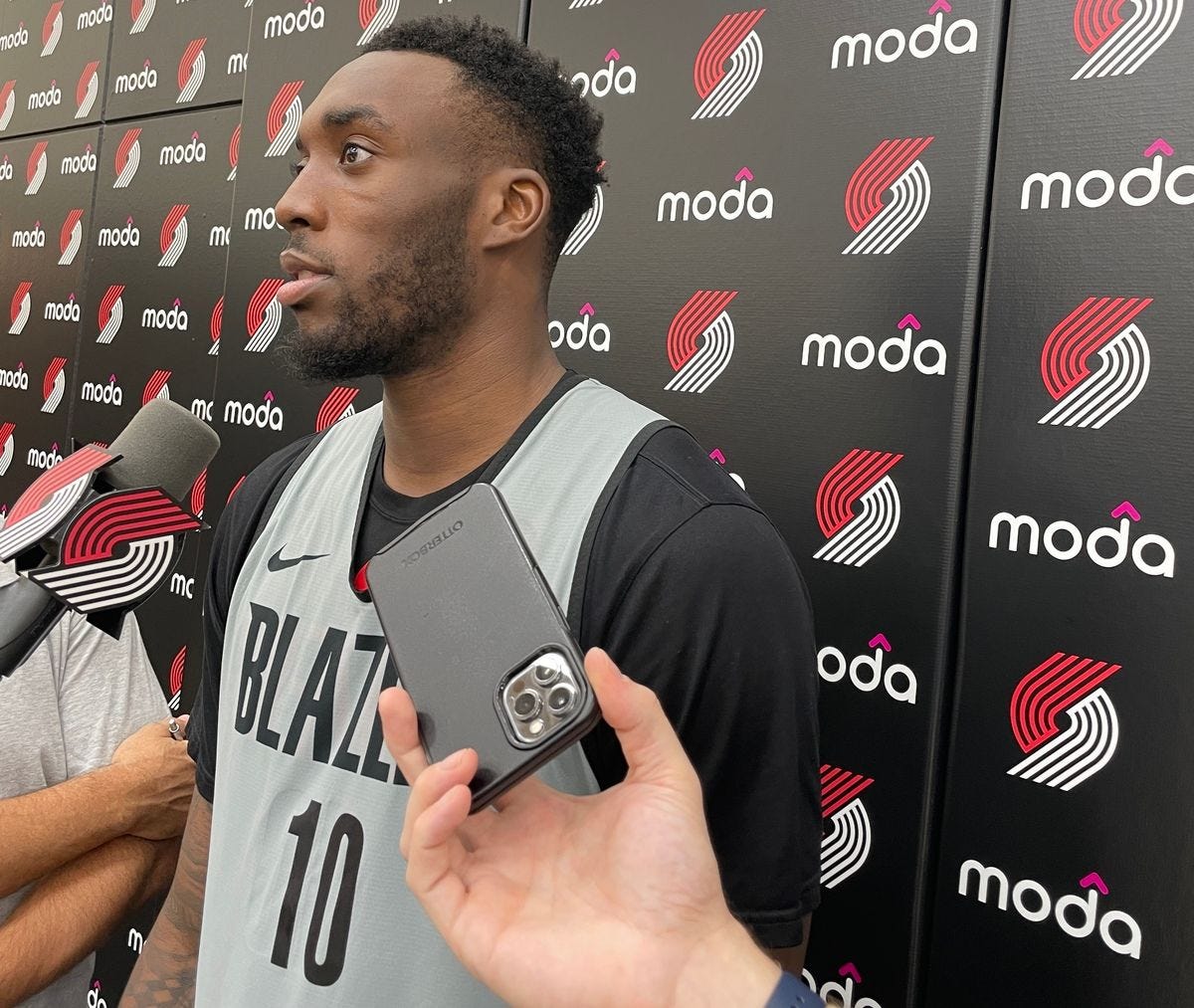 An already banged-up Trail Blazers team will be without another one of their regular rotation players for a while. Nassir Little exited Tuesday's loss to the Clippers with what the team called at the time a "right hip strain," and he missed Wednesday's loss to the Lakers. An MRI this week revealed what the team is calling a "mild femoral head impaction fracture" in his right hip, which will sideline him for the next six weeks.
The news comes at an unfortunate time for both the Blazers, who are dealing with a number of injuries to key players, and for Little, who was starting to find his footing in the rotation after shoulder and core muscle surgeries sidelined him from last February to the start of training camp.
Little signed a four-year, $28 million extension with the Blazers before the start of the regular season and talked at the time about valuing the long-term security of his situation in Portland more than being able to possibly earn more in free agency. With another significant injury impacting his season for the second year in a row, that decision is looking like a smart one from his end.
The Rose Garden Report is a fully independent, reader-supported publication. Purchasing a premium subscription unlocks exclusive content and helps make the coverage of the Portland Trail Blazers the best it can be.
The good news for Little is that the injury is not season-ending and doesn't require surgery; if he returns six weeks from today, he'll miss the next 19 games and return on Jan. 14 at home against Dallas. That would be at the exact halfway point of the regular season, with 41 games remaining.
Of course, there's no guarantee that Little's recovery timeline will follow that exact timeline—he could recover sooner and be cleared to play before then, or he could take longer to recover and miss more time. And once he's cleared to resume full-contact activities in practice, it will likely take some time to get his conditioning back to where it needs to be for him to play real NBA minutes.
Combine that with the Blazers' medical staff's philosophy thus far in the season on handling injuries conservatively, and it would not be a surprise if Little doesn't return until after the All-Star break. This is all up in the air and total guesswork until we see and hear how his rehab progresses, and these things are often fluid. Gary Payton II was initially supposed to be ready to return by the start of the regular season after undergoing core muscle surgery in July; he has yet to make his Blazers debut a quarter of the way into the season.
Speaking of Payton, today is two weeks since the Blazers' last update on his recovery, which said he was experiencing "intermittent soreness" in his recovery and would be re-evaluated in two weeks. A new update is expected in the coming days, but indications have been that Payton is close to making his season debut.
The bigger injury intrigue is with Damian Lillard, who re-aggravated his right calf in the Blazers' Nov. 19 loss to the Jazz and has missed the next six games. Chris Haynes reported during TNT's broadcast of Tuesday's game that Lillard is targeting Sunday's game at home against Indiana to make his return. That call is ultimately up to the medical staff, but all signs are pointing to the Blazers getting their franchise player back soon.
If Payton can indeed return soon, it will greatly help the depth of a Blazers team also dealing with injuries to Josh Hart, who missed the Lakers game with a left ankle sprain and is being listed as "doubtful" for Friday's game in Utah, and Keon Johnson, who is still a couple of weeks away from a return with a hip injury.
In the short term, Little's absence could create an opportunity for rookie forward Jabari Walker to earn minutes. Walker has been productive in his limited time on the court. Those sporadic minutes, from everything I've heard, are more a product of it being hard for a rookie to crack a deep forward rotation than because of anything Walker isn't doing. Based on what he's shown when he's been able to play, there's no reason to believe he won't be able to capably fill the spot in the rotation Little's injury creates, at least in the short term.
In addition to a grueling, road-heavy schedule to start the season, the Blazers have been decimated by injuries, with every one of their rotation players missing at least one game at various points. The news about Little is the latest unfortunate addition to that trend, but there's optimism that reinforcements are coming soon.