Discover more from The Rose Garden Report
Comprehensive, independent coverage of the Portland Trail Blazers and the NBA from veteran beat reporter Sean Highkin.
Over 4,000 subscribers
In Milwaukee, Damian Lillard Has the Chance to Contend He Never Got With Trail Blazers
Wednesday's blockbuster trade gives Portland a fresh start and Lillard a perfect second act.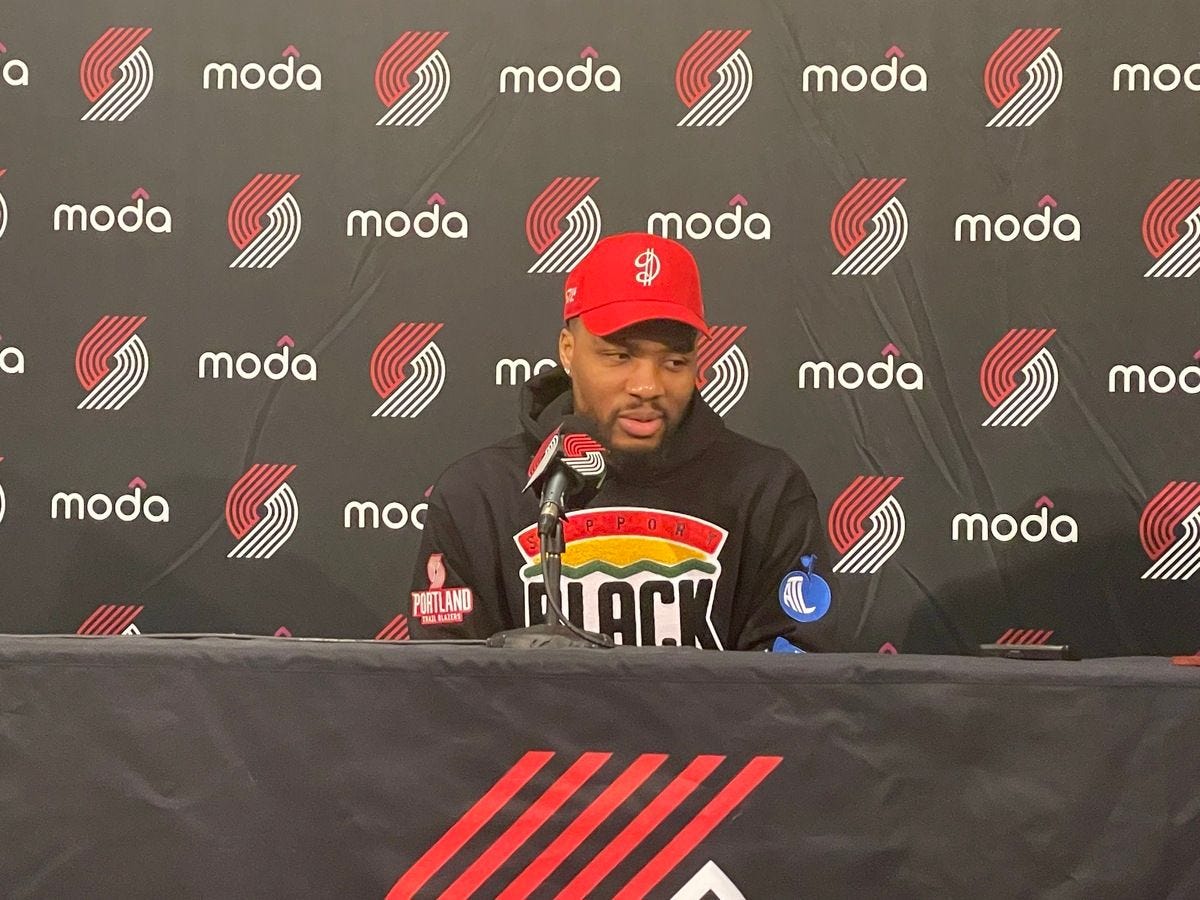 PORTLAND, Ore. — The long, public divorce between Damian Lillard and the Trail Blazers is finally official.
Back in early July at a press conference in Las Vegas, general manager Joe Cronin said he wouldn't rush into a resolution to Lillard's trade request and that, "if it takes months, it takes months." True to his word, it took months to get a deal done. Almost three months from the day Lillard's agent, Aaron Goodwin, informed Cronin of his client's desire to be traded to the Miami Heat on July 1.
The three-team deal the Blazers agreed to on Wednesday that sends Lillard to Milwaukee and Jusuf Nurkic, Nassir Little and Keon Johnson to Phoenix for Jrue Holiday, Deandre Ayton, Toumani Camara and far-out future draft capital got in under the wire less than a week before this coming Monday's media day and start of training camp in Santa Barbara.
In the end, Lillard didn't get what he and his representatives spent all summer making clear was the only thing he wanted—a move to Miami. But he did get exactly what he's spent far longer than the past three months saying is the only thing he cares about: a true chance to contend.
The Rose Garden Report is a fully independent, reader-supported publication. Purchasing a premium subscription unlocks exclusive content and helps sustain the website and make the coverage of the Portland Trail Blazers the best it can be.
The Bucks team Lillard joins is instantly the best team he's ever been on and one of if not the title favorites going into the season. Giannis Antetokounmpo is, by some distance, the best player he's ever played with. That he gets to reunite with Terry Stotts, hired early in the summer as the lead assistant for new Milwaukee head coach Adrian Griffin, is a bonus.
There's a cruel irony in Lillard's final destination. He arrives in Milwaukee as the win-now, push-all-their-chips-in addition that Blazers management never made for him, either under Cronin or former general manager Neil Olshey.
Antetokounmpo has spent the summer giving interviews that sounded an awful lot like the ones Lillard was giving after the end of last season, hinting that he might look to go elsewhere if he didn't get upgrades. The Blazers and Bucks responded very differently to that public pressure from their superstars.
Cronin, rightly or wrongly, decided that nobody he could have traded the No. 3 overall pick for to win on Lillard's timeline was worth passing up the chance to draft Scoot Henderson, and that he could live with the possibility of Lillard requesting a trade when he went that direction. Bucks GM Jon Horst, who swung a similar deal for Holiday three years ago as the missing piece for what was ultimately the franchise's first title in 50 years, said "screw it" and gave up whatever was left of the Bucks' future to go get Lillard.
Time will tell which approach was the right one, or how the biggest trade in Blazers franchise history turns out. For now, give the return an "incomplete" because Holiday is expected to be moved in the coming days. Cronin is betting big on Ayton, the former No. 1 overall pick who's had some huge playoff performances (against the Bucks in the 2021 Finals) and some huge playoff disappearances (against the Mavericks in a disastrous second-round meltdown in 2022) over five seasons in Phoenix. Age-wise and skill-wise, he's a better fit next to Henderson than Nurkic would have been. He probably needed a fresh start somewhere else after a tumultuous stint with the Suns.
Both Lillard and the Blazers now get a fresh start, too. When training camp opens on Monday, the focus in Portland will be on Henderson, Ayton and Shaedon Sharpe, not on the awkwardness of an unhappy Lillard still in town. The focus in Milwaukee, Lillard's new home, will be on a championship and nothing else.
For reasons both in and out of everyone's control, that was never able to be the case in Portland. But maybe it can be for Lillard.