Discover more from The Rose Garden Report
Comprehensive, independent coverage of the Portland Trail Blazers and the NBA from veteran beat reporter Sean Highkin.
Over 4,000 subscribers
MAILBAG: Turnovers, Chauncey Billups' Growth and the Minutes Crunch
Answering subscriber questions in the latest mailbag.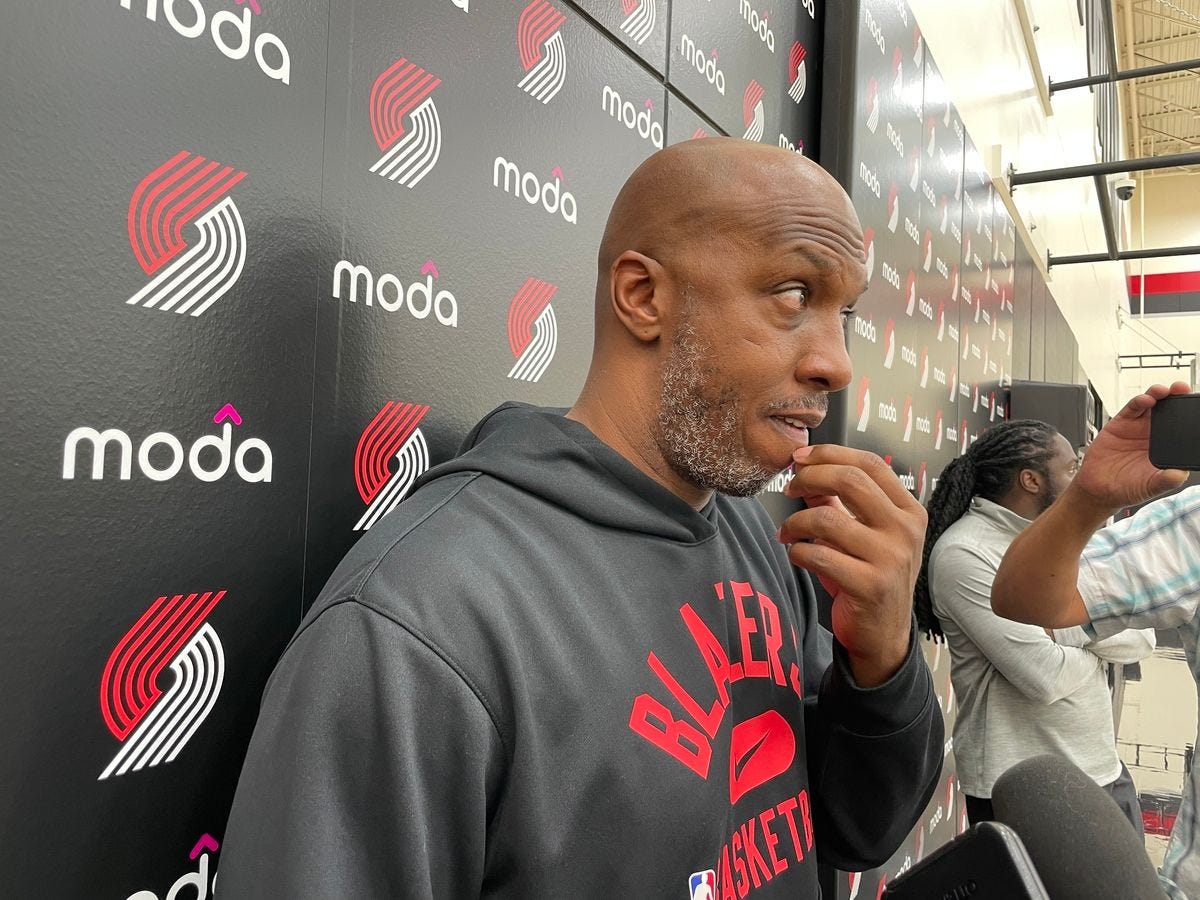 As promised, this week's subscriber mailbag comes at the halfway point of a six-game road trip that's seen the Trail Blazers win two games at the buzzer. There are no games schedule around the league today as part of a get-out-the-vote initiative, so this felt like a perfect opportunity to reset and answer some questions, and as usual, my subscribers came through.
If you want to get your question answered in next month's mailbag, make sure you're signed up for the paid tier. And to those of you who already are, I really appreciate it. You're the ones that make this possible.
The Rose Garden Report is a fully independent, reader-supported publication. Purchasing a premium subscription unlocks exclusive content and helps make the coverage of the Portland Trail Blazers the best it can be.
Let's get to the questions.
Are the Trail Blazers turnover issues so far this season a function of early-season rust and unfamiliarity (combined with Dame, who could presumably settle the offense down, missing a couple games), or is this something that you see as a concern lasting further into the season.
I've seen a lot of facepalm-inducing telegraphed passes into tight coverage so far.
Keep up the great work!
- Peter S.
I've written a couple of times, including after last night's comeback win over Miami, that the turnovers are the single biggest issue the Blazers need to clean up. They're a top-10 defensive team in the league as of now (109.9 points allowed per 100 possessions, just 0.1 points behind ninth-ranked Minnesota), which is better than anyone had a right to expect going into the season, and I think that's largely sustainable with their personnel. But they're dead last in turnover rate, with 17.3 percent of their possessions ending with giving the ball to the other team. The three teams directly ahead of them are actively tanking teams—Houston, San Antonio and Orlando.
I have to think that's part of the developing "connectivity" (the organization's buzzword thus far this season) that's still evolving because so many of these guys haven't played together before. But you're right that a lot of their turnovers are easily avoidable—just travels and bad passes. You'd hope that will work itself naturally over time as this group gets more comfortable with each other, but that's definitely their biggest flaw as a team right now.
What have you learned from Head Basketball Coach Chauncey Billups during the first 7 games? What's the next step in his development as a coach?
- Alex P.
Two things have stuck out to me as major areas of growth through the beginning of Billups' second season as head coach. One is the willingness to switch up defensive coverages by possession and not let opponents get used to being guarded one way for too long. He talked a few weeks ago about introducing zone late last season as a way to simplify the game for the inexperienced young players he was working with after the trade-deadline roster teardown, and then deciding he liked the results and incorporating them this year, when the team is actually trying to win with better personnel. This adaptability will serve him well as his coaching career continues.
The other thing I've been impressed by is how Billups isn't too attached to his rotations and is willing to switch things up if a matchup calls for it. Last night against Miami, he realized in the fourth quarter that the smaller lineup with Justise Winslow at center would be more effective than keeping Jusuf Nurkic out there against Bam Adebayo, so he rode that the rest of the way, just like he did in the opening game against the Kings. In both cases, that decision contributed to a win. Other games, he's been willing to stick with Nurkic if it's a more favorable matchup. This seems like a basic thing, but you'd be shocked at how many coaches have a substitution pattern picked out and stick with it no matter whether it makes sense for the game in front of them.
When Dame and GP2 (and Trendon) return there's going to be a minutes crunch. Who is going to get their playing time cut back?
- J. Hanlon
We're already starting to see this come into play. With Lillard and Simons back in the lineup against Miami and Trendon Watford newly available, Billups played a 10-man rotation and still didn't have room for Keon Johnson, who had played well over the previous four games. There's only going to be a bigger crunch in a couple of weeks when (presumably) Gary Payton II makes his season debut.
So far, Nassir Little has gotten the short end. He only played seven minutes against Miami, despite being (I thought) pretty effective in those seven minutes. Having more good players available and having to keep helpful rotation players out of the rotation is a good problem to have, and I'll be interested to see how Billups navigates it when he has his full team.
This is also why I'd be shocked if there isn't some sort of consolidation trade before the deadline, not just to make a needed upgrade in the frontcourt but also to clean up some of this logjam at the guard and wing positions. Someone like Johnson is a perfect trade candidate—a young player with upside that could interest other teams who might have more consistent playing time to offer, but that the Blazers just don't have a spot for in the rotation through no fault of his own.
My big question; two trends are about to (potentially) collide: Chauncey has been playing his starters heavy minutes (some would say too heavy), and the Blazers are going to get some rotation players like GP2 back from injury.
Do you see Billups—a young coach whose team has been more competitive than anticipated—easing up on his starters from a PT/usage perspective with a larger arsenal of players in the mix? Chauncey also opened the season with a pretty tight 9 man rotation—by circumstance or no—when a lot of other NBA coaches were doing more lineup experimentation.
- Sam H.
I know they'd like to keep Lillard's minutes more in the low 30s than the mid-30s in the regular season. If they keep getting contributions up and down the roster like they have been so far, that becomes more realistic to do. And we're already starting to see it open up. As you noted, for the first few games of the season, Billups kept it to nine players—the five starters plus Winslow, Shaedon Sharpe, Little and Drew Eubanks—and slotted Johnson in there when Lillard went down. Since Watford returned from his hip injury, the rotation has expanded to 10, without Johnson. And Jabari Walker, in his sporadic non-garbage minutes in the two Phoenix games, looked like he can contribute when he's out there.
There's a balance to strike here. Going the Tom Thibodeau-Nick Nurse route and riding your starters and a couple of main bench players for the whole regular season will lead to a better win-loss record but might result in guys wearing down by the playoffs. But you can't play 13 players every night and keep everyone happy with their minutes. Players like having a consistent role and knowing when they're going to be in, who they'll be asked to play with and what they'll be asked to do.
These are all on-paper problems as of now, though. In all likelihood, in a couple weeks when Payton is back in the lineup, someone else will be out for a couple of games with an injury and the problem will solve itself. It's very, very rare for a team to actually have all its players healthy at once during a season. Someone's always banged up. Having the depth to withstand that is a positive of the "too many guys" problem the Blazers have right now. But it's also a reason why, as I said in response to the previous question, I think there will be a trade coming in the next few months just to balance things out.