Discover more from The Rose Garden Report
Comprehensive, independent coverage of the Portland Trail Blazers and the NBA from veteran beat reporter Sean Highkin.
Over 4,000 subscribers
MAILBAG: Who are the Trail Blazers' Ceiling-Raisers?
Plus questions on center depth, Nassir Little's contract extension and more.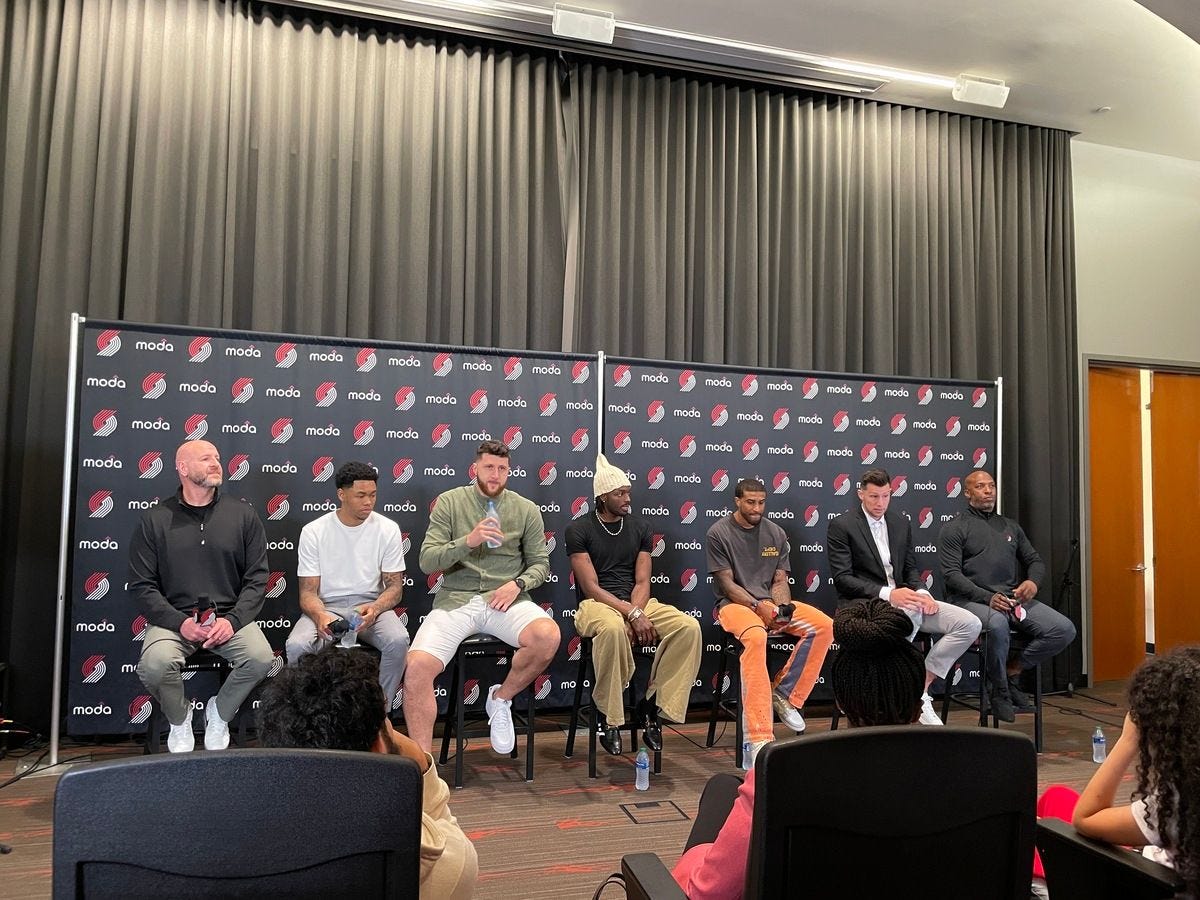 Hello again, everyone.
Thanks for the patience over the past week while I was getting my move squared away. Everything went smoothly, as these things go, and I'm all settled in now at my new place, getting ready to ramp up for training camp in a few weeks. It's been a nice little break that was much needed, and I've been enjoying watching the WNBA playoffs and some of the EuroBasket tournament, where Jusuf Nurkic has been playing for Bosnia.
It's also been a tough few days in the basketball media world, though. My friend Jonathan Tjarks, of The Ringer, has been battling a very rare form of cancer for over a year. I saw him a couple of months ago at Summer League in Las Vegas and he looked good and was in good spirits, and said things were headed in the right direction with his treatment. Well, his wife posted an update over the weekend, and it's not good.
You're going to read a lot of tributes to Jon over the coming days and weeks, and all of them will talk about what a genuinely good and kind person he is (I'm still going to use the present tense while I can) in addition to being one of the sharpest basketball writers and podcasters around. Every word of it is true. We weren't as close as some, but a couple times a year I'd get a text or email from him out of the blue checking on me—even while he was battling something much tougher than anything I've ever faced in my life.
If you can, I urge everyone to consider donating to Jon's family's GoFundMe. His wife and their young son are soon going to have to navigate the rest of their lives without him.
When we got the latest update over the weekend, I checked on a mutual friend of ours who is much closer with Jon than I am, and he told me he was just talking to him the day before about the Donovan Mitchell trade with no indication anything was wrong, or that things had gotten this bad. That sounds about right. Every time I've talked to him since the diagnosis, he's made a point of avoiding discussing it and instead turned the subject to something more pleasant, like whatever terrible Summer League game we were watching.
In that spirit, let's do what Jon would do and talk about some basketball.
When I announced my mini-break, I promised a mailbag at the other end of it, and you guys delivered with some great questions.
Hi Sean -
First and foremost, congrats on the newsletter and podcast! With JQuick (understandably) taking a step back, there's a big void in Blazers-centric reporting that is smart and connected enough to contextualize in a league-wide way, and I'm glad to see you stepping in to fill that role. As an east-coast transplant Blazers fan, it's much appreciated. 
On to the question: Which players would say that, if they look really good and comfortable right away (Ant + Grant or Nas, for example), would give you confidence the team has a higher ceiling than fighting for a play-in spot? We know basically what we're getting with Dame + Nurk, but it feels like the rest of the squad, even established vets like Grant + Hart, is a big ball of unknowns in terms of style, production, and/or fit. 
Thanks, keep up the good work!
- Justin S.
Thanks for the kind words, Justin. It means a lot.
I like the way you're thinking as far as the role players being ceiling-raisers. Damian Lillard is a floor-raiser—if he's healthy, you can count a win total in the low- to mid-40s at worst, as we've seen every year since 2015. But if they get more than expected from some of the lesser-known guys, that could raise the ceiling considerably.
I've got two names for you, one you'd expect and one you might not have even thought about. The obvious one, to me, is Nassir Little. Those of you who are paid subscribers have heard a lot from him about the big year he's expecting for himself, and I know that Joe Cronin and Chauncey Billups are both very high on him internally. Just due to his size, I think he has the inside track on winning the starting job at small forward, and if he can stay healthy and build on the year he was having last year before the shoulder injury, that could be a game-changer.
The one that's a little more under the radar but could be worth keeping an eye on is Justise Winslow. He only played 11 games for the Blazers last season after coming over from the Clippers in the Norman Powell/Robert Covington trade, but one of the most memorable games of the year to me was the win over the Lakers right after the deadline, where Winslow started and took on the LeBron assignment on defense. Cronin and Billups love his mentality (as my buddy Mike Richman of the Locked On Blazers podcast puts it, his That Dog In Him Per-36 is off the charts) and Cronin named him among six players he considers part of the team's core at his April end-of-season press conference. He'll have an opportunity to play real minutes this year, and if he can stay healthy, he could be very valuable.
The total wild-card that I should probably mention here is Shaedon Sharpe, who avoided surgery after the Summer League shoulder injury and has already been cleared to resume shooting. I don't expect him to play much this season but maybe he's so good that he forces the issue and validates the swing the front office took on him at No. 7 overall. That would certainly change some things.
Hey Sean,
Loving the new pod and website so far- keep up the good work!
My question for the mailbag is: Have you heard anything concrete about Portland possibly trading for Jarred Vanderbilt?
I think he'd be the perfect fit for Chauncey's system as a backup 4/5. He's scheme-versatile defensively and I think the rest of our roster can cover up for his offensive limitations. GP2 and him working together defensively in the PnR could be a game-changer. Feel like they could force a tonne of turnovers and get out in transition regularly. 
Interested to hear your thoughts.
Oh and a bonus question- what's your best guess for the $ number in a Nas Little extension? My guess is 4/60- which might be viewed negatively initially, but I think can become an absolute bargain. I'm really high on Nas & absolutely loved the interview.
- Andy S.
Andy, you're not the first person to suggest Jarred Vanderbilt as a trade target. I don't have anything for you on talks the Blazers have or haven't had with the Jazz, but he'd make a ton of sense for all the reasons you laid out. Ever since the day the Rudy Gobert trade happened and it became clear Utah was headed toward a rebuild, the idea of Vanderbilt being rerouted to a team with playoff aspirations has seemed logical. And good timing, too: this email came in before Thursday's trade of Donovan Mitchell to Cleveland for even more picks, but now that that's happened, Utah is fully in Oklahoma City "auctioning off all of their useful players for picks" mode.
Vanderbilt is the kind of player who is much more valuable on a good team than a bad one, so the Jazz moving him is well within the realm of possibility. They have to move a couple of players by the start of the season.
Andy Larsen

@andyblarsen
So Jazz have:
Agbaji
NAW
'Dok
Beasley
Bolmaro
Bogey
Butler
Clarkson
Conley
Fontecchio
Gay
THT
S. Johnson
Kessler
Markkanen
Sexton
Vanderbilt
on the roster right now... that's 17 guys. Can Jazz make a consolidation trade to get to 15?
Sep 1, 2022
384 Likes   29 Retweets   71 Replies
For Portland, Vanderbilt's $4.3 million salary fits under the $6.5 million trade exception they have from the Robert Covington trade, and they're a little under $7 million below the hard cap, so they could theoretically acquire him in a trade. But Danny Ainge isn't going to just give anybody away. He's looking for picks, and Portland doesn't really have very many of those to trade. Even if they did, I'm not sure Vanderbilt would be worth giving up a first-rounder to get, but some team might.
The other thing to keep in mind is last week's waive-and-stretch of Didi Louzada got the Blazers just a hair under the luxury tax. I believe they'd be willing to go back into the tax if the player is worth it and significantly raises their ceiling, but I'm not sure if Jarred Vanderbilt qualifies. So put this idea down as unlikely but not impossible.
As for Little's extension, you're probably roughly in the ballpark, and much like with Anfernee Simons' new deal, a number that looks high today could look like a bargain quickly if the cap goes up as expected when the league's new TV deal kicks in in a few years. Little told me he wants to stay in Portland long-term, and I don't have any reason to believe the front office feels differently, but I don't get the sense either side is losing sleep over getting an extension done or not. If they don't agree to one before the start of the season, I'd expect it to be another Simons situation where he has a good year and then they come to an agreement very early in free agency.
​​- Is there a scenario where Portland re-signs Josh Hart next year after he opts out? What would that scenario be?
- With division rivals OKC and Utah mustering massive picks, who do you think makes the WCF first—Portland or OKC/Utah? Utah was more or less in a similar spot as Portland last season, with aging players on big contracts.
- Finally, if things go way south this season (like, WAY south), does Portland even have a path to do what Danny Ainge just did in Utah, or is it a multi-year teardown given the team's recent extensions? Are there enough picks in the marketplace to make a teardown a worthy enterprise?
- Sam H.
Three good questions here, Sam. I'll take them one at a time.
It's definitely possible that Hart is re-signed long-term. I wouldn't bet on it, because I don't think he'll still be in Portland after the deadline. Everything I know about the front office's current attitude is they don't think the roster is a finished product ready to contend, and they're going to look to keep making upgrades. With that being the case, Hart seems like the most logical candidate to be moved at the deadline, because he's both positionally expendable and good enough to actually have value around the league to get something back for him. So that's what I'd expect to happen eventually. But if he's not moved, then sure, I could see him being re-signed.

Considering one of those teams has a top-10-ish player still in his prime and is planning to try to win for the next few seasons and the other two are either beginning (Utah) or continuing (Oklahoma City) multi-year tank jobs, I'm going to go with Portland here.

I do think we're reaching a point of diminishing returns with the teardown-and-accumulate-picks approach. I'm also not sure it even works. Looking at the teams that made the conference finals in the last 10 years, the only team you can make an argument took this approach to build their current group was Boston, and they only halfway count because when they traded away Kevin Garnett and Paul Pierce in 2013, they were closer to the end than their primes, and the Celtics were still competitive in the years they used the Nets picks to draft Jaylen Brown and Jayson Tatum. I get the idea in theory that if you're not going to win a championship, it makes sense to start over, and it's a great way for GMs to ensure continued job security ("you can't fire me until we see how the rebuild pans out!"). But it's a pretty rough day-to-day experience without a guaranteed payoff. The Process Sixers, the poster child for this approach, may have come out of it with an MVP-caliber player in Joel Embiid, but they have never made an Eastern Conference Finals, and I've talked to guys who played on those early Process teams about how miserable they were going into every game knowing they were going to lose. Did you, as a fan, enjoy this past Blazers season after Damian Lillard was shut down and they were throwing out non-NBA players and getting blown out every night? Do you want to watch multiple years of that to maybe one day draft another player as good as…Damian Lillard? For me, the answer is "no thank you."
Hey Sean!
Can you do your best to put yourself in the head of Joe Cronin in regard to the lack of any true back up center? I understand the game has evolved and the need to go small factors into roster construction. That being said, what happens during the 15-25 games that Nurk potentially misses during the season? While Watford and Walker are potentially nice young role players and Eubanks is an option, none of them are even remotely close to being a quality starting center. The problem seems so obvious, and when it happens, it seems easy to predict that it will create a situation where the Blazers will need to look for a true center. Just having trouble understanding the logic. 
- Chuck K. 
I completely agree about the lack of size, Chuck. For as improved as the roster is, the one glaring weakness is rim protection outside of Nurkic. And I agree with you that we can basically pencil him in to miss 15-20 games every year even if he doesn't have another major injury, given his build and track record.
I don't think Cronin would argue with that, either. Like I said in answering one of Sam's questions above, he's been open about not thinking the roster is perfect and knowing it still needs work. The line Cronin and Billups have held when asked about it is that guys like Hart, Gary Payton II and Trendon Watford "play bigger" than their size, which is all well and good but you do eventually need guys who can match up against true centers and right now the Blazers only have one. If they make in-season upgrades, that's the position I'd expect them to look at. Who they go after and whether they're successful remains to be seen.