Discover more from The Rose Garden Report
Comprehensive, independent coverage of the Portland Trail Blazers and the NBA from veteran beat reporter Sean Highkin.
Over 4,000 subscribers
MAILBAG: Trade Deadline, Jerami Grant's Extension, Ibou Badji and More
Answering subscriber questions in this month's mailbag.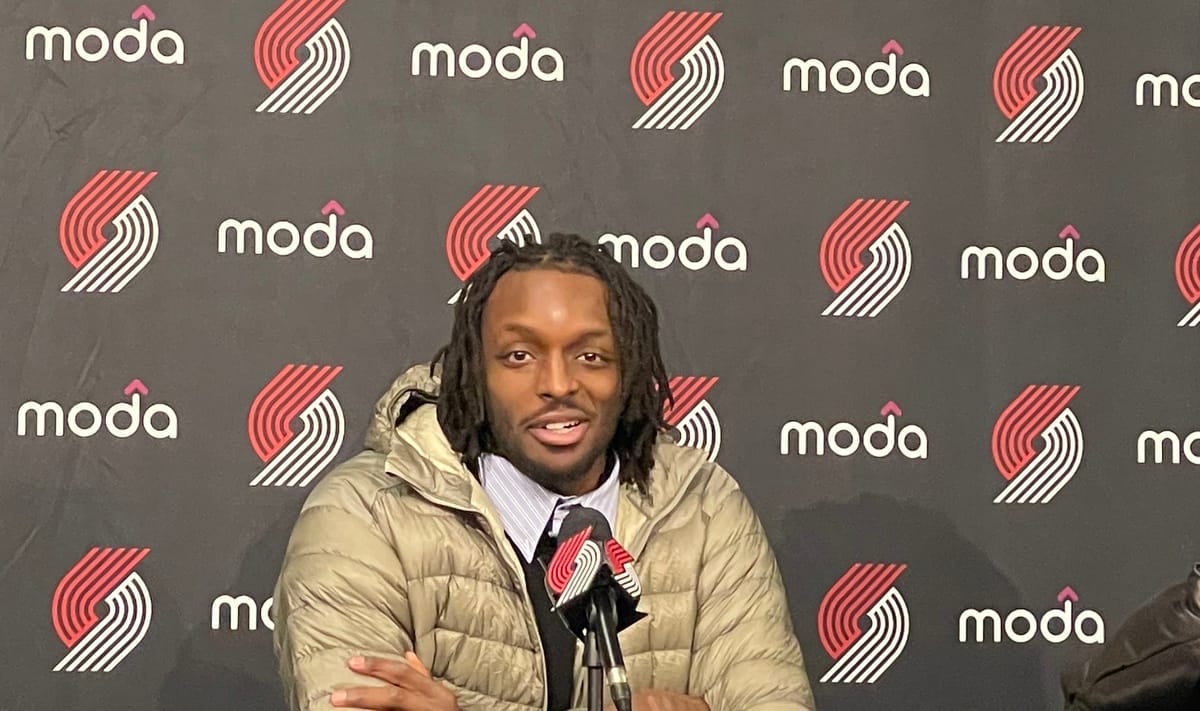 The last time we did a subscriber mailbag was Christmas Eve, when I was in the middle of a nightmare travel day coming back from Denver and the Trail Blazers were coming off an equally disastrous 2-4 road trip.
A month later, things aren't much better for the team, as the Blazers went 6-9 in January and are barely hanging on in the Western Conference playoff race.
With the team currently on their last road trip before the All-Star break and coming off their best win of the season in Memphis on Wednesday night, this felt like a good opportunity to take questions from subscribers again, and you all came through with some great topics to dive into.
Remember, while these mailbag columns are free for everyone to read, the questions come exclusively from paid subscribers—it's one of the perks, along with reporting and columns like the one I published yesterday on where things stand a week ahead of the trade deadline. With the deadline and All-Star Weekend coming up (I will be in Salt Lake City for Damian Lillard's seventh career appearance and Shaedon Sharpe's dunk contest debut), a lot more of what I'm doing in the next month will be paywalled. If you've been on the fence about coming on board, now is a great time to do it.
The Rose Garden Report is a fully independent, reader-supported publication. Purchasing a premium subscription unlocks exclusive content and helps make the coverage of the Portland Trail Blazers the best it can be.
Do you think the Blazers' recent play this season will affect Jerami Grant's willingness to re-sign with Portland this year? And more importantly, if Grant and his team force Cronin to wait until unrestricted free agency—when they're competing against Memphis and 'maybe' Los Angeles, will he be worth paying $120-$160M in salary over 4-5 years? Would that turn the Blazers into, as Hollinger describes them, "Wizards West?"
Sam H.
I don't think a few bad weeks in January changes anything on either side. The Blazers didn't trade for Grant to let him walk after one season, and Grant from what I know is very happy here.
Grant recently told The Athletic that he's unlikely to sign the four-year, $112 million extension he's eligible for right now, which isn't a surprise. Why would he lock himself into a number he's outplayed this season when he'll be able to get more years and more money by waiting six months? It's probably going to be one of those deals that gets "agreed to" at 12:01 on June 30, like Anfernee Simons this past summer, because the Blazers and Grant's representatives will already have a good idea of what makes both sides happy. So I wouldn't expect any drama there.
I'd expect the deal he ultimately signs to be somewhere in the range of $30 million per year over four or five years, enough above the $28 million annual salary that would be his max now for him to be able to say he earned a bigger deal, but not so much more that it kills Portland's cap sheet long-term. Grant turns 29 in March; even if he's able to get a fifth year by waiting until the summer to re-sign with Portland, his next contract will take him through his age-34 season. It's not crazy at all to think he'll still be a productive player by then, and the final three years of the deal will be under the much higher salary cap that's expected to come when the league's new TV deal kicks in in 2025.
You're going to see the number of $233 million thrown around as the max Grant could sign for this summer, but that's just what he's eligible to get under league rules. It's not going to be close to that. As we see every summer when deals get reported in the opening minutes of the free agency period, teams and players often have handshake agreements already in place. Given the positive things both sides have said about each other here, I'd be shocked if that wasn't the case with Grant and the Blazers.
As far as whether Portland is "Wizards West"—I don't really see those situations as all that comparable. For one, despite the similarities of them being two guys who have stayed with one team and not asked for a trade, Bradley Beal and Damian Lillard are not at all on the same level as franchise players go. Beal has one All-NBA selection in his career (third team in 2019; Lillard has six, including first-team honors that same year), has never finished in the top 10 in MVP voting (Lillard has five times) and hasn't played more than 60 games in a season since 2018-19.
Also, Simons and Grant are pretty easily better than anyone Beal has ever played with in Washington outside of peak, pre-injury John Wall. There is nothing inspiring about the Wizards' roster, and they haven't drafted well. They just cut bait on Rui Hachimura before the end of his rookie contract, and he's probably the best player they've drafted since Otto Porter in 2013. It's pretty bleak there all around.
I don't think it's close to a sure thing that the Blazers will be able to build a contender in the last part of Lillard's prime, but I like their chances a hell of a lot more than Washington's, both because the guy they're building around is significantly better and more durable and because, imperfect as the roster is, they still have a lot more talent to work with.
We gotta trade Hart, right? I mean...we just gotta. We won't let him walk, so if we don't trade him, we end up signing him, when we don't really want to...at least that's my guess.
SO - who do you see out there? Who makes sense? Would Hart get us Vanderbilt? Do the Bucks make sense for Hart? Ingles? SO - do you think we trade him, and if so, who do you see out there? If you don't think we trade him, do you think we end up signing him? For how much? Thanks! So happy I subscribed. I'll certainly be a long term subscriber. Thanks for your work.
Tim
Thanks for the kind words and the support, Tim.
Nothing is done until it's done, but I'll be very surprised if Hart is still a Blazer at this time next week, for all the reasons you've laid out. Nassir Little has played well enough to start since coming back from his hip injury last month, and re-signing Hart for what his market value will be doesn't make sense financially considering the other money they'll have committed to starters and how far the roster still has to go to be a contender.
I don't like to get too deep into hypothetical trade targets because I actually talk to the people involved here, so I'm wary of what I say I think they could get for Hart being misconstrued as reporting that they've actually had those talks, but I will say that Hart easily has the most value of anyone on the roster likely to be moved. He checks all the boxes of being on a good contract and being a valuable and versatile enough player that every team in the league would want him, to where Portland could get something of value for him. That's why I think he's just about certain to be moved.
Hi Sean,
Hope you've been well!
There's been lots of talk of Hart, Nurk & Winslow being available on the trade market.
But I'm wondering, of all the other guys not discussed as much, who do you think is the one most likely to be traded that might be a surprise to the fanbase? Watford? GP2? Nas? We've heard Dame and Ant are untouchable, Grant and Shaedon also but little else.
Interested to hear your thoughts.
Cheers
Andy from Australia
The three you named at the top—Hart, Nurkic and Winslow—are the most likely to be gone in a week, and I'd add Keon Johnson to that list, too. Not because the organization doesn't like him—they do—but there just aren't minutes for him in the rotation with so many other guards. He's also a former first-round pick in just his second year in the league, meaning he has two more years after this one on a cheap rookie contract, and has had nice moments when he's gotten on the floor, so other teams might look at him as someone with upside they could take a flier on.
I would also push back on there being that many "untouchable" players on the roster. I don't think anyone not named Damian Lillard is flat-out off limits in any kind of trade talks. The three you named, Simons, Grant and Sharpe, are not being shopped and are extremely unlikely to be moved, but I don't think they'd be non-starters in a truly franchise-altering deal, whatever that may be. The previous general manager refused to even listen to any trade offers involving C.J. McCollum for years; I don't get the sense that Cronin has that same non-negotiable stance on anyone outside of Lillard.
Will we ever see Ibou Badji minutes this year even in garbage time? I'd like to see him out there fouling Embiid and Rudy Gobert personally. Also do you know how long he has been playing basketball and does he speak much English or does he have an interpreter with him?
Thanks,
Matt R
I wouldn't bet on seeing him anytime soon. Both of the Blazers' two-way players—Badji and John Butler, Jr.—are viewed by the front office and coaching staff at this point as long-term developmental projects who aren't close to being ready to contribute yet. I asked Billups about them a couple of months ago and he gave the impression that Butler is further along in his development than Badji is, but neither of them are to the point yet where they're ready to play real minutes.
The previous guy who filled the second two-way spot, Olivier Sarr, looked good in training camp and seemed like he was going to get actual minutes before suffering a wrist injury that ended his Blazers tenure before it really started. His situation was a little different because he actually had NBA experience last season with Oklahoma City, so he was more ready to play than either Badji or Butler are. But they decided to go the other way after waiving Sarr, in terms of taking a home-run swing on long-term upside.
One of the helpful things to me as a reporter about the Blazers' hiring of Mike Schmitz in the front office is that in a lot of cases, there's a public record of what the assistant general manager of the team I cover thinks about most prospects out there. Here's a pretty extensive scouting report on Badji that Schmitz wrote in December of 2020, when he was still working as a draft analyst for ESPN. He compared him to a JaVale McGee/Mitchell Robinson/Hassan Whiteside-type of shot-blocking, rim-running center.
Badji's personal story is one I haven't dug much into yet but plan on doing so after the trade-deadline content machine calms down a little bit. His background is pretty interesting from what little I know of it. He's the first player from the relatively new NBA Africa Academy pipeline to sign an NBA contract. (To your language question: while English is not his native language, he does speak it.)
Last month when I was at the G League Winter Showcase in Las Vegas, I spoke to Chaisson Allen, the head coach of the Wisconsin Herd, where he spent training camp before catching on with the Blazers, and got a little insight into him there. I want to do more on him later in the season. Stay tuned.
Sean,
Thanks for all you do covering the team, it's been amazing to see your journey and always love your work. Have you heard any updates about Jody selling the team? It feels like until new ownership is in place there is a ceiling on what Joe can do to improve the team. If you're ever in Japan let me know so I can buy you lunch.
Kegan S.
Things are still in a holding pattern there, as far as I've heard. As I wrote in December, the Suns' recent sale at a $4 billion valuation will bump the Blazers' price up significantly from Phil Knight's reported $2 billion offer last June. It will take at least $3 billion to get any deal done now, with Uncle Phil or any other buyer. The situation is still the same as I understand it: the NBA would like for a sale to happen soon, while the Vulcans would like to hang on until the league's new television deal hits in 2025. We'll see what happens.
And thanks a lot for the kind words. I have never been to Japan before but I've always wanted to go. One day.
So do you have a top 1 or 3 even, all time NBA jerseys you would be stoked to see in the wild (at a game.)
- David D.
Trick question, David. The one that would get me really excited is so obscure and random that I wouldn't even think to look for it. These three are the all-time champions in my travels: