Discover more from The Rose Garden Report
Comprehensive, independent coverage of the Portland Trail Blazers and the NBA from veteran beat reporter Sean Highkin.
Over 4,000 subscribers
MAILBAG: Is Shaedon Sharpe Untouchable? Plus Trade Targets, the Damian Lillard Question and More
Answering subscriber questions in the latest mailbag.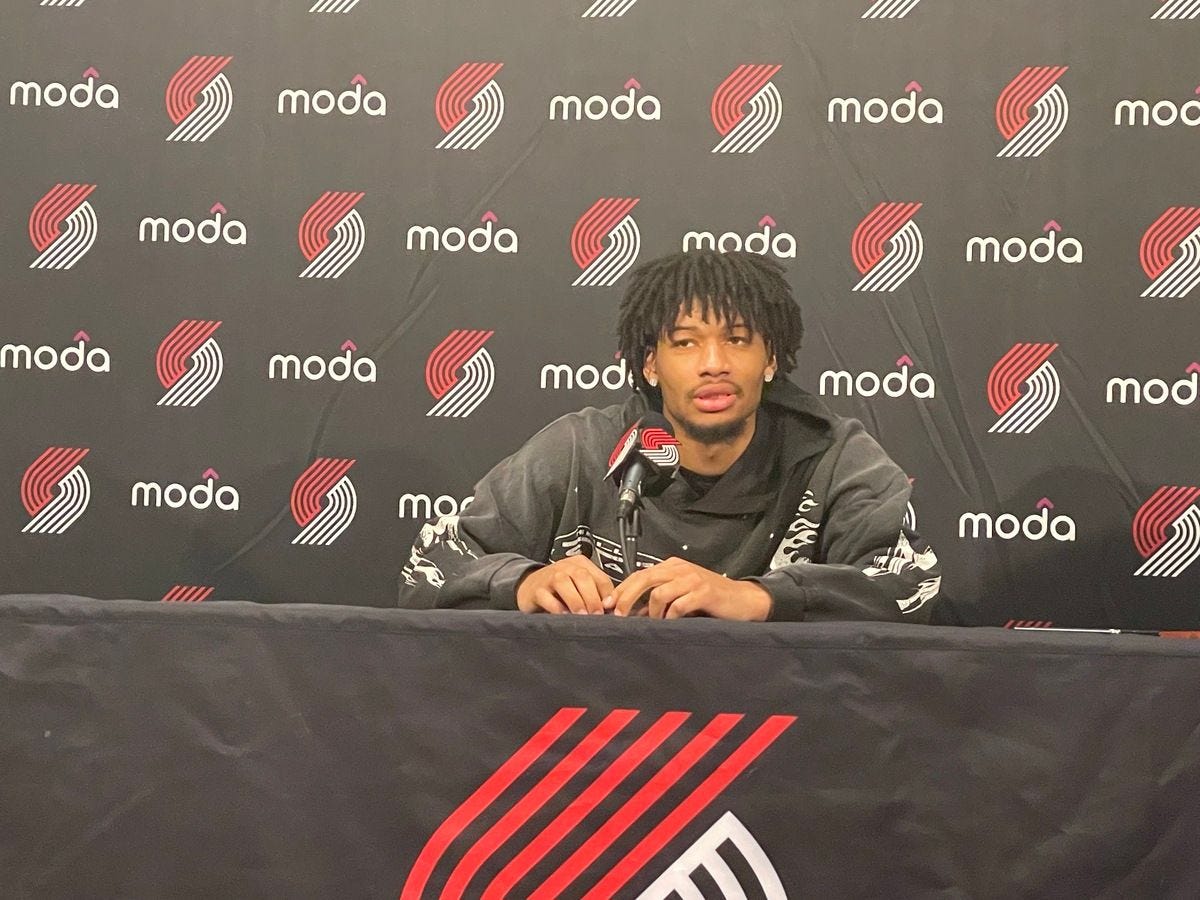 It's a quiet time for the Trail Blazers right now. The fallout from the end of the season and exit interviews is in the rear view, and the most important draft lottery the NBA has seen in two decades—one in which Portland has a 10.5 percent chance at landing French big-man phenom Victor Wembanyama—is just under three weeks away. Damian Lillard attending a first-round Eastern Conference playoff game last week became a multi-day news cycle. It's that time of year.
Last week, I decided it would be a good time to do another mailbag. Unsurprisingly, the bulk of the questions I got from paid subscribers focused on trade targets and the plan for the offseason.
The next time we do one of these will be after the lottery, when we'll have more clarity on where the Blazers will be picking and who might be realistic to go after. I'm planning to go to Chicago that week, both for the lottery and the draft combine—another reason why I'd suggest you consider becoming a paid subscriber if you're not already. Your support helps fund those trips and the reporting that comes with them.
Let's get into it.
Should Shaedon Sharpe be untouchable? Given the Blazers' history of missing out on generational talent such as MJ and KD, my biggest fear is that they trade him to appease Lillard only to have him go on to win multiple championships and be in the conversation as the GOAT. I would rather see them trade Dame and use the windfall to build a potential championship contender around Sharpe.
Fool me once (or twice), shame on you. Fool me three times, shame on me!
- Lloyd L.
There's a lot in there to unpack.
I don't know if Sharpe is fully untouchable, but reading between the lines of what Joe Cronin and Chauncey Billups said at exit interviews, they'd love to find a way to make the upgrades they need to make without trading him. I viewed everything that came out of that, as well as Lillard's endorsement of Sharpe, more as everybody involved knowing it has to be Anfernee Simons that gets moved than an indication that Sharpe is on the block.
I totally understand the trepidation about trading Sharpe this early in his career. But a better comparison than passing on Michael Jordan and Kevin Durant in the draft would be trading a young Jermaine O'Neal for an aging Dale Davis and watching O'Neal become a multi-time All-Star in Indiana. As much as Cronin said in his end-of-season press conference that they'll have to "live with" who they give up in such a trade, I think he knows Sharpe's upside isn't something to give up on for just anyone.
I'll say this, though: as great as Sharpe's final month was, be careful about extrapolating a Hall of Fame career out of 10 good games near the end of a lost season. Maybe that's what he ends up being, or maybe he tops out as "very good." It's too early to tell, and there certainly isn't enough of a body of work to jump right to "They need to trade a top-75 player of all time to build the whole thing around this guy." Not to me, anyway.
Hi Sean,
Thanks for the coverage all season! Been really fun reading all the material and following along even though the season took a bit of a nose dive. My question is do you think Joe has any leverage or trust from ownership to pull out of the commitment to Dame? Not saying that he doesn't want to see giving Dame a shot to compete through, but it feels like ever since he was promoted he's been ultimately handicapped by threading the thinnest of needles. I wonder if he had the autonomy to do so, could or would he move in a different direction and start over? I could go into the hypotheticals of let's say they get the #1 pick and he wanted to build the future around Vic and Shaedon? Just makes me think is the Dame-or-die narrative/gameplan the one that's ultimately best long term for Joe's success as a GM.
Best Regards,
Shane L.
All I've ever heard is that ownership has been supportive of what Cronin has wanted to do, so if it really came to that, he could probably get sign-off. But it's pretty clear that right now his objective is to put a playoff-ready team around Lillard. (I'd love to know where the Vulcans actually stand in all of this, but Jody Allen hasn't done a single interview since she took over from her late brother as the person in charge in 2018.)
Here's the other thing about the ownership dynamic as it relates to Cronin's job status: I don't know what the timing of the eventual sale will be, but that's coming at some point per the terms of Paul Allen's trust. Typically, new owners have their own vision and want to bring in their own people—unless the team is already contending, in which case they're happy to keep it going for a while. Mat Ishbia just bought the Suns, and he isn't going to fire James Jones anytime soon because the team Jones built before he got there is getting results. But if the Suns were still the lottery team they were for most of the 2010s when he bought them, Ishbia would have probably cleaned house.
If Phil Knight (or whoever) buys the Blazers while they're not competitive or in the early stages of a rebuild, there's no reason for him to keep a GM or coach he had nothing to do with hiring; if the team is good, a new owner is more likely to let everyone keep doing their thing for a bit.
To your point about a hypothetical Lillard trade to put more youth around a Wembanyama-Sharpe core—where I'd push back there is that the best thing for the two of their long-term development may be to have Lillard around, in the same way that having LaMarcus Aldridge and Wesley Matthews was good for Lillard early in his career. The idea that all of a team's stars have to be the same age has always been overblown to me and that notion works better on paper than it does in practice. What Oklahoma City is doing right now is the exception—it doesn't usually go that well, and even with the Thunder, there are no guarantees it's going to continue on an uninterrupted upward trajectory.
Why didn't the Blazers acquire Saddiq Bey (or less advisable, James Wiseman) in the GP2 trade? Is the answer as simple as not going into the luxury tax this season? It seems like a missed opportunity to gather talent, and in Bey's case, a potential future rotation guy at a position of need.
- Dan P.
That's a good question, Dan. I wasn't in the room for the trade negotiations, so I don't know what was or wasn't on the table as far as different permutations of that four-team trade. I don't think not trading for Bey was a luxury-tax issue considering the Blazers cut their payroll significantly at the deadline and adding his $3 million salary wouldn't have taken them over the line.
My guess is it came down to player evaluations. Maybe the front office valued the five second-round picks more highly than they did Bey or Wiseman. That's certainly justified in the case of Wiseman, based on what we've seen. Bey is up for debate, but I don't know how it shook out or what was available to them.
Maybe they should have tried harder to get him. Sometimes you miss on chances to take a flier on a young player who needs a new home. Getting Matisse Thybulle midseason was a success in this regard; Nickeil Alexander-Walker looking like a rotation player in Minnesota after being a Blazer for approximately two seconds at last deadline could be looked at as a missed opportunity. You win some, you lose some.
Hi Sean. I think we all know that Dame was the catalyst for acquiring Jerami Grant and it seems like a foregone conclusion that he's going to return. If this is true then clearly there are zero plans for a rebuild because you're not spending $150 million on a 29 yr old forward who came to play with Dame. What all of this tells me is that Dame isn't going to be traded. In fact, it makes me wonder if there's another player coming that's already been agreed upon behind the scenes much like the Grant deal last summer. Is my logic out of line or would Portland sign Grant without knowing Dame's fate first? I can't see Grant being part of a rebuild, can you?
Thanks,
Jeff W.
I don't think you're off-base at all here, Jeff. If the Blazers were seriously considering trading Lillard to begin a multi-year rebuild, both he and Grant would not have talked about Grant's free agency at exit interviews like it's already a done deal.
I don't know if there's a trade for another impact player that's "already been agreed upon behind the scenes," as you put it, but both Cronin and Lillard probably have a pretty good idea of what will be possible depending on where their pick lands.
Just keep the following in mind as it relates to timing:
Presumably, any trade the Blazers make for the kind of big name we're talking about will involve their lottery pick in this June's draft.

With that being the case, you would think that trade would most likely happen before the draft, or even while Portland is on the clock, so the team getting their pick can then use it on whoever they want to draft.

Free agency doesn't start until June 30, by which point the big trade, whatever it may be, will already be done.
By the time Grant re-signs, whatever the other big move may be will already be in the bag, if it's there to be had.
After the deadline, Joe Cronin said: "We're going to be ridiculously aggressive to the point where once we push our chips all the way in, deal's a deal—where some might say 'wow [Portland] lost that deal'... but that's just us pushing our chips in."
I think there's a lack-of-consensus around whether a guy like OG Anunoby is enough of a needle-mover to dump assets on. The Blazers probably wouldn't trade Little, Sharpe and a future first for OG today (one of last year's rumored packages that Portland balked at), so why would they trade a lottery pick or even someone like Anfernee Simons—who may have a higher upside than OG and is more available—this offseason?
I'm hoping a target is more someone like Mikal Bridges, but watching him this week and knowing that Brooklyn doesn't own their own picks, he seems like the new #1 in Brooklyn—so the godfather package probably doesn't help Dame's chances of winning either. How much would be too much in a Mikal Bridges package? And what's the sweet spot in terms of value? (assuming the pick lands outside of the top 2)
- Sam H.
I tend to agree with you on Anunoby. They decided the No. 7 overall pick plus Josh Hart and Nassir Little was too much to give up a year ago, and now Anunoby is one year closer to free agency and a new payday. There was a lot of noise around him at the deadline, but I don't think the Blazers were one of the teams in on him in February and I don't think that will change unless the price comes down. There might be someone else in Toronto they're more interested in now.
You're right about Bridges being the ideal trade target, and I would expect he'd be one of the first calls Cronin makes. We know he and Lillard are friends, and there was a lot of "discourse" around Lillard sitting courtside at the Nets-Sixers playoff game last week. But I'm not sure Bridges is really gettable anymore. He's been too good in Brooklyn since he got there.
A trade for him probably hinges on lottery luck. The Blazers (along with 29 other teams) wouldn't trade the No. 1 pick in this year's draft under any circumstances. But if it's No. 2 or 3 and Brooklyn can add Scoot Henderson or Brandon Miller? You might be able to get something done there, but even then I have my doubts Bridges is really available.
Anything below the top three and you probably have to add in more future picks, which gets complicated with the Chicago protections. The same goes for anyone else they're likely targeting. It's hard to project any of this stuff until after May 16th when we see where the pick lands.
Hey Sean,
Obviously fans are dreaming of adding a big time player via trade (especially a certain big man that currently lives in Philly), but what do you think the realistic targets are for this summer? We've got trade pieces and access to the MLE and Bi-annual. Is that enough to add an all star to Dame and Jerami while adding impact guys to the bench?
Thanks,
Colin P.
I'll repeat what I said above: so much of what the Blazers will be able to do this summer as far as the "big swing" trade will hinge on where they fall in the lottery. The best-case scenario is they get the No. 1 pick and are set for the next decade-plus with Victor Wembanyama. If they move up to 2 or 3, it unlocks a lot of trade possibilities, because both Henderson and Miller would be serious candidates to go first in any other year and teams that could go either way on contending or rebuilding (like Toronto, for example) would be interested in that pick. If the pick stays at No. 5 or even moves down to 6 or 7, they'll have to include more other assets.
But, to your point, even if that sort of trade happens, they still have to also nail the other moves. Last summer, Portland used its mid-level exception on Gary Payton II, which seemed like a good idea at the time but ended up being a disaster for a variety of reasons. I'll bet if Cronin could do that one over, he'd go for Bruce Brown instead—the other name they were looking at. The season probably looks a lot different if he went that way.
The pool of players they can get in free agency could also depend on what the roster looks like at the top. If they're able to swing a trade for, say, Jaylen Brown or Pascal Siakam, to pair with Lillard, maybe someone whose price would normally be higher is willing to take a slight discount to come to Portland on the mid-level. Getting the big business done before free agency opens on June 30 would help clarify a lot of that.
Hi Sean,
Big fan, thank you for doing this podcast and writing. I am enjoying the content!
I was listening to Mike Richman and Howard Beck this morning on Locked On and felt like there is writing on the wall that Lillard and the Blazers might be at an impasse and one of the best things that could happen according to Howard is Lillard letting the Blazers off the hook and asking to be traded.
My question is "What happens to the future of the Blazers if we can't put a team that's a contender around the best player in franchise history? Won't our current/future players see that and not want to play here because we couldn't do it with a generational talent?"
I'm worried if we don't go all in that it'll affect the way that any future free agents and draft picks will want out because we couldn't do right with the most loyal player.
All the best,
-Tayler R
Thanks for the kind words and the support, Tayler. It really means a lot.
I think the front office knows as well as anyone that this is going to be a franchise-defining offseason, one way or the other. I don't think a failure to win a title with Lillard will mean no one ever wants to play in Portland again (do free agents line up to come here as it is?)
The sentiment that Lillard would be "letting the Blazers off the hook" by asking for a trade is one I see a lot from national writers and podcasters (and by the way, Howard's a friend and a legend in the business, so this isn't a shot at him at all), and it's one I think is overly reductive and makes a lot of assumptions about situations that aren't always alike.
I just don't buy the idea that it's easier to build a contender without an All-NBA-caliber point guard and future Hall of Famer than it is with him. When you trade your franchise player for young players and picks, you're putting a lot of faith in things that are unknowable. You can accumulate a ton of picks that look impressive in ESPN graphics about teams with the most trade assets, but you can't use all of those picks, and even if you do, you'll eventually run into the problems a team like Memphis has, where they have to give away a good player like De'Anthony Melton because not only can they not pay him but they just don't have enough open roster spots. The Thunder are going to have this issue at some point.
Rebuilding through the draft sounds a lot more fun as a thought exercise than it usually is in practice. Maybe you can turn it around quickly like Oklahoma City and Utah have, but there's a greater chance you become the Magic post-Dwight Howard or the Timberwolves post-Kevin Garnett and have no identity or direction for a decade-plus.
Frankly, I think a lot of Blazers fans (or at least, the ones I see online) have started to develop Stockholm Syndrome from the never-ending cycle of Lillard trade discourse on national platforms and don't really want to see what it could be like if he's gone as much as they think they do. The organization certainly doesn't, which is why their messaging has been that they're going to do what they can to build a competitive roster around him. We'll see if that effort is successful.