Discover more from The Rose Garden Report
Comprehensive, independent coverage of the Portland Trail Blazers and the NBA from veteran beat reporter Sean Highkin.
Over 4,000 subscribers
MAILBAG: Rookies, Extensions, Sale and What Constitutes a Successful Season for the Trail Blazers
Taking questions from subscribers in our monthly mailbag.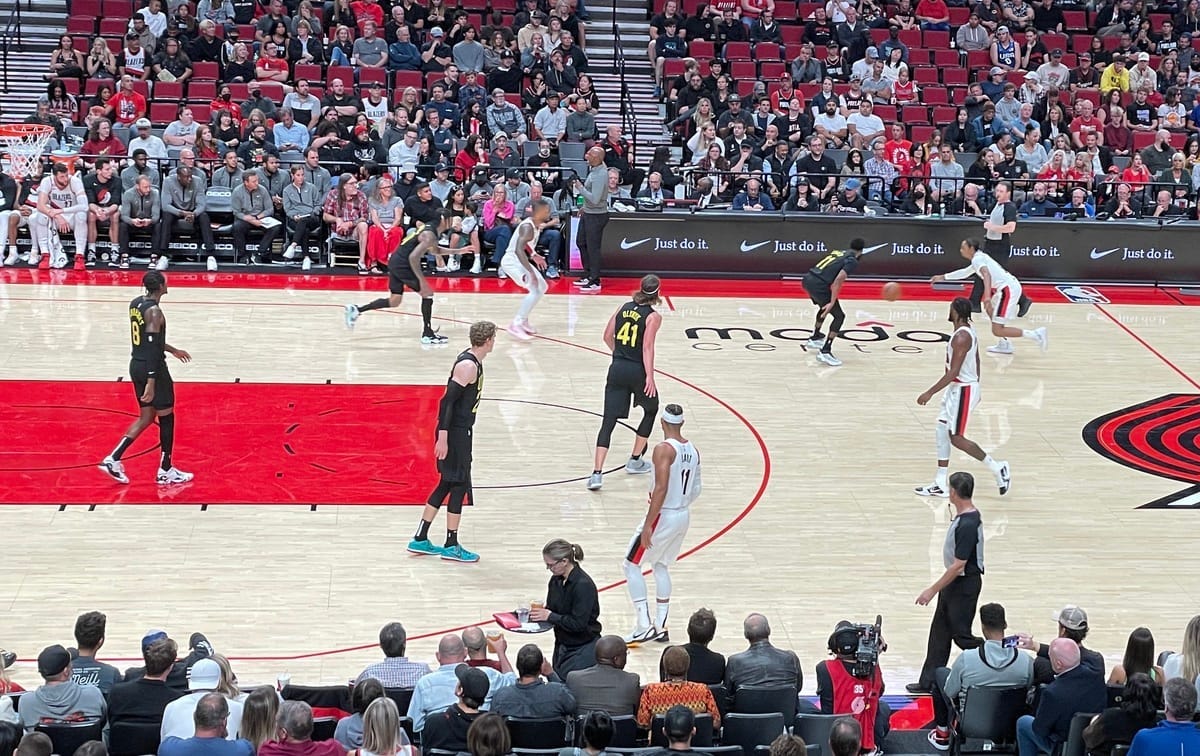 We are officially entering the last week of no meaningful NBA basketball. The league's opening night is a week from tonight, and the Blazers' season kicks off the following night (next Wednesday) in Sacramento.
Before the preseason games started, I put out another call for mailbag questions, just as I did in August and September, and once again my subscribers delivered with a variety of great topics. Make sure you hit the button below to become a paid subscriber, which will not only give you full access to exclusive stories, but you can also submit a question for next month's mailbag.
Let's dive in.
The Rose Garden Report is a fully independent, reader-supported publication. Purchasing a premium subscription unlocks exclusive content and helps make the coverage of the Portland Trail Blazers the best it can be.
Hey Sean!
Keep up the excellent work.
Got a couple questions about the rookies you probably covered and I totally missed :)
1. We all lost our minds about Jabari Walker after Summer League. Haven't heard much about him as of late. Any update about how he's doing and how the team views him this season?
2. Been picking up on a little local sport talk tiff re: Sharpe's playing time. On the one hand folks argue that developing him in 22/23 is more important than whatever middling playoff spot the Blazers will (maybe) land. On the other hand, how can you possibly waste another year of Dame's prime! Where are you landing? Is this a wait and see thing depending on how the first half of the season goes?
Jay L.
Thanks for the kind words, Jay. I'll take these one at a time.
Like you, I've also been a little confused about the lack of buzz or preseason playing time for Jabari Walker. I haven't heard anything behind the scenes to suggest anyone is unhappy with him, and every time he's gotten in during a preseason game he's played well, so I'm not sure why he hasn't been playing more. I still think at some point this season he'll force his way into the rotation and stay there—the things he's good at are things that should translate right away to winning basketball. We'll see how much playing time he gets once the season starts.
As for Shaedon Sharpe, those of you who were at or somehow able to watch the Maccabi Ra'anana game last week saw what he can do when he's turned loose. But that was against a second-division Israeli team; he looked much more like a rookie still finding his way in the first two preseason games against the Clippers and Jazz. Even though the praise from players and coaches has been universal for the camp Sharpe has had, the sense is he isn't quite ready yet, and they're not going to throw him out there before they feel he can be a consistent contributor. But I also think Chauncey Billups will have no qualms about giving him real minutes as soon as he feels he's ready for them.
CJ, Nance, and RoCo have all extended with their respective teams. Joe Cronin didn't use Ingles' bird rights. Bledsoe, Didi and Hughes also sloughed.
Are you expecting Hart to either get re-signed (assuming he opts out of his player option because of his cheap contract) or to extract some modicum of value in a trade? Grant extending in January?
Same for other trade acquisitions; Are you expecting Cronin to extend Keon (RFA) and utilize Winslow's early bird rights—assuming he performs this year?
One of the hallmarks of the last GM was his inability to get significant value back for his players, so as CJ/Nance/RoCo lock in futures with their teams it stands to reason that fans should expect Cronin to do better than his predecessor there.
- Sam H.
A lot of good points in here to unpack, Sam.
I don't know if I'd look at three players traded away at the deadline signing extensions with their new teams as a reflection on the Blazers' inability to get value for them, especially since all three signed for at or below what they were making on their current contracts. Would they have wanted to re-up in Portland? Would that have even been a good idea? Last year's roster clearly needed to be broken up. You can't worry too much about what the players you trade away go on to do with their new teams, only about what you get back.
(Also, it's worth noting that Eric Bledsoe, Didi Louzada and Elijah Hughes are all currently unsigned, so it's not like they let coveted players go. Those players were always nothing more than salary filler in those deals.)
We'll tackle the players you asked about one at a time:
I've written before that I think Josh Hart is the most likely of the Blazers' rotation players to get moved by the deadline, simply because of positional redundancy and the value he'd have around the league. But that isn't a sure thing by any means. If he's not traded, I would absolutely expect the Blazers to be aggressive in trying to re-sign him, or at least get something back in a sign-and-trade. I'd be shocked if they just let him walk for nothing.
As you noted, Jerami Grant can't be extended without restrictions until January, six months after the trade. They didn't acquire him to not re-sign him, and he's been as good as advertised thus far in the preseason. The smart money is on them agreeing to an extension before he hits free agency this summer.
Keon Johnson is still two years away from even being extension-eligible and three years away from restricted free agency, so you don't have to worry about that one for a while.
Justise Winslow is a little bit more interesting. You are correct that they'll only have his Early Bird rights, meaning the most they can offer him to re-sign is the equivalent of the average player salary for this coming season. That exact number won't be known until July, but a reasonable estimate would be somewhere in the $11-12 million range as a starting salary on a new contract. Cronin and Billups both love Winslow and would like to keep him around long-term. If he's willing to re-sign for what they can pay him, I'd expect them to get something done. But if another team comes in over the top and offers more than that, they could be out of luck. That's the game.
Hey Sean,
Love the pod.
Does Jody benefit in any way financially when she sells the team? Is she holding on to it now because she gets paid a fee for managing Paul Allen's trust? Does she get a kickback for expansion or a new TV deal? Just trying to understand why she hasn't sold yet.
Thanks,
Evan M.
Without seeing the actual text of the Paul G. Allen Trust, I couldn't tell you what the financial benefits are for Jody Allen that are written into it. My understanding has been that she wants to hang onto the Blazers until 2025 because as the owner of the team, she'll get her cut of the NBA's new media-rights deal that kicks in that year, even though she won't see the profits from the eventual sale itself. The league would like for the sale to get done sooner than that, because Phil Knight (their preferred buyer) is 84 and there are no guarantees he'll still be around three years from now. Everything between now and then is public negotiation.
The other variable that's come into play in the past month has been Robert Sarver announcing he's putting the Suns up for sale following an NBA investigation that confirmed a lot of what was alleged in last fall's ESPN report about his racist and misogynistic behavior.
I think the league, and any other owner who could potentially be looking to sell their team, is waiting to see how much the Suns go for and whether that resets the market like Steve Ballmer's $2 billion purchase of the Clippers did following the Donald Sterling scandal in 2014. People in the industry are already expecting the Suns' sale to set a record and easily eclipse $3 billion, maybe even approaching $4 billion.
Phoenix is a much bigger media market than Portland and the Suns are a contender, but their expected price should recalibrate the Vulcans' expectations for what the Blazers could get whenever they are put on the market. The Knight bid from June was for a reported $2 billion; the Suns going for almost double would give them leverage to ask for a significant bump up from that initial offer. We'll see how it all plays out over the next year.
Interestingly, Indianapolis Colts owner Jim Irsay said recently that he expects the Seahawks to go up for sale "in the 2024 range"—which also lines up with when it would be financially beneficial for Jody to sell. I went into a lot more detail about all of this in a piece I wrote in July and am still monitoring the situation closely. There have been some interesting recent developments in the high-end art collecting world.
I went to Portland's second preseason game against Utah. One thing that stuck out like a sore thumb was the terrible perimeter defense at the 3-pt line. Utah literally did anything they wanted. We've seen this for a while — HOW does Portland clean this up and start defending the perimeter better? Given the fact that we've heard they will play a predominantly zone defense, how do they also shut down the perimeter? Please tell me there is light at the end of the tunnel here and we won't have to suffer through another season of getting torched from outside?
Thanks,
Jen M.
That was the idea behind the Gary Payton II signing. Last year with the Warriors, he was one of the league's best perimeter defenders. Jerami Grant has the ability to guard multiple positions as well. They won't be elite in that area still, even with these additions, but I'd expect them to at least be better than they were with last year's roster.
This Trail Blazers season will be considered a success IF __________?
Michael B.
This is a tough one to pin down. Internally, the Blazers have been soft-pedaling expectations for the season and putting an emphasis on building the team and culture the way they want to rather than shooting for a specific record or finish in the west. I'm not sure I agree with that—if you're going into a season with a healthy Damian Lillard after a summer of win-now moves, to me it would be a massive disappointment if they don't make the playoffs. The west is deep enough that you can't expect a top-four finish even in the best-case scenario, but I'd look at top six, meaning they make the playoffs outright and avoid the play-in, as a big success. Your mileage may vary.