Discover more from The Rose Garden Report
Comprehensive, independent coverage of the Portland Trail Blazers and the NBA from veteran beat reporter Sean Highkin.
Over 4,000 subscribers
MAILBAG: Close Wins, Josh Hart's Shot Selection and G League Team Location
Answering subscriber questions in this month's mailbag.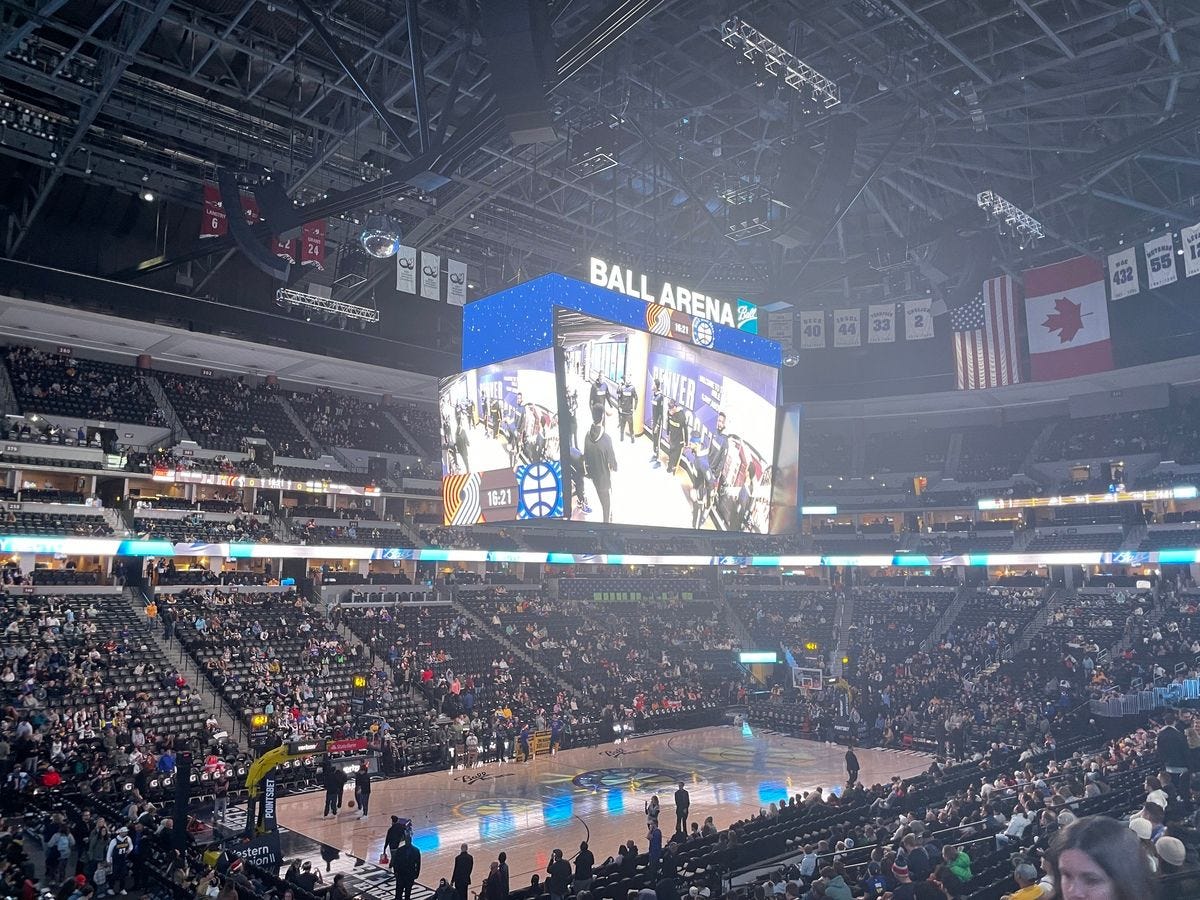 DENVER — The Trail Blazers' road trip from hell is over.
After some uncertainty about whether their flight would be able to get out on time last night due to the weather in Denver, the team was in fact able to make it back.
I'm flying back to Portland later this evening. The team has Christmas Day off, and faces Charlotte on Monday. That game will be a memorable one regardless of the result, as that will be when the team officially honors Damian Lillard for passing Clyde Drexler to become the franchise's all-time leading scorer. I don't know what they have planned, but the word is the game ops department has put a lot of work into it.
It's also within the realm of possibility, though far from confirmed, that Gary Payton II may finally make his season debut on Monday. Chris Haynes reported on Thursday that Payton is hopeful to be able to make his debut next week. But I've lost count of how many times we've gotten similar updates, so at this point, I'll believe it when I see it.
Either way, they need a win in the worst way. I've said since the summer that if the Blazers could get to Christmas at .500 they're in good shape. They did that—they're 17-16, one game over—but they should have an even better record than that. They've dropped winnable games in the past few weeks, including two in a row in Oklahoma City on this trip. Facing the 9-24 Hornets at home is as good an opportunity as any to right the ship.
As promised at the beginning of the road trip, here's a Christmas Eve mailbag with questions from paid subscribers. If you want to get your question answered in the next one, hit the button below to sign up.
The Rose Garden Report is a fully independent, reader-supported publication. Purchasing a premium subscription unlocks exclusive content and helps make the coverage of the Portland Trail Blazers the best it can be.
Is it turning into a thing that the Blazers are having a hard time putting teams away? They seem to get to 8 point leads, and they evaporate real quick. Besides the flukey Denver game, they seem to not be able to put teams away.
Alex P.
It's absolutely a thing, and it's everybody. This was never more apparent than the Houston game on this road trip, one of the two wins on that swing. Chauncey Billups pulled his starters in the fourth quarter of a game that should have been a blowout, and the bench let it get just close enough that Billups had to put his starters back in to finish it out. That should never have happened. But the starters haven't fared much better at closing out games. The blown 18-point lead in the Nov. 29 loss to the Clippers also springs to mind.
Last month, before the home loss to Utah, Billups was actually asked about the number of close games they'd played.
"I think we're going to be a team that plays a lot of close games because of the way that we grind," he said. "We're not really a breakneck, fastbreak kind of team that's shooting 50 threes."
At that time of the season, their defense was elite and their offense was still catching up. Now, they have the opposite problem: their offense has been lights-out but they're not guarding nearly as well as they were at the beginning of the year. The mental lapses they've spoken about lately also play into it—they play well in stretches and then lose focus.
I don't have the answer for how they can tighten this up. Nobody does. I asked Billups about it before the game last night in Denver and he suggested the lack of practice time in recent weeks could play into it, because they've been on the road so much. After Monday's game at home against Charlotte, they have three days off before their final game of the month at Golden State on Dec. 30. It may be good for them to get a few practices in during that stretch to clean some of this stuff up.
Sean,
There's been some debate about how much of Hart's performance is currently being dictated by his role, and how much of Hart's role is being dictated by GP2's absence or Nas' injuries. Going into the season, there was an expectation that the team would see more of the playmaker flavor of Hart—and thus maybe more of an emphasis on shooting—and less of the rebounding flavor of Hart. Hart's recent postgame comments indicate that this is *possibly* not something he's super thrilled about for himself—but he's happy to do it for the team.
I'm bringing it up because when Luka Doncic is able to completely leave Hart in the corner repeatedly, leading to added rim defense for Portland's Big 3, it's an issue. Hart, or whoever starts at the 3, needs to shoot those shots for the team to win. And it's not because Hart 'can't' shoot. It's a question of why.
Is Chauncey asking Hart not to take those shots (is he possibly not happy about this?) or is it a confidence issue? What are you hearing? And do you think we'll ever see a different flavor of Hart this season should GP2 ever return, or is this Hart's final Blazer form. (RIP to the flavor that dropped a Barry Obama on the Wizards that may never be).
Sam H.
It's definitely true that the way Hart has been utilized this year is different from what they envisioned going into the season. The hope for the coaching staff and front office was that Nassir Little would earn the starting small forward spot in training camp, allowing Hart to be the second-unit ballhandler. That didn't happen, and even if it did, Little is injured now, so Hart would have been eventually put in this role anyway. I'm very interested to see how things change whenever Payton returns to the lineup.
You're also right that Hart is taking far, far fewer three-pointers than he ever has. He's attempting a three on 27.1 percent of his possessions so far this season; his lowest three-point attempt rate up to this point was a full 10 percent higher last season; before that, it was over 50 percent every season with the Lakers and New Orleans.
I don't think Billups has told him not to take those shots. He's a career 34.8 percent three-point shooter, which isn't elite but is certainly respectable. And his 36.1 percent mark this season is his highest since his rookie year in 2017-18. I wonder if because he has to expend so much energy defending and rebounding, he has less lift on his shot. That's all I can think of. But he absolutely should be shooting more when he's open.
Let's assume the next ownership group and the new front office pursue a new G League team in the near term. How would the Blazers franchise identify the ideal location for that team? Ownership talked a lot a decade ago about the market value of the emerging Boise market when it signed an affiliation agreement with the D-League Stampede. But today it seems like most NBA franchises prioritize having a G League team a short drive away. What goes into separating Vancouver from Beaverton from Salem?
Justin S.
You're absolutely right: the issue with Boise was proximity. It's a seven-hour drive from Portland, so it wasn't exactly convenient to send players back and forth. When your G League team is in the same general area where you play (for example, I used to cover the Bulls and their G League team was in Hoffman Estates, a suburb about 30 miles outside of the city), it becomes a lot easier to utilize it. If the Blazers had a G League team in, say, Beaverton, Greg Brown III or one of their two-way players (or even Jabari Walker, who's much more NBA-ready than those three but isn't in the rotation right now) could practice with the Blazers on Monday and play in a G League game on Tuesday without anybody having to get on a plane.
As far as where they'd play, that will come down entirely to finding a suitable gym. It has to be big enough to sell tickets but not so big that they're playing to a quarter-capacity crowd every night and not doing enough business to make it worth the cost of the dates. The league also has certain requirements about the ability to place cameras at certain angles for their television broadcast. A former executive with another team that I talked to this week told me that when the team he used to work for was looking into getting a G League team several years ago, they had a venue picked out that they thought was perfect, but the NBA shot it down because they couldn't get the right cameras in. So that all goes into it.
Off the top of my head, the Chiles Center on the University of Portland campus could work. The HOOP YMCA in Beaverton could also be an option. I think Salem is the farthest away from the Portland metro area they'd be willing to go before it becomes a hassle to send players to and from the G League.
I wrote in much more depth about this earlier this week while I was at the G League Winter Showcase in Las Vegas, for those of you who are paid subscribers. I don't know when it's going to happen, but I do know that the new front office wants it and thinks it's important, so it's a matter of when, not if.