Discover more from The Rose Garden Report
Comprehensive, independent coverage of the Portland Trail Blazers and the NBA from veteran beat reporter Sean Highkin.
Over 4,000 subscribers
MAILBAG: Chauncey Billups, Nassir Little and the Blazers' Best-Case Scenario
Taking subscriber questions on a variety of Blazers topics.
Late last week, I put out a call for questions for the first-ever Rose Garden Report mailbag, and my paid subscribers came through with some great topics.
This will be a semi-recurring feature, roughly once a month going forward. Let's dive in.
Hey Sean,
Proud to be one of the first 100 subscribers. Thanks for the work.
I'm curious about head basketball coach Chauncey Billups. How can we tell if he's a good coach? What should we be looking for? Minute rotation? Development of young guys? Dame being happy? Strictly wins? Something else?
- Alex P.
Sean,
Love the reports and the podcast. I am curious if you have thoughts/insight on coach Billups heading into year 2. I don't think he can be fairly judged by last year at all (maybe a bit at the beginning on the lack of chemistry) as to schemes. However, they have clearly brought in "his type of guys" but still not solved the size problem which he openly complained about last year. Since the roster is still a work in progress is he getting a pass? What should we look for out of him and his system with this new roster in terms of coaching development? We knew Terry was great at ATO but stubborn on rotations so I am wondering your thoughts on Chauncey's strengths and weaknesses.
Thanks again.
- Matt A.
Since both of these questions are about Chauncey Billups and get at similar things, I'm going to group them together.
I'm also curious about how Billups' second year as head coach will go. There wasn't really much to go on last season to judge him, positively or negatively, because for most of the year (at least, since Damian Lillard was shut down in January and they traded everyone at the deadline), the organization was actively trying to lose games to get a better draft pick, and most of the players he had to coach by the end of the year aren't NBA players.
At the beginning of the year, when the team did have playoff aspirations, things were pretty rough, but I don't know how much of that was Billups' fault. It reminded me of one of the years I covered the Bulls, when the GarPax regime fired Tom Thibodeau and hired a coach with a very different style in Fred Hoiberg, but kept the roster largely the same and were somehow surprised when that group didn't work under a completely new system. The roster the Blazers entered the season with had been together too long and grown stale, and everybody in the organization except for one person knew it.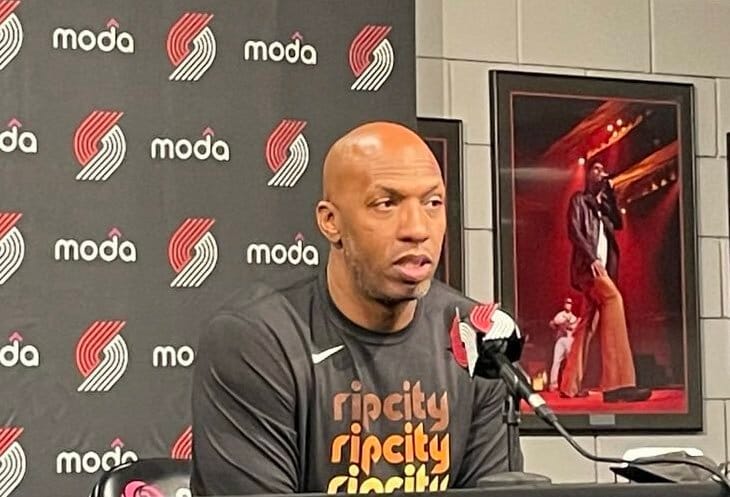 What I will say about Billups after being around him and getting to know him over the course of the season is that he grew much more comfortable in the job as the year went on. It was obvious at the beginning of the season how miserable he was when the team was getting blown out every night after being touted by the person who put the roster together as the "deepest team" of the Lillard era entering camp. Like Hoiberg that year in Chicago, Billups was sold a bill of goods. It wasn't what he signed up for.
Later on, after the teardown in February, he seemed to genuinely enjoy being able to teach the young players and try out different lineup combinations. They were still getting blown out every night, but the focus of the year from that point forward was player development (and lottery positioning), so he didn't feel like he was getting judged every night on the result. And for someone who had never been a head coach before, getting that kind of runway to figure out how you want to do the job is valuable. If you want a clear point in his favor, look at the way someone like Trendon Watford improved from the beginning of the year to the end.
As you noted, Matt, the roster is now full of players who fit Billups' "type." He won't be given the leeway of not having an ideal roster. We'll find out pretty quickly what he can or can't do with the kind of team he always wanted.
Hey Sean, great newsletter! My question is how much do you think the organization believes in Nassir Little? Could you see a future if Nas ain't playin up to potential, the Blazers could revisit that Hart + pick package for OG [Anunoby] depending on if the Raptors want to solidify their back court rotation
- Stefan G.
From what I know, the organization still believes in Little pretty strongly. There's no reason for them not to—the biggest impediment to his career so far has been health, and none of the issues that have caused him to miss time are recurring. He's been incredibly unlucky with a bunch of things that are unrelated to each other. Before he had shoulder surgery last season, he had become a favorite of Billups due to his defensive effort.
In fact, if we're handicapping it right now two months before training camp, I'd say Little is the favorite to be the starting small forward on opening night. In the earlier part of last season, before all the trades, Billups lamented that the Blazers "give up size every night." And while the line from management this summer has been that Josh Hart and Gary Payton II "play bigger" than their actual size, I would guess Little's frame will give him the edge to get the starting nod. Plus, Hart is the only reliable ballhandler on the roster outside of Lillard and Simons, so having him run the second unit feels like the best use of his skillset.
I'd be surprised if anything happens on the OG front. They tried before the draft and Toronto's asking price was more than they were willing to give up. I don't see that changing barring something unforeseen.
(There will be more here on Little soon, as a tease for paid subscribers.)
What type of statline does Ant need to produce to make him a value contract? (Who else makes 22m a year?)
Same Q for Nurkic (sub question, will he get enough usage on this team to even be a value contract for the blazers?)
Thanks Sean!
- Sam H.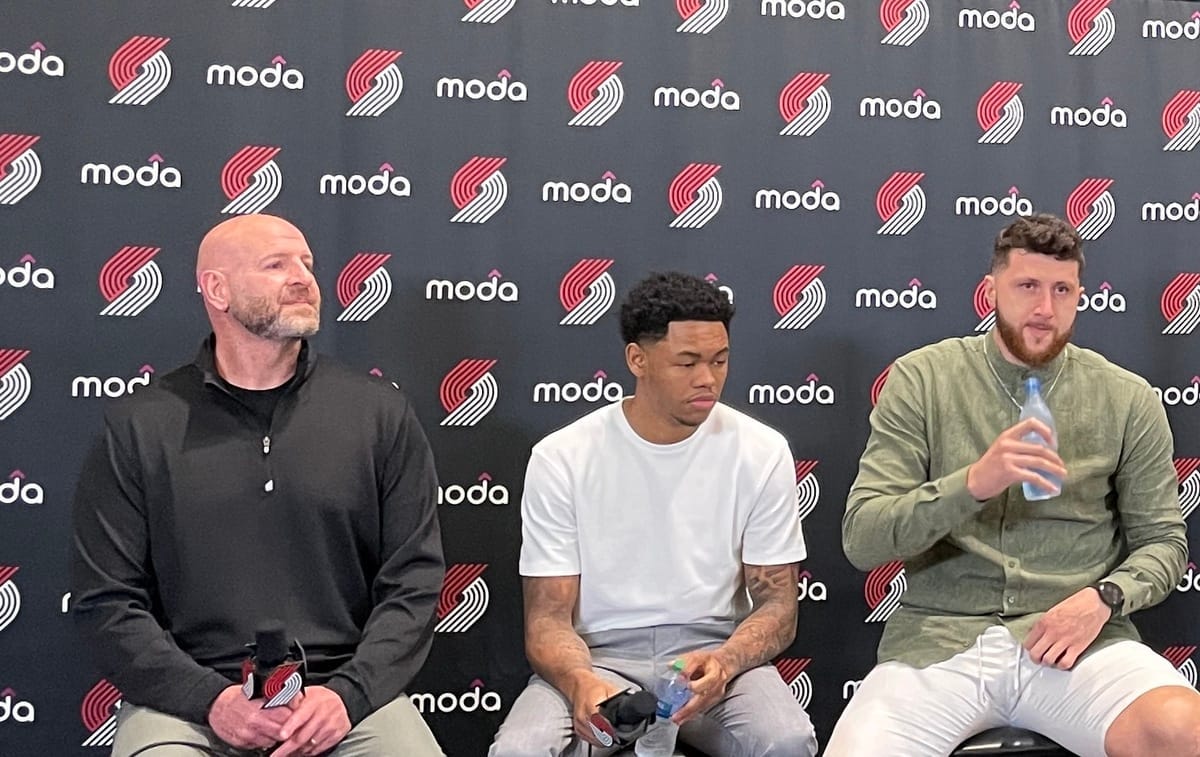 It's so hard to project what any of these contracts are going to be "worth" over the next four years because all evidence suggests that the salary cap is only going to keep going up. If you want a best-case scenario for how this Simons contract could work out, look at the last four years of Zach LaVine's career. LaVine signed a four-year, $78 million offer sheet with Sacramento in 2018, and the Bulls' decision to match was widely questioned at the time—it seemed like a lot for someone who had accomplished relatively little in his first four years.
But two things happened: LaVine kept getting better and the salary cap kept going up. By the end of that deal, his $19.5 million salary looked like an absolute steal because he had made himself into an All-Star, and he was rewarded for that improvement this offseason with a max contract.
I'm not saying Simons will turn out to be as good as LaVine, but given his age (23) and upside, it's not hard to see him outperforming what looks today like a big contract. The league's new TV deal kicks in before the 2025-26 season, when Simons will be going into the final year of this deal. A $27 million salary by then might look like LaVine's $19.5 million salary now.
As for Nurkic, the downside risk with his contract isn't about production, it's about health. It's why I questioned the Blazers' decision to guarantee all four years. Nurkic will be 32 by the time this deal is up, and he's missed significant time in each of the last two full seasons since returning from the leg injury he suffered in 2019. He's also a big guy, and plays a physically demanding position. Expecting the injury issues to be behind him forever is just not realistic.
If you're trying to forecast which of these two deals will look better in four years, it's clearly Simons.
Sean!
Hey, love the new blog and podcast. Sick to see rip city gettin some journalistic love Happy to support that shit wherever it is. Paid subscriber
I got a mailbox q for you if you got any time on the pod. I feel like I have a pretty good grasp on what the Blazers will be next year. A 4-8 seed team that showcases some truly spectacular moments from Dame. Great. But I'm more curious about what the Blazers could be at their absolute ceiling. The "Built Different" Blazers, if you will. The 3 standard deviations from the mean, 99th percentile Blazers. What does the team look like if Dame legitimately hits "another gear" after his injury? If Nurk avoids the "basketball gods" and stays healthy? Ant hits "another level" in the playoffs? Jerami Grant "stars in his role" as a defensive stopper? Jabari finds "that dog in him" in small-ball lineups? How good would that team be? How well could that team perform against the best teams in the NBA? I feel like they would be great.
Glad you're doing what you're doing. Excited to hear more about the blazers from respected voices in the national media.
- Peter W.
Thanks for the kind words, Peter—and everybody else. I truly appreciate all the support in the early months of this venture.
I think there's something else you're missing in this "best-case scenario" for the Blazers, and that's these best-case outcomes not breaking right for other teams. Everything you list as a reasonable possibility—Lillard returning to form, Nurkic staying healthy, Grant fitting in perfectly, etc.—could all happen, and Portland could still be a step below the top Western Conference playoff teams if they also have their best outcomes.
If the Warriors just maintain and don't have any injuries to their core guys, the best-case Blazers are still not as good as the defending champions. If the Deandre Ayton contract weirdness is water under the bridge and the bad feelings don't carry into the season, and Chris Paul continues to play at the level he has in the past two years despite his advancing age, the best-case Blazers are still not as good as the Suns. If Kawhi Leonard is healthy, the best-case Blazers are still not as good as the Clippers. If Jamal Murray and Michael Porter Jr. return to full strength, the best-case Blazers are still not as good as the Nuggets.
But if one or two of those teams that are clearly more talented has a setback and Portland has absolutely everything go right? Then we could be talking about putting them in a different class.
I'm with you on the Blazers' likely outcome for the season being somewhere between fourth and eighth in the west. A lot has to go right for them to be higher than that, but that doesn't mean it's impossible.
Thank you so much to everyone who submitted a question. To make sure you get yours answered in the next one, become a paid subscriber below.