Discover more from The Rose Garden Report
Comprehensive, independent coverage of the Portland Trail Blazers and the NBA from veteran beat reporter Sean Highkin.
Over 4,000 subscribers
Josh Hart Wins Job as Trail Blazers' Starting Small Forward: What it Means
The biggest question of training camp has been answered.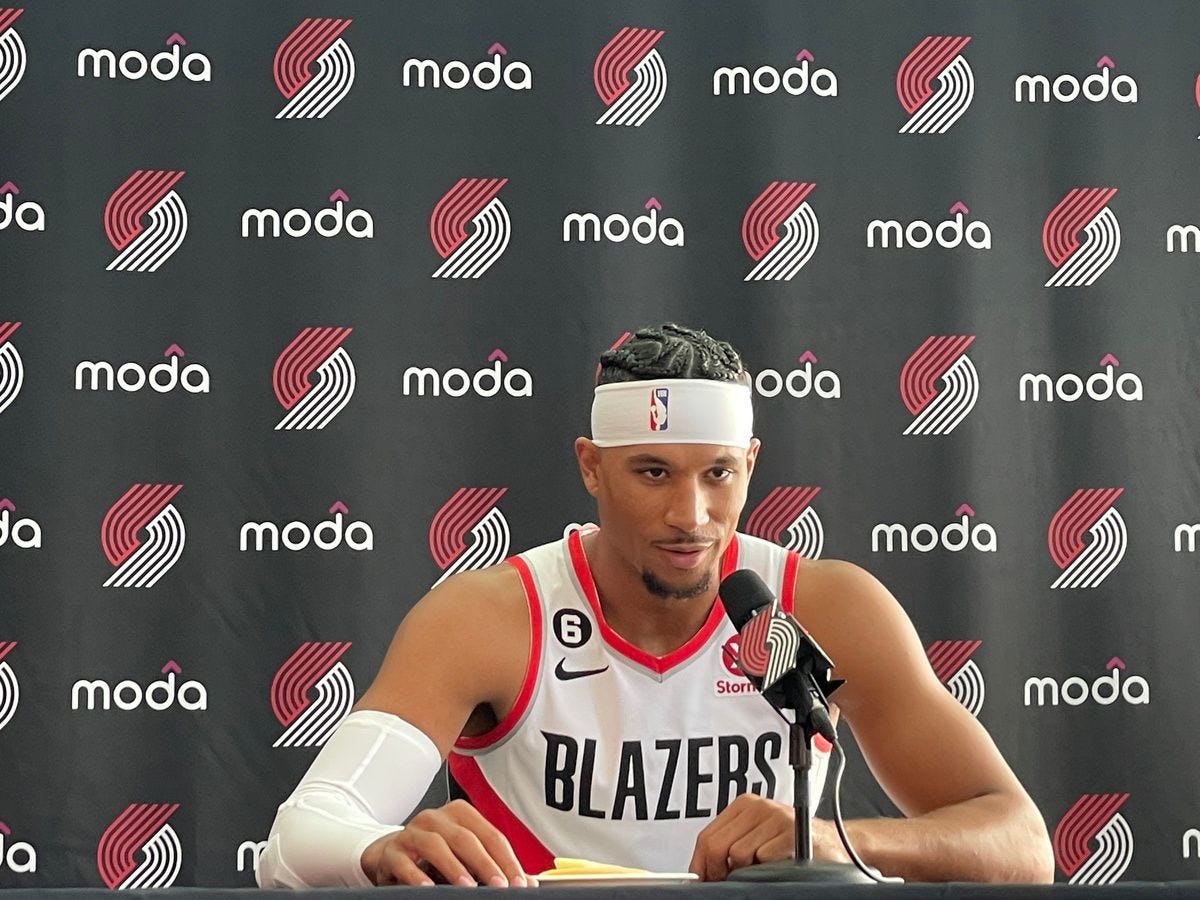 The biggest question of the Trail Blazers' training camp has been answered. When the season starts on Oct. 19 in Sacramento, Josh Hart will start at small forward alongside Damian Lillard, Anfernee Simons, Jerami Grant and Jusuf Nurkić. The news was first reported by The Oregonian and confirmed by head coach Chauncey Billups on Sunday afternoon before the Blazers' preseason game against the Kings.
Casey Holdahl

@CHold
Chauncey Billups confirms @AaronJFentress' report that @joshhart will start at small forward tonight and once the regular season starts
Oct 9, 2022
9 Likes   1 Retweets   0 Replies
While the Blazers went into training camp declaring that spot an open competition between Hart, Nassir Little and Justise Winslow, it isn't much of a surprise the way it turned out given how camp has gone so far.
The Rose Garden Report is a fully independent, reader-supported publication. Purchasing a premium subscription unlocks exclusive content and helps make the coverage of the Portland Trail Blazers the best it can be.
Hart started the Blazers' preseason opener in Seattle and played well. As this group feels each other out with so many new additions, Billups has opted to play the five best players on the team together in the starting lineup. Hart is also expected to see some time at shooting guard when Lillard or Simons sits, playing alongside Winslow or Little in those combinations.
Winslow played well defensively in his preseason start against the Jazz, but he doesn't bring what Hart does on the offensive end. Little has had an up-and-down preseason and training camp as he works his way back from shoulder and abdominal surgeries that have sidelined him since February.
Before training camp, the conventional wisdom was that while Hart may be the best of the three players, his ballhandling and shot-creation ability would be better suited for the second unit. The surprise emergence of second-year guard Keon Johnson as a viable rotation player has lessened that need and may point to Johnson seeing real minutes in the rotation once the regular season starts.
While Hart will begin the season as the starter, that status is far from set in stone for the entire year. Billups has hinted throughout camp that who starts at small forward on a night-to-night basis will be up in the air, and it could be a starter-by-committee situation depending on matchups.
"All three guys are going to have such a big impact on our team," Billups said after the Blazers' Saturday practice. "Whoever starts, who knows if they'll finish? Who knows how many minutes they'll play? We don't know. But I really value all three guys, and for us to be a good team, they all have to play well."