Discover more from The Rose Garden Report
Comprehensive, independent coverage of the Portland Trail Blazers and the NBA from veteran beat reporter Sean Highkin.
Over 4,000 subscribers
Get to Know the 2023 Trail Blazers Summer League Roster
No. 3 overall pick Scoot Henderson headlines Portland's team in Las Vegas.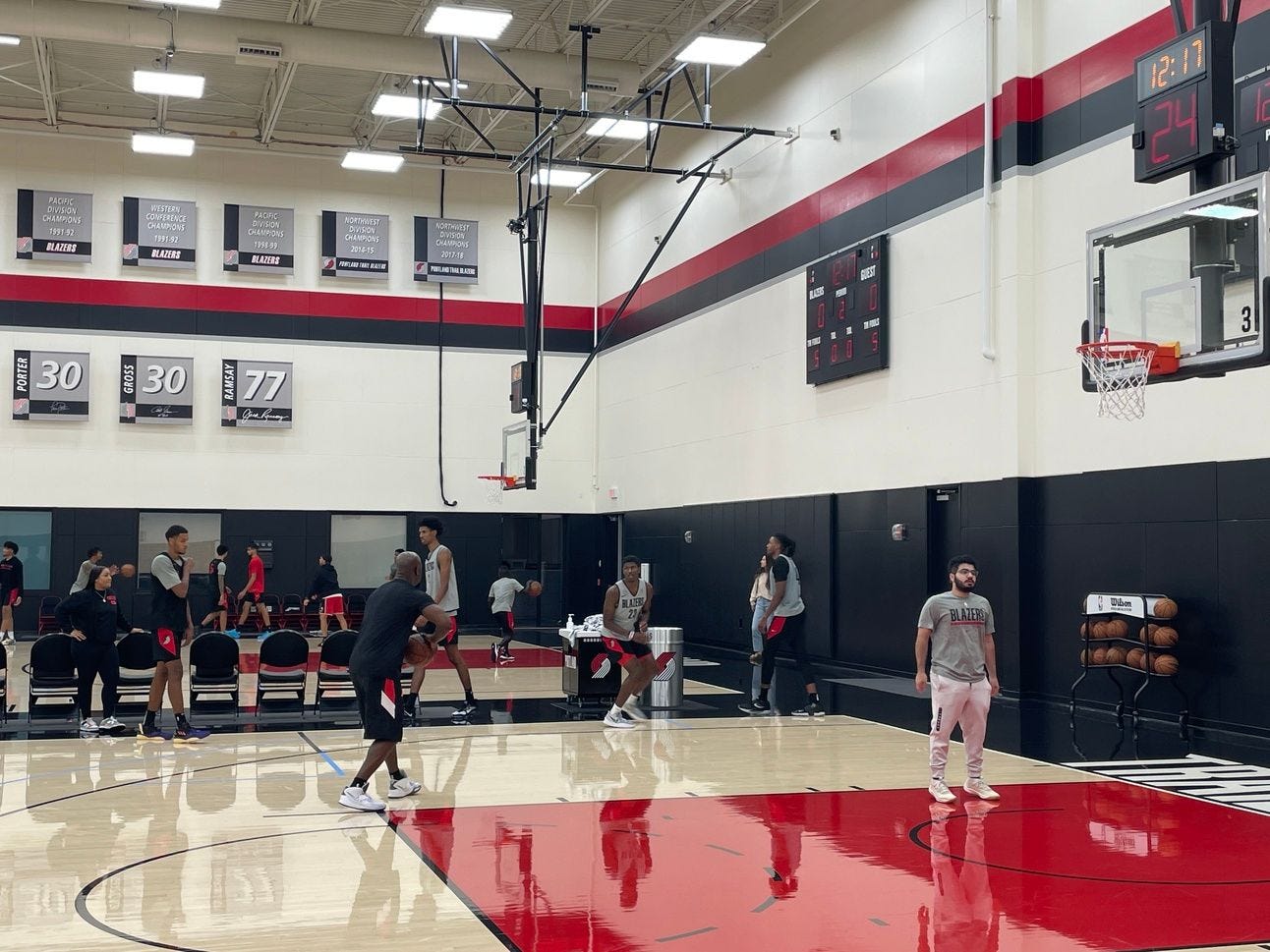 Separate from everything else going on around the Trail Blazers this offseason, the franchise has an all-important Summer League title to defend in Las Vegas over the next 10 days.
Portland won the Summer League championship last year for the second time in franchise history, and for the first year, actual rings were given out.
It may seem like we're making light of this, but it's something young players genuinely get excited about, and for many of them it's their first taste of NBA-level competition. One of the greatest quotes I've ever gotten in my career is from Denzel Valentine, after the Bulls (the team I was covering at the time) won the 2016 Summer League title. I asked him what he would say to anyone who said it was "just" Summer League.
"Anyone who says that has never won the Summer League championship," he responded.
So, there you have it.
On paper, the Blazers have a pretty good chance to repeat, given that there are eight players on their Summer League team who are, as of now, expected to be on their opening-night roster. Assistant coach Jonah Herscu, coming off his first year on Chauncey Billups' staff, will serve as head coach. Last year, Steve Hetzel volunteered himself for the gig; this year, it was Billups who chose Herscu. Summer League is often used by teams to give their younger, less-experienced assistant coaches reps with calling plays.
The Blazers have four games scheduled before the knockout rounds start. They begin on Friday against the Rockets, then play the Spurs on Sunday (Victor Wembanyama is expected to play), followed by the Hornets on Tuesday and Magic on Thursday.
Here's a breakdown of their roster and what to watch for.
(A programming note: I will be in Las Vegas from Friday to Tuesday and will be covering the first two of those games, along with any other Blazers-related happenings during the event. Because I pay for these sorts of trips out of my own pocket doing this independently, everything I write from Summer League will be for paid subscribers only. Hit the button below to sign up.)
The Headliners
Scoot Henderson and Shaedon Sharpe
Outside of Wembanyama, Scoot Henderson is arguably the most anticipated rookie debut of the entire event. Even though he wasn't the second pick, he was the second-most hyped prospect all year. And once the other thing gets sorted out, the Blazers will view him and Shaedon Sharpe as their backcourt of the future.
It's undetermined how much Sharpe will play. Most second-year players who played meaningful rotation minutes as rookies don't play Summer League at all, but Sharpe played just five minutes in Las Vegas last year before suffering a shoulder injury and told general manager Joe Cronin at exit interviews that he wanted to play again this year. My guess is he'll get the Brandon Ingram/Devin Booker treatment and be shut down after the first two games.
The Other Draft Picks
Kris Murray
Murray's twin brother, Keegan, took home Summer League MVP honors last year after being the No. 4 overall pick by the Kings. Much like Jabari Walker last year, I wouldn't be surprised if Kris Murray is impressive in Summer League. He was drafted as a low-mistake, high-floor plug-and-play wing who will be able to play real rotation minutes right away in the NBA. Those types of guys usually don't have a hard time adapting to Summer League.
Rayan Rupert
The Blazers' No. 43 overall pick, who officially signed a contract earlier this week and will be on the team this season, isn't nearly as rotation-ready as Murray and will probably spend time this season with the new G League team, the Rip City Remix. But Rupert has been compared to Nicolas Batum, and not just because they're both French. Their games are similar, too.
Returning Players
Jabari Walker
After Sharpe went down in the Blazers' first Summer League game last year, Walker became the biggest story. I was blown away at the time by his self-awareness about what he'd have to do to stick in the league. There aren't too many teenagers who are self-proclaimed "role players." He'll play the Trendon Watford "vet" role on this year's team.
Keon Johnson
It's unusual for former first-round picks to play at Summer League going into their third NBA season, but that's where Johnson finds himself. Despite a lot of preseason hype about his summer growth, Johnson's second year didn't go the way he planned, between injuries and playing behind Damian Lillard and Anfernee Simons. Now that the Blazers appear headed towards a youth movement, a strong Summer League would go a long way in helping Johnson show he's worth keeping around.
Ibou Badji
Outside of Henderson, there's nobody on the Blazers' Summer League roster I'm more intrigued to see play than Badji. The Senegalese big man didn't play at all his rookie season and just re-signed on another two-way contract. The organization is very high on him long-term as a rim protector, but he's still very much a project and will probably spend a lot of time this coming season playing in the G League. Outside of a few G League games for the Wisconsin Herd last fall before the Blazers signed him, Badji hasn't played against NBA-level competition yet, so it will be interesting to see how he fares. (Read my feature on him from last season, if you missed it.)
John Butler Jr.
Justin Minaya
Minaya is a holdover from the final month of the Blazers' season, when they were pulling people off the street (or, in his case, the G League's Mexico City Capitanes) to play out the string once they shut all their regular players down. The fact that Minaya is sticking around for Summer League could be a sign that he'll be in training camp, and likely will be on the G League roster to start the season.
Jeenathan Williams
Williams joins Minaya as one of the end-of-season tanking All-Stars still in the mix. He'll also probably be in camp this fall and then in the G League.
Potential Training Camp/G League Players
Antoine Davis
Davis played five years at Detroit Mercy (the fifth year being his COVID eligibility year) and finished his college career as the NCAA's all-time leading scorer. He's already signed an Exhibit 10 contract with the Blazers, which likely points to him being in training camp and then playing for the Remix next season.
Malachi Smith
Smith went undrafted out of Gonzaga after winning the WCC Sixth Man of the Year award. Like Davis, he's on an Exhibit 10 deal and will probably be playing for the Blazers in the G League this season.
Michael Devoe
A four-year player out of Georgia Tech who spent some time in the G League last year with the Ontario Clippers, Devoe is one of the players the Blazers selected for the Remix in the G League expansion draft.
Christ Koumadje
The 7-foot-4 Koumadje, a native of Chad, is a little older than most of the other players on the Summer League roster at 26. He played four years at Florida State, spent a season in the G League and then played overseas for the last three seasons in Spain, Russia and Germany.
Jaizec Lottie
A point guard originally from Denver, Lottie played last season in Switzerland.
Duop Reath
Another international prospect for a front office that has put more emphasis in that area since hiring Mike Schmitz in the front office. Reath was born in South Sudan and grew up in Australia, playing for the Australian national team at the Tokyo Olympics in 2021. He played two seasons of college ball at LSU, and then played professionally in Serbia and Australia.