Discover more from The Rose Garden Report
Comprehensive, independent coverage of the Portland Trail Blazers and the NBA from veteran beat reporter Sean Highkin.
Over 4,000 subscribers
Gary Payton II Trade Goes Through After Days of Uncertainty About Physical
The Warriors delayed the deal, alleging the Trail Blazers withheld information about Payton's injuries during the negotiations process.
PORTLAND, Ore. — After three days of uncertainty, Gary Payton II's brief, tumultuous tenure in Portland has come to an end.
On Sunday, the Warriors decided to accept the four-team trade that had been hanging in the balance due to issues with Payton's physical, a league source confirmed.
At Thursday afternoon's trade deadline, the Blazers agreed to trade Payton back to Golden State in exchange for five future second-round picks in a four-team deal that also landed former Detroit Pistons forward Kevin Knox in Portland. The trade was officially announced later that day by all four teams, after the trade call and paperwork had been processed through the league office.
Minutes before Blazers general manager Joe Cronin walked into the press conference room at the Moda Center for his post-trade deadline media availability on Friday afternoon, The Athletic published a story detailing Payton's failed Warriors physical that threatened to scuttle the trade. The story, which cited anonymous sources, alleged that the Blazers' medical staff had given Payton shots of Toradol, a non-steroidal anti-inflammatory drug, to help him play through lingering pain from a core muscle surgery he underwent in July. The story also claimed that the Blazers had not disclosed this information to the Warriors during trade negotiations.
Cronin was read that passage of the Athletic story during the press conference and said he had only heard about it shortly before the press conference began, and declined to comment further. Later, when a reporter followed up about the implication in the story that the Blazers' training staff had pressured Payton to play hurt, Cronin responded:
"Player safety is super-important to us. It's an important thing around the league. We were playing him, he was playing, and he had been cleared. We were confident that he was healthy when he was playing. We would not have brought him back if he wasn't healthy or he was at risk. So you trust that we did the right thing and you trust that our process was correct. These reports … I think, if you knew … our clearance process was proper, so you have to rely on that."
Later on Friday at his pregame media availability before the Blazers played Oklahoma City, head coach Chauncey Billups was asked about the team's handling of Payton's injury and backed up what Cronin said:
"I would never do that. I know how that feels. I would never push — we, not just myself — we would never push a guy to play. Whether it's medical, or a guy just doesn't feel like he can play that night with stress at home. I'd never push somebody to play, because I would always be scared of me doing that and then something actually happen. That's how I approach that."
On Saturday afternoon, ESPN published a story that also cited anonymous sources for the same allegations contained in the Athletic report. Later that day, Payton's agent, Aaron Goodwin (who also represents Damian Lillard as well as one of the Blazers' newest trade-deadline acquisitions, Matisse Thybulle), told Turner Sports' Chris Haynes that the reports of Payton receiving Toradol shots from the Blazers' medical staff are not true.
Chris Haynes

@ChrisBHaynes
Aaron Goodwin — the agent of Gary Payton II — tells @NBAonTNT/@BleacherReport that "despite of what's being reported, my client never took Toradol shots to be available for games during his time in Portland."
Feb 12, 2023
3.72K Likes   633 Retweets   208 Replies
That night, Josh Hart made his Knicks debut after being traded from Portland to New York at the deadline. At his postgame media availability, he gave an unprompted statement to reporters that spoke positively of the Blazers organization's professionalism. He didn't say what motivated him to do it, but it can reasonably be assumed it was prompted at least in part by the reports about their handling of Payton's health:
Fred Katz

@FredKatz
Josh Hart ends his postgame availability with an unprovoked statement about the Trail Blazers: "That organization is nothing but a class act in the front office and the training room…That organization is respectful, a class act, did everything by the book."
Full quote: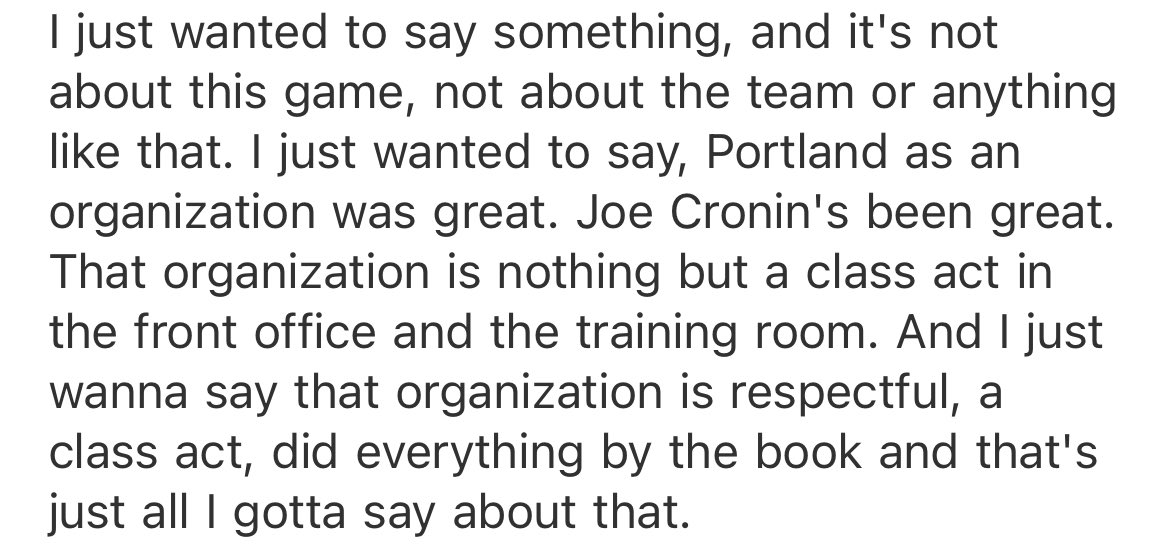 Feb 12, 2023
1.89K Likes   211 Retweets   20 Replies
The same night, with the status of the deal still up in the air, Payton sat with Warriors GM Bob Myers and Vice President of Basketball Operations Mike Dunleavy Jr. at Golden State's home loss to the Lakers, wearing a Warriors sweatshirt—certainly an unexpected sight if the team was truly considering voiding the trade.
Warriors on NBCS

@NBCSWarriors
GP2 is sitting next to Bob Myers and Mike Dunleavy Jr. 👀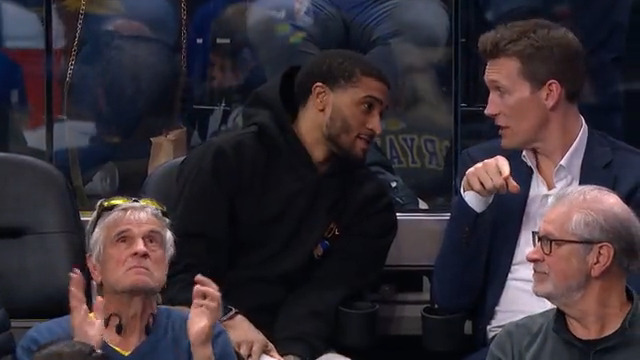 Feb 12, 2023
23K Likes   1.31K Retweets   225 Replies
On Sunday, The Athletic published another story about a pending complaint from the Warriors to the league office, which made reference to Payton being "reportedly shot up so he could play." A later revision to the story clarified that Payton did receive Toradol from the Blazers orally, rather than as an injection. Toradol in pill form is much more common as a pain reliever and much lower-dosage than it is as a shot.
According to a league source, the Blazers were not made aware of any of Golden State's concerns about Payton's health or the team's handling of his injuries—either from the Warriors organization or from any media outlet reporting on the allegations—prior to the publication of the Athletic story that happened shortly before Cronin met with reporters, a media availability that had been scheduled for that time since the previous day.
Payton's core muscle injury has been a lingering storyline for the Blazers all season. He signed a three-year, $26.1 million contract with Portland in July after playing a key role in the Warriors' title run. In July, he underwent a core muscle surgery similar to the ones Lillard and Blazers forward Nassir Little have had in the past year. The team did not announce Payton's surgery until Sept. 16, less than two weeks before the start of training camp. They said at the time that Payton would miss all of camp and the preseason but was expected to be ready to play in time for the season opener. At their Sept. 26 media day press conferences, both Payton and Cronin indicated that he would be ready to return for opening night.
On Oct. 13, less than a week before the season began, the team issued another update saying that Payton was continuing to "progress well" in his rehab but would be out for the next two weeks. That day at practice, Billups was asked about Payton's recovery and said the team wasn't going to put pressure on him to come back.
"I think we just wanted to be extra-cautious with it," Billups said at the time. "Gary is such a tough player, he's gonna fight through anything. You almost have to protect these guys from themselves. He's almost used to playing hurt his whole career. He plays hurt. But he's had to. He's always looking for jobs and looking for a role. Now, he's solidified here. He's gotten paid. He's gotten what he deserves. He has a home. And we appreciate him. I want him back as soon as possible, but I want the real G.P. back. I want him mentally in shape just like physically. I don't want him to second-guess his body when he's back."
The next update came on Nov. 1, when the Blazers said that Payton had traveled to Philadelphia to be re-evaluated by Dr. William C. Meyers, who performed the surgery in July as well as those of Lillard and Little earlier in the year. The team said Payton had been cleared to "increase conditioning and on-court activity in preparation to return to play." He was ruled out for the six-game road trip the team was about to embark on.
That same day, Payton spoke to reporters for the first time since media day.
"I wasn't rushing," he said. "As soon as I felt ready, I was gonna come back."
On Nov. 18, the Blazers gave another update that said Payton was experiencing "intermittent soreness" in his rehab and ramp-up, and would be re-evaluated in another two weeks.
The next update came from Lillard, who revealed after practice on Dec. 7 that Payton had returned to participating fully for the first time all season, which Billups confirmed the same day, saying he was fighting through soreness.
"He's been better with that," Billups said at the time about Payton's soreness. "But he's still sore. But I think some of that is probably pretty normal, to get some of that. But he's better than he was when we last talked about it. He's pushed through some of that stuff."
On Dec. 28, two days after the Blazers returned from a six-game road trip to beat Charlotte at home, Billups said at a practice that Payton had been cleared by the medical staff to play, but that the final decision would be up to Payton.
"It's a collective effort," Billups said then. "Obviously, we're never going to say, 'You're ready to play, you're playing.' We're never going to do that to a player. He needs to be comfortable with it. But I think we all feel very confident that he looks good and he's very close."
Payton sat out the Blazers' final game of 2022, a loss at Golden State. Before that game, the Warriors held an on-court ceremony for Payton to receive his championship ring for their 2022 title.
Madeline Kenney

@madkenney
A standing ovation for Gary Payton II as he gets his ring.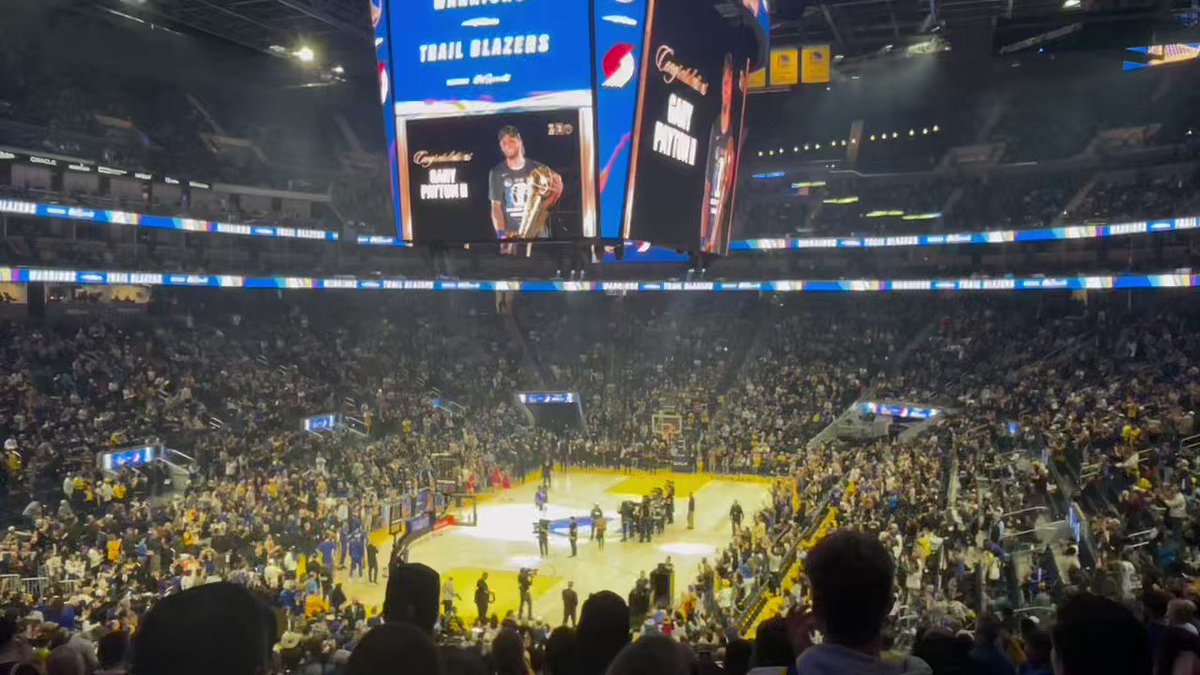 Dec 31, 2022
581 Likes   68 Retweets   1 Replies
Payton finally made his Blazers debut on Jan. 2, playing 13 minutes and putting up seven points, two rebounds, four assists and two steals in a blowout win over Detroit. Early in his first-half shift, Payton tweaked his right ankle but stayed in the game and played another burst in the second half.
After the game, Payton said it felt "extremely good" to be back on the court.
"I'm good," he said. "Thought it would be a little more sore, but I'm straight. Just back to it. Get back out there, get back to work. Just have the mindset to thug it out, basically."
Payton was then asked about the mental hurdles to his recovery that presented themselves in addition to the physical ones.
"It is what it is," he said. "This is probably my fourth or fifth surgery in the last five or six years. I've been in darker spots than this. Just had to take the time to get my body right. I'm at the point where it's the best it's going to be for this year, so I'll just thug it out."
Billups indicated at the time that Payton would be on a minutes restriction in that game, which Payton said he was on board with but that he would be willing to play more minutes if asked.
"That's more on C.B.," he said. "If you need me in situations, I don't really care about the 12 minutes. Let's get in and get the win. We're on the same page on that, so is the training staff. I'm not gonna kill myself and I know they're not gonna let me kill myself. I'm available."
Following his season debut against Detroit, Payton missed all three games of a three-game road trip due to the ankle injury he suffered in that game, not due to the core muscle issue. After that, he played in all but two of the Blazers' next 16 games. He missed the Jan. 19 home loss to Philadelphia with a left calf contusion and the Feb. 3 road win against Washington with a non-COVID illness. He averaged 17 minutes per game in the 15 total games he played in Portland; the most he played was 28 minutes in the Blazers' Feb. 1 win in Memphis.
Payton made his first and only start of the season on Wednesday, as a last-minute substitution when Hart was pulled off the floor during pregame warmups after the Blazers agreed to the trade with the Knicks. He played 22 minutes and had nine points, three rebounds and a steal in a win over the Warriors.
The next day, he was headed back to Golden State.
The Rose Garden Report is a fully independent, reader-supported publication. Purchasing a premium subscription unlocks exclusive content and helps make the coverage of the Portland Trail Blazers the best it can be.