Discover more from The Rose Garden Report
Comprehensive, independent coverage of the Portland Trail Blazers and the NBA from veteran beat reporter Sean Highkin.
Over 4,000 subscribers
Gary Payton II to Miss Trail Blazers' Six-Game Road Trip
Plus injury updates on Josh Hart, Damian Lillard and Trendon Watford.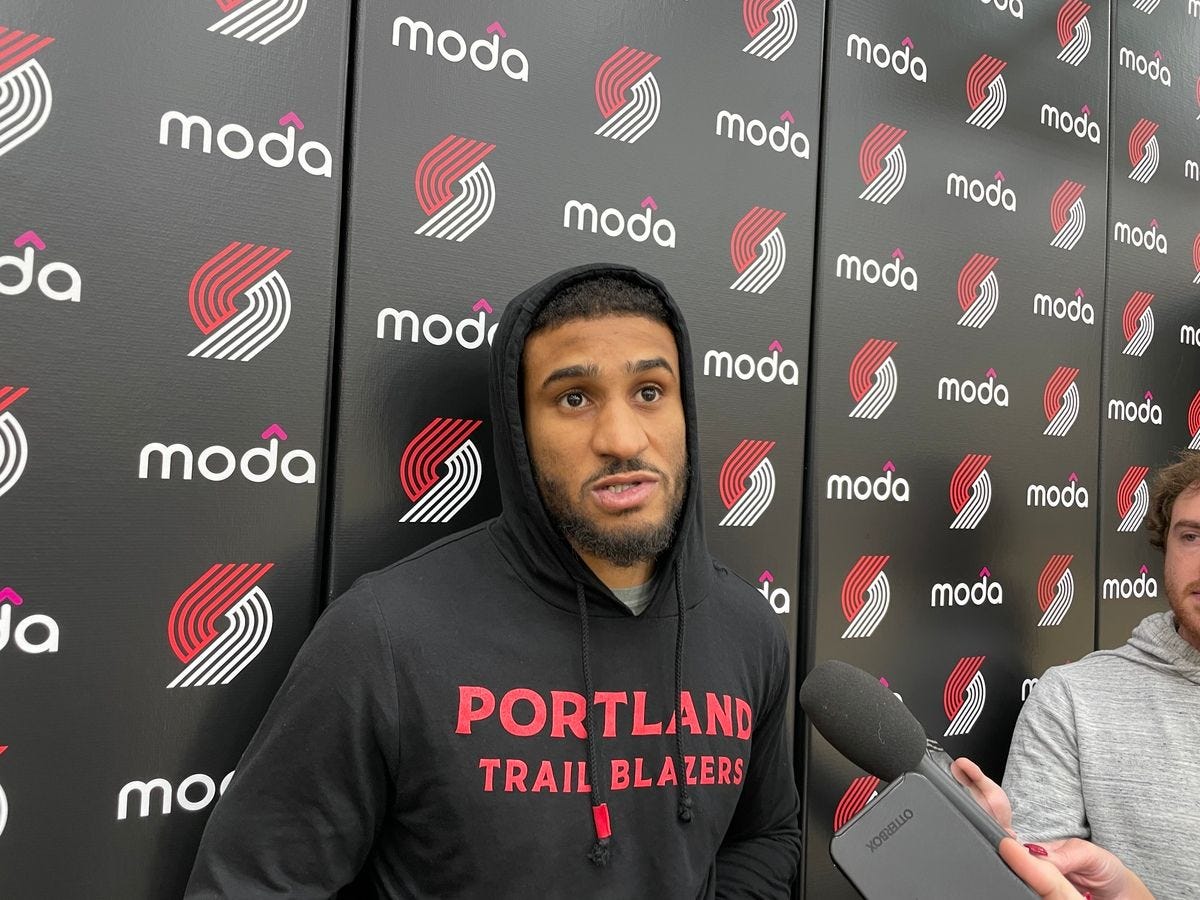 The Trail Blazers' 5-1 start to the season is surprising on a lot of levels, but here's another one: they're playing this well defensively despite being without their biggest offseason free-agent signing, Gary Payton II.
Payton underwent a core muscle surgery in July; the team said shortly before training camp that he would be ready to return to play by the start of the regular season. Then, before opening night, they said he would be re-evaluated in two weeks.
The latest update came on Tuesday: Payton will miss Wednesday's game against the Grizzlies as well as the Blazers' entire upcoming six-game road trip, which kicks off Friday in Phoenix and wraps up in Dallas on Nov. 12. After that, he will be re-evaluated. The team also said Tuesday that Payton has been cleared to "increase conditioning and on-court activity."
Speaking to reporters on Tuesday at practice for the first time since media day in late September, Payton said he has not yet been cleared for five-on-five contact.
The Rose Garden Report is a fully independent, reader-supported publication. Purchasing a premium subscription unlocks exclusive content and helps make the coverage of the Portland Trail Blazers the best it can be.
"We're doing pretty well right now, so that gives me a little more time to get right," Payton said. "As soon as I get back, I can flow right into things."
Payton signed a three-year, $26.1 million contract with the Blazers in July after playing last season with the Warriors, becoming a starter and important part of their defense on their way to winning the 2022 NBA title. He was brought in to help Portland's perimeter defense; through six games without him, the Blazers rank ninth in the NBA in defensive efficiency, allowing 109.6 points per 100 possessions.
A big part of that defensive improvement has been because of Josh Hart, whose status is also up in the air for Wednesday's game against the Grizzlies after he entered the NBA's concussion protocol following Friday night's win over the Houston Rockets.
Head coach Chauncey Billups said Tuesday at practice that Hart has been "a lot more active" in practice since Friday, and he's hopeful Hart will be able to play but the team won't know one way or the other until Wednesday before the game. Billups hasn't yet decided who will start in Hart's place if he can't go; Shaedon Sharpe is expected to once again start in place of Damian Lillard, who has been ruled out for Wednesday's game with a right calf strain.
On the subject of Lillard, who suffered the injury during last Wednesday's loss to Miami and missed the win over the Rockets, Billups said: "It's progress every day. No setbacks, which is all I care about." On Wednesday night after suffering the injury, Lillard indicated it wasn't serious and he would have kept playing if it was a playoff game.
Forward Trendon Watford, who hasn't played yet this season after suffering a right hip flexor strain during training camp, is also progressing in his recovery but hasn't yet been cleared to return.