Discover more from The Rose Garden Report
Comprehensive, independent coverage of the Portland Trail Blazers and the NBA from veteran beat reporter Sean Highkin.
Over 4,000 subscribers
Free Agency, Day 1: Trail Blazers Re-Sign Jerami Grant, Still Waiting for the Big Move
As expected, Grant is back on a five-year deal for big money.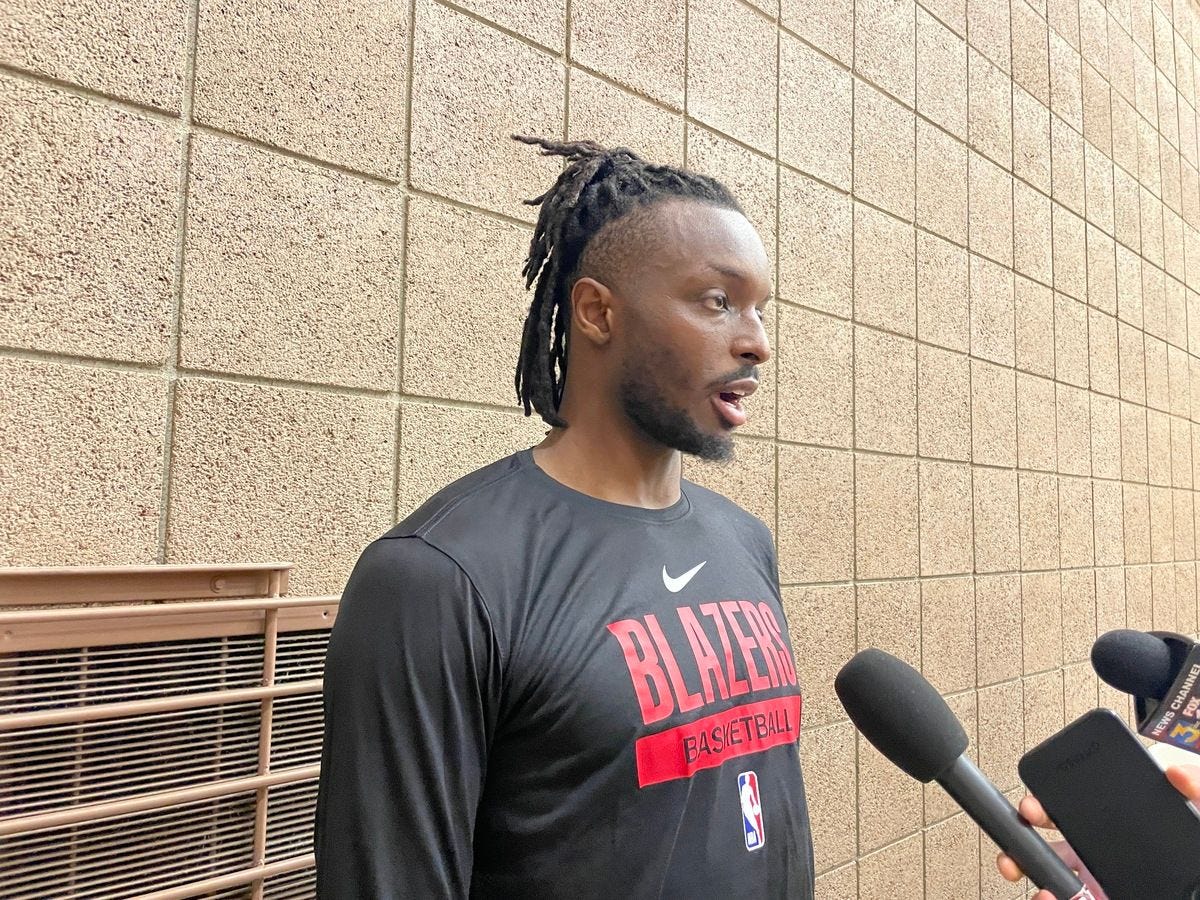 For the second year in a row, the Trail Blazers opened free agency by getting their expected big business done and doing little else right away.
Back in January, Jerami Grant became eligible for a four-year, $112 million extension, which Portland put on the table for him. He turned it down, with the understanding that a bigger deal—with a fifth year and a nice bump up from that salary—would be waiting for him in free agency.
Back in February, in response to a mailbag question about Grant's next contract, I pegged it as "somewhere in the range of $30 million per year over four or five years," and since then, I've been working—and writing—under the assumption that he'd be getting a five-year, $150 million deal.
Close enough.
The final number came in, about 15 minutes into the opening of free agency, at $160 million over five years, or an average of $32 million per year.
Hitting free agency after being recruited last summer by Damian Lillard, at the exact moment the front office is attempting to keep Lillard from requesting a trade, is a hell of a lot of leverage for Grant and his representatives at Klutch Sports.
If there was any doubt about that, it was erased at Lillard's exit interview in April when he was asked about Grant's upcoming free agency.
"I expect him to be back," he said then.
So, Grant and Klutch had the Blazers over a barrel. Never mind that few teams had the kind of cap space to pursue him, and two of the ones rumored to be considering it—Detroit and Sacramento—took themselves out of the running with other moves before news of Grant's deal broke.
Every move the Blazers make this summer will include a "Dame tax." The extra $10 million on top of what I had heard for months was going to be Grant's deal? That's to show Lillard they're serious about keeping his guy. If Joe Cronin does go back to the table with Masai Ujiri to revisit talks about O.G. Anunoby, he won't just be giving up however many picks it takes to get Anunoby. You're giving up assets for the player as well as to not lose Lillard.
It's not a great bargaining position, but that's where Cronin and Lillard find themselves after spending all offseason so loudly announcing their positions—Cronin with his repeated on-the-record promises to "go all-in" and "take big swings," Lillard with the public pressure he's put on the front office to make big moves or else risk losing him.
Getting Grant's deal done, even at a slightly higher number than expected, was the first part. Expect a new deal for restricted free agent Matisse Thybulle to come in the next day or two. Outside of the mid-level exception for a wing or a veteran-minimum big, that will probably be it for the "free agency" part of free agency. Short of the Draymond Green moonshot (Green, as expected, quickly agreed to a deal to stay with the Warriors), they were never going to get the "needle-mover" Lillard has asked for on the open market.
Cronin still has an opportunity to get something done involving either Anfernee Simons or Jusuf Nurkic plus draft capital to land that player on the trade market, and he's under an immense amount of pressure to do so. Since Cronin met Monday with Lillard and his agent, Aaron Goodwin, the superstar point guard's camp has been quiet and apparently willing to let free agency play out before determining whether to ask for a trade.
Lillard clearly wants to give Cronin every opportunity to do just enough to make him feel like he has a chance here. For now, everything is status quo on both of their ends. In the coming days, that will change in one direction or the other.
Elsewhere: Two of the Blazers' other free agents, Drew Eubanks and Cam Reddish, agreed to new deals with the Suns and Lakers, respectively. Neither were integral to the Blazers' future plans, although the loss of Eubanks and the decision earlier Friday to waive Trendon Watford's non-guaranteed salary leave Portland with no center depth beyond Nurkic.