Discover more from The Rose Garden Report
Comprehensive, independent coverage of the Portland Trail Blazers and the NBA from veteran beat reporter Sean Highkin.
Over 4,000 subscribers
Damian Lillard's Jedi Mind Trick Caps Off 41-Point Explosion
Lillard sealed Portland's overtime win over Phoenix with some psychological trickery for Deandre Ayton
In the box score, Friday night will be remembered as Damian Lillard's return to form. But his most memorable moment of the Trail Blazers' overtime win over the Suns in their home opener will live on social media rather than Basketball Reference.
The Blazers battled back in the second half to take the Suns to overtime, thanks in part to Lillard's heroics, and held a two-point lead with just over a second remaining when Deandre Ayton headed to the free-throw line with the chance to tie the game up for Phoenix. Lillard said something to him before his first shot, and he missed. Once he missed the second, Portland moved to 2-0 on the season. The clip quickly went viral.
hoops bot

@hoops_bot
Dame talking to Ayton before the clutch free throws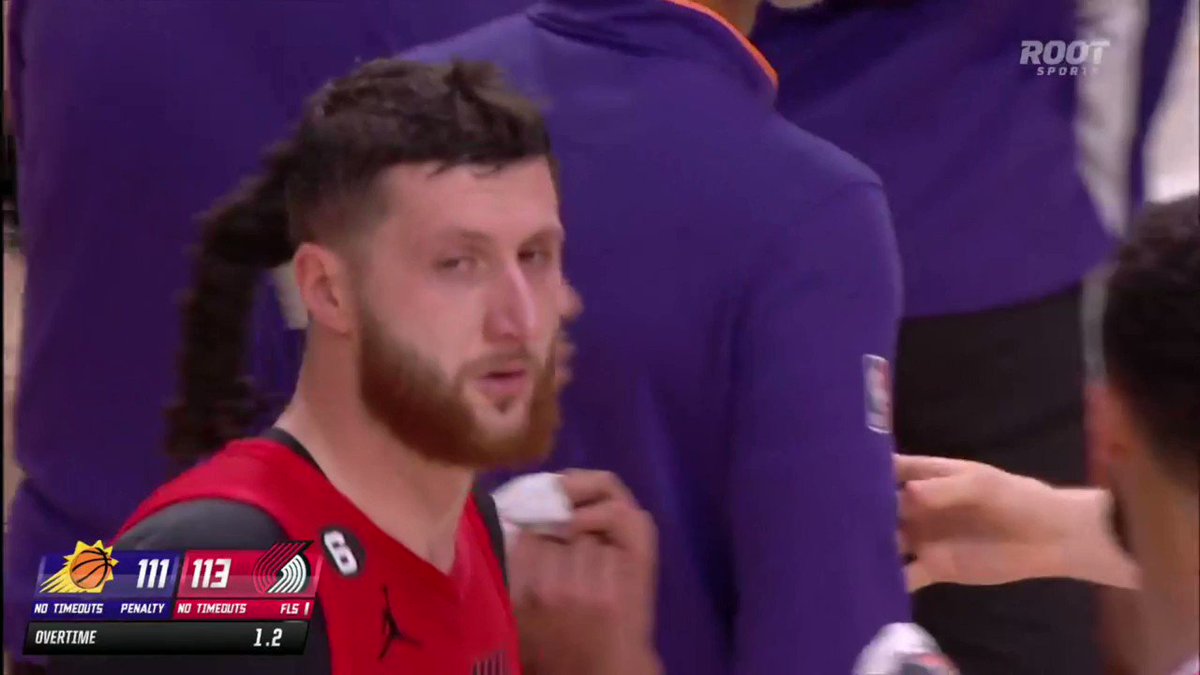 Oct 22, 2022
1 Likes   0 Retweets   0 Replies
After the game, Lillard was asked what he said to Ayton to get in his head.
"I only asked him, 'Have you ever been in this situation before?' he said. "Because it's not easy. When you have to make the free throws, that's not an easy situation to be in. Because the whole game doesn't come down to one possession, there are a lot of things that lead up to it, but in a way, you have a chance to tie the game. So I just asked him. I wanted him to think about it a little bit. And he ignored me. When he ignored me, I was like, 'I'm pretty sure he's thinking about it.'"
The Rose Garden Report is a fully independent, reader-supported publication. Purchasing a premium subscription unlocks exclusive content and helps make the coverage of the Portland Trail Blazers the best it can be.
It's a tactic more associated with Ayton's teammate Chris Paul than with Lillard, but whatever works. For once, it wasn't Lillard taking the last shot to seal the win, although he very nearly did when a jumper rimmed out at the end of regulation. This time, it was Anfernee Simons putting Portland ahead for good, more than making up for a terrible shooting night to hit the biggest shot of the game.
SportsCenter

@SportsCenter
ANFERNEE SIMONS COMES UP CLUTCH IN OT‼️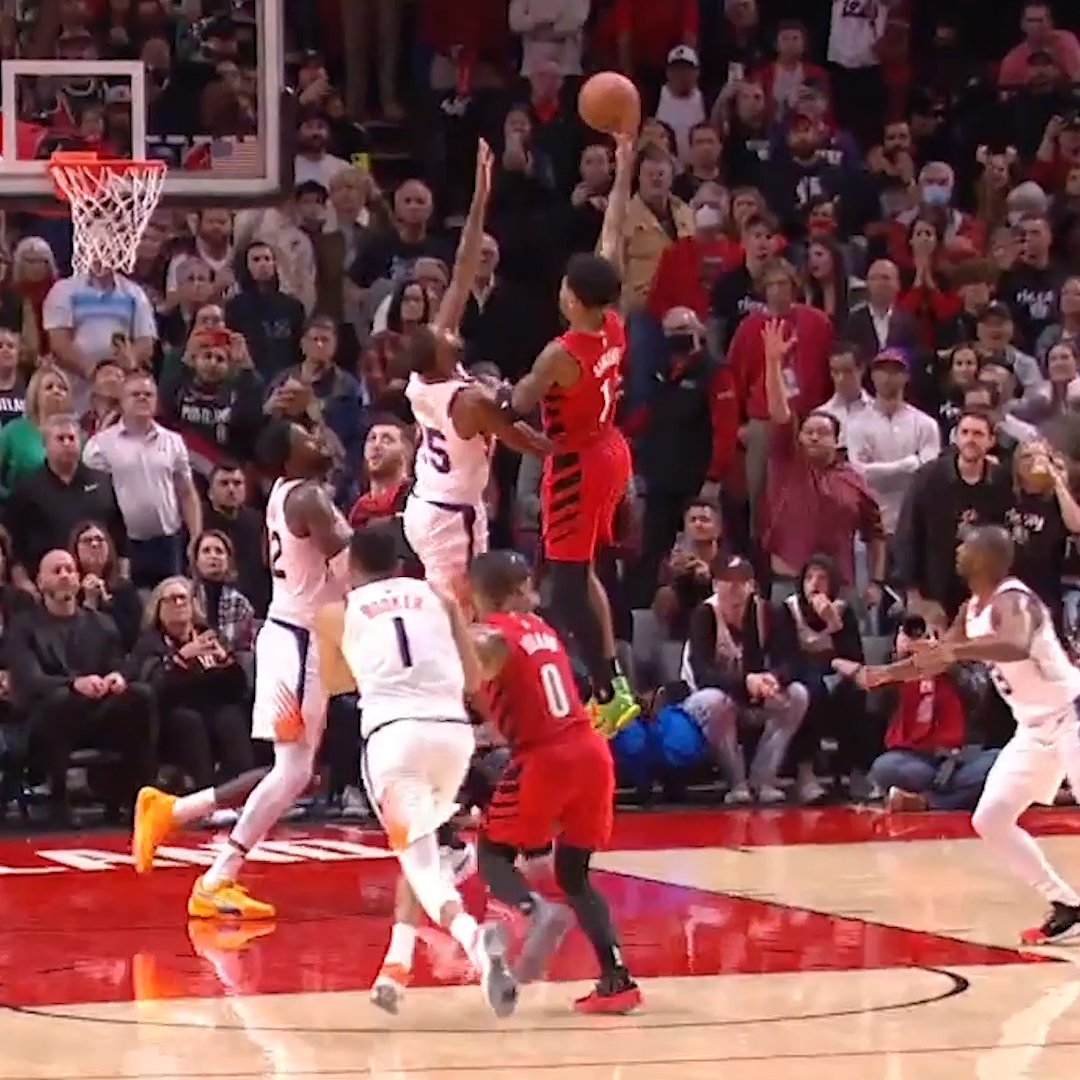 Oct 22, 2022
1.57K Likes   187 Retweets   49 Replies
"I think it's going to be big for him to see that I'm willing to trust him in those moments," Lillard said. "I made a conscious decision to do that. When they doubled me, I passed it to him and for a split second I thought maybe I'd flash back to the ball. It happened two or three times, where they ran two [defenders] at me and then the next possession he had the ball and they didn't run two at him. It's the perfect opportunity for me to take a step back and trust him to make the right play.
"If they know it's gonna be me every time, that makes it easier to guard me."
It was Simons and Jusuf Nurkic (who also had a much better showing than opening night, particularly in the second half and overtime, holding his own against Ayton) getting the big baskets at the end, but for the first three quarters it was the Lillard show. He scored 28 of his 41 points in the first half, got to the foul line 12 times and hit five three-pointers. Not that anyone who was paying attention should have been concerned about his rough season-opening shooting performance against the Kings, but Friday made it clear: Dame is back, for real.
Lillard has been saying for months that he feels physically 100 percent for the first time in years after recovering from a core muscle surgery in January, but there's nothing like a 41-point game to power a win over a contender to make it feel real. I asked him afterwards whether having his first one of those games in almost a year did anything for him psychologically.
"Anytime you miss a lot of time, you're looking through that breakthrough moment," he said. "For me, I've had so many issues physically, it was more stress. Whereas with basketball, it was not knowing how my body was going to react. Now that I'm free of that, I feel like that was the breakthrough moment. Just coming and playing pickup in September and getting through training camp without having to miss practices, being uncomfortable. Once it came to the game, my game felt good. It was just a matter of time. I think there is something there. When you actually have one of those games, it's like, 'OK, I've found my place.' So I guess yes and no."