Discover more from The Rose Garden Report
Comprehensive, independent coverage of the Portland Trail Blazers and the NBA from veteran beat reporter Sean Highkin.
Over 4,000 subscribers
Damian Lillard Feels 'In Control' as He Prepares to Become Trail Blazers' All-Time Leading Scorer
As he approaches a major milestone, Lillard is as comfortable as he's ever been.
PORTLAND, Ore. — Monday night wasn't even one of Damian Lillard's highest-scoring games of the season—he's broken 40 three times—but it was the first one that truly felt like a vintage Dame night.
Except, not quite.
All of the elements were there: the pulling up from halfcourt, the feeling throughout the Moda Center that he couldn't miss, the breathless anticipation of every attempt. But the looks he was getting in the Blazers' blowout win over the Timberwolves were different. There were a few of his patented pull-ups, but he got some catch-and-shoot looks, too, on the way to tying his own single-game franchise record with 11 made threes.
Cory Jez

@JezData
this is fun offense.
Damian Lillard has taken 6 Catch & Shoot 3s
Damian Lillard has made 6 Catch & Shoot 3s
analytically speaking, that's pretty good.
Dec 13, 2022
194 Likes   18 Retweets   1 Replies
"I like to get him off the ball some," Chauncey Billups said after the game. "It's tough to double him when he's off the ball. It's easier to double him when he has the ball."
Playing Lillard off the ball like this makes him harder for defenses to game-plan for, and letting Anfernee Simons and Jerami Grant also get theirs makes things easier for Lillard as well.
"That's the way we'll be most successful and we'll be able to be ourselves," Lillard said. "Ant has to play with the ball in his hands, Jerami has to play with the ball in his hands, he's gonna get his isos, and because of the way they've played this season, teams have to give them their respect. Both of those guys are gonna make the right play. I think that's the beauty of this. It's not gonna be a situation where I go off the ball and allow them to do them and I lose myself in the game, because they both make the right play. The opportunities are gonna be there."
The Rose Garden Report is a fully independent, reader-supported publication. Purchasing a premium subscription unlocks exclusive content and helps make the coverage of the Portland Trail Blazers the best it can be.
Eight of Lillard's 11 threes came in the first half. When he checked out with 34 seconds to go in the third quarter, the Blazers were up by 22. Nobody reasonably thought he was going to come back in and have a chance to tie or break Klay Thompson's single-game record of 14 made threes, even if everyone—including Kevin Durant—wanted to see it.
Kevin Durant

@KDTrey5
#dont#take#lillard#outthegame
Dec 13, 2022
24.8K Likes   2.1K Retweets   327 Replies
"Once we were up 20, I've been around long enough to know I wasn't coming back in that game," Lillard said. "I knew that would be the thirsty thing to do, so I didn't think Chauncey would even consider it."
Lillard finished with 38 points, which puts him within 106 of tying Clyde Drexler's all-time franchise scoring record. It's a virtual lock it happens at some point during the Blazers' upcoming six-game road trip, likely Saturday in Houston or next Monday in Oklahoma City. It's a moment everyone has known was coming for years, minus those few weeks in the summer of 2021 when Lillard's future in Portland was a topic of real discussion. Now, it's here. The only thing he'd change would be to let it happen at the Moda Center.
"I wish it was at home," he said. "It's something that our fans deserve to be a part of, because they've been here. They've seen it happen every step of the way, from my first game to that moment. If I had been able to stay healthy, it would have been on perfect track. It is what it is."
I joked that he could "load manage" his right calf for a game or two on the road to make sure that moment happens in Portland. He wasn't having it.
"Y'all know I'm not a fan of load management," he said. "Whenever I was sitting out, it was against my will."
At least for now, that calf isn't bothering him. Neither is the core muscle injury that was a constant source of pain and stress for much of the last four years until he addressed it last season with a surgery. Everything is easier for him now, both in his body and on the court.
"Being 11 seasons in, I just feel in control of the game," he said. "I know I can get what I want to get out of it, and how to make things happen. And then when you put that with having a healthy body and a healthy mind, it's much simpler to put together strong performances.
"It takes a lot off my plate where I don't have to work as hard to use as much energy to do every little thing. That alone is going to make me stronger throughout the game and make me better. But just not having to dominate every little thing for 48 minutes makes it a million times easier."
What We Saw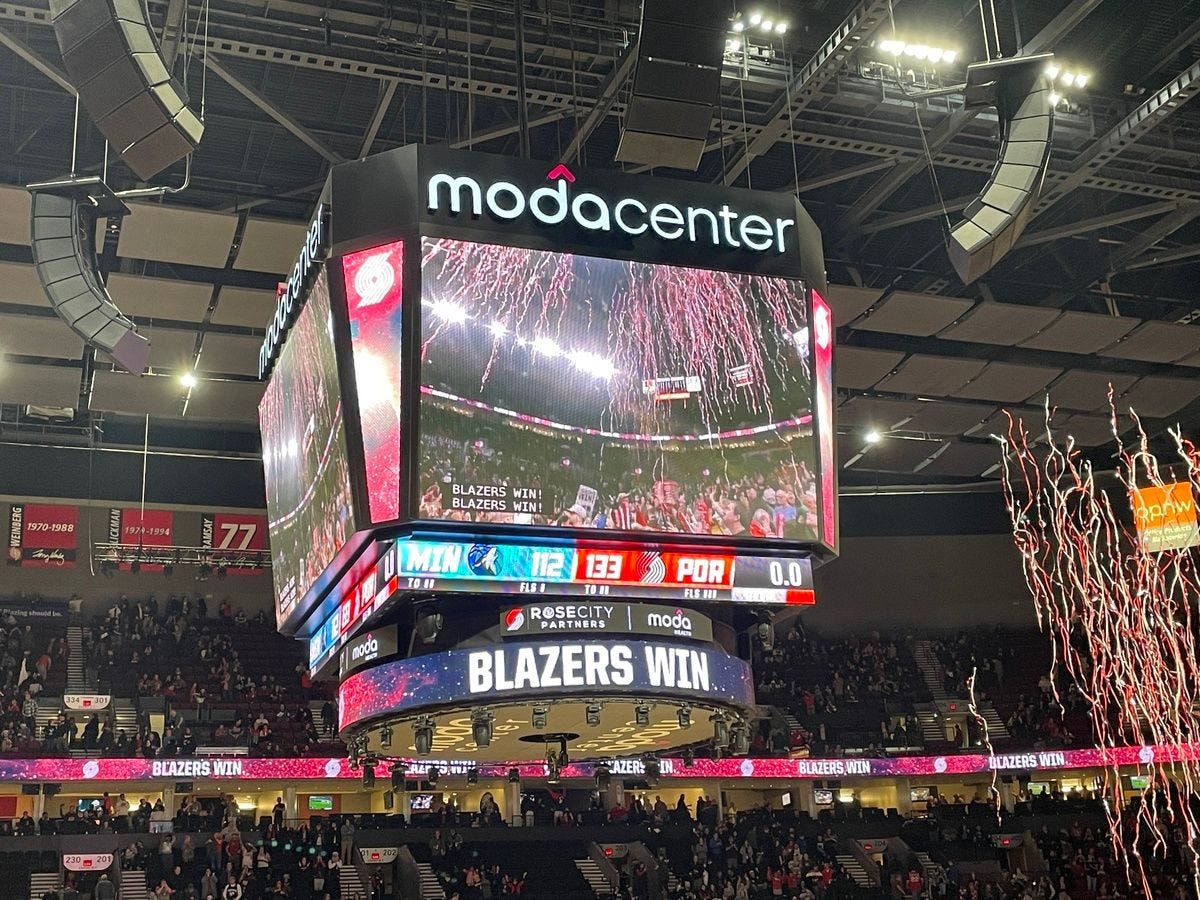 For paid subscribers, notes, thoughts and observations from the game, plus the Jersey of the Night:
Subscribe to Premium Membership to read the rest.
Become a paying subscriber of Premium Membership to get access to this post and other subscriber-only content.
A subscription gets you:
✓ Exclusive articles
✓ Mailbags